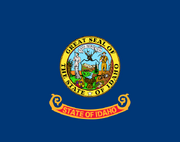 Idaho in OTL is a state in the United States of America. The state's largest city and capital is Boise. Residents are called "Idahoans". Idaho was admitted to the Union on July 3, 1890, as the 43rd state. Idaho is the 14th largest state by land area.
Idaho is a mostly mountainous state, with an area larger than all of New England. It is landlocked, surrounded by the states of Washington, Oregon, Nevada, Utah, Wyoming, Montana and the Canadian province of British Columbia. However, the network of dams and locks on the Columbia River and Snake River make the city of Lewiston the farthest inland seaport on the west coast of the continental United States.
According to the U.S. Census Bureau, the 2009 population of Idaho was estimated at 1,545,801. The state's postal abbreviation is ID. Idaho's nickname is the Gem State because nearly every known gem has been found there. In addition, Idaho is one of only two places in the world where star garnets can be found (the other is the Himalaya Mountains, in India), and is the only place six pointed star garnets have been found. The state motto is Esto Perpetua (Latin for "Let it be forever").
Alternate versions of Idaho have been discovered throughout the multiverse:
---
Community content is available under
CC-BY-SA
unless otherwise noted.