Jobst of Meerzisch
Timeline: The Kalmar Union


Portrait of Jobst of Meerzisch

Prince Consort of Vinland
1671-1687

Predecessor
Valdemar of Hordaland
Successor
Tokamah of Abernakriga
Born
2nd December, 1640
Meerzisch, Luxembourg
Died
3rd May, 1687
Karantóborg, Vinland
Jobst of Meerziche was a Luxembourg prince and later, consort to Thorey VI, Queen of Vinland. He is a marginal figure at best in Luxembourg history but plays a much more prominent role in Vinlandic history.
Born in 1640 the youngest son of Charles III of Luxembourg and his third wife Isabella of Turin, Jobst was a twin, though his twin sister Johanna Eleonore would die in 1655.
Bohemia
At first Jobst was used by his elder half-brothers Henry X and John IV as a way of placating Bohemian nobility. Bohemia had only just returned to Luxembourg control following the close of the Fifty Years War and Henry and John reckoned marriage ties to the noble houses would help cement his rule amidst considerable reconstruction and reconciliation. Therefore at the age of 18 Jobst was betrothed to Duchess Viola of the hugely influential (and previously pro-Hapsburg) Rosenberg family. Jobst was supposedly thoroughly bored by his new role, it involved no actual power as John and the Bohemian Diet saw to any governing aspect, and it mostly consisted of rounds of pleasantries with nobles and holding court in Prague.
His time in Bohemia, though brief, was not fruitless however; he came away with a fine appreciation of religious tolerance, considering the torrid time Bohemia had been put through in the name of religion.
He and Viola would have two children; Eleanore and Sigismund, but Viola would die in 1671 only two weeks after Sigismund's birth. Jobst fully expected he would soon be in another Bohemian marriage but in the intervening period John had become increasingly interested in Leifia and Tawantinland. The Luxembourg economy was sluggish recovering from the war and he was ever on the look out for fresh trade opportunity. As well as the trading potential he hoped a suitable alliance with a Leifian power could be used to secure Luxembourg's place in Europe. Therefore when Vinlandic diplomats came to Europe looking for a suitable spouse for Princess Thorey Jobst's name was readily put into the frame. If Vinland could be weaned off Denmark and Kalmar then all the better.
Vinland
Jobst arrived in Vinland with his two small children and a small entourage of Czech and Franconian staff in early 1674 and a wedding was quickly arranged. Thorey only seen a miniature portrait of the duke and was instantly smitten by him. Deploying all the diplomacy learned in Prague let him gain quick favour with the aging Queen Greta and some of the more suspicious nobles. Thorey was also taken by Eleanore and Sigismund, and readily accepted them as her own.
John IV would be disappointed in that Vinland had no intention of dropping its relationship with Kalmar, however tenuous that could be sometimes. On trade Vinland was more amenable and the Althing hoped the Luxembourger would help facilitate trade with Europe beyond the usual Kalmar markets. Fjallasay was duly opened tariff-free to Luxembourg shipping and Antwerp and Amsterdam were opened to Vinlandic ships.
His immediate job done, Jobst settled into the life of a good Vinlandic noble, namely opening up its wilder frontiers to settled farming. He and his children had been granted land and titles chiefly in Nor-Hafsvaedaland. Taking on the mantel of Lord of Nipissingborg Jobst and, vitally, improved links to Atikamekwia to the north, which was starting to discover and exploit gold and silver mines on its lands. He would build a small manor-castle on the lake shorefront which the locals soon christened 'Lúxemborg'.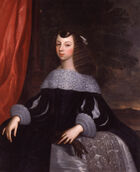 Events in Europe would secure his legacy beyond small-scale local ventures however. In 1680 John IV lay dying paving the way for the thoroughly detested and religiously intolerant Charles of Utrecht to take the throne. A broad revolt erupted in Flanders, Holland and Bohemia against his potential rule. Whilst he was largely helpless to stop Bohemia drifting back into Austria's waiting arms Charles unleashed hell on the rebellion in the Low Countries, saving particular ire for the Calvinist minority in Holland. A swift evacuation of Calvinist families and any moveable goods was soon underway. John IV would recover from his deathbed but thousands of Dutch were already on the move.
Some would flee to German states, some to Anglia, some to the independent Kaapstad colony, but around 15,000 were eventually provided with passage to Vinland. Jobst had personally petitioned the Althing for funds and ships, augmenting what they provided with crown money. Pamphleteers were employed in the Anglian ports to offer land and passage for any Dutch and Flemish looking for a new start with complete religious autonomy (which was more or less true but not without some finessing later on). This influx of manpower and talent of the 'ný hollansk' had an immediate effect on Vinland adding to the general uplift in fortunes which formed the Vinlandic Golden Age. Skilled craftsmen settled in several town and cities introducing new techniques to to the textile industry and invigorating Vinland's arts. Less skilled laborers were settled in the under-developed farming communities along the north-east shore of Ontario Vatn but were quick to see the potential of their new homeland and inject industry there too. New water-driven sawmills were built, especially on the Styrisfisk and Sagonask rivers. Shipbuilding was already becoming an important Vinlandic industry but this new plentiful supply of cut timber allowed a rapid and cheaper expansion in the fleet. This would further fuel Vinland's expanding trade empire.
Several of the ný hollansk towns especially along the north-east shore of Ontario Vatn and the Jakobinaskagy peninsula have statues of Jobst in the town squares.
Family
Jobst married Viola of Rosenburg (1645-1671) in 1669. They had two children.
Eleanore (1670-1736)
Sigismund (1671-1724)
Married Thorey VI of Vinland (1650-1694) in 1674. They had three children.
Thorey VII (1677-1712), Queen of Vinland r. 1694-1712
Jóhannes Jobstsson (1680-1733)
Eyfinna I (1681-1733), Queen of Vinland r. 1712-1733
Jobst would die in 1687 just as his 'grand scheme' began to show fruit. Both his daughters by Thorey VI would become queen in turn, whilst Eleanore became one their most trusted advisors. The boys would take on a more convoluted role in European politics. Initially Sigismund took on the governing of Lilla Lúxemborg whilst Jóhannes would take on a similar role to his father and married into European royalty, marrying Princess Elizabeth of Anglia in 1697. He would see some military action in the closing years of the Kalmar-Wessex War.
The death of the heirless Henry XI of Luxembourg in 1723 would trigger the War of Luxembourg Succession (1723-1729), sometimes seen as a side-show of the Luxembourg-Anglian War (1723-1738), as Luxembourg's enemies championed first Sigismund, then Jóhannes, over their cousin William. Though mainly a European war it also would see battles in the Taino Sea, Africa, India and Europe.
The Kalmar Union TL Articles

Nations
Timelines
Military
Miscellaneous
The Kalmar Union
Community content is available under
CC-BY-SA
unless otherwise noted.