John IV
John IV
King of Svealand
Reign
1st August, 1554 - 7th February, 1569
Predecessor
Cnut III
Successor
Gustav I
Born
24th December, 1520
Ekesberg Castle, Svealand
Died
7th February, 1569
Stockholm, Svealand
Spouse
Cecilia Eriksdotter Vinstorpa
Issue
Sigrid


Gustav I
Karin
Eric
Johan
Katharina
Lucretia

Full name
Johan Leijonhufvud
House
Leijonhufvud
Father
Gustav Leijonhufvud
Mother
Märta Stenbock
John IV was the first king of an independent Svealand in over two centuries. A keen military strategist, he would defeat the Danish army both in Svealand and Finland securing the crown of Svealand for himself before coming to terms with the Danes and campaigning alongside them in Germany.
Born on Christmas Eve 1520, John or Johan was the eldest son of Gustav Leijonhufvud and Märta Stenbock. Both the Leijonhufvuds and the Stenbocks were Svealandic families of considerable standing, both distantly related to the Eriksson dynasty and, until Gustav and Märta had been betrothed to each other in their early teens, had been in a long state of feuding.
The great families of Svealand had long been at loggerheads. Regular revolts against Danish rule usually faltered as the family heads fell out or pursued their own agendas. In 1523 when Danish power was at its absolute lowest in Svealand rebellious lords failed to unite behind a single figurehead allowing Christopher II to invade and restore his authority.
Dismayed by the lack of progress Gustav Leijonhufvud set about ensuring peace between the great families, mainly by allying them to his own. He would arrange the 8 year old Johan's marriage to Cecilia Vinstorpa, thereby neutering another great family and kept out of the 1533 rebellion, sensing this would be doomed to fail too, thereby seeing the downfall of the Vasa family who had thrown their weight behind it.
By the time Johan had succeeded his father as head of the Leijonhufvuds in 1547 the family was essentially the most powerful in Svealand, with a secure hold over the Svealandic church too. He even had the ear of the Gothenlandic king Svante II (as much of the Leijonhufvud estates lay along the borders). It would merely require the right spark to light the fire.
Rebellion
Eric X/XI's method of government was overbearing but he had largely coasted along on goodwill generated by his firm Lutheran faith. The Danish army (including Johan Leijonhufvud at the head of a large Svealandic contingent) had successfully defended Protestant German states during the First Schmalkaldic War. The war had been expensive however and when Eric's ministers came to the Svealandic Riksdag in early 1551 seeking to raise yet another tax they were rebuffed and thrown out. With most of Eric's armies still in Germany Johan seized the chance and, with Svante II's explicit support, rose in rebellion.
Eric XI duly sent a Danish-Vikene army led by his capable son and heir Christopher of Rugia to crush the rebellion. However this army was quickly overwhelmed and defeated at the Battle of Töreboda, Prince Christopher would lose his life in the melee. Eric would die soon after and his second son Cnut VIII/III fared little better. His chancellor Ulrik Pederssen convinced him that the Svealanders would be starving by Midsummer and no overwhelming force was required. His army did manage to occupy Gothenland forcing Svante II was into a grovelling apology but Johan ran rings around the Danish commanders and denied the Danes entry any Svealandic castle. At the same time he deftly secured control of the organs of state and the support of the Svealandic church. By 1554 Danish presence had shrunk to zero and the nobles would elect Johan king. He celebrated his coronation by invading Finland. The Danish garrisons, mostly local Finns with little allegiance to Copenhagen, offered little resistance.
With King John now eyeing up Estonia for his next target Cnut's new chancellor Chrisoffer Kaas sent peace terms to Stockholm; Denmark desperately needed to focus on the deteriorating situation in Germany. Svealand was independent once more. Rewarding his loyal nobles with land confiscated from the Danish crown or Danish-leaning nobility John quickly stamped his authority on both Svealand and Finland and the Riksdag generally acquiesced to his demands. Gearing the economy to benefit Svealand rather than Denmark would take up much of his attention, as would building a fine navy to dominate the Baltic, employing the Saaremese master builder Jaan Nuut to oversee its creation.
Reconciliation and Estrangement
Svante II brokered a reconciliation between John IV and Cnut VIII in 1556 in an attempt to get Svealand to intervene in the Second Schmalkaldic War. Whatever misgivings he had with Cnut VIII John IV was enthusiastic to further burnish his military credentials and would lead a Svealandic army into Germany in 1557. Danish redeployment from Svealand-facing areas, plus Svealand's entry into the war that year would save the Protestant side from collapse. A year later the Battle of Nordlingen smashed the Bavarian army and led to peace.
In the wake of victory the German princes would forge a Protestant Empire in North Germany and Scandinavia, with the self-important Cnut VIII taking the new imperial title 'with glee'. John IV recoiled from this new entity. He hadn't dedicated his life to escaping the Danish yoke only to willingly re-enter it. He refused the offer of an Electorate, merely allying with the new empire.
and this ended his military career as well as his zeal for foreign adventure. It is known he wanted to reopen the Novgorod border by declaring the Danish-era peaces null and void but whatever plans he had gathered were discarded. Instead he would spend the rest of his reign trying to restore a healthy treasury, with mixed results.
Dying in early 1569 John was succeeded by his son Gustav.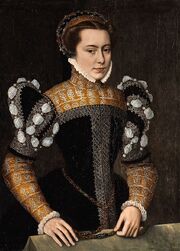 Family
John married Cecilia Eriksdotter Vinstorpa in 1528. They would have seven children:
Sigrid (1539-1600)
Gustav I (1542-1599)
Karin (1544-1560)
Eric (1546-1588)
Johan (1549-1619)
Katharina (1550)
Lucretia (1553-1609)