John McCain


43rd President of the United States
In office:
January 20, 2001 - January 20, 2009
Vice President:
George W. Bush
Preceded by:
Bill Clinton
Succeeded by:
George W. Bush
Secretary-General of the Concert of Democracies
Incumbent
Assumed office:
February 15, 2009
Deputy:
Dominique de Villepin (France)
Preceded by:
Sérgio Vieira de Mello (Brazil)
Senior Senator from Arizona
In office:
January 3, 1987 - December 15, 2000
Junior Senator:
Jon Kyl
Preceded by:
Barry Goldwater
Succeded by:
J.D. Hayworth
Member of the U.S. House of Representatives
from Arizona's 1st district
In office:
January 3, 1983 – January 3, 1987
Preceded by:
John Jacob Rhodes Jr.
Succeded by:
John Jacob Rhodes III
Biography
Born:
August 29, 1936
Coco Solo Naval Air Station, Panama Canal Zone, Panama
Birth name:
John Sidney McCain III
Died:
August 25, 2018 (age 81)
Cornville Arizona, U.S
Nationality:
American
Political party:
25px Republican
Spouse:
Carol Shepp (m. 1965, div. 1980)
Cindy Lou Hensley (m. 1980)
Children:
Douglas (b. 1959, adopted 1966),
Andrew (b. 1962, adopted 1966),
Sidney (b. 1966),
Meghan (b. 1984),
John Sidney IV "Jack" (b. 1986),
James "Jimmy" (b. 1988),
Bridget (b. 1991, adopted 1993)
Residence:
White House (official)
Phoenix, Arizona (private)
Alma mater:
United States Naval Academy
Occupation:
Naval aviator, Politician
Religion:
Southern Baptist congregant
(Brought up Episcopalian)
Signature:
Military service
Allegiance:
United States of America
Service/branch:
United States Navy (Naval aviation)
Years of service:
1958–1981
Rank:
Captain
Unit:
USS Intrepid (CV-11) VA-65
USS Enterprise (CVN-65) VA-65
USS Forrestal (CV-59) VA-46
USS Oriskany (CV-34) VA-163
Office of Legislative Affairs
Commands:
VA-174
Battles/wars:
Vietnam War

Operation Rolling Thunder

Awards:
Silver Star
Legion of Merit
Distinguished Flying Cross
Bronze Star
Purple Heart
others
John Sidney McCain III (born August 29, 1936, died August 25, 2018) served as the 43rd President of the United States from 2001-2009. He is the only Vietnam War veteran and prisoner of war of a foreign conflict to hold the office, and the last president to have fought in a war before being elected. Prior to his presidency, McCain served in the U.S. House of Representatives between 1983-1987 and as the Senior Senator from Arizona from 1987 until November 2000, when he resigned after his election to the presidency.
McCain followed his father and grandfather, both four-star admirals, into the United States Navy, graduating from the U.S. Naval Academy in 1958. He became a naval aviator, flying ground-attack aircraft from aircraft carriers. During the Vietnam War, he was nearly killed in the 1967 USS Forrestal fire. In October 1967, while on a bombing mission over Hanoi, he was shot down, badly injured, and captured by North Vietnamese soldiers, and was held as a prisoner of war until 1973. McCain experienced episodes of torture, and refused an out-of-sequence early repatriation offer. His war wounds left him with lifelong physical limitations.
He retired from the Navy as a captain in 1981, moved to Arizona, and entered politics. Elected to the U.S. House of Representatives in 1982, he served two terms, and was then elected to the U.S. Senate in 1986, winning re-election easily in 1992, 1998, and 2004. While generally adhering to conservative principles, McCain at times has had a media reputation as a "maverick" for his willingness to disagree with his party on certain issues. After being investigated and largely exonerated in a political influence scandal of the 1980s as a member of the Keating Five, he made campaign finance reform one of his signature concerns, which eventually led to the passage of the McCain-Feingold Act in 2002. He is also known for his work towards restoring diplomatic relations with Vietnam in the 1990s.
McCain won the bid for the Republican Party nomination for the 2000 U.S presidential election, gaining enough delegates to become the party's presumptive nominee in March 2000. In a close election, McCain was elected to the Presidency, receiving a majority of the electoral votes narrowly winning the popular vote.
Eight months into his first term as President, the September 11, 2001 terrorist attacks occurred, and McCain announced a global War on Terrorism, overseeing American invasions of Afghanistan in 2001 and Iraq in 2003. Democratic governments were successfully implemented in both countries, and while U.S. troops were able to withdraw from Iraq in 2006, the war in Afghanistan continues. He played the chief role in the creation of the Consert of Democracies, authorized bombing campaign of Sudan in order to bring an end to the genocide in Darfur, intervented in Uzbekistan to secure loose nuclear warheads from the potential hands of terrorists, oversaw the normalisation of relations between the United States and Libya and Cuba and oversaw the nuclear disarmament of North Korea.
In addition to national security issues, President McCain has promoted policies to reform the economy, health care, education, social security and energy reform. He has enacted large tax cuts in the Taxpayer Relief Act, the Bipartisan Campaign Reform Act (also known as the McCain-Feingold Act), acts against pork barrel spending, and health care and immigration reforms.
McCain ran for re-election against Democratic Governor Howard Dean in 2004 and was re-elected in a landslide, garnering 55.74% of the popular vote to his opponent's 43.11%. He ranks highly among former U.S. presidents in terms of approval rating. McCain was a popular president throughout his presidency, peaking after the September 11 terrorist attacks when he received the highest approval rating of any president. His popularity declined temporarily due to the insurgency in Iraq, but following implementations of successful counter-insurgency measures he surged in the approval ratings, laying in the high-60s to low-70s throughout his second term.
McCain left office with a high approval rating of 74%, the highest end of office rating of any president since the Second World War. Since then, he has been involved in public speaking and international politics, including holding the office of Secretary General of the Concert of Democracies since February 15, 2009. He is also working on establishing the John S. McCain Foundation to promote and address international causes such as promoting freedom and democracy around the world.
Early life and military career, 1936–1981
Formative years and education
John McCain was born in 1936 at Coco Solo Naval Air Station in the Panama Canal Zone, Panama, to naval officer John S. McCain, Jr. (1911–1981) and Roberta (Wright) McCain (b. 1912). At that time, the Panama Canal was under U.S. control.
McCain's family tree includes Scots-Irish and English ancestors. His father and his paternal grandfather both became four-star United States Navy admirals. His family, including his older sister Sandy and younger brother Joe, followed his father to various naval postings in the United States and the Pacific. Altogether, he attended about 20 schools.
In 1951, the family settled in Northern Virginia, and McCain attended Episcopal High School, a private preparatory boarding school in Alexandria. He excelled at wrestling and graduated in 1954.
Following in the footsteps of his father and grandfather, McCain entered the United States Naval Academy at Annapolis. There, he was a friend and informal leader for many of his classmates, and sometimes stood up for targets of bullying. He also became a lightweight boxer. McCain came into conflict with higher-ranking personnel, he did not always obey the rules, and that contributed to a low class rank (894 of 899), despite a high IQ. He did well in academic subjects that interested him, such as literature and history, but studied only enough to pass subjects he struggled with, such as mathematics. McCain graduated in 1958.
John McCain's early military career began when he was commissioned an ensign and started two and a half years of training at Pensacola to become a naval aviator. While there, he earned a reputation as a partying man. He completed flight school in 1960, and became a naval pilot of ground-attack aircraft, assigned to A-1 Skyraider squadrons aboard the aircraft carriers USS Intrepid and USS Enterprise in the Caribbean and Mediterranean Seas. McCain began as a sub-par flier who was at times careless and reckless; during the early-to-mid 1960s, the planes he was flying crashed twice and once collided with power lines, but he received no major injuries. His aviation skills improved over time, and he was seen as a good pilot, albeit one who tended to "push the envelope" in his flying.
Onboard for Enterprise's maiden voyage in January 1962, McCain gained visibility with the captain and shipboard publicity that fellow sailors and aviators attributed to his famous last name. McCain was made a lieutenant in June 1962, and was on alert duty on Enterprise when it helped enforce the naval quarantine of Cuba during the October 1962 Cuban Missile Crisis. In November 1963, he was rotated back to shore duty, serving nine months on the staff of the Naval Air Basic Training Command at Pensacola. In September 1964, he became a flight instructor with the VT-7 training squadron at Naval Air Station Meridian in Mississippi, where McCain Field had been named for his grandfather.
On July 3, 1965, McCain married Carol Shepp, a model originally from Philadelphia. She already had two children, Douglas and Andrew, born in 1959 and 1962 respectively; he adopted them in 1966. Carol and he then had a daughter named Sidney in September 1966.

McCain requested a combat assignment, and was assigned to the aircraft carrier USS Forrestal flying A-4 Skyhawks. His combat duty began when he was 30 years old, on July 25, 1967, when Forrestal reached Yankee Station in the Gulf of Tonkin and joined Operation Rolling Thunder, the 1965–1968 air interdiction and strategic bombing campaign against North Vietnam. The alpha strikes flown from Forrestal were against specific, pre-selected targets such as arms depots, factories, and bridges. They were quite dangerous, due to the strength of the North Vietnamese air defenses, which used Soviet-designed and -supplied surface-to-air missiles, anti-aircraft artillery, and MiG jet interceptors. McCain's first five attack missions over North Vietnam went without incident, and while still unconcerned with minor Navy regulations, McCain had garnered the reputation of a serious aviator. McCain and his fellow pilots became frustrated by micromanagement from Washington, and he would later write that "In all candor, we thought our civilian commanders were complete idiots who didn't have the least notion of what it took to win the war."
By then a lieutenant commander, McCain was almost killed on July 29, 1967, when he was near the center of the Forrestal fire. He escaped from his burning jet and was trying to help another pilot escape when a bomb exploded; McCain was struck in the legs and chest by fragments. The ensuing fire killed 134 sailors and took 24 hours to control. With the Forrestal out of commission, McCain volunteered for assignment with the USS Oriskany, another aircraft carrier employed in Operation Rolling Thunder. Once there, he would be awarded the Navy Commendation Medal and the Bronze Star for missions flown over North Vietnam.
Prisoner of war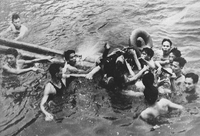 John McCain's capture and subsequent imprisonment began on October 26, 1967. He was flying his twenty-third mission, part of a twenty-plane strike force against the Yen Phu thermal power plant in central Hanoi that previously had almost always been off-limits to U.S. raids due to the possibility of collateral damage. Arriving just before noon, McCain dove from 9,000 to 4,000 feet on his approach; as he neared the target, warning systems in McCain's A-4E Skyhawk alerted him that he was being tracked by enemy fire-control radar. Like other U.S. pilots, he would not consider breaking off a bombing run, and he held his dive until he released his bombs at about 3,500 feet (1,000 m). As he started to pull up, the Skyhawk's wing was blown off by a Soviet-made SA-2 anti-aircraft missile fired by the North Vietnamese Air Defense Command's 61st Battalion, commanded by Captain Nguyen Lan. (McCain was later awarded the Distinguished Flying Cross for this day. The raid was a failure, as the power plant was not damaged and three of the Navy planes were shot down.)
McCain's plane went into a vertical inverted spin. Bailing out upside down at high speed, the force of the ejection fractured McCain's right arm in three places, his left arm, and his right leg, and knocked him unconscious. McCain nearly drowned after parachuting into Trúc Bạch Lake in Hanoi; the weight of his equipment was pulling him down, and as he regained consciousness, he could not use his arms. Eventually, he was able to inflate his life vest using his teeth. Several Vietnamese, possibly led by Department of Industry clerk Mai Van On, pulled him ashore. A mob gathered around, spat on him, kicked him, and stripped him of his clothes; his left shoulder was crushed with the butt of a rifle and he was bayoneted in his left foot and abdominal area. He was then transported to Hanoi's main Hoa Lo Prison, nicknamed the "Hanoi Hilton" by American POWs.
Although McCain was badly wounded, his captors refused to treat his injuries, beating and interrogating him to get information; he was given medical care only when the North Vietnamese discovered that his father was a top admiral. His status as a prisoner of war (POW) made the front pages of major newspapers.
McCain spent six weeks in the hospital while receiving marginal care. By then having lost 50 pounds (23 kg), in a chest cast, and with his hair turned white, McCain was sent to a different camp on the outskirts of Hanoi in December 1967, into a cell with two other Americans who did not expect him to live a week. In March 1968, McCain was put into solitary confinement, where he would remain for two years.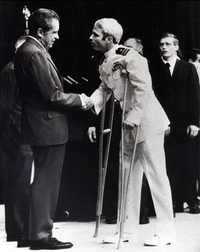 In mid-1968, John S. McCain, Jr. was named commander of all U.S. forces in the Vietnam theater, and the North Vietnamese offered McCain early release because they wanted to appear merciful for propaganda purposes, and also to show other POWs that elite prisoners were willing to be treated preferentially. McCain turned down the offer; he would only accept repatriation if every man taken in before him was released as well. Such early release was prohibited by the POW's interpretation of the military Code of Conduct: To prevent the enemy from using prisoners for propaganda, officers were to agree to be released in the order in which they were captured.
In August 1968, a program of severe torture began on McCain. He was subjected to rope bindings and repeated beatings every two hours, at the same time as he was suffering from dysentery. Further injuries led to the beginning of a suicide attempt, stopped by guards. After four days, McCain made an anti-American propaganda "confession". He has always felt that his statement was dishonorable, but as he later wrote, "I had learned what we all learned over there: Every man has his breaking point. I had reached mine." Many American POWs were tortured and maltreated in order to extract "confessions" and propaganda statements; virtually all of them eventually yielded something to their captors. He subsequently received two to three beatings weekly because of his continued refusal to sign additional statements. Former prison officials have denied that American POWs were tortured, which contradicts prisoners' personal experiences.
McCain refused to meet with various anti-war groups seeking peace in Hanoi, wanting to give neither them nor the North Vietnamese a propaganda victory. From late 1969 onward, treatment of McCain and many of the other POWs became more tolerable, while McCain continued actively to resist the camp authorities. McCain and other prisoners cheered the U.S. "Christmas Bombing" campaign of December 1972, viewing it as a forceful measure to push North Vietnam to terms.
Altogether, McCain was a prisoner of war in North Vietnam for five and a half years. He was released on March 14, 1973. His wartime injuries left McCain permanently incapable of raising his arms above his head.
Commanding officer, liaison to Senate, and second marriage
McCain's return to the United States reunited him with his family. His wife Carol had suffered her own crippling ordeal due to an automobile accident in December 1969. McCain became a celebrity of sorts, as a returned POW.
McCain underwent treatment for his injuries, including months of grueling physical therapy, and attended the National War College at Fort McNair in Washington, D.C. during 1973–1974. Having been rehabilitated, by late 1974, McCain had his flight status reinstated, and in 1976 he became commanding officer of a training squadron stationed in Florida. He improved the unit's flight readiness and safety records, and won the squadron its first-ever Meritorious Unit Commendation. During this period in Florida, McCain had extramarital affairs, and the McCains' marriage began to falter, for which he later would accept blame.
McCain served as the Navy's liaison to the U.S. Senate beginning in 1977. In retrospect, he has said that this represented his "real entry into the world of politics and the beginning of my second career as a public servant." His key behind-the-scenes role gained congressional financing for a new supercarrier against the wishes of the Carter administration.
In April 1979, McCain met Cindy Lou Hensley, a teacher from Phoenix, Arizona, whose father had founded a large beer distributorship. They began dating, and he urged his wife Carol to grant him a divorce, which she did in February 1980, with the uncontested divorce taking effect in April 1980. The settlement included two houses, and financial support for her ongoing medical treatments due to her 1969 car accident; they would remain on good terms. McCain and Hensley were married on May 17, 1980, with Senators William Cohen and Gary Hart attending as groomsmen. McCain's children did not attend, and several years would pass before they reconciled. John and Cindy McCain entered into a prenuptial agreement that kept most of her family's assets under her name; they would always keep their finances apart and file separate income tax returns.
McCain decided to leave the Navy. It was doubtful whether he would ever be promoted to the rank of full admiral, as he had poor annual physicals and had been given no major sea command. His chances of being promoted to rear admiral were better, but McCain declined that prospect, as he had already made plans to run for Congress and said he could "do more good there." McCain retired from the Navy on April 1, 1981 as a captain. He was designated as disabled and awarded a disability pension. Upon leaving the military, he moved to Arizona. His 17 military awards and decorations include the Silver Star, Legion of Merit, Distinguished Flying Cross, Bronze Star and Navy Commendation Medal, for actions before, during, and after his time as a POW.
House and Senate elections and career, 1982–2000
U.S. Congressman
McCain set his sights on becoming a Congressman because he was interested in current events, was ready for a new challenge, and had developed political ambitions during his time as Senate liaison. Living in Phoenix, he went to work for Hensley & Co., his new father-in-law Jim Hensley's large Anheuser-Busch beer distributorship. As Vice President of Public Relations at the distributorship, he gained political support among the local business community, meeting powerful figures such as banker Charles Keating, Jr., real estate developer Fife Symington III and newspaper publisher Darrow "Duke" Tully. In 1982, McCain ran as a Republican for an open seat in Arizona's 1st congressional district. A newcomer to the state, McCain was hit with repeated charges of being a carpetbagger. McCain responded to a voter making that charge with what a Phoenix Gazette columnist would later describe as "the most devastating response to a potentially troublesome political issue I've ever heard":
"Listen, pal. I spent 22 years in the Navy. My father was in the Navy. My grandfather was in the Navy. We in the military service tend to move a lot. We have to live in all parts of the country, all parts of the world. I wish I could have had the luxury, like you, of growing up and living and spending my entire life in a nice place like the First District of Arizona, but I was doing other things. As a matter of fact, when I think about it now, the place I lived longest in my life was Hanoi."
With the assistance of local political endorsements, his Washington connections, as well as money that his wife lent to his campaign, McCain won a highly contested primary election. He then easily won the general election in the heavily Republican district.
In 1983, McCain was elected to lead the incoming group of Republican representatives, and was assigned to the House Committee on Interior Affairs. Also that year, he opposed creation of a federal Martin Luther King, Jr. Day, but admitted in 2008: "I was wrong and eventually realized that, in time to give full support [in 1990] for a state holiday in Arizona."
McCain's politics at this point were mainly in line with President Ronald Reagan, including support for Reaganomics, and he was active on Indian Affairs bills. He supported most aspects of the foreign policy of the Reagan administration, including its hardline stance against the Soviet Union and policy towards Central American conflicts, such as backing the Contras in Nicaragua. McCain opposed keeping U.S. Marines deployed in Lebanon citing unattainable objectives, and subsequently criticized President Reagan for pulling out the troops too late; in the interim, the 1983 Beirut barracks bombing killed hundreds. McCain won re-election to the House easily in 1984, and gained a spot on the House Foreign Affairs Committee. In 1985, he made his first return trip to Vietnam, and also traveled to Chile where he met with its military junta ruler, General Augusto Pinochet.
Growing family
In 1984 McCain and his wife Cindy had their first child together, daughter Meghan. She was followed two years later by son John Sidney McCain IV (known as Jack), and in 1988 by son James (Jimmy). In 1991, Cindy McCain brought an abandoned three-month old girl needing medical treatment to the U.S. from a Bangladeshi orphanage run by Mother Teresa. The McCains decided to adopt her, and named her Bridget.
First two terms in U.S. Senate
McCain's Senate career began in January 1987, after he defeated his Democratic opponent, former state legislator Richard Kimball, by 20 percentage points in the 1986 election. McCain succeeded longtime American conservative icon and Arizona fixture Barry Goldwater upon the latter's retirement as United States Senator from Arizona.
Senator McCain became a member of the Armed Services Committee, with which he had formerly done his Navy liaison work; he also joined the Commerce Committee and the Indian Affairs Committee. McCain continued to support the Native American agenda. As first a House member and then a senator – and as a life-long gambler with close ties to the gambling industry – McCain was one of the main authors of the 1988 Indian Gaming Regulatory Act, which codified rules regarding Native American gambling enterprises. McCain was also a strong supporter of the Gramm-Rudman legislation that enforced automatic spending cuts in the case of budget deficits.
McCain soon gained national visibility. He delivered a well-received speech at the 1988 Republican National Convention, was mentioned by the press as a short list vice-presidential running mate for Republican nominee George H. W. Bush, and was named chairman of Veterans for Bush.
McCain became enmeshed in a scandal during the 1980s as one of five United States Senators comprising the so-called Keating Five. Between 1982 and 1987, McCain had received $112,000 in lawful political contributions from Charles Keating Jr. and his associates at Lincoln Savings and Loan Association, along with trips on Keating's jets that McCain belatedly repaid in 1989. In 1987, McCain was one of the five senators whom Keating contacted in order to prevent the government's seizure of Lincoln, and McCain met twice with federal regulators to discuss the government's investigation of Lincoln. In 1999, McCain said: "The appearance of it was wrong. It's a wrong appearance when a group of senators appear in a meeting with a group of regulators, because it conveys the impression of undue and improper influence. And it was the wrong thing to do." In the end, McCain was cleared by the Senate Ethics Committee of acting improperly or violating any law or Senate rule, but was mildly rebuked for exercising "poor judgment". In his 1992 re-election bid, the Keating Five affair was not a major issue, and he won handily, gaining 56 percent of the vote to defeat Democratic community and civil rights activist Claire Sargent and independent former Governor Evan Mecham.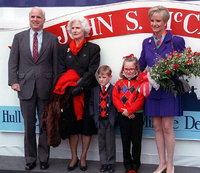 McCain developed a reputation for independence during the 1990s. He took pride in challenging party leadership and establishment forces, becoming difficult to categorize politically.
As a member of the 1991–1993 Senate Select Committee on POW/MIA Affairs, chaired by Democrat and fellow Vietnam War veteran John Kerry, McCain investigated the fate of U.S. service personnel listed as missing in action during the Vietnam War. The committee's unanimous report stated there was "no compelling evidence that proves that any American remains alive in captivity in Southeast Asia." Helped by McCain's efforts, in 1995 the U.S. normalized diplomatic relations with Vietnam. McCain was vilified by some POW/MIA activists who, unlike the Arizona senator, believed large numbers of Americans were still held against their will in Southeast Asia. Since January 1993, McCain has been Chairman of the International Republican Institute, an organization partly funded by the U.S. Government that supports the emergence of political democracy worldwide.
In 1993 and 1994, McCain voted to confirm President Clinton's nominees Stephen Breyer and Ruth Bader Ginsburg whom he considered to be qualified for the U.S. Supreme Court. He would later explain that "under our Constitution, it is the president's call to make." McCain had also voted to confirm nominees of Presidents Ronald Reagan and George H W Bush, including Robert Bork and Clarence Thomas.
McCain attacked what he saw as the corrupting influence of large political contributions – from corporations, labor unions, other organizations, and wealthy individuals – and he made this his signature issue. Starting in 1994, he worked with Democratic Wisconsin Senator Russ Feingold on campaign finance reform; their McCain-Feingold bill attempted to put limits on "soft money". The efforts of McCain and Feingold were opposed by some of the moneyed interests targeted, by incumbents in both parties, by those who felt spending limits impinged on free political speech and might be unconstitutional as well, and by those who wanted to counterbalance the power of what they saw as media bias. Despite sympathetic coverage in the media, initial versions of the McCain-Feingold Act were filibustered and never came to a vote.
The term "maverick Republican" became a label frequently applied to McCain, and he has also used it himself. In 1993, McCain opposed military operations in Somalia. Another target of his was pork barrel spending by Congress, and he actively supported the Line Item Veto Act of 1996, which gave the president power to veto individual spending items but was ruled unconstitutional by the Supreme Court in 1998.
In the 1996 presidential election, McCain was again on the short list of possible vice-presidential picks, this time for Republican nominee Bob Dole. The following year, Time magazine named McCain as one of the "25 Most Influential People in America".
In 1997, McCain became chairman of the powerful Senate Commerce Committee; he was criticized for accepting funds from corporations and businesses under the committee's purview, but in response said the small contributions he received were not part of the big-money nature of the campaign finance problem. McCain took on the tobacco industry in 1998, proposing legislation that would increase cigarette taxes in order to fund anti-smoking campaigns, discourage teenage smokers, increase money for health research studies, and help states pay for smoking-related health care costs. Supported by the Clinton administration but opposed by the industry and most Republicans, the bill failed to gain cloture.
Start of third term in the U.S. Senate
McCain easily won re-election to a third senate term in November 1998, gaining 69 percent of the vote to 27 percent for his Democratic opponent, environmental lawyer Ed Ranger. Ranger was a motorcycle enthusiast and political novice who had only recently returned from Mexico. McCain carried Democratic stronghold Apache County by 54–42 percent and won Hispanic votes statewide by 52–42 percent. McCain took no "soft money" during the campaign, but still raised $4.4 million for his bid, explaining that he had needed it in case the tobacco companies or other Washington special interests mounted a strong effort against him. One of Ranger's campaigning points had been that McCain was really more interested in running for president; McCain indeed created a presidential exploratory committee the following month.
McCain had been uncomfortable and largely silent during the 1998 Lewinsky scandal, partly because his own personal life had not been without blemishes, and partly because his upcoming presidential nomination run restricted his political options. During the early 1999 Impeachment of Bill Clinton, McCain voted to convict the president on both the perjury and obstruction of justice counts. In his remarks on the Senate floor, McCain said: "All of my life, I have been instructed never to swear an oath to my country in vain. In my former profession, those who violated their sworn oath were punished severely and considered outcasts from our society. I do not hold the President to the same standard that I hold military officers to. I hold him to a higher standard. Although I may admit to failures in my private life, I have at all times, and to the best of my ability, kept faith with every oath I have ever sworn to this country. I have known some men who kept that faith at the cost of their lives. I cannot — not in deference to public opinion, or for political considerations, or for the sake of comity and friendship — I cannot agree to expect less from the President."
During 1999, the McCain-Feingold Act once again came up for consideration, this time with soft money prohibition features in but the issue ads provision out. McConnell challenged McCain to name specific senators who had been corrupted by existing campaign finance practices, but McCain refused. In the end, the same failure to gain cloture befell the legislation again. During that year, McCain shared the Profile in Courage Award with Feingold for their work in trying to enact this campaign finance reform; McCain was cited for opposing his own party on the bill at a time when he was trying to win the party's presidential nomination. Indeed, by April 1999 aspects of McCain's 2000 presidential campaign were underway, and his stance regarding the Kosovo War and other issues would take place in that context.
In March 1999, McCain voted in favor of approval for the NATO bombing campaign against Federal Republic of Yugoslavia, saying "Atrocities are the signature of the Serbian Army. They've been carrying out atrocities since 1992. We must not permit the genocide that Milošević has in mind for Kosovo to continue. We are at a critical hour." He also criticized past Clinton administration inaction. Later in 1999, McCain shared the Profile in Courage Award with Feingold for their work in trying to enact their campaign finance reform, although the bill was still failing repeated attempts to gain cloture.
In August 1999, McCain's memoir Faith of My Fathers, co-authored with Mark Salter, was published; a reviewer observed that its appearance "seems to have been timed to the unfolding Presidential campaign." The most successful of his writings, it received positive reviews, became a bestseller, and was later made into a TV film. The book traces McCain's family background and childhood, covers his time at Annapolis and his service before and during the Vietnam War, concluding with his release from captivity in 1973. According to one reviewer, it describes "the kind of challenges that most of us can barely imagine. It's a fascinating history of a remarkable military family."
Presidential campaigns
2000 Presidential candidacy
Main article: United States presidential election, 2000
Primary
McCain initially planned on announcing his candidacy and beginning active campaigning on April 6, 1999 with a four-day roadshow, whose first day would symbolically begin at the United States Naval Academy in Annapolis, Maryland, then see early primary states New Hampshire and South Carolina, before concluding in home Phoenix, Arizona. However, the beginning of the NATO bombing campaign against Yugoslavia delayed his announcement. On March 31 three American soldiers is captured by Yugoslavia. McCain canceled his planned roadshow for the next day, stating that "This is not an appropriate time to launch a political campaign." He received media praise for his action and continued to be a highly visible spokesman for strong action regarding Kosovo; CNN pundit Mark Shields said that, "In 35 years in Washington, I have never seen a debate dominated by an individual in the minority party as I've seen this one dominated by John McCain." McCain also became a very frequent guest on television talk shows discussing the conflict, and his "We are in it, now we must win it" stance drew much attention. On April 13 McCain issued a simple statement without fanfare that he would be a candidate: "While now is not the time for the celebratory tour I had planned, I am a candidate for president and I will formally kick off my campaign at a more appropriate time." McCain and his wife Cindy would make some campaign-related appearances over the spring and summer.
McCain formally announced his candidacy for president on September 27, 1999 before a thousand people in Greeley Park in Nashua, New Hampshire. In his opening speech he declares that "It is because I owe America more than she has ever owed me that I am a candidate for president to the United States." He further said he was staging "a fight to take our government back from the power brokers and special interests and return it to the people and the noble cause of freedom it was created to serve." With no incumbent running, McCain entered a large field of candidates for the Republican Party presidential nomination. His main challenger was Texas Governor George W. Bush, who had the political and financial support of most of the party establishment. Other candidates included Alan Keyes, Steve Forbes, Gary Bauer, Orrin Hatch, Elizabeth Dole, Dan Quayle, Pat Buchanan, Lamar Alexander, John Kasich and Robert C. Smith.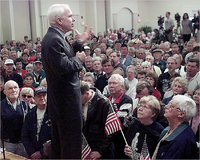 McCain portrayed himself as a political maverick, capitalizing on a message of political reform and "straight talk" that appealed to moderate Republican and independent voters and to the press.
While Bush had the political and financial support of most of the party establishment, McCain was gaining momentum. On October 21, 1999 a Time Magazine/CNN poll showed that McCain was trailing Bush nationally 41 percent to 22 percent, with Dole trailing in a distant third with 13%. A month later, on November 18, polls showed that McCain was continuing his lead over Bush nationally, with 44 percent to 28 percent. On December 20 McCain's lack of political support by the party establishment is compensated by one major boost. On December 12, 1999 John McCain is endorsed by former president and conservative icon Ronald Reagan, a Zogby international poll conducted two days later showed McCain in a much stronger position than before with McCain fielding 37 percent nationally to Governor Bush's 42 percent.
In the Iowa caucuses McCain gained a strong momentum by finishing in a strong third, while focusing on the New Hampshire primary, where his message appealed to independents. He traveled on a campaign bus called the Straight Talk Express. He held many town hall meetings, answering every question voters asked, in a successful example of "retail politics", and he used free media to compensate for his lack of funds. On February 1, 2000, he won New Hampshire's primary with 59 percent of the vote to Bush's 26 percent. The Bush campaign and the Republican establishment feared that a McCain victory in the crucial South Carolina primary might give his campaign unstoppable momentum.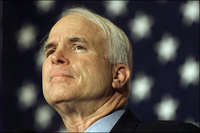 The South Carolina primary was exceptionally controversial, in which an anonymous smear campaign began against McCain, delivered by push polls, faxes, e-mails, flyers, and audience plants. The smears claimed that McCain had fathered a black child out of wedlock (the McCains' dark-skinned daughter was adopted from Bangladesh), that his wife Cindy was a drug addict, that he was a homosexual, and that he was a "Manchurian Candidate" who was either a traitor or mentally unstable from his North Vietnam POW days. Among the examples were a push poll that used racist innuendo intended to undermine support for McCain: "Would you be more likely or less likely to vote for John McCain for president if you knew he had fathered an illegitimate black child?" The Bush campaign strongly denied any involvement with the attacks. Incensed, McCain held a press conference where he condemned the allegations made by the smear campaigns as "despicable lies", while prominent Republicans such as Nancy Reagan, Colin Powell and Norman Schwarzkopf publicly criticized the smear campaign. Instead of focusing on attacking the Bush campaign, McCain focusing on ads promoting his own policies and campaign. Seeing that polls were turning in favour of McCain, there was uncertainty by political commentators as well as withing the campaigns of who would win. At the same time, Bush also went out and publicly criticized the smear campaign against McCain.
McCain pulled an upset by defeating Bush in the South Carolina primary by the razor thin margin of 47 percent to 46 percent. After the South Carolina primaries all candidates except Bush and McCain had either dropped out of the race or suspended their campaigns, and by March all had endorsed one of the two remaining candidates.
After a long series of hard fought contests George W. Bush suspended his campaign on March 4 due to Super Tuesday loses in February. Three days later he endorsed John McCain. With no challengers remaining John McCain declared that he would be the Republican Nominee for President of the United States.
General election
On April 17, 2000, with the general election campaign between McCain and Vice President Al Gore heating up, McCain surprised some observers by announcing that George W. Bush would be his running mate. Even though there still was some tension between them following the South Carolina primary, the reason for the choice was that Bush was popular among evangelical voters, who were crucial for a Republican victory. In response to Senator McCain's vice presidential choice, Gore choose Joe Lieberman as his running mate on April 23.
McCain continued to campaign across the country with the Straight Talk Express, touting his record as Senator, sponsorship of major lobbying and campaign finance reform initiatives and his military service and experience as a POW. During a rally in Akron, Ohio on May 20, McCain announced that he would impose a tax cut on 97% of Americans and that he would create a plan to break America's dependence on foreign oil. McCain also accused Gore of being soft on foreign policy and said that Gore's fiscal policy was filled with taxation. Gore was slow to respond and thus suffered a slide in the polls.
At the 2000 Republican National Convention in Philadelphia John McCain was nominated as the Presidential Nominee while George W. Bush is nominated as the Vice Presidential Nominee.
In the first presidential debate at the University of Massachusetts on October 3, 2000, McCain criticized the Clinton administration's handling of foreign policy targeting the failure of the administration in Somalia in 1993 and the administrations failure to do anything about the Rwandan genocide, saying his now famous line "there is no way that could happen if I was president". After a strong performance in the final two debates and the vice presidential debate by the McCain/Bush ticket, the race looked tight with both McCain and Gore at 48% and independent Ralph Nader carrying 4% nationally.
On election day, November 7, 2000, Senator McCain and Governor Bush held a joint rally in Miami, Florida. As the election returns came in on November 7, McCain had by 11:30 PM EST won twenty-eight states. After a long night of results the fate of the election came down to a close race in the final state of Florida. After several hours of vote counting, John McCain was announced the winner of the election and the forty third President of the United States of America at 3:17 AM EST. The McCain/Bush ticket received 277 electoral votes to Gore's 261.


2004 Presidential candidacy
Main article: United States presidential election, 2004
McCain, widely popular among the majority of U.S. citizens, accepted the Republican nomination in New York City, on a wave of positive feeling. Again, McCain emphasized om his status as a political maverick, and along with his stand on a strong commitment to the War on Terrorism, capitalized on a continuation of his political reforms in healthcare, energy policy, taxes, government spending and "straight talk", as well as an implementation of a temporary guest-worker program for immigrants, which was criticized by conservatives.
McCain's opponent in the 2004 presidential election was former Governor of Vermont Howard Dean. While Dean and other Democrats attacked McCain on the war in Iraq and his warmongering foreign policy, the McCain campaign portrayed Dean as an inexperienced, staunch liberal who would raise taxes and increase the size of government.
On November 2, McCain was re-elected, carrying 30 of 50 states for a total of 420 electoral votes. The president's landslide victory also saw him winning an absolute majority of the popular vote (58.24% to his opponent's 40.61%).
Presidency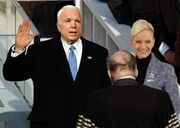 On January 6, 2001, the joint session of the U.S. Congress met to certify the votes of the Electoral College for the 2000 presidential election. Based on the results of the electoral vote count, John McCain was declared the elected President of the United States and George W. Bush was declared the elected Vice-President of the United States. McCain was sworn in as the 43rd President of the United States at 12:01 PM EST (17:01 UTC) on January 20, 2001, in an inaugural ceremony at the U.S. Capitol.
In his inaugural address he declared:
| | | |
| --- | --- | --- |
| " | Through much of the 20th century, America's faith in freedom and democracy was a rock in a raging sea. Now it is a seed upon the wind, taking root in many nations. The 21st Century will be an era in which America will prosper. And I ask all Americans, Republican, Democrat or Independent, we put aside our differences, for united we are strong, confident people. We know that our ideals, our courage, our ingenuity ensure our success. Our democratic faith is more than the creed of our country, it is the inborn hope of our humanity, an ideal we carry but do not own, a trust we bear and pass along; and even after nearly 225 years, we have a long way yet to travel. We must now remain united, in order to continue the prosperity of our country and our ideals. | " |
He promised a thorough review of American policy in Asia and the relations with Cuba, and announced that he would set up a bipartisan commission to study America's options.
Domestic policy
Economic policy
The McCain Cabinet
Office
Name
Term
President
John McCain
2001–2009
Vice President
George W. Bush
2001–2009
Secretary of State
Colin Powell
2001–2009
Secretary of Treasury
Warren Buffet
2001–2009
Secretary of Defense
Chuck Hagel
2001–2007
Robert Gates
2007–2009
Attorney General
Lindsey Graham
2001–2005
Debra W. Yang
2005–2009
Secretary of the Interior
Newt Gingrich
2001–2009
Secretary of Agriculture
Ed Schafer
2001–2009
Secretary of Commerce
Donald Evans
2001–2009
Secretary of Labor
Elaine Chao
2001–2009
Secretary of Health and
Human Services
Mike Leavitt
2001–2009
Secretary of Education
Bill Benett
2001–2009
Secretary of Housing and
Urban Development
Mel Martinez
2001–2009
Secretary of Transportation
Mary Peters
2001–2009
Secretary of Energy
George Pataki
2001–2009
Secretary of Veterans Affairs
Kevin C. Kiley
2001–2007
Chuck Hagel
2007–2009
Secretary of Homeland Security
Robert Gates
2003–2007
Tom Ridge
2007–2009
Chief of Staff
Rick Davis
2001–2009
Administrator of the
Environmental Protection Agency
Stephen L. Johnson   
2001–2009
Director of the Office of
Management and Budget
Mitch Daniels
2001–2009
Director of the Office of
National Drug Control Policy
Rob Portman
2001–2009
United States Trade Representative
John Walters
2001–2009
National Security Advisor
Norman Schwarzkopf, Jr.    
2001–2009
Upon entering office, he set out to implement a tax cut for the majority of Americans, which would be made up for by reduced government spending. On February 17 McCain signs the Taxpayer Relief Act of 2001, a bill that delivered a tax cut for 97% of Americans. This stimulated a slowing economy and created instant growth on both Wall Street and Main Street.
In proposing a plan to cut the deficit, McCain submitted a budget that would cut the deficit by $500,000,000 over five years by reducing government spending and pork-barrel spending. The economy continued to grow, as the longest uninterrupted economic expansion in U.S. history continued. Improved economic conditions and policies served to encourage investors in the bond market, leading to a decline in long-term interest rates.
The Budget Relief Act of 2002 resulted in a continued decline of the budget deficit in the years following it's enactment–in 2002, and the nation's budget surplus continued. The surplus money was used to pay off the national debt. While military spending was increased due to the War on Terrorism, the decline of the budget deficit continued. In 2009, the cut in government spending had resulted in a drop of the national debt from US$5.6 trillion in 2000 to US$4.1 trillion in 2009.
Under the McCain administration, real GDP has grown at an average annual rate of 3.6%. The Dow Jones Industrial Average peaked in January 2007 at about 14,000, 30% above it's level in January 2001. Unemployment originally rose from 4.2% in January 2001 to 5.1% in June 2003, but subsequently dropped to 4.1% as of 2009.
Education and health
Since entering office, President McCain has undertaken a number of educational priorities. He increased funding for the National Science Foundation and National Institutes of Health in his first years of office, and created education programs to strengthen the grounding in science and mathematics for American high school students.
One of the administration's major initiatives was the "American Education Advancement Act", which completely changed the American education system by allowing more spending towards mathematics and science, measuring and closing the gap between rich and poor student performance, providing options to parents with students in low-performing schools, and targeting more federal funding to low-income schools. This landmark education initiative was signed into law by President McCain on April 15, 2005. Many contend that the initiative has been successful, as cited by the fact that students in the U.S. have performed significantly better on state reading and math tests since McCain signed "American Education Advancement Act" into law.
On October 7, 2004, McCain signed into law, which revolutionized the American health care system by substantially lowering costs and by making health care corporations compete for lower prices and higher customer satisfaction.
Social services and Social Security
Following Republican efforts to pass the Medicare Act of 2003, McCain vetoed the bill, giving the large costs and the fact that "new and costly entitlement that includes many people who could buy insurance on their own without government help" as his reasons. He urged Congress to reach a bipartisan agreement. After additional changes to the original bill it passed in both the Senate and the House of Representatives under the name Medicare Act of 2004. On February 12, McCain signed the bill. The new law included major changes to the Medicare program by providing beneficiaries with some assistance in paying for prescription drugs, while relying on private insurance for the delivery of benefits. Included in the new version was that Medicare beneficiaries with incomes over $82,000 should pay more for Medicare Part D and making costs for Medicare lower for those with incomes under $82,000.
McCain began his second term by outlining a major initiative to reform Social Security. In his 2005 State of the Union Address, McCain discussed the potential impending bankruptcy of the program and outlined a new program, which included partial privatization of the system, personal Social Security accounts, and options to permit Americans to divert a portion of their Social Security tax (FICA) into secured investments. However, he emphasized that the plan would not be carried without safeguards if passed, and he remained open to other plans. While Republicans supported the plan, it was opposed by the Democrats. After months of debate in the U.S. Congress, an agreement was reached in August 2005, and the same month the Social Security Act of 2005 passed both chambers of the U.S. Congress, and was signed into law on October 10, 2005.
Early counter-terrorism activity
On February 8, 2001, President McCain and National Security Advisor Norman Schwarzkopf requested a threat evaluation of al-Qaeda, Taliban and Pakistan, based on the information from the previous Clinton administration. They were completed on April 19, and the next day President McCain ordered the FBI to begin tracking several Saudi Arabians who were reported to have terrorist connections after reading an intelligence report stating that terrorist leader Osama bin Laden was preparing a possible terrorist attack against the United States.
Over the next four months, several suspects of Saudi Arabian origin were tracked by the FBI, and in the early hours of August 17; the FBI arrested six Saudi Arabian nationals at an apartment in Paterson, New Jersey following months of surveillance. The six men were identified as Hani Hanjour, Khalid al-Mihdhar, Majed Moqed, Nawaf al-Hazmi, Salem al-Hazmi and Ahmed al-Haznawi. However, due to time-demanding bureaucracy nothing more was achieved, but surveillance of the remaining suspects continued during the interrogation of the six captured suspects.
Environmental policies
Upon entering office in 2001, McCain stated his opposition to the Kyoto Protocol, an amendment to the United Nations Convention on Climate Change which seeks to impose mandatory targets for reducing greenhouse gas emissions. However, he cited that "if we could get China and India into it, then the United States should seriously consider on our terms joining with every other nation in the world to try to reduce greenhouse gases. It's got to be a global effort."
During his first term, the progress on climate issues was little, however McCain did, in contrast to the majority of the Republican Party, acknowledge that the climate issue is a serious threat and that increasing domestic pressure to change the course of American climate policy would be needed. In October 2003, McCain arranged a conference on climate change by Bob Corell, the chair of the Arctic Climate Impact Assessment (ACIA), a four-year project under the auspices of the Arctic Council that consists of 250 researchers and is now approaching completion. McCain became aware of how well suited the Arctic region is to illustrating climate changes that are taking place already, and how they might manifest in other places throughout the world in the future. The Norwegian authorities of the Arctic Council also registered this and invited McCain and other members of his administration to Svalbard.
In May 2004, he visited the Norwegian archipelago Svalbard following an invitation by Foreign Minister Jan Petersen (H). The effects of climate change on Svalbard was an eye opener as the natural environment at Svalbard stripped its visitors of formalities and create an open atmosphere and lively discussions touched on everything from climate change to other major political concerns. The visit also sent a strong signal to the international community which praised his visit.
On October 14, 2005 McCain announced the Greenhouse Gas Emissions Reduction Plan, explaining that the climate changes are a serious threat, and that "it is only a question of time before the United States gets back on course and assumes leadership in the international climate cooperation. Without U.S. participation in the climate regime, there is little hope of attaining global emissions reductions that can make a difference."
McCain's position on greenhouse gas emissions calls for a timetable mandated by the Environmental Protection Agency that gradually reduces greenhouse ceilings. McCain's stance also includes an emission credit system that regulates each metric ton of greenhouse a company produces. This plan is to be put in to effect in the period 2008-2012, with the following targets:
2012: Return Emissions To the Projected 2005 Levels (18 % above 1990 levels)
2020: Return Emissions To 1990 Levels (15 % below 2005 levels)
2030: 22 Percent Below 1990 Levels (34 % below 2005 levels)
2050: 60 Percent Below 1990 Levels (66 % below 2005 levels)
Energy policies
President McCain has said that the U.S. dependence on foreign oil is "a major strategic vulnerability, a serious threat to our security, our economy and the well-being of our planet," explicitly connecting energy independence with national security, climate change, and the environment. He has also said that this dependence "has been 30 years in the making, and was caused by the failure of politicians in Washington to think long term about the future of the country."
During the latter stages of the campaign and in his inaugural speech, he pledged to toward diminished reliance on foreign oil by reducing fossil fuel consumption and increasing alternative fuel production.
On May 12, 2001, President McCain began a comprehensive overhaul of U.S energy policy by signing a bill funding the Eisenhower Energy Policy Act, a national program that would allow the government and the private sector to work together to cut U.S. dependence on foreign fuels by 75% by the year 2025. The components of the program included:
expanding domestic oil and natural gas exploration and production, including the mining and retortion of oil shale,
taking action to break U.S. dependency on foreign oil by reforming the transportation sector,
taking action to break U.S. dependency on particularily Saudi Arabian oil by increasing trade with oil and natural gas with democratic countries such as Norway
investing in nuclear technology
investing in clean, alternative sources of energy, such as wind and solar power.
utilization of clean coal technology.
protecting the environment by addressing climate change,
promoting energy efficiency,
addressing speculative pricing of oil.
On July 8, 2006, Secretary of Energy T. Boone Pickens announced a major energy policy plan called the Pickens Plan. The plan promotes alternatives to foreign oil, including natural gas, wind, and solar energy. A major feature of the plan is replacing the 22% of its electricity that the United States gets from natural gas with wind energy, which would then allow that natural gas to provide 38% of the nation's fuel for transportation and reduce its dependence on foreign oil. This along with better harnessing of nuclear power, much as Europe has managed to do, and the construction of 45 new nuclear reactors to be built in the United States by 2025. The Pickens Plan called for the United States to utilize its wind corridor in the middle of the country stretching from Texas northerly through the Great Plains to the Canadian border. He noted in Congressional testimony in July 2006 that his plan would generate new jobs and provide economic stimulus to this area, while noting that it would also require new transmission lines which traditionally antagonize some environmentalists and/or nearby populations.
On June 8, 2007 McCain signed an agreement with Norwegian Prime Minister Jens Stoltenberg to increase import of Norwegian oil and natural gas by 10% by 2020, as well as possibilities for increased cooperation between StatoilHydro and oil companies in the United States to further develop production of natural gas.
Immigration
As a Senator, McCain had been in favor of legislation and eventually the granting of citizenship to the estimated 12–20,000,000 illegal aliens in the United States and the creation of an additional guest worker program with an option for permanent immigration. However, after the terrorist attacks of September 11, 2001, he was under pressure from the American people to put forth strict regulations of immigration across the United States-Mexican border.
In 2002, McCain signed the "United States-Mexican Border Act", which approved for over 700 miles of double-reinforced fence to be built across cities and deserts alike between California and Texas in areas that have been prone to illegal drug trafficking and illegal immigration. It also authorized the installation of more lighting, vehicle barriers, and border checkpoints, while putting in place more advanced equipment like sensors, cameras, satellites and unmanned aerial vehicles in an attempt to watch and control illegal immigration into the United States.
In 2005, going beyond calls from conservatives to secure the border, Bush demanded that Congress allow more than 12,000,000 illegal immigrants to work in the United States with the creation of a "temporary guest-worker program." McCain does not support amnesty for illegal immigrants, but argues that the lack of legal status denies the protections of U.S. laws to millions of people who face dangers of poverty and exploitation, and penalizes employers despite a demand for immigrant labor.
The President urged Congress to provide additional funds for border security, and committed to deploying 6,000 National Guard troops to the Mexico–United States border. He strongly supported the Immigration Reform Act of 2005 which was written by a bipartisan group of Senators with the active participation of the McCain administration. The bill envisioned a legalization program for undocumented immigrants, with an eventual path to citizenship; establishing a guest worker program; a series of border and work site enforcement measures; a reform of the green card application process and the introduction of a point-based "merit" system for green cards; elimination of "chain migration" and of the Diversity Immigrant Visa; and other measures. McCain contended that the proposed bill did not amount to amnesty.
A heated public debate followed, which resulted in a substantial rift within the Republican Party, the majority of conservatives opposed it because of it's legalization or amnesty provisions. The bill was eventually passed in the Senate on February 16, 2005, when a cloture motion succeded on a 53-47 vote.
Military funding and reforms
During the presidential campaign, McCain had promised to strengthen the military while removing programs that were ineffective, too expensive or not working. Upon entering the presidency in 2001, the military budget was at US $387,000,000,000. In the budget proposal for 2002, the military spending was to be raised to US $426,000,000,000; while several programs were to be cancelled.
However, following the events of September 11 and the declaration of the War on Terrorism, the military spending was increased to meet the new requirements. Between 2001-2006, the budget was increased from US $426,000,000,000 to US $570,000,000,000 of which $81,000,000,000 were war supplemental. The increase was attributed to the War on Terrorism, the War in Afghanistan and Iraq, as well as an extensive modernisation program (United States Armed Forces Modernisation Program), whose main focus was to reorganize and re-equip the armed forces, especially the Army and Air Force.
Following 2006, the military spending decreased, mainly due to the progress of the modernisation program, the cancellation of expensive and non-working defense programs and the end of the War in Iraq. Between 2006-2009 military spending decreased from US $570,000,000,000 to US $527,000,000,000.
During the McCain administration, the Brigade Combat Team concept was fully integrated into the Armed Forces, while new tactics were included into the Armed Forces doctrine concerning urban and counter-insurgency warfare, following experiences from Iraq and Afghanistan. An successor to the aging M16 and M4 assault rifles were also found, the HK M416, a combined effort by Colt Defense and Germany's Heckler & Koch. The new weapon is an improved version of the M4 Carbine with many changes, most notably a new style gas system borrowed from the HK G36. Other reforms including widespread upgrades of the M1A2 Abrams, M2 Bradley and HMMWV with the Vehicle Urban and Counter-Insurgency Survival Upgrade ( CUCISU), as well as replacing the HMMWV with the Force Protection Cougar H in Afghanistan, due to the increasing threat of suicide attacks and IEDs.
Civil liberties and terrorist detainees
Following the events of September 11, McCain issued an executive order authorizing the NSA to monitor communications between suspected terrorists outside the U.S. and parties within the U.S. if a warrant pursuant to the Foreign Intelligence Surveillance Act was obtained, but should under certain circumstances be possible to monitor communications between suspected terrorists without obtaining the warrant, maintaining that the warrant requirements of FISA were implicitly superseded by the subsequent passage of the Authorization for Use of Military Force. The program proved to be somewhat controversial, as critics of the administration, as well as organizations such as the American Bar Association, claimed that the possibility to circumvent the warrant was illegal.
In October 2005, McCain, a former POW, wrote a piece of legislation which was introduced to the Defense Appropriations bill for 2005 in the U.S. Congress. That month, the U.S. Senate voted 90–9 to support the amendment. The amendment was commonly referred to as the Amendment on (1) the Army Field Manual and (2) Cruel, Inhumane, Degrading Treatment, amendment #1977 and also known as the President McCain Amendment 1977. It became the Detainee Treatment Act of 2005 as Title X of the Department of Defense Authorization bill. The amendment prohibits inhumane treatment of prisoners, including prisoners at Guantanamo Bay, by confining interrogations to the techniques in Army Field Manual 34-52, "Intelligence Interrogation".
On December 15, 2005, McCain signed the bill, stating that this would "definitively make it clear to the world that the United States does not support the use of torture and that we adhere to the international convention of torture, whether it be here at home or abroad." McCain argued that American military and intelligence personnel in future wars will suffer for abuses committed2 by the US in the name of fighting terrorism. He fears that abuse would put American prisoners at risk of torture, summary executions and other atrocities by chipping away at Geneva Conventions. He argues that his rival bill to Bush's plan gives defendants access to classified evidence being used to convict them and will set tight limits on use of testimony obtained by coercion. Furthermore it offers CIA interrogators some legal protections from charges of abuse, but rejects the administration's plan to more narrowly define the Geneva Conventions' standards for humane treatment of prisoners. McCain has often insisted that this issue overrides politics.
McCain, whose six years of captivity and torture in Vietnam made him a national celebrity, negotiated (in September 2006) a compromise in the Senate for the Military Commissions Act of 2006, suspending habeas corpus provisions for anyone deemed by the Executive Branch an "unlawful enemy combatant" and barring them from challenging their detentions in court. Coming on the heels of a Supreme Court decision adverse to the White House, McCain's compromise gave a retroactive, nine-year immunity to U.S. officials who authorized, ordered, or committed acts of torture and abuse, and permitted the use of statements obtained through torture to be used in military tribunals so long as the abuse took place by December 30, 2005. McCain's compromise permitted the President to establish permissible interrogation techniques and to "interpret the meaning and application" of international Geneva Convention standards, so long as the coercion fell short of "serious" bodily or psychological injury. Widely dubbed McCain's "torture compromise", the bill was signed into law by George W. Bush on October 17, 2006, shortly before the 2006 midterm elections.
Hurricane Katrina
Hurricane Katrina, which was one of the worst natural disasters in U.S. history, struck early in McCain's second term. Katrina formed in late August during the 2005 Atlantic hurricane season and devastated much of the north-central Gulf Coast of the United States, particularly New Orleans.
McCain declared a state of emergency in Louisiana, Mississippi and Alabama on August 27, while authorized the Department of Homeland Security (DHS), National Guard and Federal Emergency Management Agency (FEMA) to manage the evacuation of the citizens of the three states and, after the hurricane had past, to manage the aftermaths of the disaster. Despite offers of free evacuation to anyone who needed it, many decided to stay in the city. The eye of the hurricane made landfall on August 29, and New Orleans began to flood due to levee breaches; later that day, McCain declared that a major disaster existed in Louisiana, officially authorizing FEMA to start using federal funds to assist in the recovery effort.
On August 30, McCain cancelled his plan and toured parts of Louisiana, Mississippi, and Alabama to oversee the aid and the evacuation of the remaining citizens.
After the hurricane, Congress passed the Louisiana Reconstruction Act which began the rebuilding of New Orleans to a pre-hurricane level of infrastructure and quality of life. However, reported injuries and deaths were lower than expected, with approximately 1,000 people killed by hurricane-related accidents.
Hurricane Katrina smashes into New Orleans, Louisiana. President McCain cancels his plans and oversees the aid and evacuation of the remaining citizens. He orders FEMA and the military to begin rescue efforts in New Orleans. Property damage is staggering, and many wonder if the city will ever recover, or if it's even worth rebuilding
Foreign policy
For the first nine months of his presidency, the McCain administration followed a more humble foreign policy. McCain's foreign policy platform included support for a stronger economic and political relationship with Latin America, especially Mexico, improving relations with European nations and a reduction of involvement in "nation-building" and other small-scale military engagements. The administration also pursued a national missile defense. McCain was president on September 11, 2001, when terrorists hijacked passenger aircraft and flew them into the World Trade Center, killing roughly 2,700 people. In response, McCain launched the War on Terror, in which the United States military as part of an international coalition invaded Afghanistan and later Iraq, which in turn led to the collapse of the Taliban regime in Afghanistan and the removal of Saddam Hussein from power in Iraq. After successful democratic elections in both Iraq and Afghanistan, the United States began gradually withdrawing troops from Iraq whilst continuing the fight against Al-Qaeda and the Taliban in Afghanistan along with other NATO allies. He also oversaw the normalisation of relations between the United States and Libya, who abandoned their goal of obtaining weapons of mass destruction through diplomatic negotiations.
McCain began his second term with an emphasis on continuing the fight against Al-Qaeda and the remnants of the Taliban in Afghanistan. McCain lauded the pro-democracy struggles in Georgia and Ukraine. He played the chief role in the creation of the League of Democracies. In March 2006, he visited India, leading to renewed ties between the two countries, particularly in areas of nuclear energy and counter-terrorism co-operation.
In 2006, the McCain administration authorized the air and sea blockade of Sudan in order to bring an end to the Genocide in Darfur and supported Israel in its war with Hezbollah. In 2007, U.S special forces entered Uzbekistan and secured several loose nuclear warheads that had the potential to be sold to terrorists thus preventing a major international catastrophe. Later in the 2007, the United States successfully brought the League of Democracies to sanction North Korea for its testing of a nuclear device which it soon abandoned. In early-2008, the McCain administration effectively recognized the independence of Kosovo from Serbia and called on China to recognize and end it's occupation of Tibet. After no response from China, all members of the League of Nations boycotted the opening ceremonies of the 2008 Beijing Olympic Games and with the exception of Greece; did not allow the passing of the Olympic torch through their territory. In October 2008, the McCain administration began a program benefiting companies that hired workers in the United States by giving them a tax credit. In January 2009, the McCain administration ordered an airlifting of supplies to the Palestinian West Bank gaining America support across the Middle East.
September 11, 2001
The September 11 terrorist attacks were a major turning point in McCain's presidency. On that morning, 19 Islamic terrorists successfully hijacked two Boeing 747 aircraft, and crashed them into the Twin Towers that formed the World Trade Center.
President McCain was at an elementary school in Washington DC as part of a scheduled visit to promote education when Presidential adviser John Weaver informed him that a small twin-engine plane had crashed into the World Trade Center. He acted swiftly upon receiving the news, and after speaking to National Security Advisor Norman Schwarzkopf at the White House, who reported that it was a commercial aircraft, he prevented a further terrorist attack by ordering all aircraft to be grounded and scrambling F-16 fighter jets to shoot down one more hijacked aircraft, allegedly targeted for the U.S. Capitol building. He was criticized for foolhardiness in rejecting the Secret Service's advice to leave the city. Later in the afternoon, he spoke before Congress, promising swift retaliation by declaring a "War On Terrorism". That evening, he addressed the nation from the Oval Office, promising a strong response to the attacks but emphasizing the need for the nation to come together and comfort the families of the victims.
On September 12, he and Vice President Bush held a formal meeting with National Security advisers from the CIA, NSA, the Joint Chiefs of Staff and several prominent members of the U.S. Senate as well as former Presidents. They discussed the intelligence reports indicating that the perpetrators were Osama Bin Laden and the terrorist organization Al-Qaeda. After several hours of debating they all agreed that the an invasion of Afghanistan to remove the Taliban regime from power, who were harbouring Al-Qaeda, was the only solution to eliminate the terrorist threat.
On September 13, he visited Ground Zero, meeting with Mayor Rudy Giuliani and firefighters, police officers, and volunteers.
On September 17, six days after the attacks, McCain spoke once again before a joint session of Congress, in which he received the permission from both the Senate and House of Representatives to invade Afghanistan, in order to topple the Taliban regime and eliminate the terrorist organization Al-Qaeda.
War on Terrorism
Featured article: War on Terrorism
After September 11, McCain announced a global War on Terrorism. The Afghan Taliban regime was not forthcoming with Osama Bin Laden, so McCain ordered the invasion of Afghanistan to overthrow the Taliban regime. In his January 29, 2002 State of the Union address, he asserted that an "axis of evil" consisting of North Korea, Iran, and Iraq was "arming to threaten the peace of the world" and "pose[d] a grave and growing danger". The McCain Administration proceeded to assert a right and intention to engage in hard diplomacy and preemptive war, also called preventive war, supported by the League of Democracies, consisting of democratic states around the world, in response to perceived threats. This would form a basis for what became known as the McCain Doctrine.
Afghanistan
Featured article: War in Afghanistan (2001-present)
On September 29, 2001, Operation Enduring Liberty was initiated when U.S. bombers and naval vessels began bombing major lines of communication, infrastructure and military bases as well as Taliban and Al-Qaeda forces, while U.S special forces units begin slipping into Afghanistan, with the objective of convincing and bribing local chieftains to resist the Taliban regime.
After several days of bombing of major lines of communication, infrastructure and military bases, U.S. and UK special forces supported by the Afghan Northern Alliance captures Mazār-e Sharīf on October 6, thus opening supply routes and providing an inportant airstrip for U.S. planes and helicopters. On October 8 first U.S. forces enters the southern half of Afghanistan, and on October 10, 100,000 U.S soldiers had been airlifted into Afghanistan, most of them from the captured airport in Mazār-e Sharīf. The main goals of the invasion was to defeat the Taliban, drive al-Qaeda out of Afghanistan, and capture key Al-Qaeda leaders.
On October 10, the U.S. forces, supported by the Afghan Northern Alliance, launched the ground offensive, and reinforced by the 66th Armor Regiment and the 26th Marine Expeditionary Unit, the advance went smoothly. The bombing campaign and ground offensive led to the capture of the Afghan capital of Kabul by U.S. forces and the Northern Alliance on October 22. In December 2001, the Pentagon reported that the Taliban had been defeated but cautioned that the war would go on to continue weakening Taliban and Al-Qaeda leaders. Later that month, the UN had installed the Afghan Interim Authority chaired by Hamid Karzai.
Initial efforts to kill or capture al-Qaeda leader Osama Bin Laden suceeded as he was killed on November 26, 2001 in the mountainous region of Tora Bora. However, Al-Qaeda's second-in-command, Ayman al-Zawahiri, as well as the leader of the Taliban, Mohammed Omar, remained at large, and McCain said that "despite that the Taliban has been ousted and that Osama Bin Laden has been killed, the war is by no means won. We must continue fighting the Taliban and Al-Qaeda until they have been completely eliminated and support the Afghan people with rebuilding their country."
Despite the initial success in driving the Taliban from power in Kabul, by early-2003; the Taliban was regrouping, amassing new funds and recruits. In 2006, the Taliban insurgency appeared larger, fiercer, and better organized than expected. However, in 2006 McCain sent 20,000 additional troops to Afghanistan while the NATO-mandated ISAF force was deployed in southern Afghanistan. Because of this, along with the appointment of General David Petraeus as the head of Central Command (CENTCOM), large-scale allied offensives such as Operation Mountain Thrust began attaining major successes against both the Taliban and al-Qaeda. In July 2007, Mohammed Omar was killed in a firefight with ISAF forces during Operation Achilles. On October 28, Ayman al-Zawahiri was killed in the mountainous regions around Tora Bora during Operation Phoenix.
Following the elimination of the al-Qaeda leadership and the destruction of Al-Qaeda movement in late-2007 and early-2008, all U.S. forces were put under ISAF command to begin focusing on eliminating the Taliban and to begin humanitarian efforts to rebuild the country, and major combat operations was completed on May 28, 2008. On October 15, free democratic elections were held for the second time Afghanistan, proving that the democratic reforms had been successful. President Hamid Karzai said that, "This is the greatest day in the history of this country to date." McCain praised the event as well, saying that the Afghan people "have taken rightful control of their country's destiny."
Iraq
Main article: War in Iraq (2003-2006)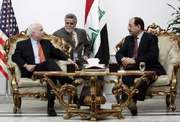 Beginning with his January 29, 2002 State of the Union address, McCain began publicly focusing attention on Iraq, which he labeled as part of an "Axis of Evil" allied with terrorists and posing "a grave and growing danger" to U.S. interests through possession of weapons of mass destruction. In May 2002, CIA reports contained assertions of Saddam Hussein's intent of reconstituting nuclear weapons programs, not properly accounting for Iraqi biological and chemical weapons, and that some Iraqi missiles had a range greater than allowed by the UN sanctions.
In response to this, McCain urged on June 12 the United Nations to enforce Iraqi disarmament mandates to resume the weapons inspections, precipitating a diplomatic crisis. On July 13, inspectors returned to Iraq under the direction of UNMOVIC chairman Hans Blix and IAEA Director General Mohamed ElBaradei. However, the Iraqi regime was reluctant to abide by the requests of the UN, or provided falsified facts about the allegded Iraqi WMD programme. On August 5, McCain addressed the United Nations Security Council and told them that Saddam Hussein is a threat to democracies across the world and must be stopped. Despite this the U.N. votes not to intervene or to support intervention in Iraq. His urge of an UN Security Council resolution authorizing the use of military force failed due to vigorous opposition from several countries, including Russia, France and China. As a result, McCain met with the heads of government from several NATO countries in Brussels, Belgium on October 22, and a vote to intervene in Iraq if diplomacy should fail succeeded, which allowed the inclusion of United Kingdom, Italy, Spain, Poland, Denmark, Germany, Canada, Turkey, Norway, Belgium, The Netherlands, Romania and other non-NATO allies of the United States to assist in an invasion of Iraq. On December 16, President McCain says that the coalition of nations that agreed at the NATO summit was part of a new "League of Democracies".
With the failure of it's resolution, the U.S. and their supporters abandoned the Security Council procedures and decided to pursue the invasion without U.N. authorization in case further diplomacy and weapons inspections should fail. Opposition to the invasion coalesced on February 15 in a worldwide anti-war protest that attracted big between six and ten million people in more than 800 cities, the largest such protest in human history.
On March 10, 2003 several intelligence agencies, including CIA, SIS, BND and DGSE presented further evidence of VX nerve agent and present in Iraq, and as well presented evidence of parts of the Chemical weapons programme being transported by army trucks towards Syria. The news were received as partial proof of the Iraqi WMD programme, but that this alone was no reason to intervene militarily. Two days later, Iraq expelled Hans Blix and Mohamed ElBaradei, which according to the U.S. indicated that they had stumbled upon actual proof of their WMD programme. As a result, public opinion in the NATO countries that had agreed to participate in the Invasion of Iraq began favouring an invasion.
The war effort was joined by more than 40 other nations (most notably the United Kingdom), both by military and symbolic support, designated the "League of Democracies". The invasion of Iraq commenced on March 27, 2003 and the Iraqi military was quickly defeated. The capital, Baghdad, fell on April 9, 2003. On May 1, McCain declared the end of major combat operations in Iraq, but that much was still left to be done do conclude the mission as accomplished. The initial success of U.S. operations increased his popularity, but the U.S. and allied forces faced a growing insurgency led by sectarian groups. Between August and September the situation in Iraq deteriorated further, but on August 20, 2003, McCain announced a new security strategy to be implemented throughout Iraq. Iraq was to be divided into nine zones, with Coalition soldiers and Iraqi police (later the Iraqi Army) working side-by-side to clear each sector of Shi'ite militias and Sunni insurgents and establish Joint Security Stations so that reconstruction programs can begin in safety. The strategy also calls for a job program for Iraqis, more reconstruction proposals, and $1,200,000,000 for these programs.
Following the implementation of the security strategy, the violence drops dramatically, attributed to McCain's swift actions with the implementation of his counter-insurgency strategy and the success of General Petraeus leadership of the MNF-I. By June 2004, the insurgency had been successfully crushed. McCain praised both the success of the strategy and the Iraqis' legislative achievements, including a pension law, a revised de-Baathification law, a new budget, an amnesty law and a provincial powers measure that, he said, sets the stage for the Iraqi governorate elections, 2008.
On August 5, 2004, McCain and Nouri al-Maliki concluded a status of forces agreement which called for the complete withdrawal of most troops by the beginning of 2006 pending any separate negotiations, with a 5,000-strong Brigade Combat Team based at the MEK Compound in Fallujah, Iraq, with a possibility of renewal after five years. In January 2005, free and democratic elections were held in Iraq for the first time in fifty years. According to Iraqi National Security Advisor Mowaffak al-Rubaie, "This is the greatest day in the history of this country." McCain praised the event as well, saying that the Iraqis "have taken rightful control of their country's destiny." This led to the election of Jalal Talabani as President and Nouri al-Maliki as Prime Minister of Iraq. A referendum to approve a constitution in Iraq were held in October 2005, supported by the majority Shi'ites and many Kurds.
As of July 2006, all Coalition forces except for the Brigade Combat Team based at the MEK Compound had been withdrawn from Iraq, with the Iraqi security forces in complete control of its own country.
Libya
UN sanctions were lifted on September 12, 2003, after Libya fulfilled all remaining UNSCR requirements, including renunciation of terrorism, acceptance of responsibility for the actions of its officials, and payment of appropriate compensation to the victims' families. McCain called this "a great step toward the normalization of relations with the U.S".
On December 19, 2003, Libya announced its intention to rid itself of WMD and MTCR-class missile programs. Since that time, it has co-operated with the US, the UK, the International Atomic Energy Agency, and the Organization for the Prohibition of Chemical Weapons toward these objectives. Libya has also signed the IAEA Additional Protocol and has become a State Party to the Chemical Weapons Convention.
In recognition of these actions, the U.S. began the process of normalizing relations with Libya. The U.S. terminated the applicability of the Iran-Libya Sanctions Act to Libya and the President signed an Executive Order on September 20, 2004 terminating the national emergency with respect to Libya and ending IEEPA-based economic sanctions. This action had the effect of unblocking assets blocked under the Executive Order sanctions. Restrictions on cargo aviation and third-party code-sharing have been lifted, as have restrictions on passenger aviation. Certain export controls remain in place.
U.S. diplomatic personnel reopened the U.S. Interest Section in Tripoli on February 8, 2004. The mission was upgraded to a U.S. Liaison Office on June 28, 2004, and to a full embassy on May 31, 2006. The establishment in 2005 of an American School in Tripoli demonstrates the increased presence of Americans in Libya, and the continuing normalization of bilateral relations. Libya re-established it's diplomatic presence in Washington with the opening of an Interest Section on July 8, 2004, which was subsequently upgraded to a Liaison Office in December 2004 and to a full embassy on May 31, 2006.
On May 15, 2006, the State Department announced its intention to rescind Libya's designation as a state sponsor of terrorism in recognition of the fact that Libya had met the statutory requirements for such a move: it had not provided any support for acts of international terrorism in the preceding six-month period, and had provided assurances that it would not do so in the future. On June 30, 2006, the U.S. rescinded Libya's designation as a state sponsor of terrorism. In July 2007, Mr. Gene Cretz was nominated by President McCain as U.S. Ambassador to Libya. The Foreign Relations Committee of the U.S. Senate held Cretz's confirmation hearing on Wednesday, September 25th, 2008. The Libyan government satisfied its responsibility and paid the remaining amount of money it owed (total of $1,500,000,000) to the victims of several acts of terrorism on Friday, October 31, 2008.
The U.S. Embassy in Libya was temporarily located at the Corinthia Bab Africa Hotel, Souk al-Thulatha, Al-Gadim, Tripoli. The U.S. consular representative's office is also located at the in the Corinthia Bab Africa Hotel. Limited services are available for U.S. citizens.
Iran
Main article: Nuclear program of Iran
There has been much controversy surrounding Iran and it's nuclear program since 2003, when Highly Enriched Uranium (HEU) traces were detected by IAEA inspectors in at least two different sites, traces which were deemed pure enough to produce nuclear weaponry. The controversy centers on the Iranian enrichment of Uranium. Iran officials have stated that they are enriching the uranium to fuel civilian reactors as permitted under the Nuclear Non-Proliferation Treaty and other international agreements, but the processes that Iran has been developing to reprocess and enrich uranium are also critical components for the development of a nuclear weapon.
Since there exists some circumstantial evidence that Iran, classified by the U.S. as a state sponsor of terrorism, may have intentions of pursuing a weapons program, the Iranian nuclear program has become a major foreign policy of the United States. John McCain has called the crisis with Iran "the most serious crisis we have faced - outside of the entire war on terror - since the end of the Cold War.
He has made clear that an Iranian enrichment program is unacceptable, consistently stating that the United States will not allow Iran to possess a nuclear weapon or the means to create a nuclear weapon. Accordingly, the passage of UN Security Council resolutions calling on Iran to stop enriching uranium, imposing sanctions on Iran for continuing to enrich uranium, and to tighten sanctions are seen as foreign policy successes for the McCain administration. Despite these resolutions, Iran's nuclear program continues relatively unfettered. McCain has criticized Russia and China for causing "gridlock" in the UN Security Council and preventing the sanctioning of Iran as well as other areas of conflict such as Darfur and Burma.
In 2007, the Concert of Democracies agreed on imposing sanctions on Iran, demanding that the Iranian government stops enriching uranium. While popular support for the Iranian President Mahmoud Ahmadinejad has dropped since the sanctions began to take effect, and some elements of the Iranian leadership has spoken out in favour of abandoning the nuclear programme and friendly relations with the West, Iran's nuclear program continues relatively unfettered.
McCain has cited Iran's stance towards Israel as justification for his aggressive policy towards Iran, saying, "Iran is dedicated to the destruction of Israel. That alone should concern us but now they are trying for nuclear capabilities."
McCain favoured a diplomatic solution to the problem, but did not rule out a military solution. In one interview he said that "I pray every night that we will avoid a conflict with Iran. There's a whole lot of things we can do before we seriously consider the military option," but clarified that "I still say there's only one thing worse than military action against Iran and that is a nuclear-armed Iran." His comments regarding "bombing Iran" made to veterans in South Carolina have come under scrutiny by some, despite McCain's statement that the comments were made in jest.
In 2006, McCain successfully persuaded FIFA to ban Iran from the 2006 World Cup, referring to Iranian President Mahmoud Ahmadinejad's Holocaust denials as the reason since such denials in Germany, where the competition was held, are illegal.
Sudan
Featured article: 2006 bombing campaign of Sudan
To stop the ethnic cleansing and genocide by the Sudanese government and aligned Jenjaweed militia in Darfur, McCain authorized the use of American troops in a NATO-led, COD-mandated bombing campaign against Sudan, named Operation Infinite Justice. General William E. Ward (AFRICOM) was Supreme Allied Commander of NATO and oversaw the mission. With United Nations Security Council Resolution 2244, the bombing campaign ended on June 5, 2006. The resolution placed Darfur under UN administration and authorized a peacekeeping force, the United Nations African Union Mission in Darfur (UNAMID). NATO claimed to have suffered zero combat deaths.
On 14 July 2008, the Chief Prosecutor of the International Criminal Court (ICC), Luis Moreno-Ocampo, alleged that Sudanese President Omar al-Bashir bore individual criminal responsibility for genocide, crimes against humanity and war crimes committed since 2003 in Darfur. The prosecutor accused al-Bashir of having "masterminded and implemented" a plan to destroy the three main ethnic groups, the Fur, Masalit and Zaghawa, with a campaign of murder, rape and deportation. The evidence was submitted to three judges who would decide whether to issue an arrest warrant.
Syria
President McCain has been supportive of expanding economic sanctions on Syria. In early 2007, the Treasury Department, acting on a June 2005 executive order, froze American bank accounts of Syria's Higher Institute of Applied Science and Technology, Electronics Institute, and National Standards and Calibration Laboratory. McCain's order prohibits Americans from doing business with these institutions suspected of helping spread weapons of mass destruction and being supportive of terrorism. Under separate executive orders signed by McCain in 2004 and later 2007, the Treasury Department froze the assets of two Lebanese and two Syrians, accusing them of activities to "undermine the legitimate political process in Lebanon" in November 2007. Those designated included: Assaad Halim Hardan, a member of Lebanon's parliament and current leader of the Syrian Socialist National Party; Wi'am Wahhab, a former member of Lebanon's government (Minister of the Environment) under Prime Minister Omar Karami (2004-2005); Hafiz Makhluf, a colonel and senior official in the Syrian General Intelligence Directorate and a cousin of Syrian President Bashar al-Assad; and Muhammad Nasif Khayrbik, identified as a close adviser to Assad.
North Korea
McCain publicly condemned Kim Jong-il of North Korea, naming North Korea one of the states in an "axis of evil," and saying that "[t]he United States of America will not permit the world's most dangerous regimes to threaten us with the world's most destructive weapons." Within months, "both countries had walked away from their respective commitments under the U.S.-DPRK Agreed Framework of October 1994." North Korea's October 9, 2006 detonation of a nuclear device further complicated McCain's foreign policy, which centered for both terms of his presidency on "[preventing] the terrorists and regimes who seek chemical, biological or nuclear weapons from threatening the United States and the world." McCain condemned North Korea's claims, reaffirmed his commitment to "a nuclear-free Korean Peninsula," and stated that "transfer of nuclear weapons or material by North Korea to states or non-state entities would be considered a grave threat to the United States," for which North Korea would be held accountable. On May 7, 2007, North Korea agreed to shut down its nuclear reactors immediately pending the release of frozen funds held in a foreign bank account. This was a result of a series of three-way talks initiated by the United States and including China. On September 2, 2007, North Korea agreed to disclose and dismantle all of its nuclear programs by the end of 2007.
North Atlantic Treaty Organization
Main article: NATO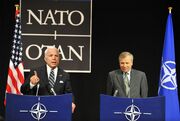 McCain has been an avid supporter of NATO. In the senate, he voted in favour for the NATO intervention in Kosovo in 1999. In Afghanistan, McCain has been one of the major supporters of the NATO-led International Security Assistance Force (ISAF). He has emphasized on close co-operation with fellow NATO members within ISAF to combat the Taliban insurgency. Following the elimination of the al-Qaeda leadership and the destruction of al-Qaeda movement in late 2007 and early 2008, all U.S. forces were put under ISAF command to begin focusing on eliminating Taliban along with other NATO members and to focus on humanitarian efforts to rebuild the country.
As president, he also oversaw the largest expansion of NATO, when 7 countries (Estonia, Latvia, Lithuania, Slovakia, Slovenia, Romania and Bulgaria) joined the alliance in 2004, and was one of the leading forces behind the admission of Croatia and Albania in 2009. He has also been a strong supporter of NATO membership for Ukraine and Georgia, which is one of the reasons for the worsening tensions with Russia. He and his successor George W. Bush has also supported Danish Prime Minister Anders Fogh Rasmussen's candidacy as Secretary-General of NATO.
McCain has also criticized the United Nations as being too bureaucratic and too incompetent in solving urgent crisis situations, mainly due to the power of authoritarian and dictatorial countries (i.e. Russia and China). This was seen when the an UN Security Council resolution authorizing the use of military force against Iraq failed on August 5, 2002, mainly due to the opposition from Russia, France and China. As a result, he met with the heads of government from several NATO countries, where a vote to intervene in Iraq succeeded. This allowed the inclusion of United Kingdom, Italy, Spain, Poland, Denmark, Germany, Canada, Turkey, Norway, Belgium, The Netherlands, Romania and other non-NATO allies of the United States to assist in an invasion of Iraq. On December 16, he said that the coalition of nations that agreed at the NATO summit was part of a new "League of Democracies".
Concert of Democracies
Main article: Concert of Democracies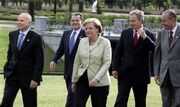 He was one of the leading personalities behind the Concert of Democracies, a international organisation founded by the world's liberal democracies and to provide a framework in which they could work together to effectively tackle common challenges while existing withing regional and global institutions, such as the United Nations, but should function independently as a focal point for efforts to strengthen liberty under law around the world, if those institutions should fail.
On 2004, McCain negotiated with democratic countries around the world, trying to get democratically-elected governments to participate in an organisation in which only democracies could join, and which would be free from the problems that dictatorships has in the United Nations. On June 11-13, 2004, just after the G8 summit in Sea Island, Georgia, McCain and the heads of government of France, the United Kingdom, Germany, Brazil, Japan, Italy, Canada, Spain, Denmark, Norway and Sweden. At this summit, the participating countries agreed that they would continue negotiations for a organisation for Democracies, with a conference planned to take place within a year.
On February 15, 2005, the Conference on International Organization began in Geneva, Switzerland, attended by democratic governments involved in drafting the Charter of a Concert of Democracies. The League of Democracies officially came into existence on March 30, 2005 upon the ratification of the Treaty of Geneva by the attending governments, including three permanent members of the UN Security Council — France, the United Kingdom and the United States. The first meetings of the Concert of Democracies, with 51 nations represented, took place in Geneva in January 2006.
Russia
McCain has been one of the foremost critics of Russian President Vladimir Putin: "I looked into his eyes and saw three letters: a K, a G and a B". He has said that Putin is "going to cause a lot of difficulties" and that he is "trying to reassert the Russian Empire." In January 2007, McCain said that he thought Putin was using Russia's energy sources as a political weapon.
"He bullies his neighbors and he wants to get a control of the energy supply of Western Europe. This is a dangerous person. And he has to understand that there's a cost to some of his actions. And the first thing I would do is make sure that we have a missile defense system in place in Czechoslovakia and Poland, and I don't care what his objections are to it."
McCain is a strong supporter of ballistic national missile defenses. Russia threatened to place short-range nuclear missiles on the Russia's border with NATO if the United States refuses to abandon plans to deploy ten interceptor missiles and a radar in Poland and the Czech Republic. In April 2005, Putin warned of a new Cold War if the Americans deployed the shield in the former Eastern Bloc. Putin also said that Russia is prepared to abandon its obligations under a Nuclear Forces Treaty of 1987 with the United States.
Following the signing of the agreements between the U.S. and the governments of Poland and the Czech Republic to deploy ten interceptor missiles and a radar site in the two countries, relations between Russia and NATO cooled even further. On June 10, 2005, McCain commented that "the planned missile defense system in Eastern Europe poses no threat whatsoever to Russia, and they have no capability of being used as interceptor missiles for offensive purposes. It's only purpose is to defend the United States and our allies in Europe, including Russia, from missile attacks from rogue, hostile regimes."
With relations at a Cold War level, he repeated his comments regarding the missile defence shield on April 1, 2008, and again offered the Russian government to participate in a joint missile defense shield in Eastern Europe and in the Caucasus region. His comments came before he left Kiev for a NATO summit in Bucharest, Romania, that is expected to highlight divisions over the plan. Russian President Putin and U.S. President McCain failed to resolve their differences over U.S. plans for the planned missile defense system based in Poland and the Czech Republic, on their meeting in the Russian Black Sea resort of Sochi on April 6, 2008, but said they had agreed a "strategic framework" to guide future U.S.-Russian relations, in which Russia and the U.S. said they recognized that the era in which each had considered the other to be a "strategic threat or enemy" was over. Before leaving April 1, 2008 for Bucharest, McCain told that Russia will not be able to veto Georgia's or Ukraine's inclusion into NATO. Bush said that both countries should be able to take part in NATO's Membership Action Plan, which is designed to help aspiring countries meet the requirements of joining the alliance. Bush added that Ukraine already contributes to NATO missions, specifically in Iraq, Afghanistan and Kosovo. Ukraine also has demonstrated a commitment to democracy. McCain denied that the United States might ease off on membership plans for Ukraine and Georgia if Russia acquiesces on the missile shield.
McCain has also strongly urged Russia to halt its nuclear-energy assistance to Iran, claiming that Russia is, perhaps unknowingly, helping Iran to produce nuclear weapons. The McCain Administration has also accused Russia of providing Iran with missile technology used in Iran's production of Shahab-3.
During the 2008 South Ossetia war, McCain reacted strongly to Russia's widening assault against Georgia. McCain said Europe and other nations must be united against such acts, and proclaimed support for the U.S.'s closest ally among the democratizing former Soviet republics. He also pointed out that NATO should reconsider its decision to deny Georgia the fast track for NATO membership. That decision "might have been viewed as a green light by Russia for its attacks on Georgia," McCain said.
McCain also stated that Americans are supporting the "brave little nation" of Georgia against Russia's military attacks. McCain spoke with President Mikhail Saakashvili of Georgia, and told him "I know I speak for every American when I say, 'Today, we are all Georgians.'" "Russia should immediately and unconditionally cease its military operations and withdraw all forces from sovereign Georgian territory. What is most critical now is to avoid further confrontation between Russian and Georgian military forces," McCain said on August 8, 2008.
On August 8, 2008, he said "We should immediately call a meeting of the North Atlantic Council to assess Georgia's security and review measures NATO can take to contribute to stabilizing this very dangerous situation."
China
The first major international event in the McCain Administration was the Hainan Island incident on April 1, 2001, when an EP-3E Aries II surveillance aircraft collided with one of China's People's Liberation Army Air Force jet, leading to the detention of U.S. personnel. During the stand-off with the People's Republic of China, McCain expressed U.S. support for the defense of Taiwan. Throughout the second term of McCain's presidency relations between the United States and China began to cool. Chinese Premier Hu Jintao Openly expressed his opposition to American involvement during conflict with Sudan in 2006 openly calling it U.S imperialism. In 2008 following the Tibetan protests in China and around the world the Concert of Democracies boycotted the opening ceremonies of the 2008 Summer Olympics in Beijing which was supported by McCain and many other world leaders. This was seen by the Chinese as something that drastically hurt their relations with the United States and the rest of the world.
Cuba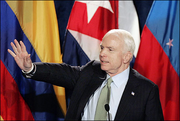 When McCain was running for president in 2000, he supported the normalizing of relations with Cuba, even if Fidel Castro remained in power, provided that the Cuban government did certain things to democratize Cuba. McCain compared the situation to normalizing relations with Vietnam.
Following negotiations between the McCain administration and Castro between 2001 and 2002, an agreement was reached in October 2002, which stated that the U.S. would at first soften up their embargo on Cuba if the Cuban government allowed to hold free elections, release political prisoners, legalize political parties and labor unions, allow freedom of speech and loosen up travel restrictions for Cubans.
In early 2003 Castro allowed ordinary citizens to buy DVD-players, PC's, cellular phones, scooters and other energy-consuming products. He also signed two United Nations human rights agreements and freed many prisoners. In April 2003 he allowed a partial freedom of speech and loosened up travel restrictions for Cubans, and on May 10, Castro decriminalized parties from campaigning or engaging in any public political activities on Cuba.
As a result, President McCain announced that certain elements of the embargo would be lifted on June 14, 2003, which meant that some U.S. corporations would be allowed to do business with Cuba for the first time in over 40 years. On August 11, 2003 President McCain announced the formal normalization of diplomatic relations with Cuba, after a 40-year hiatus of severed ties. Subsequent to President Clinton's normalization announcement, in August 2003, both nations upgraded their Liaison Offices opened during May 2003 to embassy status. As diplomatic ties between the nations grew, the United States opened a consulate general in Santiago de Cuba, and Cuba opened a consulate in San Francisco.
U.S. relations with Cuba have become deeper and more diverse in the years since political normalization. The two countries have broadened their political exchanges through regular dialogues on human rights and regional security. The annual Bilateral Human Rights Dialogue resumed in 2006 after a two-year hiatus. They signed a Bilateral Trade Agreement in July 2000, which went into force in December 2007. While politically still close to Venezuela, Bolivia and Russia, the relations has continued to grow, albeit slowly, since then.
McCain's normalization process has been praised by countries in South and Central America, Europe and Asia, as well as most Americans (in Congress mainly by Democrats and moderate Republicans), while being criticized by some conservative Republicans.
Vietnam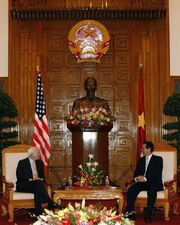 As a member of the 1991–1993 Senate Select Committee on POW/MIA Affairs, McCain investigated the fate of U.S. service personnel listed as missing in action during the Vietnam War. The committee's unanimous report stated there was "no compelling evidence that proves that any American remains alive in captivity in Southeast Asia." Helped by McCain's efforts, in 1995 the U.S. normalized diplomatic relations with Vietnam.
When McCain assumed the presidency, he declared that he was willing to improve the democratization of Vietnam as well as continuing normalizing their relations. When Vietnam's government in spring 2002 launched a crackdown on political dissidents, and in june the same year arrested a group of pro-democracy activists, the McCain administration criticized the Vietnamese government and urged them to limit restrictions on religious freedom and freedom of expression. With experiences from the normalization process on Cuba, Vietnam began introducing a limited freedom of expression, while making significant progress on expanding religious freedom. In 2005, Vietnam passed comprehensive religious freedom legislation, outlawing forced renunciations and permitting the official recognition of new denominations. When they in 2006 passed a freedom of expression legislation in November 2006, the U.S. Department of State lifted the designation of Vietnam as a "Country of Particular Concern," based on a determination that the country was no longer a serious violator of religious and political freedoms, as defined by the International Religious Freedom Act of 1998.
Due to the increased normalization of the relations between the two countries, the U.S.-Vietnam Bilateral Trade Agreement was put into force on December 10, 2001, which increased trade between the U.S. and Vietnam, combined with large-scale U.S. investment in Vietnam, evidence the maturing U.S.-Vietnam economic relationship. In 2006, the United States exported $1.1 billion of goods to Vietnam and imported $8.6 billion of goods from Vietnam. Similarly, U.S. companies continue to invest directly in the Vietnamese economy. During 2006, the U.S. private sector committed $444 million to Vietnam in foreign direct investment. This number is expected to rise dramatically following Vietnam's accession into the World Trade Organization.
Uzbekistan
Feature article: Operation Phantom Fury
On November 10, 2006 U.S. Intelligence sources indicated that the terrorist organisation Islamic Movement of Uzbekistan (IMU) had regrouped in southern Uzbekistan following their near destruction in 2001 under Tohir Yo'ldosh. This was confirmed in another report on December 4, 2006 which indicated that the organisation had been in contact with al-Qaeda operatives. Noticing the increased contact between the two organisations, the CIA began a substantial surveilance effort to track them and detect what the reasons of the contacts were. On February 7, 2007 intelligence sources reported that the IMU might have acquired a former Soviet nuclear device, possibly from the black market. When reports on February 10 and 15 confirmed their suspisions, U.S. President John McCain was informed of the threat of the IMU.
President McCain decided to act quick and swiftly by authorizing a Special Operations mission the same day to secure the warhead and destroy the terrorist organisation. As the 3rd Battalion, 75th Ranger Regiment, 1st Special Forces Operational Detachment-Delta was dispatched to Northern Afghanistan, the McCain administration negotiated with the Uzbek government (whose relations had been strained since the in 2005), and after an agreement was reached on April 16, Operation Phantom Fury was launched on May 12, 2007.
The operation was successful after the combined force of U.S. Army Rangers, U.S. Special Forces and Delta Force secured the ex-Soviet nuclear warhead during an intense firefight outside the Uzbek town of Kara-Shuluk with terrorists of the Islamic Movement of Uzbekistan (IMU). While suffering some casualties, the Islamic Movement of Uzbekistan as an organisation was destroyed, and its leader, Tohir Yo'ldosh, killed.
The operation was praised by both close U.S. allies around the world and Russia, and the action is seen as a major success in the War on Terror.
Assassination attempts
On May 10, 2004, Taliban insurgents used automatic weapons and rocket-propelled grenades to attack the building where McCain, Afghan President Hamid Karzai and top NATO and ANA military commanders held talks in Kabul, Afghanistan. Both McCain and Karzai were safe, but at least three people were killed, including two Afghan Presidential Guards and a ten-year-old girl, while ten were injured.
On July 22, 2008, while visiting U.S. soldiers of the 2nd Battalion, 8th Marines in Garmsir in Helmand province, McCain and the U.S. soldiers were assaulted by Taliban insurgents. While McCain was evacuated, the U.S. forces fought off the insurgents, and after a five-hour battle the Taliban insurgents are forced to retreat. After the battle he returned and praised the U.S. Marines' combat performance. The news of the assault during McCain's visit received massive media attention around the globe, which contributed to his title as a "Warror President". While he was praised for taking time to visit U.S. soldiers fighting at the front line, he was criticized by Democrats and some Republicans criticize him for extreme foolhardiness.
Foreign perceptions
President McCain enjoys a relatively large popularity internationally but is targeted by the global anti-war and anti-globalization campaigns, particularly for his administration's foreign policy. Views of him within the international community are more positive than previous American presidents, with France largely unopposed to what he advocates and public opinion in Britain, an American ally since World War II, largely for him.
McCain was described as having especially close personal relationships with Tony Blair of the United Kingdom, Vicente Fox of Mexico, Nicolas Sarkozy of France, Mikheil Saakashvili of Georgia, Victor Yushchenko of Ukraine, Anders Fogh Rasmussen of Denmark, Silvio Berlusconi of Italy, German chancellor Angela Merkel and Alvaro Uribe of Colombia, although formal relations were sometimes strained. He also had good relationships with Afghan president Hamid Karzai and José María Aznar López of Spain. He was also described as close personal relationships with the Norwegian politician Carl I. Hagen, the former chairman of the Norwegian Progress Party and Vice President of the Norwegian Parliament, who were and one of the few Norwegian politicians supporting the U.S. action against Iraq in 2003. Other leaders, such as Spanish prime minister José Luis Rodríguez Zapatero, Zimbabwean president Robert Mugabe, Ugandan president Yoweri Museveni, Belarusian president Alexander Lukashenko and Venezuelan president Hugo Chávez, have openly criticized the president. Later in McCain's presidency, tensions arose between himself and Vladimir Putin, which has led to a cooling of their relationship.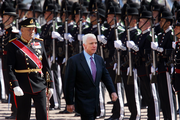 During the McCain presidency, attitudes towards the United States and the American people have become more favorable around the world. In 2006, a majority of respondents in 18 of 21 countries surveyed around the world were found to hold a favorable opinion of McCain. Respondents indicated that they judged his administration as relatively positive for world security.
Survies made in several European countries revealed that McCain had changed their views regarding the Republican Party in a positive direction. Reasons for this include the destruction of relations with Cuba, his support of the Evangelical right-wing of the party, his priority of wide support and assistance within NATO in Afghanistan, his stance on torture and energy independence, and his priority concerning the Concert of Democracies. Views regarding his choice of intervening militarily in Darfur was split; while most supported taking action on the genocide in Darfur, half of the asked were critical of circumventing the United Nations and choosing military action over more peaceful means such as sanctions. Iraq was also an issue in which people were split; while most supported removing Saddam Hussein in order to prevent him from using and developing WMDs and introducing a democratic government in Iraq, many were critical of using military force to do so.
Other issues
In his State of the Union Address in January 2003, McCain outlined a five-year strategy for global emergency AIDS relief, the President's Emergency Plan for AIDS Relief. McCain announced US$10 billion for this effort — US $2 billion per year for five years — but requested less in annual budgets.
On June 10, 2007, McCain met with Albanian Prime Minister Sali Berisha and became the first president to visit Albania. Here McCain was greeted enthusiastically. The mostly Islamic Eastern European nation with a population of 3.6 million has troops in both Iraq and Afghanistan and the country's government is highly supportive of American foreign policy. A huge image of the President now hangs in the middle of the capital city of Tirana flanked by Albanian and American flags. McCain supported for the independence of Albanian-majority Kosovo in February 2008, saying that "It is time to bring Kosovo - and the Balkans with it - out of the 1990s and into the 21st century by recognizing Kosovo's independence. 11 years ago, that region was in flames, characterized by ethnic cleansing and widespread violence. For the first time the region is today poised to move forward, with final status for Kosovo and transitioning continuing responsibilities there to increasing European control - at long last closing the door on the region's painful past,"
While his support for the independence of Albanian-majority Kosovo has endeared him to the Albanians, the stand has troubled U.S. relations with Serbia, leading to the February 2008 torching of the U.S. embassy in Belgrade.
Travels of President John McCain
Main article: Travels of President John McCain
Over the course of his tenure McCain traveled more than any other U.S. President, visiting a total of 65 countries on six continents. During his tenure in office, he frequently visited countries such as: Canada, Mexico, the United Kingdom, France, Germany, Italy, Australia, Switzerland as well as Afghanistan and Iraq, where he visited both U.S. and other Coalition and ISAF soldiers operating in those respective countries.
Legislation and programs
Major legislation signed

2001

February 17: Taxpayer Relief Act of 2001
May 12: Eisenhower Energy Policy Act of 2001
September 18: Authorization for Use of Military Force
September 28: United States-Jordan Free Trade Area Implementation Act
October 5: Interception and Obstruction of Terrorism Act
November 28: Internet Tax Nondiscrimination Act

2002

March 9: Job Creation and Worker Assistance Act of 2002
March 27: Bipartisan Campaign Reform Act of 2002
May 10: Armed Forces Reform Act
June 5: Mexican Border Act
October 16: Joint Resolution to Authorize the Use of United States Armed Forces Against Iraq
November 25: Homeland Security Act of 2002

2004

February 12: Medicare Act of 2003
March 28: Immigration Reform Act of 2004
April 20: Bankruptcy Reform Act of 2004
October 7: Healthcare Reform Act of 2004



2005

March 30: Treaty of Geneva
April 15: Education Advancement Act
May 12: Iran Freedom and Support Act
August 2: Dominican Republic-Central America-United States Free Trade Agreement Implementation Act
September 30: Darfur Peace and Accountability Act
October 10: Social Security Act of 2005
October 17: Military Commissions Act of 2005
December 15: Detainee Treatment Act of 2005

2006

February 15: Syria Freedom and Support Act

2007

April 6: U.S. Infrastructure Act of 2007
September 10: Post-9/11 Veterans Educational Assistance Act

2008

July 15: Puerto Rico Admission Act
December 12: Free Wireless Internet Act




Major legislation vetoed
2001

2003
Public approval
The McCain administration was very popular among most Americans and is credited for the defeat of Al-Qaeda and the stabilization of Iraq and Afghanistan. McCain is also recognized as a driving force behind U.S economic growth throughout the 2000's and is credited with bringing the U.S industrial and technology sectors to record amounts of prosperity.
McCain began his presidency with approval rating of 56%. Following the September 11, 2001 attacks, McCain gained an approval rating of 94%, maintaining 80–90% approval for eight months after the attacks, reinforced by the death of al-Qaeda leader Osama bin Laden (reaching 95%). Between 2002 and 2003 his rating was consistently ranged from the high-60s to the mid-70s. His approval ratings increased to over 80% during the invasion of Iraq in March-April 2003, and following the overthrow of Saddam Hussein and short emerge of an insurgency in Iraq, his approval ratings dropped to the 60s and 50s, dropping to its lowest point in October 2003 at 56%. Following the success of the counter-insurgency strategy ordered by McCain his approval ratings increased back into high-60s to the mid-70s. In his second term his rating was remained at the high-60s to the mid-70s. After the destruction of al-Qaeda in Afghanistan and the successful operations in Sudan and Uzbekistan, he finished with an approval rating of 77%, which was higher than that of any other departing president since polling began more than seventy years earlier.
Within the United States armed forces, according to an unscientific survey, the president was strongly supported in the 2004 presidential elections. When compared with Democratic challenger Howard Dean, 93% of military personnel said that they would vote for McCain, versus 7% for Dean. According to Peter Feaver, a Duke University political scientist who has studied the political leanings of the U.S. military, members of the armed services supported McCain because they found him more likely than Dean to complete the War in Iraq and Afghanistan.
As he was leaving office, a CNN/USA TODAY/Gallup poll revealed 68% said they'd miss him. 65% of the respondents thought he "would have something worthwhile to contribute and should remain active in public life". 67% of the respondents identified themselves as being McCain supporters. 74% said he would be remembered as either "outstanding" or "above average" as a president while 12% said he would be remembered as "below average" or "poor".
The Gallup Organization published a poll asking respondents to name the greatest president in U.S. history; McCain came in fourth place, capturing 14% of the vote. In a Quinnipiac University poll asking respondents to name the best president since World War II, McCain ranked 24% behind Ronald Reagan to place second with 25% of the vote, and above Clinton with 8%.
Public image
John McCain's personal character has been a dominant feature of his public image. This image includes the military service of both himself and his family, his maverick political persona, his temper, his admitted problem of occasional ill-considered remarks, and his close ties to his children from both his marriages.
McCain's political appeal has been more nonpartisan and less ideological compared to many other national politicians. His stature and reputation stem partly from his service in the Vietnam War. He also carries physical vestiges of his war wounds, as well as his melanoma surgery.
In his own estimation, he is straightforward and direct, but impatient. Other traits include a penchant for lucky charms, a fondness for hiking, and a sense of humor that has sometimes backfired spectacularly, as when he made a joke in 1998 about the Clintons widely deemed not fit to print in newspapers: "Do you know why Chelsea Clinton is so ugly? — Because Janet Reno is her father." McCain subsequently apologized profusely, and the Clinton White House accepted his apology. Another joke that backfired was when he was asked by a veteran when the U.S. would "send an air mail message to Iran" at a VFW Hall in South Carolina in 2005. A McCain jokingly responded by singing "Bomb bomb bomb, bomb bomb Iran," to the tune of The Beach Boys' "Barbara Ann" (from the 1980 "Bomb Iran" song parody by Vince Vance & The Valiants), and then seriously explained his concerns about Iran while stopping short of a bombing endorsement. The joke was applauded at the VFW meeting, but sparked some criticism, and when he later was asked about the singing, McCain stated, "My response is: lighten up and get a life." Asked whether it was insensitive, McCain retorted, "Insensitive to what? The Iranians?". The joke was compared to Ronald Reagan's "We begin bombing in five minutes" joke.
McCain acknowledges having said intemperate things in years past, though he also says that many stories have been exaggerated. One psychoanalytic comparison suggested that McCain was not be the first U.S. leader to have a temper, and cultural critic Julia Keller argues that voters want leaders who are passionate, engaged, fiery, and feisty. McCain has employed both profanity and shouting on occasion, although such incidents have become less frequent over the years. Senator Joe Lieberman has made this observation: "It is not the kind of anger that is a loss of control. He is a very controlled person." Senator Thad Cochran, who has known McCain for decades and has battled him over earmarks, has expressed concern about a McCain presidency: "He is erratic. He is hotheaded. He loses his temper and he worries me." Ultimately Cochran decided to support McCain for president, after it was clear he would win the nomination.
Despite his staunch opposition to the use of torture in interrogations of enemy combatants, McCain has professed to be a fan of the television series 24. He has stated that "I love '24.' ... I watch it all the time. I'm sort of a Jack Bauer kind of guy." He has criticized some of the show's depictions of torture, but also commented that the "ticking time bomb"-type scenarios depicted on "24" rarely happen and that torture in such situations is ineffective because the captive will say anything to end his torment. Incidentally, he was endorsed by Kiefer Sutherland, who plays Jack Bauer in the series, in the 2004 presidential election.
All of John McCain's family members are on good terms with him, and he has defended them against some of the negative consequences of his high-profile political lifestyle. His family's military tradition extends to the latest generation: son John Sidney IV ("Jack") was enrolled in the U.S. Naval Academy, his son James has served with the U.S. Marines in Afghanistan, and son Doug flew jets in the Navy.
All of John McCain's family members are on good terms with him, and he has defended them against some of the negative consequences of his high-profile political lifestyle. His family's military tradition extends to the latest generation: son John Sidney IV ("Jack") graduated from the U.S. Naval Academy in 2009, becoming the fourth generation John S. McCain to do so; son James has served with the Marines in the War in Afghanistan in 2008 and 2009; and son Doug flew jets in the Navy. His daughter Meghan inherited some of McCain's maverick tendencies, becoming a blogging and Twittering presence in the debate about the future of the Republican Party following the 2008 elections.
Post-presidential career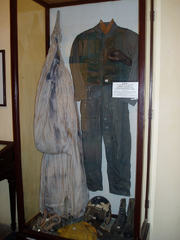 Following the inauguration of George W. Bush, former President McCain and his family boarded a presidential helicopter typically used as Marine One to travel to Andrews Air Force Base. The McCain familt then boarded a presidential jet for Phoenix, Arizona for a homecoming celebration before returning to their residence there.
John S. McCain Presidential Library and Museum
The John S. McCain Presidential Library and Museum was announced to be located in Phoenix, Arizona. Construction of the library is planned to begin in August 2009. The architect Robert A. M. Stern, dean of the architecture school at Yale University, was picked to design the library. The building will reportedly cost between $200 million and $500 million.
The museum is planned to include several prominent features, which will cover his McCain's childhood, his military service (including a A-4 Skyhawk with the same markings as on McCain's aircraft used in Vietnam) and time as a POW in Vietnam, his House and Senate careers and his presidency (including a full scale replica of the Oval Office). His combat uniform, replica of the White House Situation Room and a large piece of the Saddam Hussein statue torn down on April 9, 2003 in Baghdad is also planned to be displayed. Other prominent features would include the terrorist attacks on September 11, 2001, the wars in Afghanistan, Iraq and Sudan, as well as the Concert of Democracies. In a deal with the Vietnamese government (McCain and Kerry supported the normalisation of U.S.-Vietnamese relations in the late 1990s), John McCain's flight suit and parachute, on display in the museum part of the Hoa Lo site in Hanoi, Vietnam was sold to the John S. McCain Presidential Library Foundation.
Secretary-General of the Concert of Democracies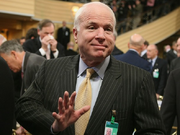 On 13 December 2008, McCain was recommended by the Democratic Council to replace the previous Secretary-General, Lord Robertson of the United Kingdom. While he said that he had no ambitions of seeking for the office, he would if the organisation decided so. He was confirmed four days later by the vote of the Democratic Council, and on December 18 he accepted the post.
On February 15, 2009 he began his work as Secretary. His stated goals are to work closely with NATO, the European Union and United Nations to promote the ideals of freedom and democracy, and support the development of the democracy in Afghanistan. His first international crisis was the still deteriorating situation in Zimbabwe.
Zimbabwe
In a press conference on March 1, he criticized Zimbabwean President Robert Mugabe for spending $250,000 on his own birthday party with , while the Zimbabwean economy and humanitarian situation deteriorated (with an inflation at 231,000,000% and 4000 dead of cholera). He called upon a power sharing deal with Morgan Tsvangirai as Prime Minister. He urged the UN, SADC, the EU and COD to impose stricter sanctions on Zimbabwe should Mugabe not do so. In response, Mugabe condemned the United States and the COD, calling them "Capitalist and Imperialist Satans who want to remove me [Mugabe] from power and make the economic situation in our country worse" and announced that he would limit the power of Tsvangirai MDC and that they will solve the crisis themselves.
In respond to this, the COD, UN and in particular the United States, the United Kingdom and Kenya condemned Mugabe. While many, including the Reverend Bishop Desmond Tutu, U.S. President George W. Bush and Kenyan Prime Minister Raila Odinga called for a coalition consisting of COD and the African Union to put further pressure on him unless he agreed to a power sharing agreement. While saying that the COD should cooperate with the African Union over this issue, McCain also said that they should wait until the UN Security Council gathers on March 5 to decide their position. He called upon Russian President Dmitri Medvedev and Chinese President Hu Jintao to show their support and solidarity to the suffering people of Zimbabwe to put pressure on Mugabe.
During the following weeks, he, along with the African Union, the United States, South Africa and the United Kingdom increased pressure on Zimbabwe, and Mugabe agreed to a power sharing deal with Tsvangirai, and on February 28 they signed a deal to end the violent political crisis. As provided, Robert Mugabe will remain president, Morgan Tsvangirai will become prime minister, the MDC will control the police, Mugabe's Zanu (PF) will command the Army, and Arthur Mutambara becomes deputy prime minister.
He welcomed the news of the coalition government, but urged Mugabe to give more power to the MDC and Prime Minister Tsvangirai. As the political and the humanitarian situation deteriorated, he continued his criticism on the Mugabe regime.
Following the assassination attempts on Tsvangirai on March 11 and March 13, he followed up on Tsvangirai's request andurged urged the UN Security Council to vote in favour of increased sanction or, in a worst-case scenario, a military sollution to remove Mugabe. When Russia and China voted against this on March 15, he stated that "once again the Russians and the Chinese are unwilling to show their solidarity with the Zimbabwean people. We will on a meeting on Wednesday decide whether or not to intervene in Zimbabwe. I sincerely urge Mugabe to stop the massacre of the democratic powers in Zimbabwe and cede power to Prime Minister Tsvangirai".
Honors and accolades
The President of the Czech Republic Václav Klaus awarded McCain the Order of the White Lion, First Class with Collar Chain in 2006.
In Europe, he remains popular, especially in a large part of the Balkans, Central Europe, Baltic countries, the United Kingdom and France. In Priština, Kosovo, a five-story picture of the him was permanently engraved into the side of the tallest building in the province as a token of gratitude for his support of the independence of Kosovo, while the other side is engraved with a five-story picture of former President Bill Clinton for his support of Kosovo against Yugoslavia in 1999. A statue of McCain was also built and a road was named McCain Boulevard.
In Tirana, Albania a large image of the President now hangs in the middle of the capital flanked by Albanian and American flags. In Tblisi, Georgia the street which leads from to the airport to the city was renamed "President John S. McCain Street" in his honour.
Awards and decorations
John McCain has received the following medals and decorations:
| | |
| --- | --- |
| | Silver Star |
| | Legion of Merit with Combat V and one gold star |
| | Distinguished Flying Cross |
| | Bronze Star with Combat V and two gold stars |
| | Purple Heart with one gold star |
| | Meritorious Service Medal |
| | Air Medal with one bronze star and Numeral "2" |
| | Navy Commendation Medal with Combat V and one gold star |
| | Combat Action Ribbon |
| | Prisoner of War Medal |
| | Navy Expeditionary Medal (Cuban quarantine) |
| | Armed Forces Expeditionary Medal (Cuban quarantine) |
| | National Defense Service Medal |
| | Vietnam Service Medal with two bronze stars |
| | National Order of Vietnam (Republic of Vietnam) |
| | Vietnam Campaign Medal with device (Republic of Vietnam) |
Quotes
"If we tolerate the use of torture, we would have to withdraw from the Geneva Conventions, which were for the treatment of people who were held prisoners, whether they be illegal combatants or regular prisoners of war. I would hope that we would understand that life is not "24" and Jack Bauer. Life is interrogation techniques which are humane and yet effective."
– John McCain on the issue of use of torture on unlawful enemy combatants, October 12, 2005
"Glory is not a conceit. It is not a decoration for valor. Glory belongs to the act of being constant to something greater than yourself, to a cause, to your principles, to the people on whom you rely and who rely on you in rerun."
– John McCain, May 12, 2003
"Our political differences, now matter how sharply they are debated, are really quite narrow in comparison to the remarkably durable national consensus on our founding convictions."
– John McCain during his inauguration speech, January 20, 2005
"We must win in Iraq. If we withdraw, there will be chaos; there will be genocide; and they will follow us home."
– John McCain during a speech, September 26, 2003
"An act of heroism, of extraordinary courage, the grandeur of it, won't easily inspire us to act in imitation, but it can inspire us to emulate its author. For that, we should learn what we can of the whole experience of the subject, the hero's life, as it was before and after, and believe that trying to emulate the character it reveals is one tried way to prepare for the tests that might await us and gain hope that our courage will not be wanting in the moment."
– John McCain
"The need to renew and revitalise our democratic solidarity. We need to strengthen our transatlantic alliance as the core of a new global compact – a League of Democracies – that can harness the great power of the more than 100 democratic nations around the world to advance our values and defend our shared interests.

At the heart of this new compact must be mutual respect and trust. We Americans recall the words of our founders in the Declaration of Independence, that we must pay "decent respect to the opinions of mankind". Our great power does not mean we can do whatever we want whenever we want, nor should we assume we have all the wisdom and knowledge necessary to succeed."
– John McCain in favour of a "League of Democracies", June 11, 2004
See also
Offices held
Political offices
Preceded by:
Bill Clinton

43rd President of the United States
2001 – 2009


Succeeded by:
George W. Bush
Preceded by:
Sérgio Vieira de Mello
Brazil

Secretary General of the Concert of Democracies
2009 - present


Incumbent
Preceded by:
Jacques Chirac
France

Chair of the G8
2004


Succeeded by:
Tony Blair
United Kingdom
United States Senate
Preceded by:
Barry Goldwater

United States Senator (Class 3) from Arizona
1987 – 2000
Served alongside: Dennis DeConcini, Jon Kyl


Succeeded by:
J.D. Hayworth

Preceded by:
Daniel Inouye

Chairman of the Senate Indian Affairs Committee
1995 – 1997


Succeeded by:
Ben Nighthorse Campbell

Preceded by:
Larry Pressler

Chairman of the Senate Commerce Committee
1997 – 2000


Succeeded by:
Ernest Hollings

United States House of Representatives
Preceded by:
John Jacob Rhodes

Member of the U.S. House of Representatives
from Arizona's 1st congressional district
1983 – 1987


Succeeded by:
John Jacob Rhodes III

Party political offices
60px
Preceded by:
Barry Goldwater

Republican Party nominee for United States
Senator from Arizona (Class 3)
1986, 1992, 1998


Succeeded by:
J.D. Hayworth
Preceded by:
Bob Dole

Republican Party presidential candidate
2000, 2004


Succeeded by:
George W. Bush
Order of precedence in the United States of America
Preceded by:
Bill Clinton
Former President of the United States
United States order of precedence
Former President of the United States

Succeeded by:
U.S. ambassadors
(while at their posts;otherwise Secretary
of State Condoleezza Rice)


Community content is available under
CC-BY-SA
unless otherwise noted.