John McCain



44th President of the United States
Incumbent
Assumed office
January 20, 2009

Vice President

Tim Pawlenty

Preceded by

George W. Bush
United States Senator
from Arizona
In office
January 3, 1987 – November 19, 2008
Serving with Jon Kyl

Preceded by

Barry Goldwater

Succeeded by

Ed Pastor
Member of the U.S. House
of Representatives
from Arizona's 1st district
In office
January 3, 1983 – January 3, 1987

Preceded by

John Jacob Rhodes Jr.

Succeeded by

John Jacob Rhodes III
Personal details
Born

John Sidney McCain III


August August 29, 1936
Coco Solo Naval Air Station,
Panama Canal Zone
Nationality
American
Political party
Republican
Spouse(s)
Carol Shepp (m. 1965, div. 1980)
Cindy Lou Hensley (m. 1980)
Children
Douglas (b. 1959, adopted 1966)
Andrew (b. 1962, adopted 1966)
Sidney (b. 1966)
Meghan (b. 1984)
John Sidney IV "Jack" (b. 1986)
James "Jimmy" (b. 1988)
Bridget (b. 1991, adopted 1993)
Residence
The White House (official)
Cornville, Arizona (private)
Alma mater
United States Naval Academy
Profession
Naval aviator, politician
Religion
Baptist congregant
(Brought up Episcopalian)
Signature
Military service
Allegiance
United States of America
Service/branch
United States Navy (Naval aviation)
Years of service
1958–1981
Rank
Captain
Unit
USS Intrepid (CV-11) VA-65
USS Enterprise (CVN-65) VA-65
USS Forrestal (CV-59) VA-46
USS Oriskany (CV-34) VA-163
Office of Legislative Affairs
Commands
VA-174
Battles/wars
Vietnam War

Operation Rolling Thunder

Awards
Silver Star
Legion of Merit
Distinguished Flying Cross
Bronze Star
Purple Heart
Others
John Sidney McCain III (born August 29, 1936) is the 44th and current President of the United States. He is the oldest man elected to the office of the presidency, and the first president born outside of contiguous United States. McCain previously served as the senior United States Senator from Arizona from January 1987 until he resigned after his election to the presidency in November 2008.
McCain followed his father and grandfather, both four-star admirals, into the United States Navy, graduating from the U.S. Naval Academy in 1958. He became a naval aviator, flying ground-attack aircraft from aircraft carriers. During the Vietnam War, he nearly lost his life in the 1967 USS Forrestal fire. In October 1967, while on a bombing mission over Hanoi, he was shot down, badly injured, and captured by the North Vietnamese. He was a prisoner of war until 1973. McCain experienced episodes of torture, and refused an out-of-sequence early repatriation offer. His war wounds left him with lifelong physical limitations.
He retired from the Navy as a captain in 1981, moved to Arizona, and entered politics. Elected to the U.S. House of Representatives in 1982, he served two terms, and was then elected to the U.S. Senate in 1986, winning re-election easily in 1992, 1998, and 2004. While generally adhering to conservative principles, McCain at times has had a media reputation as a "maverick" for his willingness to disagree with his party on certain issues. After being investigated and largely exonerated in a political influence scandal of the 1980s as a member of the Keating Five, he made campaign finance reform one of his signature concerns, which eventually led to the passage of the McCain-Feingold Act in 2002. He is also known for his work towards restoring diplomatic relations with Vietnam in the 1990s, and for his belief that the war in Iraq should be fought to a successful conclusion. McCain has chaired the Senate Commerce Committee, has opposed spending that he considered to be pork barrel, and played a key role in alleviating a crisis over judicial nominations.
McCain ran for the Republican presidential nomination in 2000, but lost a heated primary contest to George W. Bush. In 2008, after coming back from early reversals in the Republican Party presidential primaries, he secured his party's nomination. In the 2008 presidential election, he defeated Democratic nominee Barack Obama and was inaugurated as president on January 20, 2009. In April 2011, he announced that he would be running for re-election in 2012 and on November 6, 2012, he defeated Democratic nominee Hillary Clinton to win a second term.
As president, McCain signed economic stimulus legislation in the form of the American Recovery and Reinvestment Act of 2009 and the Tax Relief, Unemployment Insurance Reauthorization, and Job Creation Act of 2010 in response to the 2007–2009 recession in the United States. Other major domestic policy initiatives include the Comprehensive Budget Control and Deficit Reduction Act of 2010, the Line-Item Veto and Rescissions Act of 2009, the Commercial Banking Stability and Security Act, the Don't Ask, Don't Tell Repeal Act of 2010, and the Comprehensive Immigration Reform Act.
In foreign policy, McCain announced the end of U.S. military involvement in the Iraq War, increased troop levels in Afghanistan, signed the New START arms control treaty with Russia, ordered U.S. military involvement in Libya and Syria, ordered U.S. military involvement against Al Qaeda in Yemen, and ordered the military operation that resulted in the death of Osama bin Laden in Pakistan..
Early life and military career, 1936-1981
Formative years and education
John McCain was born on August 29, 1936 at Coco Solo Naval Air Station in the Panama Canal Zone, Panama, to naval officer John S. McCain, Jr. (1911–1981) and Roberta (Wright) McCain (b. 1912). At that time, the Panama Canal was under U.S. control.
McCain's family tree includes Scots-Irish and English ancestors. His father and his paternal grandfather, John S. McCain, Sr., both became four-star United States Navy admirals. His family, including his older sister Sandy and younger brother Joe, followed his father to various naval postings in the United States and the Pacific. Altogether, he attended about 20 schools.
In 1951, the family settled in Northern Virginia, and McCain attended Episcopal High School, a private preparatory boarding school in Alexandria. He excelled at wrestling and graduated in 1954.
Following in the footsteps of his father and grandfather, McCain entered the United States Naval Academy at Annapolis. There, he was a friend and informal leader for many of his classmates, and sometimes stood up for targets of bullying. He also became a lightweight boxer. McCain came into conflict with higher-ranking personnel, he did not always obey the rules, and that contributed to a low class rank (894 of 899), despite a high IQ (McCain scored 128 and then 133 on IQ tests). He did well in academic subjects that interested him, such as literature and history, but studied only enough to pass subjects he struggled with, such as mathematics. McCain graduated in 1958.
John McCain's early military career began when he was commissioned an ensign. He spent two years as a naval aviator in training, first at Naval Air Station Pensacola in Florida through September 1959, and then at Naval Air Station Corpus Christi in Texas, during which time he was promoted to lieutenant, junior grade. He earned a reputation as a party man, as he drove a Corvette, dated an exotic dancer named "Marie the Flame of Florida", spent all his free time on the beach or in a Bachelor Officer Quarters room turned bar and friendly gambling den, and, as he later said, "generally misused my good health and youth". He began as a sub-par flier: he had limited patience for studying aviation manuals, and spent study time reading history books instead. He was not assigned to the elite units flying fighter aircraft, and instead became a pilot of attack aircraft.
He completed flight school in 1960, and became a naval pilot of ground-attack aircraft, assigned to A-1 Skyraider squadrons aboard the aircraft carriers USS Intrepid and USS Enterprise in the Caribbean and Mediterranean Seas. McCain began as a sub-par flier who was at times careless and reckless; during the early-to-mid 1960s, the planes he was flying crashed twice and once collided with power lines, but he received no major injuries. His aviation skills improved over time, and he was seen as a good pilot, albeit one who tended to "push the envelope" in his flying.
On July 3, 1965, McCain married Carol Shepp, a model originally from Philadelphia. McCain adopted her two young children Douglas and Andrew. He and Carol then had a daughter named Sidney.


Vietnam assignment
In November 1965 McCain requested a combat assignment, and in October 1966, he was slated for upcoming Vietnam War duty. McCain, now 30 years old, was assigned to the aircraft carrier USS Forrestal in May 1967 flying A-4 Skyhawks. His combat duty began on July 25, 1967, when Forrestal was assigned to a bombing campaign, Operation Rolling Thunder, the 1965–1968 air interdiction and strategic bombing campaign against North Vietnam. The alpha strikes flown from Forrestal were against specific, pre-selected targets such as arms depots, factories, and bridges. They were quite dangerous, due to the strength of the North Vietnamese air defenses, which used Soviet-designed and -supplied surface-to-air missiles, anti-aircraft artillery, and MiG jet interceptors. McCain's first five attack missions over North Vietnam went without incident, and while still unconcerned with minor Navy regulations, McCain had garnered the reputation of a serious aviator. McCain and his fellow pilots became frustrated by micromanagement from Washington, and he would later write that "In all candor, we thought our civilian commanders were complete idiots who didn't have the least notion of what it took to win the war."
On July 29, 1967 McCain, by then a lieutenant commander, was near the center of the Forrestal fire. While the air wing was preparing to launch attacks, a Zuni rocket from an F-4 Phantom accidentally fired across the carrier's deck. The rocket struck either McCain's A-4E Skyhawk or one near it. The impact ruptured the Skyhawk's fuel tank, which ignited the fuel and knocked two bombs loose. He went to help another pilot trying to escape the fire when the first bomb exploded; McCain was thrown backwards ten feet (three meters) and suffered minor wounds when struck in the legs and chest by fragments. McCain helped crewmen throw unexploded bombs overboard off the hangar deck elevator. The ensuing fire killed 134 sailors and took 24 hours to control.
As Forrestal headed to port for repairs, McCain volunteered to join the undermanned VA-163 "Saints" squadron on board the USS Oriskany. This carrier had earlier endured its own deck fire disaster and its squadrons had suffered some of the heaviest losses during Rolling Thunder. The Saints had a reputation for aggressive, daring attacks, but paid the price: in 1967, one-third of their pilots were killed or captured, and all of their original fifteen A-4s had been destroyed. After taking some leave in Europe and back home in Orange Park, Florida, McCain joined Oriskany on September 30, 1967, for a tour he expected would finish early the next summer. He volunteered to fly the squadron's most dangerous missions right away, rather than work his way up to them. During October 1967, the pilots operated in constant twelve-hour on, twelve-hour off shifts. McCain would be awarded a Navy Commendation Medal for leading his air section through heavy enemy fire during an October 18 raid on the Lac Trai shipyard in Haiphong. On October 25, McCain successfully attacked the Phuc Yen airfield north of Hanoi through a barrage of anti-aircraft artillery and surface-to-air missile fire, which would garner him the Bronze Star. Air defenses around Hanoi were then the strongest they would be during the entire war.
Prisoner of war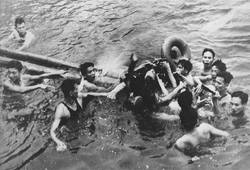 John McCain's capture and subsequent imprisonment began on October 26, 1967. He was flying his 23rd bombing mission over North Vietnam when his A-4E Skyhawk was shot down by a missile over Hanoi. McCain fractured both arms and a leg ejecting from the aircraft, and nearly drowned when he parachuted into Truc Bach Lake. Some North Vietnamese pulled him ashore, then others crushed his shoulder with a rifle butt and bayoneted him. McCain was then transported to Hanoi's main Hoa Lo Prison, nicknamed the "Hanoi Hilton".
Although McCain was badly wounded, his captors refused to treat his injuries, beating and interrogating him to get information; he was given medical care only when the North Vietnamese discovered that his father was a top admiral. His status as a prisoner of war (POW) made the front pages of major newspapers.
McCain spent six weeks in the hospital while receiving marginal care. By then having lost 50 pounds (23 kg), in a chest cast, and with his hair turned white, McCain was sent to a different camp on the outskirts of Hanoi in December 1967, into a cell with two other Americans who did not expect him to live a week. In March 1968, McCain was put into solitary confinement, where he would remain for two years.
In mid-1968, John S. McCain, Jr. was named commander of all U.S. forces in the Vietnam theater, and the North Vietnamese offered McCain early release because they wanted to appear merciful for propaganda purposes, and also to show other POWs that elite prisoners were willing to be treated preferentially. McCain turned down the offer; he would only accept repatriation if every man taken in before him was released as well. Such early release was prohibited by the POW's interpretation of the military Code of Conduct: To prevent the enemy from using prisoners for propaganda, officers were to agree to be released in the order in which they were captured.
In late August 1968, a program of vigorous torture methods began on McCain. The North Vietnamese used rope bindings to put him into prolonged, painful positions and severely beat him every two hours, all while he was suffering from dysentery. His right leg was reinjured, his ribs were cracked, some teeth were broken at the gumline, and his left arm was re-fractured. Lying in his own waste, his spirit was broken;[140] the beginnings of a suicide attempt were stopped by guards. After four days of this, McCain signed and taped an anti-American propaganda "confession" that said, in part, "I am a black criminal and I have performed the deeds of an air pirate. I almost died, and the Vietnamese people saved my life, thanks to the doctors." He used stilted Communist jargon and ungrammatical language to signal that the statement was forced. McCain was haunted then and since with the belief that he had dishonored his country, his family, his comrades and himself by his statement, but as he later wrote, "I had learned what we all learned over there: Every man has his breaking point. I had reached mine." Two weeks later his captors tried to force him to sign a second statement; his will to resist restored, he refused. He sometimes received two to three beatings per week because of his continued resistance; the sustained mistreatment went on for over a year. His refusals to cooperate, laced with loud obscenities directed towards his guards, were often heard by other POWs. His boxing experience from his Naval Academy days helped him withstand the battering, and the North Vietnamese did not break him again.
Other American POWs were similarly tortured and maltreated in order to extract "confessions" and propaganda statements. Many, especially among those who had been captured earlier and imprisoned longer, endured even worse treatment than McCain. Under extreme duress, virtually all the POWs eventually yielded something to their captors. There were momentary exceptions: on one occasion, a guard surreptitiously loosened McCain's painful rope bindings for a night; when, months later, the guard later saw McCain on Christmas Day, he stood next to McCain and silently drew a cross in the dirt with his foot. In October 1968, McCain's isolation was partly relieved when Ernest C. Brace was placed in the cell next to him; he taught Brace the tap code the prisoners used to communicate. On Christmas Eve 1968, a church service for the POWs was staged for photographers and film cameras; McCain defied North Vietnamese instructions to be quiet, speaking out details of his treatment then shouting "Fu-u-u-u-ck you, you son of a bitch!" and giving the finger whenever a camera was pointed at him. McCain refused to meet with various anti-Vietnam War peace groups coming to Hanoi, such as those led by David Dellinger, Tom Hayden, and Rennie Davis, not wanting to give either them or the North Vietnamese a propaganda victory based on his connection to his father. McCain was still badly hobbled by his injuries, earning the nickname "Crip" among the other POWs, but despite his physical condition, continued beatings and isolation, he was one of the key players in the Plantation's resistance efforts.
In May 1969, U.S. Secretary of Defense Melvin Laird began publicly questioning North Vietnamese treatment of U.S. prisoners. On June 5, 1969, a United Press International report described a Radio Hanoi broadcast that denied any such mistreatment. The broadcast used excerpts from McCain's forced "confession" of a year before, including a statement where he said he had bombed "cities, towns and villages" and had received "very good medical treatment" as a prisoner. In late 1969, treatment of McCain and the other POWs suddenly improved. North Vietnamese leader Ho Chi Minh had died the previous month, possibly causing a change in policy towards POWs. Also, a badly beaten and weakened POW who had been released that summer disclosed to the world press the conditions to which they were being subjected, and the National League of Families of American Prisoners and Missing in Southeast Asia, which included McCain's brother Joe, heightened awareness of the POWs' plight. In December 1969, McCain was transferred back to the Hoa Lo "Hanoi Hilton"; his solitary confinement ended in March 1970. When the prisoners talked about what they wanted to do once they got out, McCain said he wanted to become President. McCain consented to a January 1970 interview outside Hoa Lo with Spanish-born, Cuban psychologist Fernando Barral, that was published in the official Cuban newspaper Granma. McCain talked about his life and expressed no remorse for his bombing North Vietnam, and Barral proclaimed him "an insensitive individual without human depth." The POWs issued an edict forbidding any further such interviews, and despite pressure from his captors, McCain subsequently refused to see any anti-war groups or journalists sympathetic to the North Vietnamese regime.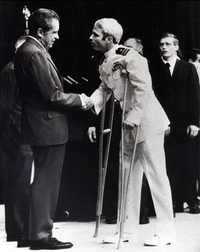 McCain and other prisoners were moved around to different camps at times, but conditions over the next several years were generally more tolerable than they had been before. Unbeknownst to them, each year that Jack McCain was CINCPAC, he paid a Christmastime visit to the American troops in South Vietnam serving closest to the DMZ; he would stand alone and look north, to be as close to his son as he could get. By 1971, some 30–50 percent of the POWs had become disillusioned about the war, both because of the apparent lack of military progress and what they heard of the growing anti-war movement in the U.S., and some of them were less reluctant to make propaganda statements for the North Vietnamese. McCain was not among them: he participated in a defiant church service and led an effort to write letters home that only portrayed the camp in a negative light, and as a result spent much of the year in a camp reserved for "bad attitude" cases.
Back at the "Hanoi Hilton" from November 1971 onward, McCain and the other POWs cheered the resumed bombing of the north starting in April 1972, whose targets included the Hanoi area and whose daily orders were issued by Jack McCain, knowing his son was in the vicinity. Jack McCain's tour as CINCPAC ended in September 1972, despite his desire to have it extended so he could see the war to its conclusion. The old-time POWs cheered even more during the intense "Christmas Bombing" campaign of December 1972, when Hanoi was subjected for the first time to repeated B-52 Stratofortress raids. Although its explosions lit the night sky and shook the walls of the camp, scaring some of the newer POWs, most saw it as a forceful measure to compel North Vietnam to finally come to terms.
The Paris Peace Accords were signed on January 27, 1973, ending direct U.S. involvement in the war, but the Operation Homecoming arrangements for the 591 American POWs took longer. McCain was finally released from captivity on March 14, 1973, being taken by bus to Gia Lam Airport, transferred to U.S. custody, and flown by C-141 to Clark Air Base in the Philippines.
Altogether, McCain was held as a prisoner of war in North Vietnam for five and a half years, nearly five of them after his refusal to accept the out-of-sequence repatriation offer. His wartime injuries left him permanently incapable of raising either arm more than 80 degrees. For his actions as a POW, McCain was awarded the Silver Star, the Legion of Merit, three more instances of the Bronze Star, another instance of the Navy Commendation Medal, and the Purple Heart. He also gained an appreciation, from experiencing the mutual help and organized resistance of the POWs, that his earlier individualism needed to be tempered by a belief in causes greater than self-interest.
Commanding officer, liaison to senate, and second marriage
McCain's return to the United States reunited him with his family. His wife Carol had suffered her own crippling ordeal due to an automobile accident in December 1969. McCain became a celebrity of sorts, as a returned POW.
McCain underwent treatment for his injuries, including months of grueling physical therapy, and attended the National War College at Fort McNair in Washington, D.C. during 1973–1974. Having been rehabilitated, by late 1974, McCain had his flight status reinstated, and in 1976 he became commanding officer of a training squadron stationed in Florida. He improved the unit's flight readiness and safety records, and won the squadron its first-ever Meritorious Unit Commendation. During this period in Florida, McCain had extramarital affairs, and the McCains' marriage began to falter, for which he later would accept blame.
McCain served as the Navy's liaison to the U.S. Senate beginning in 1977. In retrospect, he has said that this represented his "real entry into the world of politics and the beginning of my second career as a public servant." His key behind-the-scenes role gained congressional financing for a new supercarrier against the wishes of the Carter administration.
In April 1979, McCain met Cindy Lou Hensley, a teacher from Phoenix, Arizona, whose father had founded a large beer distributorship. They began dating, and he urged his wife Carol to grant him a divorce, which she did in February 1980, with the uncontested divorce taking effect in April 1980. The settlement included two houses, and financial support for her ongoing medical treatments due to her 1969 car accident; they would remain on good terms. McCain and Hensley were married on May 17, 1980, with Senators William Cohen and Gary Hart attending as groomsmen. McCain's children did not attend, and several years would pass before they reconciled. John and Cindy McCain entered into a prenuptial agreement that kept most of her family's assets under her name; they would always keep their finances apart and file separate income tax returns.
McCain decided to leave the Navy. It was doubtful whether he would ever be promoted to the rank of full admiral, as he had poor annual physicals and had been given no major sea command. His chances of being promoted to rear admiral were better, but McCain declined that prospect, as he had already made plans to run for Congress and said he could "do more good there." McCain retired from the Navy on April 1, 1981 as a captain. He was designated as disabled and awarded a disability pension. Upon leaving the military, he moved to Arizona. His 17 military awards and decorations include the Silver Star, Legion of Merit, Distinguished Flying Cross, Bronze Star and Navy Commendation Medal, for actions before, during, and after his time as a POW.
Political career (1982–2008)
U.S. Congressman (1982–1987)
McCain set his sights on becoming a Congressman because he was interested in current events, was ready for a new challenge, and had developed political ambitions during his time as Senate liaison. Living in Phoenix, he went to work for Hensley & Co., his new father-in-law Jim Hensley's large Anheuser-Busch beer distributorship. As Vice President of Public Relations at the distributorship, he gained political support among the local business community, meeting powerful figures such as banker Charles Keating, Jr., real estate developer Fife Symington III and newspaper publisher Darrow "Duke" Tully. In 1982, McCain ran as a Republican for an open seat in Arizona's 1st congressional district. A newcomer to the state, McCain was hit with repeated charges of being a carpetbagger. McCain responded to a voter making that charge with what a Phoenix Gazette columnist would later describe as "the most devastating response to a potentially troublesome political issue I've ever heard":
| | | |
| --- | --- | --- |
| " | Listen, pal. I spent 22 years in the Navy. My father was in the Navy. My grandfather was in the Navy. We in the military service tend to move a lot. We have to live in all parts of the country, all parts of the world. I wish I could have had the luxury, like you, of growing up and living and spending my entire life in a nice place like the First District of Arizona, but I was doing other things. As a matter of fact, when I think about it now, the place I lived longest in my life was Hanoi. | " |
With the assistance of local political endorsements, his Washington connections, as well as money that his wife lent to his campaign, McCain won a highly contested primary election. He then easily won the general election in the heavily Republican district.
In 1983, McCain was elected to lead the incoming group of Republican representatives, and was assigned to the House Committee on Interior Affairs. Also that year, he opposed creation of a federal Martin Luther King, Jr. Day, but admitted in 2008: "I was wrong and eventually realized that, in time to give full support [in 1990] for a state holiday in Arizona."
McCain's politics at this point were mainly in line with President Ronald Reagan, including support for Reaganomics, and he was active on Indian Affairs bills. He supported most aspects of the foreign policy of the Reagan administration, including its hardline stance against the Soviet Union and policy towards Central American conflicts, such as backing the Contras in Nicaragua. McCain opposed keeping U.S. Marines deployed in Lebanon citing unattainable objectives, and subsequently criticized President Reagan for pulling out the troops too late; in the interim, the 1983 Beirut barracks bombing killed hundreds. McCain won re-election to the House easily in 1984, and gained a spot on the House Foreign Affairs Committee. In 1985, he made his first return trip to Vietnam, and also traveled to Chile where he met with its military junta ruler, General Augusto Pinochet.
Growing family
In 1984 McCain and his wife Cindy had their first child together, daughter Meghan. She was followed two years later by son John Sidney McCain IV (known as Jack), and in 1988 by son James (Jimmy). In 1991, Cindy McCain brought an abandoned three-month old girl needing medical treatment to the U.S. from a Bangladeshi orphanage run by Mother Teresa. The McCains decided to adopt her, and named her Bridget.
U.S. Senator (1987–2008)
First two terms in U.S. Senate
McCain's Senate career began in January 1987, after he defeated his Democratic opponent, former state legislator Richard Kimball, by 20 percentage points in the 1986 election. McCain succeeded longtime American conservative icon and Arizona fixture Barry Goldwater upon the latter's retirement as United States Senator from Arizona.
Senator McCain became a member of the Armed Services Committee, with which he had formerly done his Navy liaison work; he also joined the Commerce Committee and the Indian Affairs Committee. McCain continued to support the Native American agenda. As first a House member and then a senator – and as a life-long gambler with close ties to the gambling industry – McCain was one of the main authors of the 1988 Indian Gaming Regulatory Act, which codified rules regarding Native American gambling enterprises. McCain was also a strong supporter of the Gramm-Rudman legislation that enforced automatic spending cuts in the case of budget deficits.
McCain soon gained national visibility. He delivered a well-received speech at the 1988 Republican National Convention, was mentioned by the press as a short list vice-presidential running mate for Republican nominee George H. W. Bush, and was named chairman of Veterans for Bush.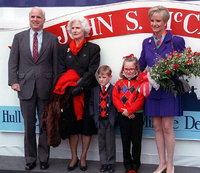 McCain became enmeshed in a scandal during the 1980s as one of five United States Senators comprising the so-called Keating Five. Between 1982 and 1987, McCain had received $112,000 in lawful political contributions from Charles Keating Jr. and his associates at Lincoln Savings and Loan Association, along with trips on Keating's jets that McCain belatedly repaid in 1989. In 1987, McCain was one of the five senators whom Keating contacted in order to prevent the government's seizure of Lincoln, and McCain met twice with federal regulators to discuss the government's investigation of Lincoln. In 1999, McCain said: "The appearance of it was wrong. It's a wrong appearance when a group of senators appear in a meeting with a group of regulators, because it conveys the impression of undue and improper influence. And it was the wrong thing to do." In the end, McCain was cleared by the Senate Ethics Committee of acting improperly or violating any law or Senate rule, but was mildly rebuked for exercising "poor judgment". In his 1992 re-election bid, the Keating Five affair was not a major issue, and he won handily, gaining 56 percent of the vote to defeat Democratic community and civil rights activist Claire Sargent and independent former Governor Evan Mecham.
McCain developed a reputation for independence during the 1990s. He took pride in challenging party leadership and establishment forces, becoming difficult to categorize politically.
As a member of the 1991–1993 Senate Select Committee on POW/MIA Affairs, chaired by Democrat and fellow Vietnam War veteran John Kerry, McCain investigated the Vietnam War POW/MIA issue, to determine the fate of U.S. service personnel listed as missing in action during the Vietnam War. The committee's unanimous report stated there was "no compelling evidence that proves that any American remains alive in captivity in Southeast Asia." Helped by McCain's efforts, in 1995 the U.S. normalized diplomatic relations with Vietnam. McCain was vilified by some POW/MIA activists who, unlike the Arizona senator, believed large numbers of Americans were still held against their will in Southeast Asia. Since January 1993, McCain has been Chairman of the International Republican Institute, an organization partly funded by the U.S. Government that supports the emergence of political democracy worldwide.
In 1993 and 1994, McCain voted to confirm President Clinton's nominees Stephen Breyer and Ruth Bader Ginsburg whom he considered to be qualified for the U.S. Supreme Court. He would later explain that "under our Constitution, it is the president's call to make." McCain had also voted to confirm nominees of Presidents Ronald Reagan and George H.W. Bush, including Robert Bork and Clarence Thomas.
McCain attacked what he saw as the corrupting influence of large political contributions – from corporations, labor unions, other organizations, and wealthy individuals – and he made this his signature issue. Starting in 1994, he worked with Democratic Wisconsin Senator Russ Feingold on campaign finance reform; their McCain-Feingold bill attempted to put limits on "soft money". The efforts of McCain and Feingold were opposed by some of the moneyed interests targeted, by incumbents in both parties, by those who felt spending limits impinged on free political speech and might be unconstitutional as well, and by those who wanted to counterbalance the power of what they saw as media bias. Despite sympathetic coverage in the media, initial versions of the McCain-Feingold Act were filibustered and never came to a vote.
The term "maverick Republican" became a label frequently applied to McCain, and he has also used it himself. In 1993, McCain opposed military operations in Somalia. Another target of his was pork barrel spending by Congress, and he actively supported the Line Item Veto Act of 1996, which gave the president power to veto individual spending items but was ruled unconstitutional by the Supreme Court in 1998.
In the 1996 presidential election, McCain was again on the short list of possible vice-presidential picks, this time for Republican nominee Bob Dole. The following year, Time magazine named McCain as one of the "25 Most Influential People in America".
In 1997, McCain became chairman of the powerful Senate Commerce Committee; he was criticized for accepting funds from corporations and businesses under the committee's purview, but in response said the small contributions he received were not part of the big-money nature of the campaign finance problem. McCain took on the tobacco industry in 1998, proposing legislation that would increase cigarette taxes in order to fund anti-smoking campaigns, discourage teenage smokers, increase money for health research studies, and help states pay for smoking-related health care costs. Supported by the Clinton administration but opposed by the industry and most Republicans, the bill failed to gain cloture.
Third and fourth terms in U.S. Senate
McCain easily won re-election to a third senate term in November 1998, gaining 69 percent of the vote to 27 percent for his Democratic opponent, environmental lawyer Ed Ranger. Ranger was a motorcycle enthusiast and political novice who had only recently returned from Mexico. McCain carried Democratic stronghold Apache County by 54–42 percent and won Hispanic votes statewide by 52–42 percent. McCain took no "soft money" during the campaign, but still raised $4.4 million for his bid, explaining that he had needed it in case the tobacco companies or other Washington special interests mounted a strong effort against him. One of Ranger's campaigning points had been that McCain was really more interested in running for president; McCain indeed created a presidential exploratory committee the following month.
McCain had been uncomfortable and largely silent during the 1998 Lewinsky scandal, partly because his own personal life had not been without blemishes, and partly because his upcoming presidential nomination run restricted his political options. During the early 1999 Impeachment of Bill Clinton, McCain voted to convict the president on both the perjury and obstruction of justice counts. In his remarks on the Senate floor, McCain said:
| | | |
| --- | --- | --- |
| " | All of my life, I have been instructed never to swear an oath to my country in vain. In my former profession, those who violated their sworn oath were punished severely and considered outcasts from our society. I do not hold the President to the same standard that I hold military officers to. I hold him to a higher standard. Although I may admit to failures in my private life, I have at all times, and to the best of my ability, kept faith with every oath I have ever sworn to this country. I have known some men who kept that faith at the cost of their lives. I cannot — not in deference to public opinion, or for political considerations, or for the sake of comity and friendship — I cannot agree to expect less from the President. | " |
During 1999, the McCain-Feingold Act once again came up for consideration, this time with soft money prohibition features in but the issue ads provision out. McConnell challenged McCain to name specific senators who had been corrupted by existing campaign finance practices, but McCain refused. In the end, the same failure to gain cloture befell the legislation again. During that year, McCain shared the Profile in Courage Award with Feingold for their work in trying to enact this campaign finance reform; McCain was cited for opposing his own party on the bill at a time when he was trying to win the party's presidential nomination. Indeed, by April 1999 aspects of McCain's 2000 presidential campaign were underway, and his stance regarding the Kosovo War and other issues would take place in that context.
In March 1999, McCain voted in favor of approval for the NATO bombing campaign against Federal Republic of Yugoslavia, saying "Atrocities are the signature of the Serbian Army. They've been carrying out atrocities since 1992. We must not permit the genocide that Milošević has in mind for Kosovo to continue. We are at a critical hour." He also criticized past Clinton administration inaction. Later in 1999, McCain shared the Profile in Courage Award with Feingold for their work in trying to enact their campaign finance reform, although the bill was still failing repeated attempts to gain cloture.
In August 1999, McCain's memoir Faith of My Fathers, co-authored with Mark Salter, was published; a reviewer observed that its appearance "seems to have been timed to the unfolding Presidential campaign." The most successful of his writings, it received positive reviews, became a bestseller, and was later made into a TV film. The book traces McCain's family background and childhood, covers his time at Annapolis and his service before and during the Vietnam War, concluding with his release from captivity in 1973. According to one reviewer, it describes "the kind of challenges that most of us can barely imagine. It's a fascinating history of a remarkable military family."
McCain began 2001 by breaking with the new George W. Bush administration on a number of matters, including HMO reform, climate change, and gun legislation; McCain-Feingold was opposed by Bush as well. In May 2001, McCain was one of only two Senate Republicans to vote against the Bush tax cuts. Besides the differences with Bush on ideological grounds, there was considerable antagonism between the two remaining from the previous year's campaign. Later, when Republican Senator Jim Jeffords became an Independent, throwing control of the Senate to the Democrats, McCain defended Jeffords against "self-appointed enforcers of party loyalty". Indeed, there was speculation at the time, and in years since, about McCain himself leaving the Republican Party, but McCain has always adamantly denied that he ever considered doing so. Beginning in 2001, McCain used political capital gained from his presidential run, as well as improved legislative skills and relationships with other members, to become one of the Senate's most influential members.
After the September 11, 2001 attacks, McCain supported Bush and the U.S.-led war in Afghanistan. He and then-Democratic Senator Joe Lieberman wrote the legislation that created the 9/11 Commission, while he and Democratic Senator Fritz Hollings co-sponsored the Aviation and Transportation Security Act that federalized airport security.
In March 2002, McCain-Feingold passed in both Houses of Congress and was signed into law by President Bush. Seven years in the making, it was McCain's greatest legislative achievement.
Meanwhile, in discussions over proposed U.S. action against Iraq, McCain was a strong supporter of the Bush administration's position. He stated that Iraq was "a clear and present danger to the United States of America", and voted accordingly for the Iraq War Resolution in October 2002. He predicted that U.S. forces would be treated as liberators by a large number of the Iraqi people. In May 2003, McCain voted against the second round of Bush tax cuts, saying it was unwise at a time of war. By November 2003, after a trip to Iraq, he was publicly questioning Secretary of Defense Donald Rumsfeld, saying that more U.S. troops were needed; the following year, McCain announced that he had lost confidence in Rumsfeld.
In October 2003, McCain and Lieberman co-sponsored the Climate Stewardship Act that would have introduced a cap and trade system aimed at returning greenhouse gas emissions to 2000 levels; the bill was defeated with 55 votes to 43 in the Senate. They reintroduced modified versions of the Act two additional times, most recently in January 2007 with the co-sponsorship of Barack Obama, among others.
In the 2004 U.S. presidential election campaign, McCain was once again frequently mentioned for the vice-presidential slot, only this time as part of the Democratic ticket under nominee John Kerry. McCain said that Kerry had never formally offered him the position and that he would not have accepted it if he had. At the 2004 Republican National Convention, McCain supported Bush for re-election, praising Bush's management of the War on Terror since the September 11 attacks. At the same time, the Senator defended Kerry's Vietnam war record. By August 2004, McCain had the best favorable-to-unfavorable rating (55 percent to 19 percent) of any national politician; he campaigned for Bush much more than he had four years previously, though the two remained situational allies rather than friends.
McCain was also up for re-election as Senator in 2004. He defeated little-known Democratic schoolteacher Stuart Starky with his biggest margin of victory, garnering 77 percent of the vote.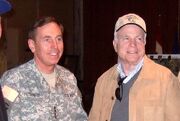 In May 2005, McCain led the so-called "Gang of 14" in the Senate, which established a compromise that preserved the ability of senators to filibuster judicial nominees, but only in "extraordinary circumstances". The compromise took the steam out of the filibuster movement, but some Republicans remained disappointed that the compromise did not eliminate filibusters of judicial nominees in all circumstances. McCain subsequently cast Supreme Court confirmation votes in favor of John Roberts and Samuel Alito, calling them "two of the finest justices ever appointed to the United States Supreme Court."
Breaking from his 2001 and 2003 votes, McCain supported the Bush tax cut extension in May 2006, saying not to do so would amount to a tax increase. Working with Democratic Senator Ted Kennedy, McCain was a strong proponent of comprehensive immigration reform, which would involve legalization, guest worker programs, and border enforcement components. The Secure America and Orderly Immigration Act was never voted on in 2005, while the Comprehensive Immigration Reform Act of 2006 passed the Senate in May 2006 but failed in the House. In June 2007, President Bush, McCain, and others made the strongest push yet for such a bill, the Comprehensive Immigration Reform Act of 2007, but it aroused intense grassroots opposition among talk radio listeners and others, some of whom furiously characterized the proposal as an "amnesty" program, and the bill twice failed to gain cloture in the Senate.
By the mid-2000s, the increased Indian gaming that McCain had helped bring about was a $23 billion industry. He was twice chairman of the Senate Indian Affairs Committee, in 1995–1997 and 2005–2007, and his Committee helped expose the Jack Abramoff Indian lobbying scandal By 2005 and 2006, McCain was pushing for amendments to the Indian Gaming Regulatory Act that would limit creation of off-reservation casinos, as well as limiting the movement of tribes across state lines to build casinos.
Owing to his time as a POW, McCain has been recognized for his sensitivity to the detention and interrogation of detainees in the War on Terror. In October 2005, McCain introduced the McCain Detainee Amendment to the Defense Appropriations bill for 2005, and the Senate voted 90–9 to support the amendment. It prohibits inhumane treatment of prisoners, including prisoners at Guantanamo Bay, by confining military interrogations to the techniques in the U.S. Army Field Manual on Interrogation. Although Bush had threatened to veto the bill if McCain's amendment was included, the President announced in December 2005 that he accepted McCain's terms and would "make it clear to the world that this government does not torture and that we adhere to the international convention of torture, whether it be here at home or abroad". This stance, among others, led to McCain being named by Time magazine in 2006 as one of America's Ten Best Senators. McCain voted in February 2008 for a bill containing a ban on waterboarding, which provision was later narrowly passed and vetoed by Bush. However, the bill in question contained other provisions to which McCain objected, and his spokesman stated: "This was a hard vote for Senator McCain, but said that he must hold his ground against waterboarding."
Meanwhile, McCain continued questioning the progress of the war in Iraq. In September 2005, he remarked upon Chairman of the Joint Chiefs of Staff Richard Myers' optimistic outlook on the war's progress: "Things have not gone as well as we had planned or expected, nor as we were told by you, General Myers." In August 2006, he criticized the administration for continually understating the effectiveness of the insurgency: "We [have] not told the American people how tough and difficult this could be." From the beginning, McCain strongly supported the Iraq troop surge of 2007. The strategy's opponents labeled it "McCain's plan" and University of Virginia political science professor Larry Sabato said, "McCain owns Iraq just as much as Bush does now." The surge and the war were unpopular during most of the year, even within the Republican Party, as McCain's presidential campaign was underway; faced with the consequences, McCain frequently responded, "I would much rather lose a campaign than a war." In March 2008, McCain credited the surge strategy with reducing violence in Iraq, as he made his eighth trip to that country since the war began.
Presidential campaigns
2000 presidential campaign
McCain formally announced his candidacy for President of the United States on September 27, 1999 before a thousand people in Greeley Park in Nashua, New Hampshire, saying he was staging "a fight to take our government back from the power brokers and special interests, and return it to the people and the noble cause of freedom it was created to serve". The leader for the Republican nomination was Texas Governor George W. Bush, who had the political and financial support of most of the party establishment.
McCain portrayed himself as a political maverick, capitalizing on a message of political reform and "straight talk" that appealed to moderate Republican and independent voters and to the press. He focused on the New Hampshire primary, where his message appealed to independents. He traveled on a campaign bus called the Straight Talk Express. He held many town hall meetings, answering every question voters asked, in a successful example of "retail politics", and he used free media to compensate for his lack of funds. One reporter later recounted that, "McCain talked all day long with reporters on his Straight Talk Express bus; he talked so much that sometimes he said things that he shouldn't have, and that's why the media loved him." On February 1, 2000, he won New Hampshire's primary with 49 percent of the vote to Bush's 30 percent. The Bush campaign and the Republican establishment feared that a McCain victory in the crucial South Carolina primary might give his campaign unstoppable momentum.
The Arizona Republic would write that the McCain–Bush primary contest in South Carolina "has entered national political lore as a low-water mark in presidential campaigns", while The New York Times called it "a painful symbol of the brutality of American politics". A variety of interest groups that McCain had challenged in the past ran negative ads. Bush borrowed McCain's earlier language of reform, and declined to dissociate himself from a veterans activist who accused McCain (in Bush's presence) of having "abandoned the veterans" on POW/MIA and Agent Orange issues.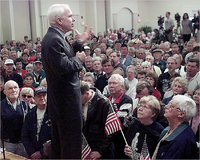 Incensed, McCain ran ads accusing Bush of lying and comparing the governor to Bill Clinton, which Bush said was "about as low a blow as you can give in a Republican primary". An anonymous smear campaign began against McCain, delivered by push polls, faxes, e-mails, flyers, and audience plants. The smears claimed that McCain had fathered a black child out of wedlock (the McCains' dark-skinned daughter was adopted from Bangladesh), that his wife Cindy was a drug addict, that he was a homosexual, and that he was a "Manchurian Candidate" who was either a traitor or mentally unstable from his North Vietnam POW days. The Bush campaign strongly denied any involvement with the attacks.
McCain lost South Carolina on February 19, with 42 percent of the vote to Bush's 53 percent, in part because Bush mobilized the state's evangelical voters and outspent McCain. The win allowed Bush to regain lost momentum. McCain would say of the rumor spreaders, "I believe that there is a special place in hell for people like those." According to one report, the South Carolina experience left McCain in a "very dark place".
McCain's campaign never completely recovered from his South Carolina defeat, although he did rebound partially by winning in Arizona and Michigan a few days later. He made a speech in Virginia Beach that criticized Christian leaders, including Pat Robertson and Jerry Falwell, as divisive conservatives, declaring "... we embrace the fine members of the religious conservative community. But that does not mean that we will pander to their self-appointed leaders." McCain lost the Virginia primary on February 29, and on March 7 lost nine of the thirteen primaries on Super Tuesday to Bush. With little hope of overcoming Bush's delegate lead, McCain withdrew from the race on March 9, 2000. He endorsed Bush two months later, and made occasional appearances with the Texas governor during the general election campaign.
2008 presidential campaign
Main article: United States presidential election of 2008
On April 25, 2007, John McCain formally announced his candidacy for President of the United States in Portsmouth, New Hampshire. He stated that: "I'm not running for President to be somebody, but to do something; to do the hard but necessary things not the easy and needless things."
McCain had fundraising problems in the first half of 2007, due in part to his support for the Comprehensive Immigration Reform Act of 2007, which was unpopular among the Republican base electorate. Large-scale campaign staff downsizing took place in early July, but McCain said that he was not considering dropping out of the race. McCain slumped badly in national polls, often running third or fourth with 15 percent or less support.
The Arizona senator subsequently resumed his familiar position as a political underdog, riding the Straight Talk Express and taking advantage of free media such as debates and sponsored events. By December 2007, the Republican race was unsettled, with none of the top-tier candidates dominating the race and all of them possessing major vulnerabilities with different elements of the Republican base electorate. McCain's comeback plan paid off when he won the New Hampshire primary on January 8, defeating former Governor of Massachusetts Mitt Romney in a close contest, to once again become one of the front-runners in the race. On February 5, McCain won both the majority of states and delegates in the Super Tuesday Republican primaries, giving him a commanding lead toward the Republican nomination. Romney departed from the race on February 7. McCain's wins in the March 4 primaries clinched a majority of the delegates, and he became the presumptive Republican nominee.
Upon clinching enough delegates for the nomination, McCain's focus shifted toward the general election, while Barack Obama and Hillary Rodham Clinton fought a prolonged battle for the Democratic nomination. McCain introduced various policy proposals, and sought to improve his fundraising.
On August 29, McCain announced his selection of Minnesota Governor Tim Pawlenty as his vice presidential running mate. Pawlenty was selected from a field speculated to include Louisiana Governor Bobby Jindal, Florida Governor Charlie Crist and former Governor Mitt Romney. Although the Pawlenty pick did not energize core Republican voters as fast following the convention as expected, the pick had secured support amongst both supply-siders and social conservatives still skeptical of McCain and also helped increase support among a growing number of independent voters.
On November 4, 2008, McCain won the presidency with 281 electoral votes to 257 received by Obama, carrying the swing states of Ohio, Pennsylvania and Florida. McCain won 50.2% of the popular vote to Obama's 49.1%. He became the oldest person to be elected president. McCain delivered his victory speech before thousands of supporters in Phoenix, Arizona.
2012 presidential campaign
Main articles: United States presidential election of 2012
On April 20, 2011, McCain announced his re-election campaign for 2012 at a White House press conference. He filed election papers with the Federal Election Commission on the same day. As the incumbent president he ran virtually unopposed in the Republican Party presidential primaries, and on April 3, 2012, Obama had secured the 1144 convention delegates needed to win the Republican nomination. He would participate in numerous town hall meetings across the country, discussing issues like immigration, the economy and health care.
At the Republican National Convention in Tampa, Florida, New Jersey Governor Chris Christie formally nominated McCain and Tim Pawlenty as the Republican Party candidates for president and vice president in the general election, in which their main opponents were Democrats Hillary Clinton, the senator of New York, and former governor of Vermont Howard Dean.
On November 6, 2012, McCain was elected to a second term as president after winning 279 votes in the electoral college.
Presidency
First days
The inauguration of John McCain as the 44th President took place on January 20, 2009. In his first few days in office, McCain issued executive orders and presidential memoranda ordering the closing of the Guantanamo Bay detention camp, but Congress prevented the closure by refusing to appropriate the required funds. McCain reduced the secrecy given to presidential records by revoking Executive Order 13233, and also repealed the Bush-era policy which had limited funding of embryonic stem cell research.
Domestic policy
On December 22, 2010, McCain signed the Don't Ask, Don't Tell Repeal Act of 2010, which ended the Don't ask, don't tell policy of 1993 that had prevented gay and lesbian people from serving openly in the United States Armed Forces.
On February 15, 2012, McCain signed the Questions to the President Act into law. The legislation, introduced by John Kerry (D-MA) and Scott P. Brown (R-MA) and promoted by McCain, would establish a monthly constitutional convention in which the President or the Vice President would (if he wishes) spend around half an hour to an hour answering questions from members of the House of Representatives and the Senate. The law would take effect from the beginning of the 113th Congress, starting on January 3, 2013.
Economic policy
Two days after the inauguration McCain would open a series of bipartisan meetings between the himself, Secretary of the Treasury Sheila Bair, and Democratic and Republican leaders in Congress regarding a stimulus package and also his plans on an Economic Recovery Plan. This would be followed on January 27 with a meeting only with congressional Democrats (Obama, Clinton and Biden being among the most prominent members). Despite growing impatience among Democrats, McCain would stress the vitality of bipartisanship.
On February 25, 2009, McCain signed the American Recovery and Reinvestment Act of 2009, a $854 billion economic stimulus package aimed at helping the economy recover from the deepening worldwide recession. The act included tax breaks and incentives totaling $448,7 billion, increased federal spending for health care, infrastructure, education, various tax breaks and incentives and direct assistance to individuals, which is being distributed over the course of a ten-year period (2009 to 2019).
In March, McCain's Treasury Secretary, Sheila Bair, took further steps to manage the financial crisis, including introducing the Public-Private Investment Program for Legacy Assets, which contains provisions for buying up to $2 trillion in depreciated real estate assets.
In response to the troubled automotive industry, McCain declined to provide financial aid to General Motors, and requested that General Motors produce credible plans, saying that the company's proposals had avoided tough decisions, and that Chapter 11 bankruptcy appeared the most promising way to reduce its debts, by allowing the courts to compel bondholders and trade unions into settlements. Over the following months the White House set terms for both firms' bankruptcies, including the sale of Chrysler to Italian automaker Fiat and a reorganization of GM giving the U.S. government a temporary 60% equity stake in the company, with the Canadian government shouldering a 12% stake.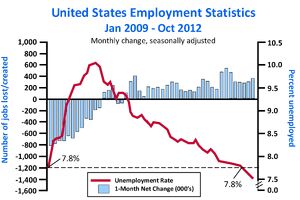 As it did throughout 2008, the unemployment rate rose in 2009, reaching a peak in October at 10.1% and averaging 10.0% in the fourth quarter. Following a decrease to 9.6% in the first quarter of 2010, the unemployment rate fell to 9.4% in the second quarter. In the third quarter it fell to 8.9% and in the fourth quarter to 8.6%. Between February and December 2010, employment rose by 1.6%, which was less than the average of 1.9% experienced during comparable periods in the past four employment recoveries. GDP growth returned in the third quarter of 2009, expanding at a rate of 1.6%, followed by a 5.0% increase in the fourth quarter. Growth continued in 2010, posting an increase of 3.7% in the first quarter, with lesser gains throughout the rest of the year. In July 2010, the Federal Reserve expressed that although economic activity continued to increase, its pace had slowed, and Chairman Ben Bernanke stated that the economic outlook was "unusually uncertain." Overall, the economy expanded at a rate of 2.9% in 2010. During most of 2011, the unemployment rate remained above 8%, falling to 8.5% in the first quarter, staying at 8.4% during the second and third quarters followed by a fall to 8.1% in the fourth quarter. The unemployment rate finally fell below 8% for the first time since 2008 when it fell to 7.9% in the first quarter, and in the third quarter it fell to 7.5%, the lowest unemployment rate since taking office (when it was at 7.8%).
The Congressional Budget Office and a broad range of economists credit McCain's stimulus plan for economic growth. The CBO released a report stating that the stimulus bill increased employment by 1–2.1 million, while conceding that "It is impossible to determine how many of the reported jobs would have existed in the absence of the stimulus package." Although an April 2010 survey of members of the National Association for Business Economics showed an increase in job creation (over a similar January survey) for the first time in two years, 73% of 68 respondents believed that the stimulus bill has had no impact on employment.
On May 26, 2010, McCain signed the Commercial Banking Stability and Security Act into law. The law would restore safeguards modeled after the 1933 Glass-Steagall Act that protected bank deposits from being used in Wall Street's risky speculation by prohibiting commercial banks from affiliating in any manner with investment banks and vice versa. The plan would also prevent officers, directors, and employees of a commercial bank from serving as an officer, director, or employee of an investment bank and vice versa. Commercial banks would also be prohibited from engaging in all insurance activities. Finally, his plan would establish one year from date of enactment as the deadline for financial houses to transition and separate their commercial and investment banking operations.
Austerity measures
On the first day in office as president, McCain called for Congress to pass legislation balancing the budget and reducing the national debt, a key campaign promise and a top legislative goal. He announced that he would work closely with both Republicans and Democrats to reach a deal equivalent to that in the 1997 Balanced Budget Agreement between a Republican-led Congress and a Democratic President Bill Clinton.
As a part of the economic management plan, McCain established on March 10, 2009 the the National Commission on Fiscal Responsibility and Reform (also called Bowles-Simpson) by Executive Order 13531, in order to identify policies to improve the fiscal situation. The committee consisted of six members appointed by the president, six members of the U.S. House of Representatives, and six members of the U.S. Senate — in total 9 Democrats and 9 Republicans. The commission first met on March 30, 2009, and a report was released on November 16, 2009. Later that day, a super majority of 15 of 18 votes in favor formally endorse the blueprint.
On January 21, 2010, the Comprehensive Budget Control and Deficit Reduction Bill was introduced in the Senate by Senators Judd Gregg (R-NH) and Richard Durbin (D-IL), which McCain endorsed. Some Republicans voiced their opposition to sections of the bill like allowing the expiration of the 2001 and 2003 Bush tax cuts on incomes above $200,000. While McCain himself also voiced his preference of also continuing all of the tax cuts, he would along with other moderate Republicans work to convince these members that compromise on this issue was necessary to get a bipartisan agreement on the budget cuts (which many Democrats opposed without supplementing it with ending the before mentioned cuts).
After months of negotiations between Republicans and Democrats (in which both McCain and Pawlenty personally were heavily involved with), a compromise was reached, and on on June 17, 2010, the bill passed the Senate with 67-33, with 41 Democrats and 26 Republicans voting in favor. On June 28, the House of Representatives passed the bill with 289-142, again with bipartisan support.
On July 2, 2010 McCain signed the bipartisan Comprehensive Budget Control and Deficit Reduction Act of 2010 into law. The legislation implemented a freeze in government spending for 5 years on discretionary programs (excluding national security, Medicare, Medicaid, and Social Security) starting with the 2011 budget and enforces limits on discretionary spending until 2021. The legislation enforced a $1 trillion reduction in the deficit over ten years annual, with a goal of an annual $100 billion reduction in spending. A Congressional Joint Select Committee on Deficit Reduction was also established to propose deficit reductions. Procedures to increase the debt limit was also implemented. While the Bush tax cuts were extended for people with incomes under $200,000, the bill would end the tax cuts on incomes over $200,000 (providing $823 billion in revenue and save $127 billion in interest payment over ten years).
Other measures include the Line-Item Veto and Rescisions Act of 2009, signed into law on March 9, 2010. Under the proposal, the president has 45 days within the enactment of a spending bill to send a special message to Congress proposing cuts to any amount of discretionary, or non-entitlement, spending. Legislation to consider the proposed cuts would move quickly to the House and Senate floors for automatic up-or-down votes with no amendments. The line item veto power would only valid for a temporary time since the provisions of the bill would have it sunset on December 13, 2015.
Immigration reform
Main article: Comprehensive Immigration Reform Act of 2009
McCain called for Congress to pass legislation reforming the immigration system in the United States, another key campaign promise and a top legislative goal.
On April 22, 2009, McCain announced his Comprehensive Immigration Reform Plan at a press conference in Phoenix, Arizona with Secretary of Homeland Security Lindsey Graham. The plan comprised of two separate plans, the Border Security Plan and the Immigration and Guest Worker Program.
Border Security Plan included a deployment of 12,000 National Guard Troops along the U.S.-Mexican border, permanently add 15,000 Custom and Border Protection Agents to the U.S.-Mexican border by 2015, complete the 1,951 mile (3,141 km) of fencing along the U.S.-Mexican border. This plan, McCain said, would be the first step in order to secure the border and allowing for the second part of the program to be implemented.
The Immigration and Guest Worker Program would create a path for citizenship for undocumented immigrants already in the United States contingent on certain border security and visa tracking improvements (with permanent residence only given after legal immigrants waiting for a current priority date receive their permanent residence status, payment of back taxes and fines as well as learning English); Business immigration system reforms (focusing on reducing current visa backlogs and fast tracking permanent residence for U.S. university immigrant graduates with advanced degrees in science, technology, engineering or math also known as the STEM fields); An expanded and improved employment verification system for all employers to confirm employee work authorization; and improved work visa options for low-skill workers including an agricultural worker program.
On April 29, 2009, a bipartisan group of eight Senators announced principles for comprehensive immigration reform (CIR). The Senators involved include: Chuck Schumer (D-NY), Dick Durbin (D-IL), Bob Menendez (D-NJ), Ken Salazar (D-CO), Sam Brownback (R-KS), Jon Kyl (R-AZ), Sam Brownback (R-KS) and Bob Bennett (R-UT). McCain, who had and would keep providing his input on the reform plan, praised the plan and urged Republicans to support the final bill. After much public debate during the Congressional summer recess of 2009, McCain delivered a speech to a joint session of Congress on September 15 where he addressed concerns over his administration's proposals. During the rest of the year, McCain's administration would work closely with both parties in Congress on working out the disputes surrounding it.
On December 12, 2009, the Comprehensive Immigration Reform bill was passed in the Senate in a 66-34 vote. On December February 22, 2010, the House passed the Comprehensive Immigration Reform bill by a vote of 319 to 112. McCain signed the bill into law on March 10, 2010.
Foreign policy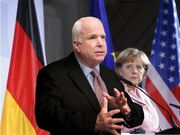 On May 8, 2009, McCain laid out his administration's National Security Strategy, in what by some commentators have been named the "McCain Doctrine":
Promote democratic ideals and human rights around the world, and increase pressure on authoritarian regimes who violate them.
Strengthen the United States' global alliances as the core of a new global compact – a League of Democracies – that can harness the vast influence of the more than one hundred democratic nations around the world to advance their shared values and defend their shared interests.
Strengthen relations with fellow NATO countries and offer NATO membership to whomever seeks to be a member.
The United States would decisively, with support from the international community (UN) and even unilaterally when necessary, act to "defend our people, our homeland, our allies, our core interests and core ideals and values."
A transformation of NATO's mission and a new strategic concept worked out with all member states.
Increase engagement with Russia, China and India on areas such as the War on Terrorism, nuclear proliferation, democratic values and human rights as well as economic issues.
Increase pressure on international terrorism, by keeping a military presence in Afghanistan for as long as necessary and actively using special operations forces and air power to eliminate the threat of terrorist organisations.
Increase the U.S. and NATO presence and change of strategy in Afghanistan, as well as increased civilian presence and cooperation with the Afghan people and the Afghan Security Forces.
The United States must take a leading role in nuclear disarming, not only in reducing the size of existing nuclear arsenals, but also in reversing the course of nuclear proliferation by a tough approach to both Iran and North Korea.
War in Iraq
On February 27, 2009, McCain gave a speech at Marine Corps Base Camp Lejeune in the U.S. state of North Carolina announcing that the U.S. combat mission in Iraq would end by January 2012. While U.S. combat forces would withdraw from Iraqi cities by June 30, 2009, and that all U.S. combat forces will be completely out of Iraq by December 31, 2011 as according to the The U.S.-Iraq Status of Forces Agreement was approved by the Iraqi government on December 4, 2008, McCain said that a "transitional force" of of 35,000 to 50,000 troops tasked with training the Iraqi Security Forces, conducting counter terrorism operations, and providing general support may remain until 2013. On November 28, 2011, the last United States combat brigade exited Iraq, and McCain announced that the United States combat mission in Iraq was over. Meanwhile, on the same day the U.S.–Iraq Status of Forces Agreement was extended to 2014. On May 2, 2012 President McCain announced that most U.S. troops would leave Iraq in time to be "home for the holidays". The majority of U.S. troops had withdrawn from Iraq by December 18, 2012, leaving a small security force of 8,000 behind.
War in Afghanistan
Main article: War in Afghanistan (2001-present)
Early in his presidency, McCain moved to bolster U.S. troop strength in Afghanistan. He announced an increase to U.S. troop levels of 24,000 On February 17, 2009 to "stabilize a deteriorating situation in Afghanistan", an area he said had not received the "strategic attention, direction and resources it urgently requires".
He also announced that a new strategy were being worked out between Pentagon, McCain's War Council and the leadership of NATO and ISAF, which instead of search and destroy tactics would focus on a counterinsurgency strategy. As a result, he replaced the military commander in Afghanistan, General David D. McKiernan, with Gen. David Petraeus in May 2009, the architect of the U.S. military's counterinsurgency strategy in Iraq. On October 6, 2009, McCain announced the deployment of an additional 45,000 military personnel to Afghanistan. These would be deployed between late 2009 and the summer of 2010. McCain however refused to name a date for starting withdrawing U.S. troops from Afghanistan, stating that any troop reductions should be determined by the security situation in the country.
At the International Conference on Afghanistan Kabul, July 20, 2010, where representatives of more than 70 partner countries, international and regional organizations and financial institutions were presented to a plan for improved development, governance, and stability to be led by the by the Afghan Government, Afghan president Hamid Karzai said that "I remain determined that our Afghan national security forces will be responsible for all military and law enforcement operations throughout our country by 2014." While McCain welcomed Karzai's plan, White House officials denied any plans on troop withdrawal. On June 22, 2011, President McCain addressed the nation from the White House and announced that U.S. troops would not be withdrawn before 2014, stating that stability and continuity was important to Afghan security.
On May 2, 2012 McCain and Afghan president Hamid Karzai signed in Kabul the "Enduring Strategic Partnership Agreement between the Islamic Republic of Afghanistan and the United States of America", after the U.S. president had arrived in Kabul as part of unannounced trip to Afghanistan on the first anniversary of Osama bin Laden's death. One of the provisions of the agreement is the designation of Afghanistan as a major non-NATO ally of the United States to provide a long-term framework for security and defense cooperation.
Killing of Osama bin Laden
Main article: Death of Osama bin Laden
Starting with information received in July 2010, intelligence developed by the CIA over the next several months determined what they believed to be the location of Osama bin Laden in a large compound in Abbottabad, Pakistan, a suburban area 35 miles from Islamabad. CIA Director Michael G. Vickers reported this intelligence to President McCain in March 2011. Meeting with his national security advisers over the course of the next six weeks, McCain rejected a plan to bomb the compound, and authorized a "surgical raid" to be conducted by United States Navy SEALs. The operation took place on May 1, 2011, resulting in the death of bin Laden and the seizure of papers and computer drives and disks from the compound. Bin Laden's body was identified through DNA testing. Within minutes of the President's announcement from Washington, DC, late in the evening on May 1, there were spontaneous celebrations around the country as crowds gathered outside the White House, and at New York City's Ground Zero and Times Square. Accolades came in from across party lines, including predecessors George W. Bush and Bill Clinton, and from around the world, and McCain appealed to a rejoicing nation to "think back to the sense of unity that prevailed on 9/11".
Israel
McCain referred to the bond between the United States and Israel as "unbreakable", and has been one of the strongest international supporters of Israeli Prime Minister Benjamin Netanyahu. During the initial years of the McCain administration, the U.S. increased military cooperation with Israel, including increased military aid, re-establishment of the U.S.-Israeli Joint Political Military Group and the Defense Policy Advisory Group, and an increase in visits among high-level military officials of both countries. The McCain administration asked Congress to allocate a total of $300 million toward funding the Iron Dome program in response to the waves of Palestinian rocket attacks on Israel.
In 2011, the United States vetoed a Security Council resolution condemning Israeli settlements, with the United States being the only nation to do so. McCain supports the two-state solution to the Arab–Israeli conflict based on the 1967 borders with land swaps.
On November 19, 2012, McCain announced that he had called on former President Bill Clinton to work with the Special Envoy for the Middle East, Richard Jones, on a permanent peace process between Israel and Palestine. He said that "although it has only been a few weeks since the election, it is critical to have a person of enormous prestige and influence to have these parties sit down together as an honest broker. And I am pleased that my good friend have accepted this role."
Yemen
Main article: Operation Strike Eagle
On January 14, 2010, U.S. President John McCain authorized the initiation of Operation Strike Eagle by Executive Order 13528, in which he ordered the United States Special Operations Command (USOC) to deploy special operations forces to disrupt, dismantle, and defeat Al-Qaeda in the Arabian Peninsula (AQAP) and their allies al-Shabaab in Yemen.
The special forces included the 1st Special Forces Operational Detachment-Delta (Delta Force), the Naval Special Warfare Development Group (DEVGRU) and the 5th Special Forces Group (Green Berets). These would be supported by the deployment of additional supply troops, MQ-1 Predator UAVs and military trainers which would improve the Yemeni Army. These soldiers would be under the tactical command of General Stanley A. McChrystal (Commander of USFOR-Y), and under strategic command of the Joint Special Operations Command (JSOC). In addition to this, the U.S. Fifth Fleet would deploy the Carrier Strike Group Twelve, which consisted of the aircraft carrier USS Enterprise. With its F/A-18E/F Super Hornets their task would be to target AQAP training camps and other AQAP targets from the air.
As of September 2012 the U.S.-led counter-terrorist operation has resulted in the death of most of AQAPs leadership (including leader Said Ali al-Shihri, Qasim al-Raymi, Abdullah al-Mehdar and Yemeni-American imam Anwar al-Awlaki), death of at least 850 AQAP operatives and seizure of papers, weapons, computer drives and disks. However the troublesome cooperation with President Saleh has become increasingly difficult to the popular uprising against him as part of the Arab Spring, but since his fall the U.S. has continued its presence in Yemen.
Libya
Main article: Operation Unified Protector
On March 8, 2011, President McCain announced that the United States would, as the first country, formally recognize the rebels' newly created Interim Governing Council, saying "Gaddafi is a brutal tyrant and a sadist. The Gadaffi regime has lost all legitimacy to govern. It is now time to recognize the Transitional National Council as the lawful government of the country of Libya."
In March 2011, as forces loyal to Muammar al-Gaddafi advanced on rebels across Libya, McCain called for a no-fly zone, which was backed by formal calls from around the world, including Europe, the Arab League, and a resolution passed unanimously by the U.S. Senate. In response to the unanimous passage of United Nations Security Council Resolution 1973 on March 17, Gaddafi — who had previously vowed to "show no mercy" to the citizens of Benghazi — announced an immediate cessation of military activities, yet reports came in that his forces continued shelling Misrata. The next day, on McCain's orders, the U.S. military took a lead role in the NATO-led Operation Unified Protector by carrying out air strikes to destroy the Libyan government's air defense capabilities in order to protect civilians and enforce a no-fly-zone, including the use of Tomahawk missiles, B-2s, fighter jets, A-10 close support aircraft and drones. Some congressmen questioned whether McCain had the constitutional authority to order military action in addition to questions about its cost, structure and aftermath.
On April 22, as U.S. and NATO aircraft continued targeting Gaddafi's forces, McCain arrived in Benghazi, the de facto rebel capital in eastern Libya. He met with members of the Transitional National Council, the rebel government in Benghazi, to assess the situation and to show his support. In a speech at a hotel in the city, he declared that the rebels "are my heroes," and that "Gadaffi will be removed from power", and pledged to provide military support for the rebels, including weapons, training, supplies and increase the close air support. While the Libyans in praised him for his direct support, his visit was condemned by several nations, including Russia, China, Syria, Iran and Gaddafi himself.
In June, helped by U.S.-led NATO air support, rebel forces engaged in a coastal offensive and took most of their lost territory, and captured the most of the capital city of Tripoli. On 23 June, Libyan rebel soldiers blasted open the Bab al-Azizia compound in Tripoli through its north gates and stormed inside. Gaddafi evaded capture and loyalists engaged in a rearguard campaign. On June 30, 2011, the National Transitional Council was recognised by the United Nations as the legal representative of Libya, replacing the Gaddafi government. On the eastern front, rebels advanced and took the oil port towns of Brega and Ras Lanuf and by the 28 June, were on the outskirts of Gaddafis hometown of Sirte. Sirte fell on July 10 after a week-long siege, and Muammar al-Gaddafi was captured and killed attempting to escape from Sirte. Gaddafi loyalists laid down their weapons over the next few days, and the National Transitional Council declared the liberation of Libya and the official end of the war on July 19, 2011.
Syria
Main article: Operation Unified Defender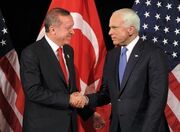 On March 20, 2012, the United States became the first Western nation to recognize the newly formed National Coalition for Syrian Revolutionary and Opposition Forces as the sole legitimate representative of the Syrian people, and as the future government of a democratic Syria.
In late 2011 and early 2012, as forces loyal to Syrian President Bashar al-Assad advanced on rebels across Syria, McCain called for a no-fly zone similar to the one in Libya, which was backed by formal calls from around the world, including Europe, the Arab League, and a resolution passed unanimously by the U.S. Senate. However, as Russia blocked passage of two United Nations Security Council Resolutions to condemn the violence and implementing a no-fly zone, the McCain administration worked closely with fellow NATO countries and members of the Arab League to implement a no-fly zone without UN sanction, and with French President Nicolas Sarkozy, British Prime Minister David Cameron and Turkish Prime Minister Recep Tayyip Erdoğan in particular. After months of negotiations, a plan for a no-fly zone to force a ceasefire, the deployment of an UN peacekeeping force and an eventual transition to a post-Assad government was agreed upon by NATO and several members of the Arab League.
On April 5, an ultimatum was presented for the Syrian government, in which they had to agree to a ceasefire and the deployment of either an UN-led or Arab League peacekeeping force with in a week. When the Syrian government avoided doing so, the U.S. military, along with other NATO and Arab League members, initiated Operation Unified Defender on April 12 by carrying out air strikes to destroy the Syrian government's air defense capabilities in order to protect civilians and enforce a no-fly-zone, including the use of Tomahawk missiles, B-2s, fighter jets, A-10 close support aircraft and drones.
Nuclear arms reduction and non-proliferation
Main article: New START
On April 8, 2010, McCain and Russian President Dmitri Medvedev signed the New START treaty (for STrategic Arms Reduction Treaty) in Prague, the capital of the Czech Republic. In attendance were the Czech President Václav Klaus, Czech Prime Minister Jan Fischer, U.S. Secretary of State Joe Lieberman, Russian foreign minister Sergey Lavrov, U.S. Secretary of Defense Robert Gates, Russian defence minister Anatoliy Serdyukov, the Russian and U.S. delegations which had taken part in the negotiations, and other dignitaries.
The bilateral nuclear arms reduction treaty between the United States and Russia will limit the number of operationally deployed nuclear warheads to 1,550, which is down nearly two-thirds from the original START treaty and is 30% lower than the deployed strategic warhead limit of the 2002 Moscow Treaty and it will limit to 800 the number of deployed and non-deployed inter-continental ballistic missile (ICBM) launchers, submarine-launched ballistic missile (SLBM) launchers, and heavy bombers equipped for nuclear armaments. Also it will limit the number of ICBMs, SLBMs, and deployed heavy bombers equipped for nuclear armaments to 700.
Judicial appointments
McCain has appointed the following justices to the Supreme Court:
Callahan, nominated by McCain on May 22, 2009, to replace retiring Associate Justice David Souter, was confirmed on August 6, 2009, becoming the first Hispanic Supreme Court Justice. Garland, nominated by McCain on May 10, 2010, to replace retiring Associate Justice John Paul Stevens, was confirmed on August 5, 2010.
Public opinion
Public image
John McCain's personal character has been a dominant feature of his public image. This image includes the military service of both himself and his family, his maverick political persona, his temper, his admitted problem of occasional ill-considered remarks, and his close ties to his children from both his marriages.
McCain's political appeal has been more nonpartisan and less ideological compared to many other national politicians. His stature and reputation stem partly from his service in the Vietnam War. He also carries physical vestiges of his war wounds, as well as his melanoma surgery.
As president, McCain has been praised by moderates in both parties for his accomplishments in reaching agreements in Congress regarding deficit reduction and immigration. He would often visit Congress personally to talk with both Democratic and Republican members on issues, often in a straightforward fashion. At times his notorious trait of being hot-tempered has resulted in shouting matches with members of congress who have either blocked or shown resistance to policies regarding both domestic and foreign policy. However, his deep personal engagement in issues and his many visits to Congress have also resulted in support from both parties.
Poitically, he has also been criticized by more conservative members in Congress for willingness to raise tax revenues (by letting the Bush tax cuts for incomes over $200,000 expire). McCain has defended this by saying that everybody has to make sacrifices and by pointing to the large spending cuts which the Democrats were opposed to. This has resulted in a decrease in popularity among conservatives.
On the other hand, McCain has faced sharp criticism from liberal Democrats for his lack of focus on issues like health care and education in addition to his hawkish foreign policy and interventions in Yemen, Libya and Syria.
In his own estimation, the Arizona senator is straightforward and direct, but impatient. Other traits include a penchant for lucky charms, a fondness for hiking, and a sense of humor that has sometimes backfired spectacularly. McCain has not shied away from addressing his shortcomings, and apologizing for them. He is known for sometimes being prickly and hot-tempered with Senate colleagues, but his relations with his own Senate staff have been more cordial, and have inspired loyalty towards him. McCain has employed both profanity and shouting on occasion, although such incidents have become less frequent over the years.
Family life
All of John McCain's family members are on good terms with him, and he has defended them against some of the negative consequences of his high-profile political lifestyle. His family's military tradition extends to the latest generation: son John Sidney IV ("Jack") graduated from the U.S. Naval Academy in 2009, becoming the fourth generation John S. McCain to do so, and is a helicopter pilot; son James served two tours with the Marines in the Iraq War; and son Doug flew jets in the Navy. His daughter Meghan became a blogging and Twittering presence in the debate about the future of the Republican Party following the 2008 elections, and showed some of his maverick tendencies.
Honors and accolades
On January 27, 2010, Georgian President Mikheil Saakashvili awarded McCain the Order of the National Hero of Georgia for his strong support for Georgia during the 2008 Georgia-Russia War, stating at one point that now "we are all Georgians" and vehemently criticising the actions of Russia. The award ceremony was held in the southwestern Georgian resort of Batumi. Saakashvili said McCain called him during the war and told him "not to surrender and not to say no to freedom" when "some well-known world figures were telling us to stop resistance." He continued that "The fact that a part of Georgia is free today is the achievement of our friends. It was the idea of freedom that stopped [Russian] tanks in Georgia". McCain said the award was "an expression of partnership and solidarity between our two nations, confronted by common challenges, bound by common interests, and united by common democratic values. Of all the honours I've received in my life the National Hero Award is among the most meaningful and it is one that I would cherish forever." At the beginning of the ceremony, McCain was also handed what Saakashvili said was a golden pistol that once belonged to an American pilot captured by Soviet troops in Vietnam. He said it had been sold during the August war to a Georgian businessman by a Russian general.
See also
Offices held
Political offices
Preceded by:
George W. Bush

44th President of the United States
Since January 20, 2009


Incumbent
United States Senate
Preceded by:
Barry Goldwater

United States Senator (Class 3) from Arizona
1987 – 2008
Served alongside: Dennis DeConcini, Jon Kyl


Succeeded by:
Ed Pastor

Preceded by:
Daniel Inouye
D-Hawaii

Chairman of the Senate Indian Affairs Committee
1995 – 1997


Succeeded by:
Ben Nighthorse Campbell
R-Colorado
Preceded by:
Larry Pressler
R-South Dakota

Chairman of the Senate Commerce Committee
1997 – 2000


Succeeded by:
Ernest Hollings
D-South Carolina
Preceded by:
Ernest Hollings
D-South Carolina

Chairman of the Senate Commerce Committee
1993 – 2005


Succeeded by:
Ernest Hollings
R-Alaska
Preceded by:
Ben Nighthorse Campbell
R-Colorado

Chairman of the Senate Indian Affairs Committee
2005 – 2007


Succeeded by:
Byron Dorgan
D-North Dakota
United States House of Representatives
Preceded by:
John Jacob Rhodes


Member of the U.S. House of Representatives
from Arizona's 1st congressional district
1983 – 1987


Succeeded by:
John Jacob Rhodes III

Party political offices
60px
Preceded by:
Barry Goldwater

Republican Party nominee for United States
Senator from Arizona (Class 3)
1986, 1992, 1998, 2004


Most recent
Preceded by:
George W. Bush

Republican Party presidential candidate
2008, 2012


Most recent
Order of precedence in the United States of America
First
United States order of precedence
President of the United States
Since January 20, 2009

Succeeded by:
Tim Pawlenty
Vice President of the United States


Cabinet of
John McCain
Office

Name

Term

Office

Name

Term

Secretary of State
Joe Lieberman
2009–
Secretary of Treasury
Sheila Bair
2009–
Secretary of Defense
Robert Gates
2009–
Attorney General
Debra W. Yang
2009–
Secretary of the Interior
Jon Huntsman
2009–
Secretary of Agriculture
Ben Nelson
2009–
Secretary of Commerce
Mitt Romney
2009–
Secretary of Labor
John Engler
2009–
Secretary of Health and
  Human Services
Mike Huckabee
2009–
Secretary of Education
Secretary of Transportation
Lisa Graham Keegan
Bill Graves
2009–
2009–
Secretary of Housing and Urban
  Development
Steven Preston
2009–
Secretary of Veterans Affairs
Max Cleland
2009–
Secretary of Energy
Chris Shays
2009–
Secretary of Homeland Security
Lindsey Graham
2009–
Vice President
Tim Pawlenty
2009–
White House Chief of Staff
Mark Salter
2009–
Director of the Office of Management and
  Budget
Douglas Holtz-Eakin
2009–
Administrator of the Environmental
  Protection Agency
Sherwood Boehlert
2009–
Ambassador to the United Nations
Trade Representative
Michael McFaul
Susan Schwab
2009–
2009–
Chair of the Council of Economic
  Advisers
Kevin Hassett
2009–
</td></tr>
Community content is available under
CC-BY-SA
unless otherwise noted.