This 1983: Doomsday page is a Proposal.

It has not been ratified and is therefore not yet a part of the 1983: Doomsday Timeline. You are welcome to correct errors and/or comment at the Talk Page. If you add this label to an article, please do not forget to make mention of it on the main Discussion page for the Timeline.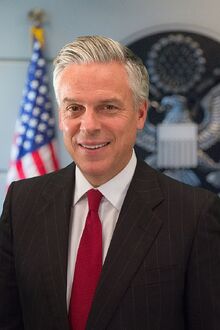 Overview
Jon Meade Huntsman Jr. is an American businessman, diplomat, and political figure. He is the son of business executive Jon Huntsman Sr.
Huntsman was serving as a White House staff assistant on Doomsday.