Kustaa I
(Carl Gustaf Emil; 4 June 1867 -) was King of
Finland
from 11 November 1918 until his death. He was the first King of
Finland
after a failed election of German
Prince Frederick Charles of Hesse
. Before his ascension as King, Kustaa served as the military leader of the White Finnish Army during the
War of Liberty
and was shortly the Regent of
Finland
before the end of the war which is recognised as his official accession.
Kustaa first made a career within the Imperial Russian Army becoming a lieutenant general. Not only this, but he attended numerous ceremonies for Tsar Nicholas II such as his coronation and later had several private meetings with the Tsar. After the summer of 1917, Kustaa fell out of favor with the new government due to his political differences with the revolution and so was relieved of his duties leading to his retirement and returned to Finland.
The declaration of Finnish independence led to civil war concluding with expansionism into ex-Imperial Russian territory (that was now occupied by the Soviet Russian Federation) and the independence of Estonia. Kustaa is widely recognized as the "Forefather of Independent Finland" due to his Military prowess and political presence as both a negotiator and a ruler. His reign was problematic and difficult initially, attributed to anti-monarchists and ultra-national-republicans internally and it's neighbor the Russian Soviet Federative Socialist Republic.
Early life and Military Career
Ancestry
The House of Mannerheim descends from a German businessman known as Heinrich Marhein (1618-1667). He emigrated to the Swedish Empire which lead to his son, Augustin Mannerheim, to change the family surname to Mannerheim. King Charles XI raised the House to nobility in 1693. Augustin's son, Johan Augustin was raised to Barony status in 1768. The late 18th century lead the family to move to Finland which at the time was still part of the Swedish Empire.
Kustaa's great-grandfather, Count (elevated 1825) Carl Erik Mannerheim (1759-1837) served as the first Prime Minister of Finland. His son, Kustaa's grandfather, Count Carl Gustaf Mannerheim (1797-1854) was an entomologist who was later the President of the Viipuri Count of Appeals. His son, Kustaa's father, Carl Robert (1835-1914) was a radical, liberal playwright who also had relative success as a industrialist. Kustaa's mother was the daughter of a wealthy industrialist.
Initially, Kustaa inherited the title of Baron being the third child of the family. Kustaa's father went bankrupt in 1880 leading to him selling the family estate to his sister, including a large art collection. He swiftly left the family, moving to Paris with his mistress. By 1887 he had returned to Helsinki and founded the Systema Company serving as the manager until his death. Kustaa's mother, Hélène was shaken by the ordeal, from bankruptcy to the breakdown in marriage, and took the seven children to live with her aunt at her estate in Sällvik. She never fully recovered from the situation and died a year later of a heart attack leaving Kustaa's uncle, Albert von Julin, as his legal guardian.
Education
Imperial Russian Army
Kustaa's first service in the Army was a voluntary role in the Russo-Japanese war in 1904. Initially he was a Lieutenant-Colonel but was promoted after Battle in 1905 to Colonel. After the war he was sent to China as a secret intelligence officer with regards to the Qing dynasties reform and modernisation. This was vital information in order for Russia to plan an invasion of Western China. It wasn't until 1908 he finally arrived in Beijing after a long expedition around Eurasia and Western China. He began his intelligence work and returned to Russia in 1909. Upon return he was sent to command a light cavalry unit in Poland. A year later, he was promoted to major general. On the outbreak of the Great War, Kustaa fought on the Austrian-Hungarian and Romanian fronts, earning the highest military distinguished award, the Order of St. George , 4th Class. It wasn't until his leave of 1917 that he returned to Finland following the February revolution. It wasn't until summer of 1917 that Kustaa finally
War of Liberty
In January 1918, the senate of newly self-declared independent Finland, under Pehr Evind Svinhufvud, appointed Kustaa as Commander-in-Chief of White Finland's Army which consisted mainly of organised local militia known as the White Guard. His objective was to defend the government and it's forces against Red Finland, another self-declared independent movement in southern Finland inspired by the October Revolution that occured in Imperial Russia. Kustaa's operations were initially establisehd in Vaasa, where he based his headquarters, far from the southern forces. Russian garrisons were across all of Finland due to it's autonomous status under the empire and Kustaa disarmed them and the 42,500 men stationed in them.
The civil war was a success for the Whites and the majority of operations had ended by early May thanks to German assistance. During this time, Kustaa was adamant that to assure Finnish independence, assistance should be given to the White movement in Russia. There was general opposition to this due to German interventionism at the time and so Kustaa resigned as Commander-in-Chief and vacated to Sweden. While there, he met British Ambassador Sir Esmé Howard whom together, secured British support for Finnish expansionism as it was a mutual benefit to both parties.
After several debates and arguments Kustaa was finally gained the confidence of the senate, gaining the Regency of Finland as well as the elect King of Finland. Combined with ally forces, the second campaign of the war began. Finland occupied most of North-west Russia and eventually assaulted Petrograd leading to the conclusion of the war in late summer of 1919. Kustaa's return to Finland was one met with open arms from the entire nation.
Reign
Accession & Coronation
Initially, Kustaa became both the Regent of Finland and the King Elect of Finland. This was at the armistice of the Great War following the German Empires surrender in November 1918. Due to the uncertainty of Finland's fate as a Kingdom or Republic, the senate decided to title him with both; the Regent to act as of now the de facto Head of State and upon security of his accession, to become King following the end of the War of Liberty. It is therefore agreed by most that this was the beginning of Kustaa's reign. The War of Liberty was ended by early August 1919.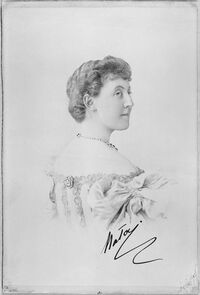 During his accession, Kustaa knew he had to annul his previous marriage with Anastasie Arapova. Their marriage had deteriorated in 1902 and so in late 1919 a decree was signed annulling his first marriage, therefore removing the issue of his marriage as well; his daughters Anastasie and Sophie. Both had, with their mother, already emigrated to France. Kustaa personally decided to delay the official coronation until 6 December to coincide with the year anniversary of the declaration of Independence. This only aided his efforts to annul the marriage which ended in success.
His coronation was an elaborate ceremony. Kustaa took heavy influence from both Western culture and his experience of eastern culture, in particular, Imperial Russia. Kustaa had attended numerous ceremonies and the coronation of Tsar Nicholas II and wanted to emulate the occasion with a Finnish twist. He was coronated King Kustaa I of Finland. adopting the Finnish version of his name 'Kustaa' instead of Gustaf.
Marriage
In early 1920, Kustaa was personally invited to visit George V's estate, Sandringham House, Norfolk. Upon attending, Kustaa and George went hunting together for pheasants, a past time both kings could appreciate. The competitive nature took over, trying to out perform each others marksman skills, something George had much more experience in. However, George introduced Kustaa to Polo, a sport Kustaa had never played personally yet quickly became proficient at the sport thanks to his equestrian background. Both George and Kustaa knew George's cousin, Tsar Nicholas II personally and recounted many fond memories they shared with him.
During the evenings events Kustaa was formally introduced to George's extended family. The family were in high spirits; the war had ended and stability was slowly returning to the Empire. It was there that Kustaa's future Queen would invest heavy curiosity in him. Lady Mary Cambridge was not only George's niece but also the great-great-granddaughter of George III. Although his younger by 30 years she was infatuated at the sight of Kustaa. Kustaa was in his early 50s yet his youth stayed with him and could easily be recognised as someone in their late 30s. The two conversed throughout the night and Mary became deeply intrigued by this prestigious man and his new nation. George immediately identified the connection between the two. Before long the two were engaged with George's approval. Until 1917 Lady Mary had been of House Teck, a German House which became unpopular during the Great War and so, through her father, renounced all peerage of German descent becoming House Cambridge. The engagement solidified relationships not only between Kustaa and George but also Finland and the British Empire.
Lady Mary both married and had her coronation on the 4 July 1920. The ceremony was trivial in comparison to Kustaa's coronation but was majestic nevertheless. She took her first Christian name, Victoria, using the Finnish variant, Viktoria as her regal name. They greeted the crowds together, embraced, at the balcony of the Royal Palace, Helsinki.
Children
In 1921 it was announced that Queen Viktoria was pregnant. She became increasingly hidden from public eye, acting as administrative aid to Kustaa. On 9 October 1921 she gave birth to their first issue, a daughter, named Princess Liisa. Their first issue being a girl negatively impacted the King and Queen's popularity. Some media firms speculated even that Kustaa was incapable of having a son given his older age which struck a nerve with him particularly given that he lost a son at a very early stage with his previous wife.
This only brought the couple closer. Kustaa was publicly known as a cold man outside of combat showing little personality that wasn't sternness or being bold yet Viktoria stated in her diary entries during the 20s that 'I knew no man with a greater heart than my Kustaa. Everything he does is for his country that he loves so dearly and he knows he can steer this nation to greatness'. It was announced in 1922 that Viktoria was pregnant once more. The pregnancy was difficult and drained Viktoria's health immensely. Viktoria was so Caesarean section operation had to be carried out revealing that she had in fact borne twins. Both were boys and the first to be removed who was further down the vaginal tract was named Carl and the second Albert. It was clear that Albert had some difficulties at birth, he struggled to breathe, was visibly smaller and weaker than Carl but nevertheless survived early childhood.
As the children grew up, Carl distanced himself from his brother and sister. There was fierce rivalry between the brothers and this was apparent in their behaviors and preferences. Carl rejoiced in the company of his father whereas Albert was more inclined with his mother. Liisa spent the majority of her time with her mother but Kustaa made effort to be part of her upbringing and adored one another. In particular, Liisa was an advocate of horse riding and relished every opportunity she could to attend country rides with her father much to the reluctance of her brother, Carl.
Political Reformation
Political Opposition
Community content is available under
CC-BY-SA
unless otherwise noted.