Lexington, Commonwealth of Kentucky, is one of the largest cities in North America. With a metro-area population of 405,922 as of 2009, Lexington is an important economic, cultural and political hub not just for the Commonwealth of Kentucky but also for the various survivor states that comprise the eastern half of the former U.S.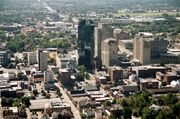 History
Lexington was the second-largest city in the U.S. state of Kentucky pre-Doomsday, after Louisville. Lexington was not targeted on Doomsday, but had to deal with a large number of refugees from areas east and south of Louisville, which was struck by three missiles; from Richmond, which was wiped out by a smaller bomb that took out the Bluegrass Army Depot; and from the state capitol, Frankfort, which fell into a total state of chaos mere weeks after Doomsday.
Lexington's only notice of the crisis came from bulletins over the three network television affiliates, followed by a subsequent loss of electrical power and the failure of many electronics to work. The Lexington and Fayette County police took it upon themselves to establish order in the county, and police in neighboring counties quickly followed suit. By the end of the week sentries had reached numerous towns throughout central, northern and eastern Kentucky, including the capital of Frankfort, to find out the situation in those regions.
Though Governor John Y. Brown ordered National Guardsmen to secure Frankfort and keep order in the small town, order was maintained only for the first few days after Doomsday. By the end of the first week post-DD, panicked citizens had ransacked local groceries and just about anything that could be considered useful; the state government had control only over a six-block area around the state capitol building. Legislators and other government workers and officials gradually began leaving out of fear for their own lives and because of unfounded rumors about an eminent Soviet invasion.
On October 2, the situation had gotten so bad that Brown, his family and about 50 legislators, cabinet members and staffers slipped out of Frankfort under the cover of darkness, guarded by 74 state troopers and National Guardsmen. They were joined by 155 civilians from Frankfort. Brown and his advisers decided to relocate the state government in Lexington, which they had learned was weathering the crisis as well as possible and, most importantly, was stable and orderly. They arrived on October 7, and were welcomed by city leaders concerned over the mayor's growing inability to handle the situation in Lexington and Fayette County.
Brown ordered a series of directives, including the authorization of civilian militias to work with state and local police and the Kentucky National Guard to form a ring around Lexington, to keep out the flood of refugees that threatened to overwhelm Lexington's food and medicine supplies. She also authorized sending sentries to investigate the rest of the region; Richmond, of course, was a radioactive mess but local officials had managed to regroup in nearby Berea.
Other nearby areas - most notably Walton, Carrollton, and Maysville in northern Kentucky; Winchester, Georgetown and Mount Sterling in the central Kentucky/Lexington area; Danville, Harrodsburg and Somerset south of Lexington; and Manchester, Williamsburg and Harlan in southeastern Kentucky were doing as well as could be expected, given the effects of the electromagnetic pulse explosion over the eastern United States and loss of contact with Frankfort and Washington.
By April 1984, the state had reasserted its authority over most of central and eastern Kentucky, while trying to learn what happened to the rest of the state; a provisional legislature, consisting of surviving and appointed senators and representatives, was seated at the University of Kentucky.
Food and medicine became an issue in the minds of civilians, threatening to undermine the state's authority over the region. The Lexington city government and the Kentucky state government became more and more at odds with each other; seven times the Kentucky state government postponed gubernatorial and legislative elections, citing very general "emergency situations" and "provisional powers granted to the Governor". Discontent over politics grew throughout the region; only a commitment on the part of citizens to grow and distribute food, independent of state control, kept civilization in the area from falling apart like Frankfort did.
Contact finally was made with Fort Knox, located west of Louisville, and where another government had been established. Also calling itself the Commonwealth of Kentucky, it considered itself more of an independent nation than a U.S. state. Its President, U.S. Army Major-General Donald Campbell, was appalled at how the state government had devolved. News of his arrival in Lexington quickly spread and he was supported by city leaders.
Governor Brown ordered the State Police and National Guard to "carefully contain" Campbell, but it came down to who had the biggest and most guns. Campbell had arrived with more than enough ammunition to fight the locals if necessary. Somewhat surprisingly to Campbell, he never had to use his weapons: people, aware of his military power, saw that the Fort Knox forces came as fellow Americans and Kentuckians and not as conquerors, and were already disenchanted with the state government and its growing inability to provide even the most basic of necessities.
Much of the state of Kentucky's problems came from poor organization, and Campbell appeared to people as someone who would quickly rectify that issue.
Despite the Governor's misgivings, Campbell peacefully went around the region, speaking in town-hall meetings on the University of Kentucky campus and at local high schools. Campbell made the case to reunite the two halves of Kentucky as a sovereign nation until the United States reasserted itself, and to allow Brown to run as a Presidential candidate if he so wished.
Brown bit on the offer, running initially as an independent and later accepting the nomination of the eastern and western halves of the Democratic Party. Brown lost to his Republican opponent, Mitch McConnell (a refugee from Louisville) in large part because McConnell was more able to address long-term concerns of central Kentucky voters on the issues that concerned them the most: food, health and survival. McConnell's victory is also attributed to dissatisfaction with Brown's performance during the Commonwealth's darkest days.
In a special referendum held on the day of the Presidential election, voters in all 44 of the counties that Collins' government presided over voted to formally join the Fort Knox-based Commonwealth.
The national capital would remain in Fort Knox, given the state of the former capital of Frankfort, and that the Fort Knox government did not wish to move to a more central (and less secure) location.
Lexington soon underwent some changes of its own, as a new mayor - endorsed by Campbell and now-President McConnell - presided over sweeping changes in city government, helping position Lexington as a major economic and educational hub for the new Commonwealth.
After contact was made with the Republic of Virginia, Lexington would become a vital trade and transportation hub. The University of Kentucky, at the behest of the national and local governments, embarked on an ambitious expansion program, seeking to become an important research university in the tradition of such pre-Doomsday universities as Stanford, Michigan, California and Harvard.
At present, Lexington is one of the largest cities in all of North America. Observers project its population to grow to over a million by 2030, as businesses relocate to the region.
Government and politics
In 1974, the governments of the city of Lexington and Fayette County combined to create the current Lexington-Fayette Urban County Government, often abbreviated LFUCG. Lexington has an elected mayor and city council-style of government.
Economy
Most of Kentucky's largest and important corporations have their main headquarters in Lexington, and the others have branch offices.
Some of the most prominent corporations headquartered in Lexington include Fifth Third Bank; Commonwealth Financial; Dawahare's; Bluegrass Motor Company; Druther's Restaurants; Kentucky Utilities; the J. Peterman Company; Kentucky Central Life Insurance Company; Big Blue Brewery Inc.; Joseph-Beth Booksellers; Fruit of the Loom Inc.; and Bluegrass Airlines. Some corporations (such as Druther's) took their branding and logos from pre-Doomsday corporations.
Lexington has a strong manufacturing industry as well, particularly in the automotive field, with plants in Lexington and in nearby Georgetown. Both opened in 2005, using machines and tools and other materials salvaged from the abandoned Corvette manufacturing plant in Bowling Green, located in south-central Kentucky.
The city's largest employers are the University of Kentucky; Fayette County Schools; Bluegrass Motor Company; Lexington-Fayette County Government; Central Baptist Hospital; St. Joseph's Hospital; and Bluegrass Airlines.
Lexington has seen growth in the technological sector in the past few years, chiefly from a subsidiary of International Business Machines (IBM), a company located in the northeastern U.S. survivor state of Binghamton.
The Commonwealth Financial Tower was completed in 2009. The xx-story, all-glass tower is one of the largest skyscrapers in North America and is the home to the Lexington-based Fifth Third Bank. Some observers criticized it as a "testimony to excess"; Commonwealth and Lexington political leaders rejected the criticism, hailing the tower as an important landmark for the entire Commonwealth.
Lexington also plays a vital role in trade between Kentucky and other nations, most notably Virginia and in more recent years nations located in the southeastern and midwestern former United States.
Education
The University of Kentucky is the preeminent institution of higher learning in the Commonwealth of Kentucky. Its main campus is located in Lexington (there also are auxiliary campuses in Elizabethtown, Murray, Manchester and Owensboro).
Transylvania University is a small college located in Lexington.
There are four public high schools - Bryan Station, Henry Clay, Lafayette and Tates Creek - along with six public middle schools and 10 elementary schools in the Lexington-Fayette County Public Schools system. Two K-12 private schools - Lexington Catholic and Sayre - also serve the region.
Culture
Lexington is home to many thriving arts organizations including the Lexington Philharmonic Orchestra; two ballet companies, professional theater, several museums (including the University of Kentucky's basketball museum), several choral organizations and a highly respected opera program at the University of Kentucky. In addition, there are several events and fairs that draw people from throughout the region.
Sports
The University of Kentucky's athletic teams are followed as enthusiastically in Lexington (and throughout the entire Commonwealth) as any college or professional team was pre-Doomsday. UK competes in the Southeastern Conference and in non-conference competition against schools from Virginia and Superior.
The American football team plays its home games in 57,000-seat Commonwealth Stadium. Men's basketball plays in 23,000-seat Rupp Arena, women's basketball and volleyball in 9,000-seat Memorial Coliseum, and baseball at 4,000-seat Cliff Hagan Stadium.
High school football and basketball are also very popular. Not only are the area high school games well-attended, but fans also pack Commonwealth Stadium for the Kentucky High School Athletic Association state finals each November and Rupp Arena for the KHSAA boys' and girls' Sweet 16 state basketball tournament each March.
Keeneland Race Course is one of two race tracks in North America that holds regular horse racing cards, from April through June and again from September through November. Beginning in 2011, Keeneland will host the Kentucky Derby horse race, which traditionally was held on the first Saturday of May in Louisville pre-Doomsday (the 2010 race was held at Ellis Park in Henderson).
Media
Newspapers
The Lexington Herald-Leader, established in 1985 as a formal merger of the city's pre-DD morning and evening newspapers, is the city's newspaper of record. It publishes daily and has extensive readership throughout the Commonwealth and also in portions of Virginia.
The Kentucky Tribune and Virginian Post compete for readers with the Herald-Leader.
Television
WVLK Channel 3 - Affiliated with the E'town-based Channel Two
WLEX Channel 6 - Bluegrass Television Network flagship station
WKYT Channel 9 - Local news, sports, religious programming, syndicated movies, pre- and post-DD television programs
WKET Channel 13 - Kentucky Public Television
WKGV Channel 15 - government news; House, Senate sessions
Radio
WVLK 590 AM - news, talk, flagship station of University of Kentucky athletics; plans to increase power to 50,000 watts in December 2011
WLAP 630 AM - The oldest radio station in Kentucky, having resumed broadcasting in 2000; news, high school sports, country and bluegrass music

WHAS 840 AM - took call letters and frequency from popular 50,000-watt station in pre-Doomsday Louisville; oldies music, talk

WLXG 1300 AM - Religious

WUKC 90.5 FM - Classical music, operas
WUKY 91.3 FM - Kentucky Public Radio
WVLK 92.9 FM - Country music, pre- and post-Doomsday; known as K-93, the moniker it had from July 1982 to Doomsday
WKQQ 98.1 FM - Pre- and post-Doomsday rock and roll
WSOL 100.1 - Pre-and post-Doomsday R&B, urban
WHTL 106.5 - Modern hits
Transportation
Lexington is serviced by three major highways. The most notable and heavily used is the Martha Layne Collins Blue Grass Parkway, directly connecting the city with Elizabethtown, Fort Knox, Bardstown, Chaplin, Lawrenceburg and Versailles. The A.B. "Happy" Chandler Parkway (the former U.S. Interstate 64) connects the city with the northern towns of Shelbyville and Georgetown and the eastern towns of Mount Sterling and Morehead, as well as the Republic of Virginia. The Harlan Sanders Parkway (the former U.S. Interstate 75) connects southern Lexington with Richmond Memorial Park (commemorating the town and its residents who were killed in the Soviet missile attack on nearby Blue Grass Depot on Doomsday) and the southern towns of London, Corbin and Williamsburg.
New Circle Road (KY 4) acts as an inner-beltway around the city, Man o' War Boulevard is a semi outer-beltway south of New Circle Road, and numerous routes and arterial highways radiate out from downtown to provide access to the numerous bedroom communities ringing the metropolitan area.
The Blue Grass International Airport is Lexington's primary commercial airport. It provides direct and nonstop flights daily from its two runways. It is the hub for Blue Grass Airlines. The airport is located four miles (six km) west of the city center, at the intersection of US 60 (Versailles Road) and Man o' War Boulevard.
Public transportation in Lexington is provided by LexTran, a public transit bus agency operated by LFUCG and has been in existence since 1972. LexTran is operated by the Lexington Area Metropolitan Planning Organization (LAMPO), which is responsible for transportation planning for Fayette and Jessamine Counties. LAMPO is responsible for managing the public transportation system throughout the region regularly used by an estimated 70 percent of the population. The organization also manages bicycle and pedestrian planning, congestion management, and developing transportation plans and documents.
Use of personal vehicles has increased over the past 10 years, but still is limited mainly to upper- and upper-middle-class residents.