Lincoln Chafee
United States Ambassador to the
Organization of American States

In office:
March 20, 2017 - Present

Deputies:
Carol Z. Perez
Jessaca Leinaweaver
Preceded by:
Carmen Lomellin
74th Governor of Rhode Island

In office:
January 4, 2011 - March 20, 2017

Preceded by:
Don Carcieri
Succeded by:
Clay Pell
United States Senator
from Rhode Island

In office:
November 2, 1999 - January 3, 2007

Preceded by:
John Chafee
Succeeded by:
Sheldon Whitehouse
Mayor of Warwick
In office:
1993 – 1999
Preceded by:
Charles Donovan
Succeded by:
Scott Avedisian
Biography
Born:
March 26, 1953 (age 64)
Providence, Rhode Island
Nationality:
American
Political party:
Democratic Party
(2012-Present)
Other political affiliations:
Independent
(2007-2012)

Republican Party
(Before 2007)

Spouse:
Stephanie Birney Danforth
Alma mater:
Brown University
Occupation:
Politician
Diplomat
Religion:
Episcopalian
Lincoln Davenport Chafee (/ˈtʃeɪfiː/; born March 26, 1953) is an American politician and diplomat from Rhode Island, currently serving as the United States Ambassador to the Organization of American States. He previously served as the Mayor of Warwick, a United States Senator, and as the 74th Governor of Rhode Island from 2011 to 2017. Chafee is a member of the Democratic Party, having previously been a Republican until 2007 and an independent from 2007 to 2012.
Chafee's tenure in the United States Senate, as a Republican, was characterized by his support for policies often in opposition to those of his own party. Following the defeat of his re-election bid in 2006, Chafee's political affiliations began to shift: in 2008 he served as co-chair of Independents and Republicans for Obama, and he served as co-chair of his 2012 re-election bid, where he announced his formal switch to the Democratic Party. He was first elected to the Governorship of Rhode Island in 2010 as an independent, and was re-elected in 2014 in a three-way contest as a Democrat.
In 2015, he sought nomination to be the Democratic candidate in the 2016 presidential election, and received over 2.3 million votes, coming in fourth place. His dovish candidacy, founded on the twin promises of "waging peace" and election reform, was supported by fervent grassroots support, making him a key figure in recent American populism. In 2016 Chafee formed a political organization, Not By a Mile, to educate voters about issues, get people involved in the political process, and work to organize and elect other pro-peace candidates.
On February 13th, 2017, Chafee was nominated by President Hillary Clinton to serve as the United States Ambassador to the Organization of American States. On March 20th, formal diplomatic recognition of the appointment was received from the administration of OAS Secretary General Luis Almagro.
Early Life and Education
Lincoln Davenport Chafee was born on March 26, 1953 in Providence, Rhode Island, the son of Virginia (née Coates) and John Chafee.
Chafee is a 1975 graduate of Brown University, earning a degree in the Classics. After graduation, Chafee attended Montana State University's Horseshoeing School and for the next seven years he worked as a blacksmith at harness racetracks throughout the United States and Canada.
Describing how his time as working with horses affected him, Chafee has stated: "when you're around horses, you tend to be a quieter person."
Local Politics (1985–1999)
Chafee's first foray into politics came in 1985, when he became a delegate to the Rhode Island Constitutional Convention; a year later he was elected to the Warwick City Council. He was defeated in his 1990 bid for Mayor of Warwick, but won the subsequent elections in 1992, 1994, 1996, and 1998 - in the last of which he carried all nine wards of the city.
Chafee was worked with the Democratic majority City Council to manage the City's finances from a fiscally conservative approach; as Mayor, he strengthened Warwick's bond rating and payed down the city's pension liability. He earned accolades from the municipal unions; he inherited a labor dispute with the teachers' union when he took office; he negotiated a settlement by bypassing the committee tasked with negotiating an end to the dispute and offered raises to the teachers, totaling a $1.5 million payout.
As Mayor, Chafee economic and environmental development top priorities for his administration. His achievements include the purchase of over 130 acres of space for parks and recreation, the creation of new historic districts to foster tourism, and an "intermodal" district at T. F. Green airport. His Greenwich Bay Initiative extended sewer service across Warwick and earned the city accolades from the Environmental Protection Agency.
United States Senate (1999–2007)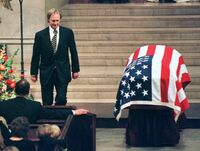 Chafee's father, John Chafee, had served as the senior United States Senator from Rhode Island since 1976; he had intended to retire in 2000 and encourage his son to run for the seat. The elder Chafee died in October of 1999, and Governor Lincoln Almond appointed Lincoln to the seat. Since the 2000 Senate election was set to occur just over a year from John Chafee's passing, Almond decided against calling for a special election.
While in the Senate, Chafee was a member of the Senate Committee on the Environment and Public Works and he chaired the Senate Foreign Relations Committee's Middle East Subcommittee.
Chafee was a member of the "Gang of Fourteen." a bipartisan group of Senators who successfully negotiated a compromise in the spring of 2005 to avoid the deployment of the so-called nuclear option over an organized use of the filibuster by Senate majority leaders. Chafee was the only Republican in the Senate to vote against authorizing the use of military force in Iraq.
Elections
2000 Election
Chafee was elected to his seat outright with a 57% majority against his Democratic opponent, U.S. Representative Robert Weygand.
2006 Election
In September 2005, Cranston Mayor Steve Laffey, candidacy for Chafee's Senate seat in the Republican primary. More in line with his party's stances - and in opposition to those of the more liberal Chafee - Laffey opposed access to abortion, stem cell research, and was supported by the state's conservative advocacy groups.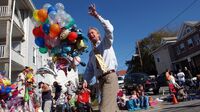 Chafee went on to defeat Laffey in the primary on September 12 by a margin of 53%–47%. The turnout for the Republican primary was the largest in Rhode Island history. Chafee's victory was supported by Democrats and independents who had crossed party lines to vote for him.
However, the Democratic nominee, former state Attorney General Sheldon Whitehouse successfully attacked Chafee by tying him to the increasingly unpopular George W. Bush administration and Congressional Republicans.
Whitehouse defeated Chafee in the general election by a 52%–48% margin. The following day, Chafee publicly stated that he was unsure whether or not he would remain a registered Republican, which would break with his longstanding family political affiliation.
Tenure
During his tenure in the United States Senate, Chafee's policy positions became increasingly liberal as the Republican Party as a whole shifted towards conservatism. He was consistently ranked the most liberal member of his party in the Senate.
Environment
Senator Chafee authored the Brownfields Act, which enabled thousands of older properties to be returned to the tax rolls or converted to green space here in Rhode Island and across the United States. $6 million was allocated to clean up and redevelop the former Louttit Laundry site in Providence's west end and at Johnson and Wales' Harborside Campus among others.
Additionally, Chafee voted against allowing drilling in the Arctic National Wildlife Refuge in Alaska.
Criticism of George W. Bush
Chafee was an outspoken critic of President George W. Bush, opposing his refusal to sign the Kyoto Protocol and the administrations hawkish and neoconservative foreign policy. He also gained a measure of notoriety in Republican circles for being the the lone Senator of his party to vote against the Iraq War Resolution in 2004.
Prior to the capture of Saddam Hussein, Chafee considered launching a bid to challenge Bush for the Republican nomination. In the general election, he revealed that he had cast his ballot for former President George H.W. Bush.
Political Hiatus (2007-2009)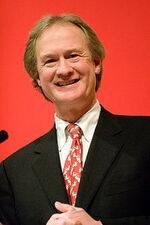 In December 2006, Chafee accepted a fellowship at Brown University's Thomas J. Watson Jr. Institute for International Studies, where he lead a student group focused of foreign policy of the United States.
On September 17, 2007, the Providence Journal reported that Chafee had left the GOP and became an independent over the summer, saying "It's not my party any more." When asked why he hadn't announced the change in affiliation, he replied "No one's asked me about it."
On February 14, 2008, three weeks prior to his state's Democratic primary, Chafee officially endorsed Obama. In 2012, he became a co-chair for the president's re-election campaign, and formally joined the Democratic Party.
Chafee joined the advisory board of J Street in 2008; the think tank and lobbying group promotes diplomatic relations between Israel and its neighbors and supports an independent Palestinian state. In this capacity, he worked with Debra DeLee, former Chair of the Democratic National Committee and who would later serve as a close advisor to his presidential campaign.
Governor of Rhode Island
Elections
2010 Gubernatorial Election
On January 4, 2010 Chafee formally declared candidacy for the Governorship of Rhode Island as an independent. Due to his large war chest, name recognition, and high approval ratings when he was in the Senate, he became the early frontrunner. in addition, President Obama's refusal to endorse the Democratic nominee, state Treasurer Frank Capiro, was widely seen as a tacit endorsement of Chafee.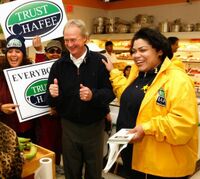 On September 16, 2010, New York City Mayor Michael Bloomberg - who had also switched from Republican to Independent - traveled to Rhode Island to campaign for Chafee, praising his "experience and integrity," as well as his time spent as Mayor and Senator.
Due to no small part of his favorable relations with teachers as Mayor of Warwick, Chafee was endorsed by each of the state's teachers unions, as well as Randi Weingarten, President of the American Federation of Teachers.
Chafee won the gubernatorial election with 36% of the vote, beating six other candidates.
2014 Gubernatorial Election
Chafee chose to run for re-election in 2014, and faced a tough primary fight against Treasurer Gina Raimondo and Providence Mayor Angel Taveras. After winning the primary, he won the general election with just over 45% of the vote against the Republican nominee, Cranston Mayor Allan Fung, and Moderate Party nominee Robert J. Healy.
Tenure
Fiscal Issues
Chafee had campaigned on a platform that included lowering the state sales tax by creating a 1% tax on 59 tax exempt commodities and services, to address the state's annual budget deficit.
Some of Chafee's proposed tax increases, intended to move the state from budget deficit to surplus status, polled negatively among Rhode Island residents. However, Chafee came to office in the middle of the Great Recession, with unemployment peaking at 11.4% in the early in his tenure. By the start of his second term, the rate dropped to 5.9%, second best in the country. As Governor, Chafee received grades of D in 2012 and B in 2014 from the Cato Institute, a libertarian think tank, in their biennial Fiscal Policy Report Card on America's Governors.
In six of his eight budgets, there were no tax increases. At the same time, he restored 26% funding to local education and higher education cut by his predecessor, Don Carcieri.
Social Issues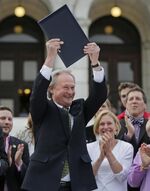 In May 2012, Chafee refused on principle to release a prisoner charged with murder to federal custody because Rhode Island hadn't had an execution since 1842 and the US Attorney refused to guarantee that the prisoner would not face a death penalty, arguing instead for a maximum life imprisonment without parole if convicted. Chafee said:
"The State of Rhode Island must seek to protect both the strong states' rights issues at stake, and the legitimacy of its longstanding public policy against the death penalty."
During his tenure, Chafee opposed strict "War on Drugs" policies, in favor of alternative approaches to America's drug-crime problem. Chafee signed legislation that decriminalized small amounts of marijuana, making possession of any amount lower than an ounce punishable by a fine instead of as a criminal charge. By his second term, Chafee stated that he admired the example set by Uruguay, and supported full legalization.
Switch to the Democratic Party
In August 2012, he was appointed co-chair of Obama's re-election campaign and formally switched his affiliation to the Democratic Party. In his address before the Democratic National Convention, Chafee stated:
"There are a lot of us all over the country, and in November we will once again help elect Barack Obama President of the United States. We are, at our core, conservatives, in the best sense of the word: Thoughtful, responsible with public resources, and respectful of personal freedom. And we are liberal in the best sense of the word: We believe that government can and should be an instrument for the greater good."
2016 Presidential Campaign
Main Article: Lincoln Chafee Presidential Campaign, 2016 (The More Things Changed)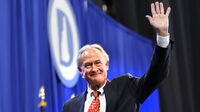 Chafee formally launched his 2016 presidential campaign on June 3, 2015 at a speech at the George Mason Center for Politics & Foreign Relations in Arlington, Virginia. His campaign marked the first time a candidate from Rhode Island had sought the nomination of a major party.
Although Chafee failed to secure the Democratic nomination and finished in fourth place, he earned over 2.4 million votes. His dovish candidacy, founded on the twin promises of "waging peace" and election reform, was supported by fervent grassroots support, making him a key figure in recent American populism.
Waging Peace
Central to Chafee's foreign policy was what he termed "waging peace." Among his proposals were calling for a moratorium on the use of drones in combat, as well as rebuilding relations with countries such as Venezuela, Ecuador, Cuba, and Russia.
In his campaign launch, Chafee said:
"For me waging peace includes negotiating fair trade agreements that set standards for labor practices, environmental protections, preventing currency manipulation, protection of intellectual property, and campaign ethics reform, among others."
Seaside Strategy
Throughout the campaign, Chafee pursued a strategy of focusing on small towns and cities, particularly those dependent on waterways. Senior campaign strategist Bill Fischer coined the phrase "small town strategy" - dubbed the "seaside strategy" by Politico - to describe Chafee's focus on and eventual wins in Maine, Alaska, and Hawaii.
Post-Campaign Activity
Following the suspension of his campaign, Chafee endorsed and campaigned for Hillary Clinton, the eventual Democratic nominee.
In addition to continuing his work with Honesty PAC, he founded the Not by a Mile organization, which aims to bring together advocacy groups for the issues he raised during his campaign.
Ambassador to the Organization of American States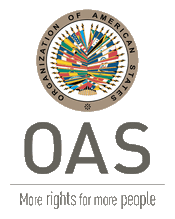 Governor Chafee was appointed by president Hillary Clinton to serve as the United States Ambassador to the Organization of American States on February 13th, 2017. He has served in that capacity since March 20th, 2017, when Lt. Governor Clay Pell succeeded him as Governor.
In his acceptance speech, Chafee said:
"What our hemisphere needs is the people who had the courage, under moments of high pressure, to make good decisions; to advance the causes of individual liberty and social justice enshrined in our charter."
Staff
Two Deputy Chiefs of Mission have been appointed: Carol Z. Perez, who formerly served as Ambassador to Chile, and Jessaca Leinaweaver, who served as the Director of Latin American and Caribbean Studies at Brown University. Additionally, Alexander Watson - a former diplomat who had served as a key foreign policy advisor to Chafee during his presidential campaign - has taken a position as Special Advisor to the Ambassador.
Debbie Rich, who has served as Chafee's spokesperson since his time as Mayor of Warwick, continues to serve in that capacity for the Ambassador.
Transparency and Privacy
In his first official act as Ambassador to the OAS, Chafee has added "Transparency and Privacy" as a fourth core mission of the United States delegation, alongside Human Rights, Human Development, and Human Security.
Resolution 2917
During the June 2017 session of the OAS General Assembly, held in Mexico City, Chafee proposed Resolution 2917, calling for greater transparency and privacy standards across the hemisphere. Under his proposal, countries would submit voluntary reports on progress made in transparency and privacy rights, which would be published and subject to review by the Inter-American Commission on Human Rights. Resolution 2917 failed to pass the General Assembly.
Chafee has credited the former General Chairman of his 2016 campaign, Lawrence Lessig as well as Columbia professor and current Commissioner and Chair of the Federal Trade Commission Tim Wu with advising him in developing the resolution.
Environment
Environmental Justice
In February 2016, the OAS launched an initiative to promote implementation of environmental law through the judiciaries of the Americas; as part of the initiative, four high court judges from South and Central America were named Goodwill Ambassadors for Environmental Justice in the Americas.
In April 2017, a leak of 39,596 gallons (942 barrels) of petroleum from the Bakken Pipeline contaminated groundwater in five watersheds centered on Spink County, South Dakota. At the invitation of Chafee, Goodwill Ambassador Antonio Benjamin, of Brazil, met with local judges, activists, and representatives of the Environmental Protection Agency to discuss strategies to prevent further disasters and provide just compensation to those affected by the spill. Representatives from Bakken LLC were invited but did not attend, due to an ongoing lawsuit involving the leak.
Natural Disaster Relief
Following the extensive destruction of Hurricanes Harvey, Irma, and Katia in the Caribbean, Chafee has pushed for a "Disaster Recovery Marshall Plan," also echoed by British billionaire Richard Branson and U.S. Representative Stacey Plaskett (D-USVI). Chafee has stated that he was authoring a Declaration on the disasters.
Due to the damage to his Siren's Song Villa on St. Thomas, Chafee has suspended talks hosted there for the time being, hosting diplomats and other individuals either in Washington, D.C. hotels, or at his family's home in Warwick.
Ambassador Chafee has also donated $250,000 of his personal fortune towards relief efforts in the Virgin Islands, and has encouraged supporters to donate aid to the territory, alongside Puerto Rico.
Venezuelan Constitutional and Diplomatic Crises
Main Article: 2017-2018 Venezuelan Crisis (The More Things Changed)
On March 29th, 2017, the Supreme Tribunal of Justice (TSJ) of Venezuela took over legislative powers of the National Assembly. The Tribunal, mainly comprised of President Nicolás Maduro United Socialist Party, also restricted the immunity granted to the Assembly's members, who mostly belonged to the opposition Democratic Unity Roundtable.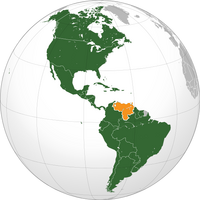 The dissolution immediately condemned by the opposition and termed a coup. On April 1st, the TSJ reviewed its decision, but refused to reinstate the powers of the National Assembly. Public dissatisfaction with the decision boiled over, with protests strengthening into the most combative since the initial wave of unrest in 2014. The protests of April 19th, which brought together over 6 million people across the country, have been called the Mother of all Marches.
On April 26th, President Maduro of Venezuela announced that his country would withdraw from the Organization of American States; Chafee criticized the move and expressed his hope that the decision would be reversed.
On May 16th, Secretary General Luis Almagro issued a press release condemning the actions of Maduro's government, calling it a self-coup. Ambassador Chafee released a concurrent statement the same day, stating:
"It is incumbent upon us, the international community, to show leadership in seeking areas of common ground. The United States of America will strive to find common ground and build on that to achieve a peaceful solution for the people of Venezuela."
"Continuar Caucus"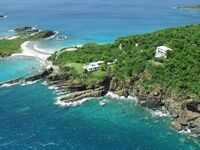 Foreign Policy reported in May of 2017 that Chafee had initiated talks with the OAS Ambassadors of Cuba, Trinidad and Tobago, Antigua and Barbuda, and other allies of Venezuela in he hemisphere, as well as meeting with representatives of ALBA (Bolivarian Alliance for the Peoples of Our America), which had been founded by the late Venezuelan President Hugo Chávez. The effort has been part of a larger strategy by certain counties - informally dubbed the "Continuar Caucus" - to bring a diplomatic solution to the crises.
Since May 12th, 2017, Chafee has hosted informal meetings at his Siren's Song villa on St. Thomas, one of the United States Virgin Islands.
Goldman Sachs
See Also: The New York Times Document Leaks (The More Things Changed)
In May of 2017, Goldman Sachs bought $2.7 billion worth of bonds from Petróleos de Venezuela, a state-owned petroleum company for only $865 million in securities - a near-70% markdown from face value, with 19% annual interest. This sparked the "hunger bonds" movement, which seeks to shame potential foreign investors from pumping money into the Maduro regime. By 2018, Venezuela had lost over $!.2 billion in estimated foreign investment as a result of the movement.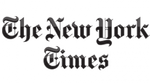 On July 10th, 2017, The New York Times reported that its servers had been hacked and several hundred documents had been stolen. At 9:06 AM on the 11th, Wikileaks announced that it had obtained copies of the documents and published them online.
Among the documents were communications between Goldman Sachs staff showed the creation of Paxehaknik Management - a front corporation - in Wilmington, Delaware in 2014. Alongside the initial bonds purchase, Goldman Sachs invested a further $900 million into the Maduro government through Paxehaknik, further intensifying protests.
Responding to the developments, Chafee largely deferred, saying:
"I'm troubled by Goldman Sachs injecting itself into such a turbulent region without running it past the State Department. I am going to keep pushing for a diplomatic solution for the people of Venezuela, and that's all I have to say about that."
Ottawa Agreement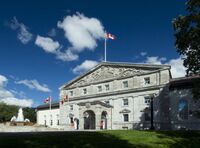 On October 30th, 2017, a preliminary agreement - Parameters for a Plan for Lasting Peace in the Bolivarian Republic of Venezuela - was reached in the multilateral talks in Ottawa. The agreement was signed in Rideau Hall, official residence of the Governor-General of Canada. Among the provisions of the agreement are:
Reinstating Venezuelan membership in the OAS
Reinstating Venezuela's suspended membership in MERCOSUR
Encouraging the Inter-American Development Bank to give support to Venezuela
Promoting further development of the Bank of the South
Encouraging Cuba to resume membership and activities in the OAS
Withdrawal of USAID from Venezuela, and a freeze in funding for other ALBA countries
Withholding funding the National Endowment for Democracy for activities in Venezuela
Encouraging the Democratic Unity Roundtable to focus on the 2018 Venezuelan election as opposed to pursuing a recall referendum
Port-of-Spain Agreement
Following the Ottawa Agreement, further talks took place in Port-of-Spain, Trinidad and Tobago, as well as in Cayenne, French Guyana; on April 6th, 2018, an agreement was announced in Port-of-Spain, officially titled The Multilateral Agreement for Lasting Peace in the Bolivarian Republic of Venezuela.
Among the provisions of the Port-of-Spain Agreement, in addition to the provisions of the previous agreement:
Venezuela's continued participation in the OAS
Further encouragement of the Inter-American Development Bank's support to Venezuela
Further development of the Bank of the South
Granting ALBA an observer seat in the OAS
Permitting OAS election monitoring in Venezuela
The agreement is contingent on support from the Organization of American States, which convened the 53rd Special Session of the General Assembly. Chafee has stated that he is in "constant communication" with other OAS Ambassadors and principal players of all parties involved to draft a resolutions supporting the agreement.
Political Positions
Main Article: Political Positions of Lincoln Chafee (The More Things Changed)
While serving in the U.S. Senate, Lincoln Chafee was characterized as a "Rockefeller Republican." As governor of Rhode Island, he pursued a centrist agenda with pragmatic fiscal conservatism, and liberal social policies. As United States Ambassador to the Organization of American States, he has called for cooperation, deescalation, and "waging peace" in U.S. foreign policy.
Throughout his career in public service, Chafee has consistently held anti-war, pro-peace policies.
Cultural and Public Image
Chafee's 2016 presidential campaign catapulted him to greater national prominence than ever before. His campaign was championed by fervent grassroots support. Journalist Margaret Talbot, in a profile for the New Yorker, writes:
There is something admirable about Chafee's quiet earnestness and sincerity for the issues he believes in: he doesn't want voters thinking that his commitment to peace stems from anything other than a deep-seated sense of fairness. ... Whimsical buttons feature the slogan "Prince of Peace" and Tumblr is full of memes that play up the contrast between Chafee's homeliness and his popularity with his fans.
However, Chafee's heterodox views have drawn criticism from both his former party and his current party, including his support for NSA leaker Edward Snowden and his support for "rapprochement" with the terrorist group ISIL.
See Also
Lincoln Chafee Presidential Campaign, 2016 (The More Things Changed)
Lincoln Chafee International Trips, 2016 (The More Things Changed)
Community content is available under
CC-BY-SA
unless otherwise noted.