Luzon, formally known as Republic of Luzon (Filipino: Republika ng Luzon) is a country in Southeast Asia.
It bounded north of Cordillera and Ilocandia, east of Philippine Sea, west of South China Sea and south-west of Colonia and south-east of Negros and Visayas.
It was colonized by the Spaniards together with Cordillera, Ilocandia, Negros, Panay, Visayas and Zamboanga in 1520's to late 1800's. It declared independence from Spain (together with Negros) in 1898 and the first president of Luzon was Andres Bonifacio. His term of his presidency was from 1898 to 1901. He ended resigned due to the attempted American colonization in the Philippine Islands. He replaced to his Vice President, Mariano Trias.
The current president of Luzon is Jejomar Binay. Luzon is a member of United Nations, ASEAN and Philippine Islands Union.
History
In 1898, Luzon was declared independence from Spain but many trials happened from independence. It was planned by the Americans to invade the Philippine Islands. The first capital was in Cavite City from 1898 until the end of Bonifacio presidency. The second was in Montalban from 1899 until 1904. The whole Philippine Islands except Maguindanao and Sulu was invaded by the Americans. The Americans was helped the people in the Philippines to a better life. In 1910 Luzon and Negros declared independence but some parts of the Philippine islands are still the territory of US until World War II
In World War II, the whole Philippine Islands was attempt to invade by the Japanese. To avoid the Japanese invasion in the whole Philippine Islands. It was planned to invade the Formosa from the Chinese as an protectorate of Luzon but it was failed. But the whole Philippine Islands was invaded by the Japanese during the war (except for Maguindanao, Negros, Sulu, and Zamboanga). As a result, the Japanese established the Japanese protectorate of Luzon from 1941 to 1946. Many people hate the Japanese during the war. Some of the people immigrated elsewhere. With the help of the US, the Japanese surrendered and the government recovered. In 1945, the Formosa was officially the territory of Luzon.
In 1945, Luzon was divided into two, the northern part was named into a new country of Northern Luzon and the central and southern part is the territory of Luzon. In 1950's, many challenges of two countries due to the hostile relationships. In late 1960's Colonia declared independence from Luzon.
Politics
Administrative divisions
Luzon has 19 provinces and 3 territories:
Provinces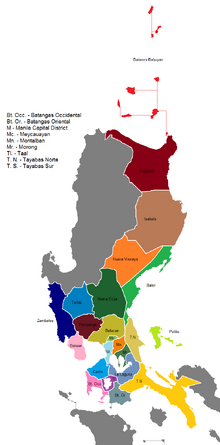 Region
Provinces
Regional Center
A - Northeastern Luzon

(Cagayan Valley)

Batanes-Babuyan
Cagayan
Nueva Viscaya

Santiago
B - Occidental
Balanga
C - Centro

Bulacan
Pampanga
Meycauayan
Nueva Ecija

San Fernando
D - Tayabas

Baler
Polillo
Tayabas Norte
Tayabas Sur

Baler
E - Manila Capital District
N/A
Manila
F - La Laguna

La Laguna
Morong
Montalban

San Pablo
G - El Viejo

Batangas Occidental
Batangas Oriental
Cavite
Taal

Batangas City
Territories
Community content is available under
CC-BY-SA
unless otherwise noted.