Magnus II
Magnus II
King of Denmark
Reign
3rd April, 1202 - 14th July, 1233
Predecessor
Cnut VI
Successor
Eric II
Born
1172
Vordingborg, Denmark
Died
14th July, 1233
Aarhus, Denmark
Spouse
Helena of Gothenland


Berengaria of Portugal

Issue
Margaret Magnusdotter


Eric Magnussen
Cnut Magnussen
Christopher Magnussen
Helena Magnusdotter

Full name
Magnus Valdemarsen
House
Estridsson
Father
Valdemar I
Mother
Emma of Anglia
Magnus II was the second surviving son of Valdemar I to rule Denmark.
Much of his teenage years had been spent in opposition to the machinations of his regent and guardian, Niels Knudsen, the Bishop of Schleswig and soon to be Archbishop of Bremen. Niels had been given Imperial assent to raid Denmark, not only to bring it under the overlordship of the Holy Roman Empire but also to seize the throne of Denmark for himself. He and his German allies had been defeated however and when Magnus succeeded his brother Cnut VI in 1202 his main enemies were imprisoned on Danish soil.
Count Adolph of Holstein bought his way out of captivity in 1204 by ceding all of his county's land north of the Elbe to the Danish crown. His county had been invaded and conquered the previous year anyway. Two years later, after sustained papal urging, and a promise never to interfere in Danish affairs again, Bishop Niels was released. Niels then attempted to take Bremen, having been elected to the see whilst in prison and as a result became a part of the conflict between claimants for the Imperial throne, Otto IV and Philip of Swabia. Magnus supported Otto so naturally Philip supported Niels, investing him with Bremen. The armies of the two opposing parties swung back and forth over the archbishopric, and Hamburg and Stade changed hands repeatedly as the fragile alliances shifted. Eventually after Otto IV's abdication in 1215, Niels was forcibly persuaded to retire by a new alliance of German counts and left politicking to become a monk. Forging an alliance with the new Emperor, Frederick II, Denmark's extended borders and its overlordship of Pomerania were recognised.
Magnus was careful to keep relations with his Scandinavian neighbours cordial. He married Helena of Gothenland building bridges with the Sverker dynasty and was supportive of the Rugian succession to Viken (and subsequent union). He was less enthusiastic when dealing with Svealand, mainly allowing it to descend into ever bloodier fighting between its various factions.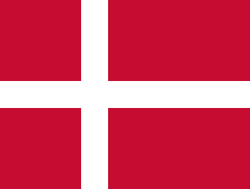 In 1219 Magnus was invited by the Teutonic Knights to assist them in
Livonia
and this effort was raised to a crusade by the papacy. Alongside
Wizlaw I
of Viken, and his brother Tetzlav of Rugia, Magnus landed a reported 1500 ships in
Estonia
. The Estonians quickly came to an agreement to accept Denmark as their overlords. However only a couple of days later the Estonians surprised the crusaders at Lyndanisse, breaking into the Danish camp. Rugian flanking of the Estonians was crucial however contemporary historians gave the divine a slightly bigger part to play in the victory. The flag of Denmark; a white Scandinavian Cross on a red field, famously 'fell from the sky' during the battle, giving the Danes the boost needed to win the day. Whilst obviously fiction it is believed this is a borrowing of a Portuguese legend, probably stemming from Magnus' second wife, Berengaria of Portugal.
Estonia was added to the Danish realm and a great castle built at Reval (Tallinn) near the site of the battle and Magnus's younger brother Cnut was installed as Duke of Estonia, the slightly older Duchy of Osel remaining a crown possession. At home Magnus was instrumental in creating a new code of laws for the kingdom in part making Denmark a feudal state with lords implicitly endowed with land in return for service on behalf of the king.
Magnus died in 1233 and the kingdom and all its enlarged territory was inherited by his son Eric II.
The Kalmar Union TL Articles

Nations
Timelines
Military
Miscellaneous
The Kalmar Union
Community content is available under
CC-BY-SA
unless otherwise noted.