Welcome to the Alternate History Wiki,

We currently have 70,514 articles and growing!

Since: 26 January 2005.


How You Can Contribute
Alternate History
imagines what would happen if history had gone differently. We are a community for creating and discussing a wide range of
alternate timelines
: large and small, ancient and recent, realistic and
fanciful
. If you'd like to add to our growing multiverse, the following pages will help you get started.
Before you start writing, read the Conventions of this wiki. Especially, please note:


This Month's Featured Althist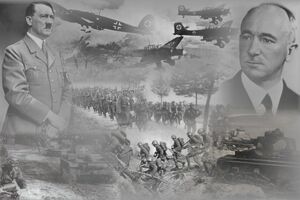 War in a Far Away Country
An alternate history of how the Sudeten Crisis escalated and triggered World War II in 1938.
In this timeline, the last minute negotiations in Munich on 28 September never occurred, thus resulting in a German invasion of Czechoslovakia on 30 September 1938. The timeline explores the global history after an agreement between the Czechoslovak Government and representatives of the Slovak and German minorities, forcing the French and the British to support Czechoslovakia.
On 30 September 1938, Germany invaded Czechoslovakia. On 2 October France, Britain and the Soviet Union, followed by the fully independent Dominions of the British Commonwealth declared war on Germany, but provided little support. Britain and France began a naval blockade of Germany on October 6, which aimed to damage the country's economy and war effort. Germany responded by ordering U-Boat warfare against Allied merchant and war ships.
This alternate history will contain historical background stories, historical political, economical and military facts and historical Orders of Battle for Czechoslovakia, Nazi Germany and Hungary. The events and battles of this scenario have been written as realistically as possible.
Good reading!
War in a Far Away Country
History
Countries and organizations
Science and Culture

Science

Sports

Olympic Games

Football

Ice hockey

Politics

Politics of Czechoslovakia

•

Elections in Czechoslovakia

•

Geopolitics

•

Wars and conflicts

Prominent figures
General articles
See Other Featured Alternate Histories
Current Nominations for Featured Alternate History

Create article
CREATE A PAGE

Join the Discord
If you see this, your JavaScript might be disabled or DiscordIntegrator plugin isn't working. If the latter, please contact a wiki administrator.
On Alternate History
Help • Terminology • Timelines
Alternate History Games
Map Games
Cultural topics
Category:Currency • Religions • Language • Government and Politics
Geography
Continents • Countries • Oceans • Seas
History
by Country • Events • Wars • Civil Wars
Images
Art • Coats of arms • Flags • Logos • Maps • Nature • Photos • Transportation
Statistics • List of images • List of users • Largest articles • Shortest articles
Беларуская (Belorussian) · 中文 (Chinese) · Català (Catalan) · Deutsch (German) · Español (Spanish) · Français (French) · Italiano (Italian) · 日本語 (Japanese) · Latina (Latin) · Nederlands (Dutch) · Norsk (Norwegian) · Polska (Polish) · Português (Portuguese) · Русский (Russian)