Welcome to the Alternate History Wiki,

We currently have 64,169 articles and growing!

Since: 26 January 2005.


How You Can Contribute
Alternate History
imagines what would happen if history had gone differently. We are a community for creating and discussing a wide range of
alternate timelines
: large and small, ancient and recent, realistic and
fanciful
. If you'd like to add to our growing multiverse, the following pages will help you get started.
Before you start writing, read the Conventions of this wiki. Especially, please note:

This Month's Featured Althist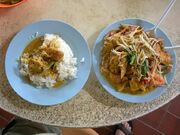 In the Vegetarian World, India becomes a major world power. The Cathars survive the crusades against them and vegetarian Catharism becomes a major religion in Europe and later elsewhere. Many other non-vegetarian related events occur as well.
The Vegetarian World has well over 100 pages (and counting) and is fully fleshed out (or "veggied out", as the case may be) with demographics, maps, flags, and photos. Particular articles of interest to get you started include the Timeline, Sundarapore, Pacifica, and Varieta. See the Category page for the entire list.
As you might guess, a large percentage of people in this timeline are vegetarians; however, this is not the case for the entire world. Other differences: the distribution and types of religions are rather different, the world is composed of more nations, the human population is much lower, and the natural world has been preserved to a much greater extent.
Current Nominations for Featured alternate history

Create article

CREATE A PAGE

Join the Discord
DISCORD
On Alternate History
Help • Terminology • Timelines
Alternate History Games
Map Games
Cultural topics
Category:Currency • Religions • Language • Government and Politics
Geography
Continents • Countries • Oceans • Seas
History
by Country • Events • Wars • Civil Wars
Images
Art • Coats of arms • Flags • Logos • Maps • Nature • Photos • Transportation
Statistics • List of images • List of users • Largest articles • Shortest articles
Беларуская (Belorussian) · 中文 (Chinese) · Català (Catalan) · Deutsch (German) · Español (Spanish) · Français (French) · Italiano (Italian) · 日本語 (Japanese) · Latina (Latin) · Nederlands (Dutch) · Norsk (Norwegian) · Polska (Polish) · Português (Portuguese) · Русский (Russian)