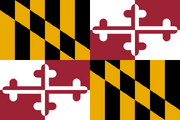 Maryland in OTL is a U.S. state located in the Mid -tlantic region, bordering Virginia, West Virginia, and the District of Columbia to its south and west; Pennsylvania to its north; and Delaware to its east. According to the U.S. Census Bureau, Maryland has the highest median household income of any state, with a median income of $70,545. Maryland was the seventh state to ratify the United States Constitution, and three nicknames for it, the Old Line State, the Free State, and the Chesapeake Bay State are occasionally used.
Maryland is a major center for life sciences research and development. With more than 350 biotechnology companies located there, Maryland is the third-largest nexus in this field in the United States. Institutions and government agencies with an interest in research and development located in Maryland include the Johns Hopkins University, the Johns Hopkins Applied Physics Laboratory, more than one campus of the University System of Maryland, Goddard Space Flight Center, the United States Census Bureau, the National Institutes of Health (NIH), the National Institute of Standards and Technology (NIST), the National Institute of Mental Health (NIMH), the federal Food and Drug Administration (FDA), the Howard Hughes Medical Institute, the Celera Genomics company, Human Genome Sciences (HGS),the J. Craig Venter Institute (JCVI), and Medmmune - recently purchased by AstraZeneca.
Alternate versions of Maryland have been discovered throughout the multiverse:
---
Community content is available under
CC-BY-SA
unless otherwise noted.