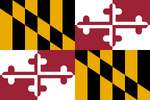 Maryland was one of the original thirteen United States. Its history goes back to the Calverts, a Catholic English family seeking a way to live out their manorial ambitions and profit from plantation farming. They founded the colony in 1632 and named it after Queen Henrietta Maria, wife of Charles I. Considered to be a Southern state, Maryland kept slavery until the Civil War. It remained loyal to the Union and abolished slavery before the war's end. Led first by Baltimore, then by the DC suburbs, Maryland grew rapidly in the 20th century and came to have a less Southern character.
Targets
A small state very close to the national capital, with many important government and military facilities, Maryland was devastated by the Doomsday event of 1983. Multiple nuclear missiles took out Washington D.C., which covered much of the state in radioactive fallout. Other known targets within the state's borders include the following:
Aberdeen: Aberdeen Proving Grounds
Annapolis: the state capital and United States Naval Academy
Baltimore: industrial and population center
Camp Springs: Andrews Air Force Base
Camp David: Presidential retreat
Frederick: Fort Detrick
Odenton: Fort George Meade
Survivors
Delmarva - the only major community centered in Maryland, its capital being the Eastern Shore town of Salisbury. The region has operated as an independent republic since the 1980s and has a presence within the old borders of Virginia, Delaware, and New Jersey.
Virginia - A militaristic state based in western Virginia and West Virginia, the Commonwealth has incorporated the western end of Maryland.