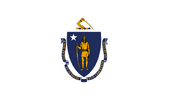 The Commonwealth of Massachusetts is a state in the New England region of the northeastern United States. It is bordered by Rhode Island and Connecticut to the south, New York to the west, and Vermont and New Hampshire to the north; at its east lies the Atlantic Ocean. Most of its population of 6.4 million lives in the Boston metropolitan area. The eastern half of the state is made up of urban, suburban, and rural areas, while Western Massachusetts is mostly rural. Massachusetts is the most populous of the six New England states. It ranks third among U.S. states in GDP per capita.
Massachusetts has been significant throughout American history. Plymouth was the second permanent English settlement in North America. Many of Massachusetts's towns were founded by colonists from England in the 1620s and 1630s. During the eighteenth century, Boston became known as the "Cradle of Liberty" for the agitation there that led to the American Revolution and the independence of the United States from Great Britain. In the late eighteenth century, Massachusetts was the first U.S. state to abolish slavery. It was also a center of the temperance movement and abolitionist activity before the American Civil War. In 2004, Massachusetts became the first U.S. state to legally recognize same-sex marriage. The state has contributed many prominent politicians to national service, including the Adams family and, more recently, the Kennedy family.
Originally dependent on fishing, agriculture, and trade with Europe, Massachusetts was transformed into a manufacturing center during the Industrial Revolution. During the twentieth century, the state's economy shifted from manufacturing to services. Today, the state is a leader in higher education, health care, high technology, and financial services.
In the multiverse, Massachusetts has generally remained a state/province/commonwealth of a larger nation:
---