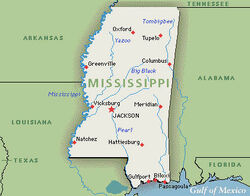 Mississippi was a state in the Southern region of the United States. It was organized as a territory in 1798 and a state in 1817. Its early years were defined by the forced removal of the Chickasaw and Choctaw people and the rapid expansion of slave labor in the booming cotton plantations. Mississippi seceded from the Union in 1860 and was the site of numerous battles of the Civil War. An insurgency forced an end to Reconstruction in 1875, producing a system of segregation that lasted almost a century. Several notable episodes of the Civil Rights era took place in the state, and the memory of this turbulent time was still fresh when the missiles came down on 26 September 1983.
Targets
Mississippi suffered several missile strikes scattered over its territory, covering much of the state in radioactive fallout. Hardest hit were the center of the state and the Gulf Coast in the far south. Known targets include the following:
Biloxi
Columbus: Columbus Air Force Base
Gulfport
Jackson
The blast in Memphis caused extensive damage in northwestern Mississippi.
In addition, the unfinished Grand Gulf Nuclear Station, upriver from Natchez, has been leaking fuel for some years, contaminating the area and the water.
Survivors
Tupelo - A town not far from Corinth that functioned as an independent city-state until 1989, when it was absorbed by the Corinth-based state.
Hattiesburg - A large and stable city-state in south-central Mississippi.
Natchez - A small community in the southwest near the Mississippi River.