Duchy of Modena, Ferrara, Reggio, Massa and Carrara
Ducato di Modena, Ferrara, Reggio, Massa e Carrara
Timeline: 1861: Historical Failing
OTL equivalent: Provinces of Modena, Reggio nell'Emilia, Ferrara Massa and Carrara (Italy)

| | |
| --- | --- |
| | |
| Flag | Coat of Arms |

Anthem
"La Ghirlandèina"
Capital
(and largest city)
Modena
Other cities
Ferrara, Massa, Carrara, Reggio nell'Emilia
Language
  official
 
Italian
  others
Modenese
Religion
Roman Catholic
Government
Parliamentary democracy under constitutional monarchy
  legislature
Union of Counties
Duke
Isabel
  Royal house:
Este
Prime Minister
Gian Carlo Muzzarelli
Area
8,769.71 km²
Population
1,791,775 
Established
1452
Currency
Thaler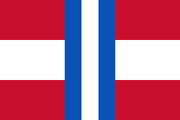 Modena is a nation in Europe.
Oversea Counties
Currently, Modena has three Oversea Counties: Papua, Cabassi Islands and the Duke Francis V Research Station.
Economy
Modena is well known in the world for producing cars - such as Ferrari, Maserati, Pagani, De Tomaso and others.
Transport
Modena is served by the Railways. However, Modena, not having a recognized airport, is served by the Borgo Panigale Airport, in Bologna.
Administration
The Duchy is divided into marquisates, which in turn are divided into municipalities.
Marquisates
A marquisate is a first-order subdivision of the Duchy. It has two governors:
The Marquis(e), which is appointed by the Duke and has merely ceremonial functions;
Commissioner, which is elected by the people.
The City of Modena, Castelfranco Emilia and Ferrara do not constitute a marquisate by themselves; they are instead governed directly by a Mayor.
Marquisate of Carpi (The role of Marquis of Carpi is assumed by the heir apparent)
Marquisate of Cento
Marquisate of Codigoro
Marquisate of Comacchio
Marquisate of the Frignano
Marquisate of Mirandola
Marquisate of Nonantola
Marquisate of Portomaggiore
Marquisate of Rovigo
Marquisate of Sassuolo
Marquisate of Vignola
Marquisate of Zocca
Currency
Thaler
Tallero
ISO 4217 code
MDT
Central bank
BPM
Date of introduction
1598
User(s)
Modena
Inflation
0.85%

 Source

The World Factbook, 2010 est.
Subunit

 1/100

centesimo
Symbol
₮

 centesimo

c.
Nickname
cent
Plural
centesimi
Coins

 Freq. used

5c., 10c., 20c., 50c., ₮1, ₮2

 Rarely used

1c., 2c., ₮5
Banknotes

 Freq. used

₮5, ₮10, ₮20, ₮50, ₮100,

 Rarely used

₮200, ₮500
The Thaler is the currency of Modena; it was introduced in 1598. It is pegged to the dollar (1=1.43 MDT).
Coins
1 c.
2 c.
5 c.
10 c.
20 c.
50 c.
₮1
₮2
₮5
Banknotes
Community content is available under
CC-BY-SA
unless otherwise noted.