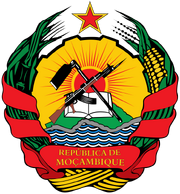 Mozambique (Portuguese: Moçambique), officially the Republic of Mozambique (República de Moçambique), is (in OTL) a country in southeastern Africa bordered by the Indian Ocean to the east, Tanzania to the north, Malawi and Zambia to the northwest, Zimbabwe to the west and Swaziland and South Africa to the southwest. The capital city is Maputo, formerly known as Lourenço Marques.
Between the 1st and 5th centuries AD, Bantu-speaking peoples migrated from farther north and west. Swahili, and later also Arab, commercial ports existed along the coasts until the arrival of Europeans. The area was explored by Vasco da Gama in 1498 and colonized by Portugal in 1505. Mozambique became independent in 1975, and became the People's Republic of Mozambique shortly thereafter. It was the scene of an intense civil war lasting from 1977 to 1992.
Mozambique is endowed with rich and extensive natural resources. The country's economy is based largely on agriculture, but with industry, mainly food and beverages, chemical manufacturing, aluminium and petroleum production, is growing fast. The country's tourism sector is also growing. South Africa is Mozambique's main trading partner and source of foreign direct investment. Belgium, Spain, and Portugal are also among the country's most important partners. Since 2001 Mozambique is one of the world's top ten for annual average GDP growth. However, Mozambique still has one of the lowest GDP per capita, one of the worst human development index and one of the highest inequality in the world.
The only official language of Mozambique is Portuguese, with roughly half of the population speaking it as a second language and few as a first language. Languages widely spoken natively include Swahili, Makhuwa, and Sena. The largest religion in Mozambique is Christianity, with significant Muslim and African traditional religious minorities. Mozambique is a member of the African Union, Commonwealth of Nations, the Community of Portuguese Language Countries, the Latin Union, Organisation of Islamic Cooperation and Southern African Development Community.
Alternate versions of Mozambique have been discovered in the multiverse:
---
Community content is available under
CC-BY-SA
unless otherwise noted.