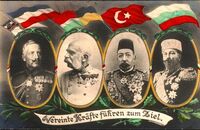 This Central World page is a Proposal.
It has not been ratified and is therefore not yet an official part of the Central World Timeline. You are welcome to correct errors and/or comment at the Talk Page of this article. If you add this label to an article, please do not forget to make mention of it on the main Discussion page for the Timeline.
national anthem (also national hymn, song etc.) is a generally patriotic musical composition that evokes and eulogizes the history, traditions and struggles of its people, recognized either by a nation's government as the official national song, or by convention through use by the people.
<videogallery>
  Video:Italian Social Republic / República Social Italiana (1943-1945)|Italian Social Republic
  
 Video:Anthem Japan|Japanese Empire
 
 Video:European National Anthem|European Community
 
 Video:A Tribute: Russian National Anthem|Russian Anthem
 </videogallery><videogallery>
  Video:German Empire/Imperio Alemán (1871-1918)
  
 Video:Anthem of Alaska USA|Free State of Alaska
 
 Video:National Anthem of the United States of America|USA
 
 Video:Hymn of the Soviet Union|Former USSR
 </videogallery><videogallery>

Video:Amhrán Na bhFiann|Irish Free Republic
Video:Austro-Hungarian Empire/Imperio Austro-Húngaro (**1797-1918)|Austria-Hungarian Empire </videogallery>
Community content is available under
CC-BY-SA
unless otherwise noted.