Note: The old version of the game can be found here

It is October 2, 1945, a month after Japan signed the instrument of surrender that ended the Second World War. Over the course of the past five years, a hundred million people died and millions more were displaced, making it the largest and deadliest conflict in history. It ended with a weapon of mass destruction and unprecedented strength, the nuclear bomb, which targeted and completely obliterated two cities in Japan. The Axis powers are destroyed. Europe has shattered into economic shambles. China is suffering unrest. But, not every country is destroyed.

The end of the war saw a drastic change in the balance of power towards two new superpowers, both emerging from the ashes, the United States and the Soviet Union. The former was a democratic, capitalist state that emphasises freedom, and the latter a repressive, Communist, collectivised state.

As the temporary wartime alliance ends, along with the preceding centuries-long European age, a new bipolar world has been created. Will you benefit from the New World Order, or will you collapse in obscurity?
Rules
Complying with and agreeing to the rules of this game is necessary to ensure things run smoothly and everything is done fairly. Naturally, there are limitations and regulations on what are doable. By familiarising yourself with these rules, it'll save the time to prevent any unwanted, unnecessary and extraneous confrontations, disputes and headaches. By joining and participating in this map game, you are agreeing to abide by these rules and be prepared to face consequences of violations.
Moderators
Active
Head mod (assumed leadership): Candiesrgood

Inactive
Owner (?): Nlenhardt
Mod (?): Person67
Map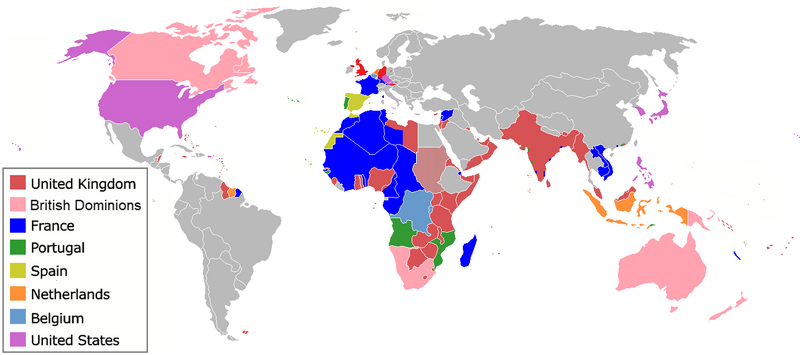 Issues
Sign-ups
NOTE:
Feel free to add any countries not included in this list. You can also play as dependencies. Countries in bold are only playable for experienced players.
Asia
East Asia

Republic of China- Captainjohnrex (talk) 00:36, April 7, 2016 (UTC)
Occupied Japan - ~Candiesrgood
Communist China - Tomw1864
Occupied Korea

South Asia

British India: -
Afghanistan
Bhutan
Tibet
Nepal

Southeast Asia

Indonesia
American Philippines - Great showing. B23 (talk) 17:00, March 21, 2016 (UTC)
British Malaya
French Indochina
Thailand

West Asia

Israel- Reximus | Talk to Me!
Saudi Arabia
Turkey - Bozistanball
Iran
Iraq
Lebanon
Oman
Syria -
Turkey -
Australia
Africa
North Africa
South Africa
West Africa
Europe
Western Europe
Scandinavia
Central Europe

Italy
Occupied Germany
Denmark
Switzerland
City-states

Monaco
Luxembourg
Liechtenstein
Vatican City (Holy See)
San Marino
North America
United States
Mexico
Canada - 
Cuba -Naziteletubby
Costa Rica
El Salvador
Guatemala
Haiti
Honduras
Nicaragua
Panama
South America
Argentina
Brazil
Bolivia
Chile
Colombia -
Ecuador
Peru
Uruguay
Venezuela
1946
Operation: Backfire begins, part of the Allied scramble to obtain German technology .
A satellite communication system is proposed by Arthur C. Clarke.
Gandhi demands all British troops leave India.

This map game has not yet started. It'll start around next week.
Community content is available under
CC-BY-SA
unless otherwise noted.