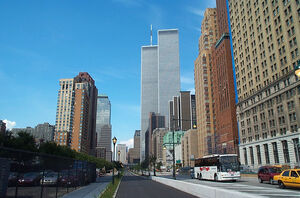 On August 20,1998 a group of United States Navy ships launch cruise missiles at Al-Qaeda training camps near the city of Khost in eastern Afghanistan. One of the cruise missiles explodes over a training camp west of the city. The leader of Al-Qaeda, Osama bin Laden, is present at the camp and is killed instantly in the explosion. Al-Qaeda soon collapses without a leader.
August 20, 1998-2000
A Central Intelligence Agency team is sent to the camp on August 27, 1998 to investigate intelligence that Osama bin Laden was killed in the attack. They tour the camp remains and find bin Laden's body. They take photos and send them to CIA Headquarters in Langley, Virginia. The body is confirmed as bin Laden's and the information is sent to the Pentagon. The next day President Clinton is briefed on the matter by the Joint Chiefs of Staff and Secretary of Defense William Cohen. On September 6, 1998 President Clinton announces that the mastermind of the Embassy Bombings a month before, Osama bin Laden, is dead and that Al-Qaeda has collapsed.
Immediately Clinton's approval ratings soar to 90% and stay that high for several weeks. Clinton basks in the glory of bringing the culprits of the two worst terrorist attacks in American history (the Embassy and Oklahoma City Bombings) to justice fairly quickly. For the rest of the year the regular political conversations continue and nothing much happens -- that is until March, 1999
The Kosovo War starts on May 31, 1998 when the Yugoslav Army begins an operation to clear the border regions of the Kosovo Liberation Army, or KLA. The war escalates into armed conflict and human rights abuses, and massacres are committed by the Yugoslav forces. In early March, 1999 President Clinton decides that this needs to stop, and plans are drawn up for an invasion of Yugoslavia. However, NATO soon desires to get involved in the operation, and Clinton lets them in. On March 22, 1999 American and NATO aircraft begin bombing targets throughout Yugoslavia. This marks the beginning of the NATO War in Yugoslavia. 
Community content is available under
CC-BY-SA
unless otherwise noted.