Monarchs of England (and other states) 1685 to 2009 - No Jacobite pretender
James II and VII (14 October 1633 – 16 September 1701) was King of England, Scotland, and Ireland from 6 February 1685. He was the last Catholic monarch to reign over the Kingdoms of England, Scotland, and Ireland.

Some of James's subjects were unhappy with James' belief in absolute monarchy and opposed his religious policies, leading a group of them to depose him in the Glorious Revolution. The Parliament of England deemed James to have abdicated on 11 December 1688. The Parliament of Scotland on 11 April 1689 declared him to have forfeited the throne.

He was replaced by his Protestant son, James Francis Edward.

Prince James, Prince of Wales (James Francis Edward Stuart 10 June 1688 – 1 January 1766) was the son of the deposed James II and VII. As such, he claimed the English, Scottish and Irish thrones (as James III and VIII) from the abdication of his father in 1688, he was proclaimed King of England, Scotland and Ireland. Following his death in 1766 he was succeeded by his son Charles Edward Stuart.

Charles Edward Stuart (31 December 1720 – 31 January 1788). After King James III died on the 1st of January 1766, his son Charles Edward Stuart (31 December 1720 – 31 January 1788) was recognised and crowned as Charles III on the 7th February 1766. Due to the Kings overseas policies in 1776 there was no revolution in the Americas.

Upon Charles III death, his daughter Charlotte Stuart, Duchess of Albany (29 October 1753 – 17 November 1789), was proclaimed Queen Charlotte I, she was King Charles III's only child to survive infancy. In 1780 she was proclaimed Queen of the Colony States of America (CSA). Her mother was Clementina Walkinshaw, who was the king's wife from 1752. she was created her Duchess of Albany in 1784. She became her father's carer and companion in the last years of his life, before dying less than two years after him.

When Queen Charlotte died in 1789, she left no living legitimate children (her three children were illegitimate) as a result the British crown passed to her closest living relative in line to the throne.

The crown of England and Scotland passed to the Hanovaran prince George William Frederick; (4 June 1738 – 29 January 1820) Duke of Brunswick-Lüneburg and prince-elector of Hanover in the Holy Roman Empire crowned King George I, King of Great Britain and America and King of Ireland on 17th November 1789 until the union of these two countries on 1 January 1801, after which he was King George I, King of the United Kingdom of Great Britain, America and Ireland until his death.

King George I's son George Augustus Frederick (12 August 1762 – 26 June 1830) assumed the throne in 1811 as Prince Regent due to King George's failing mental health.

Upon his death on the 26th June 1830 his daughter Princess Charlotte Augusta of Wales (7 January 1796 – 6 November 1853) was crowned Queen Charlotte II, she was the only child of the ill-fated marriage between George II (at the time Prince of Wales) and Caroline of Brunswick.

Charlotte married Prince Leopold of Saxe-Coburg-Saalfeld on 2 May 1816, at Carlton House. After two miscarriages in the early months of their marriage, she conceived a third time in February 1817. Although she was healthy at the beginning of the pregnancy, medical staff took extra precautions, On the evening of 3 November 1817, her water broke and labour commenced. After a 22-hour labour at Claremont House, she delivered a 9-pound son William George Leopold on 5 November 1817. she also gave birth to three other children George Charles born 1822, and twin girls Charlotte Mary and Elizabeth Georgina born 1828

Prince Leopold was from 21 July 1831 the crowned first King of the Belgians.

When Charlotte II died in 1853 her son William George Leopold succeeded to the throne as King William IV of Great Britain, America and Ireland and on 10th December 1865 upon the death of his father, King Leopold I, he became King William I of Belgium.

William married in 1836 and had three children, a daughter Elizabeth Mary Charlotte born 1837 and a two sons William George Fredrick born 1840 and George Leopold Henry born 1843. however in 1863 at the age of 23, The heir to the throne, Prince William George Fredrick died in a sailing accident.

King William IV died in 1876 and his younger son George Leopold Henry took the throne, assuming the name King Henry IX.

King Henry IX has four children, twin girls born in 1868 named Victoria Mary and Charlotte Augusta (dies at the age of 15 of Tetanus), a son named Arthur David George born 1870 and a daughter named Anne Georgina born 1875.

On February 27, 1881, Princess Victoria Mary marries Prince Frederick William Victor Albert of Germany (27 January 1859 – 4 June 1941). they have a daughter Charlotte Victoria born 1888 and a son William Michael James born 1890.

King Henry IX died in 1911, his son Arthur David George became King George III, however he dies in 1915 with no children and the throne passed to his surviving elder sister Victoria Mary,

She becomes Queen Victoria however she dies suddenly in 1919 at the age of 51 and the throne passes to her son William Michael James (born 1890). He is crowned King William V of Great Britain, America, Ireland and Belgium and upon his fathers death in 1941, Emperor of Germany and King of Prussia.

William V has only one son William Fredrick George (born 1925) and when William V dies in 1959 he takes the throne as King George IV

On 10 June 1967 Prince William Fredrick George married Princess Margrethe Alexandrine Þórhildur Ingrid of Denmark (born 16 April 1940), the heiress presumptive to the Danish throne.

14 January 1972 King Fredrick IX of Denmark dies, Princess Margrethe of Denmark became Queen Margrethe II of Denmark.

King George IV and his wife Queen Margrethe II have four children. Eldest Daughter Ingrid Mary, born 1968. Eldest son Fredrick George Albert, born 1969 and twins born 1972 named William Andrew and Margaret Jane.

Prince Fredrick George Albert, Prince of Wales, married Princess Martha Louise of Norway (born 22 September 1971 in Oslo) on 24 May 2002.

On 24 May 2003, Haakon, Crown Prince of Norway died in a car crash leading to the line of succession to pass to Princess Martha Louise.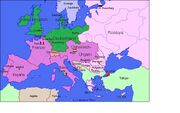 Upon King George IV's death in 2008, his son Fredrick George Albert became King George V. Upon the death of his mother Queen Margrethe he will assume the throne of Denmark.

King George V and Queen Martha have three children, Henry George Haakon born 2004, Louise Mary born 2007 and David Andrew born 2008.

Upon King George V and Queen Martha's deaths Prince Henry George Haakon will become King of Great Britain, America, Ireland, Belgium, Prussia, Denmark, Norway and Emperor of Germany, leader of the commonwealth (which contains 47 nations) and will probably take the name King George VI or less likely Henry X.
Community content is available under
CC-BY-SA
unless otherwise noted.