City of Olongapo
Gapo
Timeline: The Era of Relative Peace
OTL equivalent: Olongapo

City has no official flag and uses the Zambales Provincial Flag instead
Seal
Location of Olongapo in the province of Zambales

Motto: Transparency and Good Governance

Country
Philippines
Province
Zambales
District
1st District
Language
Filipino, Tagalog
Religion
  main
 
Roman Catholicism
  others
Christianity, Buddhism, Islam
Ethnic groups
  main
 
Filipino
  others
Americans, Chinese
Founded
November 4, 1750
Cityhood
June 1, 1966
Area
185.00 km²
Population
233,040  
Olongapo is a city in the Philippines that houses the nearby Naval Base Subic of the United States Navy.
History
Pre-War
TBA
World War III
The city was attacked by Chinese air, naval, and special forces during the People's Republic of China's entry into World War III, which saw the destruction of some U.S. Navy and Philippine Navy ships. Both Filipino and American forces counterattacked the Chinese, in which the intense street-to-street, house-to-house fighting occurred. Parts of the city remained under Chinese control until they were reduced to a pocket, a remainder which survived to surrender to the local forces when the PRC fell and the Chinese Federated Union was established.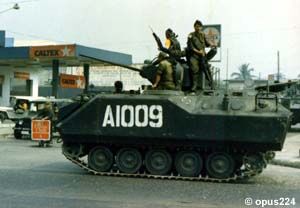 Community content is available under
CC-BY-SA
unless otherwise noted.