The following page is under construction.

Please do not edit or alter this article in any way while this template is active. All unauthorized edits may be reverted on the admin's discretion. Propose any changes to the talk page.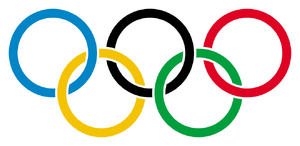 The Olympic Games, or simply Olympics, are an international event involving a number of summer and winter sporting competitions among athletes from all over the world. Held every four years, with the Summer and Winter Games alternating by occurring every four years but two years apart, the Olympics are the world's most prestigious sporting event and one of the most widely viewed and followed sporting events, second only to the FIFA World Cup.
Their creation was inspired by the ancient Olympic Games, which were held in Olympia, Greece, from the 8th century BC to the 4th century AD. Baron Pierre de Coubertin founded the International Olympic Committee (IOC) in 1894, leading to the first modern Games in Athens in 1896. The IOC is the governing body of the Olympic Movement, with the Olympic Charter defining its structure and authority.
List of Olympiads
Summer
City
Country
Continent
Number
Year
Opening
ceremony
Closing
ceremony
Opened by
Athens
Byzantium
Europe
I
1896
6 April
15 April
King Andronikus VI
Paris
France
Europe
II
1900
14 May
28 October
President Paul LaFargue
St. Louis
United States
North America
III
1904
1 July
23 November
President Theodore Roosevelt
London
United Kingdom
Europe
IV
1908
27 April
31 October
King George VII
Stockholm
Sweden
Europe
V
1912
5 May
22 July
Berlin
Germany
Europe
VI
1916
Cancelled due to the Great War
Antwerp
Belgium
Europe
VII
1920
20 April
12 September
King Louis II
Paris
France
Europe
VIII
1924
4 May
27 July
President Raymond Poincaré
Amsterdam
Netherlands
Europe
IX
1928
17 May
12 August
Queen Wilhelmina
Los Angeles
United States
North America
X
1932
30 July
14 August
President Frank Orren Lowden
Berlin
Germany
Europe
XI
1936
1 August
16 August
Emperor Wilhelm II
Alexandria
Egypt
Africa
XII
1940
12 April
5 May
Pharaoh Nectanebo VI
London
United Kingdom
Europe
XIII
1944
5 June
5 July
King George VIII
Oslo
Norway
Europe
XIV
1948
14 February
25 February
Peking
China
Asia
XV
1952
8 August
24 August
Emperor Jingwei
De Baai
Australia
Oceania
XVI
1956
22 November
8 December
Florence
Italy
Europe
XVII
1960
August 25
11 September
King Victor Emmanuel IV
Tokyo
Japan
Asia
XVIII
1964
10 October
24 October
Emperor Hirohito
Mexico City
Mexico
North America
XIX
1968
15 June
31 July
Rio de Janeiro
Brazil
South America
XX
1972
5 August
21 August
Emperor Pedro III
Montreal
Quebec
North America
XXI
1976
8 July
7 August
Moscow
Russia
Europe
XXII
1980
21 July
15 August
President Vyacheslav Molotov
Los Angeles
United States
North America
XXIII
1984
28 July
12 August
President Robert F Kennedy
Seoul
Korea
Asia
XXIV
1988
17 September
2 October
Emperor Heong
Barcelona
Spain
Europe
XXV
1992
25 July
9 August
King Alfonso XIV
Atlanta
Confederate States
North America
XXVI
1996
19 July
4 August
President Bill Clinton
Nieuw Amsterdam
Australia
Oceania
XXVII
2000
15 September
1 October
Athens
Byzantium
Europe
XXVIII
2004
13 August
29 August
King Andronikus VII
Peking
China
Asia
XXIX
2008
8 August
24 August
Emperor Tailong
London
United Kingdom
Europe
XXX
2012
27 July
12 August
King Richard IV
Rio de Janeiro
Brazil
South America
XXX
2016
5 August
21 August
Emperor Luís
Tokyo
Japan
Asia
XXXI
2020
24 July
9 August
Emperor Akihito
Paris
France
Europe
XXXII
2024
25 July
11 August
Winter
City
Country
Continent
Number
Year
Opening
ceremony
Closing
ceremony
Opened by
Chamonix
France
Europe
I
1924
25 January
5 February
President Raymond Poincaré
St. Moritz
Switzerland
Europe
II
1928
11 February
19 February
Lake Placid
United States
North America
III
1932
4 February
15 February
President Frank Orren Lowden
Garmisch-Partenkirchen
Germany
Europe
IV
1936
6 February
16 February
Emperor Wilhelm II
Sapporo
Japan
Asia
V
1940
14 January
14 February
Emperor Hirohito
Cortina d'Ampezzo
Italy
Europe
VI
1944
26 January
5 February
King Umberto II
St. Moritz
Switzerland
Europe
VII
1948
30 January
8 February
Oslo
Norway
Europe
VIII
1952
14 February
25 February
Albertville
France
Europe
IX
1956
15 January
15 February
President Charles de Gaulle
Squaw Valley
United States
North America
X
1960
18 February
28 February
President Earl Warren
Innsbruck
Austria-Hungary
Europe
XI
1964
29 January
9 February
Emperor Franz Joseph II
Akureyri
Iceland
Europe
XII
1976
20 January
12 February
Lake Placid
United States
North America
XII
1980
13 February
24 February
President Robert F Kennedy
Sarajevo
Austria-Hungary
Europe
XIV
1984
7 February
19 February
Emperor Franz Joseph III
Calgary
Canada
North America
XV
1988
13 February
28 February
Lillehammer
Norway
Europe
XVI
1992
12 February
27 February
Nagano
Japan
Asia
XVII
1994
7 February
22 February
Emperor Akihito
Salt Lake City
United States
North America
XVIII
1998
8 February
24 February
President Jerry Brown
Helsinki
Finland
Europe
XIX
2002
2 February
28 February
Turin
Italy
Europe
XX
2006
10 February
26 February
King Victor Emmanuel IV
Toronto
Canada
North America
XXI
2010
12 February
28 February
Sochi
Russia
Europe
XXII
2014
7 February
23 February
President Grigory Yavlinsky
Pyongyang
Korea
Asia
XXIII
2018
9 February
25 February
Emperor Won
Peking
China
Asia
XXIV
2022
4 February
20 February
Milan
Italy
Europe
XXV
2026
6 February
22 February
See also