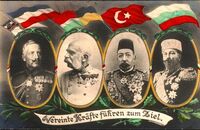 This Central World page is a Proposal.
It has not been ratified and is therefore not yet an official part of the Central World Timeline. You are welcome to correct errors and/or comment at the Talk Page of this article. If you add this label to an article, please do not forget to make mention of it on the main Discussion page for the Timeline.
Organization of Nations

Headquarters
International territory in Manhattan, New York City
Official languages
Arabic
Japanese
English
French
German
Spanish
Leaders
 - 
Secretary-General
Establishment
1945
Organization of Nations is an international organization whose stated aims are facilitating cooperation in international law, international security, economic development, social progress, and the achieving of world peace. The ON was founded in 1945 after Second World War to replace the League of Nations, to stop wars between countries, and to provide a platform for dialogue. It contains multiple subsidiary organizations to carry out its missions.
History
Following in the wake of the failed League of Nations (1919–1946) the Organization of Nations was established in 1945 to maintain international peace and promote cooperation in solving international economic, social and humanitarian problems.
Organizations
The Organization of Nations' system is based on five principal organs; the General Assembly, the Security Council, the Economic and Social Council (ECOSOC), the Secretariat, and the International Court of Justice.
Four of the five principal organs are located at the main Otrganization of Nations headquarters located on international territory in New York City. The International Court of Justice is located in The Hague, while other major agencies are based in the ON offices at Geneva, Vienna, and Nairobi. Other ON institutions are located throughout the world.
General Assembly
The General Assembly is the main deliberative assembly of the Organization of Nations. Composed of all ON member states, the assembly meets in regular yearly sessions under a president elected from among the member states. Over a two-week period at the start of each session, all members have the opportunity to address the assembly. Traditionally, the Secretary-General makes the first statement, followed by the president of the assembly.
When the General Assembly votes on important questions, a two-thirds majority of those present and voting is required. Examples of important questions include: recommendations on peace and security; election of members to organs; admission, suspension, and expulsion of members; and, budgetary matters. All other questions are decided by majority vote. Each member country has one vote. Apart from approval of budgetary matters, resolutions are not binding on the members. The Assembly may make recommendations on any matters within the scope of the ON, except matters of peace and security that are under Security Council consideration
Security Council
Secretariat
Secretary-General
International Court of Justice
Membership
See also
Community content is available under
CC-BY-SA
unless otherwise noted.