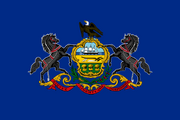 The Commonwealth of Pennsylvania is a northeastern state of the United States. The state borders Delaware and Maryland to the south, West Virginia to the southwest, Ohio to the west, New Jersey to the west, New York to the north, and a maritime border with Canada (via Ontario) to the north. The state's four most populous cities are Philadelphia, Pittsburgh, Allentown, and Erie. The state capital is Harrisburg.
Pennsylvania has 51 miles (82 km) of coastline along Lake Erie and 57 miles (92 km) of shoreline along the Delaware Estuary. As of the 2000, and 2010 census, Pennsylvania has one of the largest European American populations and a strong African American population.
Alternate versions of Pennsylvania have been discovered in the multiverse:
---
Community content is available under
CC-BY-SA
unless otherwise noted.