Philadelphia is the largest city in the U.S. state of Pennsylvania. It was the first capital of the United States upon its formation before moving the capitals to New York City and Washington, D.C. The city is known for its landmarks and monuments relating to the American Revolutionary War, hosting the Liberty Bell and the Independence Hall.
The city hosts the Philadelphia Naval Ship Yards, which saw extended use during World War III. Countless ships of the U.S. Navy and the U.S. Merchant Marine travelled from Philadelphia to Europe via REFORGER convoys. Due to the demand of naval supremacy in the Atlantic, the shipyards saw the repairs or the refurbishment of both naval and civilian ships. Crews worked non-stop throughout the duration of the war.
Fortunately, Philadelphia was spared from Soviet naval attacks coming from submarines - most were concentrated on trying to attack Norfolk, Virginia - which is the head of the U.S. Fleet Forces Command or the U.S. Atlantic Fleet. It was also spared from attacks done by the World Revolutionary Army during the September 11th Attacks.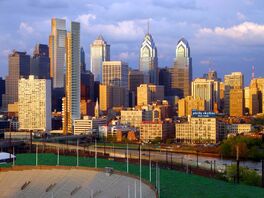 Community content is available under
CC-BY-SA
unless otherwise noted.