Open For Adoption

This timeline is Open For Adoption, feel free to adopt and expand it.
For details see Adoption Policy
---
In our OTL, James Madison runs for re-election against DeWitt Clinton in 1812 and wins. This timeline touches on how things would have been a little different if Madison had declined to run and Elbridge Gerry had ran in his place.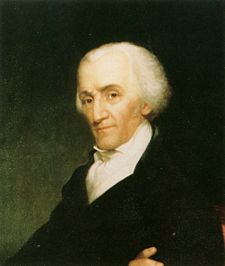 Elbridge Thomas Gerry (July 17, 1744 – November 23, 1814) was an American statesman and diplomat. As a Democratic-Republican he was elected as the fifth President of the United States, after the rather shocking decision by James Madison not to seek a second term. Defeating Dewitt Clinton by the narrow margin of 25 electoral votes, he served from March 4, 1813 until his death a year and a half later.[1] He was also the oldest president elected until Ronald Reagan in 1980.
Gerry was one of the signers of the Declaration of Independence and the Articles of Confederation. He was one of three men who refused to sign the Constitution because it did not then include a Bill of Rights. Gerry later became Governor of Massachusetts. He is most famous for being the namesake of gerrymandering, a process by which electoral districts are drawn with the aim of aiding the party in power.
Early life
Born in Marblehead, Massachusetts, the third of twelve children, he was a graduate of Harvard College, where he studied to be a doctor, attending there from age fourteen. He worked in his father's shipping business and came to prominence over his opposition to commerce taxes. He was elected to the General Court of the province of Massachusetts in May 1772 on an anti-British platform.
Career
Gerry was a Massachusetts delegate to the Continental Congress from February 1776 to 1780. He also served from 1783 to September 1785 and was married in 1786 to Ann Thompson, the daughter of a wealthy New York merchant, 21 years his junior. In 1787 he attended the United States Constitutional Convention and was one of the delegates voting against the new constitution (joining George Mason and Peyton Randolph in not signing it). He was elected to the U.S. House under the new national government, and served in Congress from 1789 to 1793.
He surprised his friends by becoming a strong supporter of the new government, and so vigorously supported Alexander Hamilton's reports on public credit, including the assumption of state debts, and supported Hamilton's new Bank of the United States, that he was considered a leading champion by the Federalists. He did not stand for reelection in 1792. He was a presidential elector for John Adams in the 1796 election, and was appointed by Adams to the critical delegation to France that was humiliated by the French in the XYZ Affair. He stayed in France after his two colleagues returned, and Federalists accused him of supporting the French. He returned in October 1798, and switched his affiliation to Democratic-Republican party in 1800.
He was the unsuccessful Democratic-Republican nominee for governor of Massachusetts in 1800, 1801, 1802 and 1803. In 1810 he was finally elected Governor of Massachusetts as a Democratic-Republican. He was re-elected in 1811 but defeated in 1812 over his support for the redistricting bill that created the word gerrymander. He ran for president against DeWitt Clinton, narrowly defeating him by 25 electoral votes. He died in office in Washington, D.C. ,and is buried there in the Congressional Cemetery.
Legacy
Gerry's longtime home, Elmwood Mansion in Cambridge, Massachusetts, was the birthplace of noted poet James Russell Lowell, who was born there a few years after Gerry's death. His grandson, Elbridge Gerry (1813–1886), was a Member of the U.S. House of Representatives from Maine; his great-grandson, Peter G. Gerry, was a Member of the U.S. House of Representatives and United States Senator from Rhode Island.
Presidency 1813–1814
The Bank of the United States
The twenty-year charter of the first Bank of the United States was scheduled to expire in 1811, the second year of Madison's administration. Madison failed to block the Bank in 1791 and waited for its charter to expire. When Madison left office in 1813, the Bank bill had been neither vetoed or signed into law. Unlike Madison, Gerry was a supporter of the National Bank, and after Secretary of the Treasury Gallatin discovered how difficult it was to finance the war without the Bank, he mentioned to Gerry that they should consider keeping the National Bank. Gerry readily agreed and was able to sign the Bank into law just after taking office.
War of 1812
Gerry faced formidable obstacles--The War of 1812 was raging while he was running for office as well as a divided cabinet, a factious party, a recalcitrant Congress, obstructionist governors, and amazingly incompetent generals, together with militia who refused to fight outside their states when he took office. Most serious was lack of unified popular support. There were serious threats of disunion from New England, which engaged in massive smuggling to Canada and refused to provide financial support or soldiers.[2] However Andrew Jackson in the South and William Henry Harrison in the West destroyed the main Indian threats by 1813.
After the apparent defeat of Napoleon in 1814, both the British and Americans were exhausted, the causes of the war had been forgotten, the Indian issue was resolved, and it was time for peace. New England Federalists, however, set up a defeatist Hartford Convention that discussed secession. Gerry intervened and prevented this from happening by sending a letter to the convention. The Treaty of Ghent ended the war in 1814, literally just weeks before Gerry's death in 1814. There were no territorial gains on either side as both sides returned to status quo ante bellum, that is, the previous boundaries. Gerry has been credited by present-day historians as being instrumental in the ending of the war and in preventing further hostilities. Many point to his support of the National Bank as a catalyxt for expediting the end of the war.
Quotes
Notes
The birthplace of President Gerry, which was Marblehead, Massachusetts, was renamed Gerry, Massachusetts in his honor after the 100th anniversary of his death in 1914.
References
External links
Cite error: <ref> tags exist, but no <references/> tag was found
Community content is available under
CC-BY-SA
unless otherwise noted.