Elvis Aron Presley (January 8, 1935 – August 16, 2016) was the 41st and 43rd president of the United States Of America serving as 41st president from 1989 until 1993, and as 43rd president from 2001 until 2009. Prior to his Presidencies, Presley had been a musician and actor, and remains a popular culture icon. Presley is regarded by some as the most important, original entertainer of the last fifty years. There is little doubt that Presley is the most talked about and written about performer of the 20th Century.
Elvis Aron Presley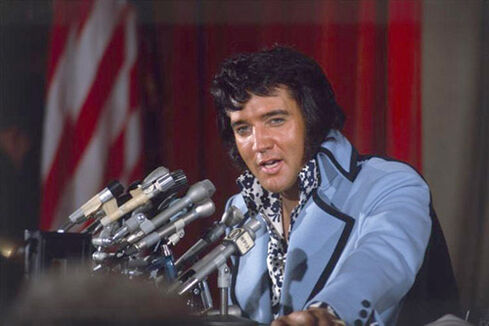 Presley started as a singer of rockabilly, singing many songs from rhythm and blues, gospel, and country. He was first billed as "The Hillbilly Cat". His combination of country music with bluesy vocals and a strong back beat marked a clear path toward rock & roll. He was the most commercially successful singer of rock and roll, but he also had success with ballads, country, gospel, blues, pop, folk and even semi-operatic and jazz standards. His voice, which developed into many voices as his career progressed, had always a unique tonality and an extraordinary unusual center of gravity, leading to his ability to tackle a range of songs and melodies which would be nearly impossible for most other popular singers to achieve. In a musical career of over two decades, Presley set many records, such as concert attendance, television ratings, and records sales, and became one of the best-selling artists in music history.
Elvis Aron Presley

41st President of the United States
1989 – 1993

Predecessor
Ronald Regan
Successor
Bill Clinton

43rd President of the United States
2001 – 2009

Predecessor
Bill Clinton
Successor
Barack Obama
Born
January 8, 1935
Tupelo, Mississippi
Died
August 16th 2016
Memphis Tennessee
Spouse
Ginger Alden Presley

Priscilla Presley (m. 1967; d. 1973)

Political Party
Libertarian
Religion
Christianity
Profession
Singer
He is an icon of modern American pop culture. In the late 1960s, Presley re-emerged as a live performer of old and new hit songs, both on tour and in Las Vegas, Nevada, where he was known for his on-stage highly energetic performances both vocally and physically, his sartorial jump-suits and capes adding to the drama. He attracted massive attendance figures. His concert performances were staggering in quantity, considering they numbered 1145 in eight years, 1969-1977. He continued to perform before sell-out audiences around the US. until entering semi-retirement in 1988, after which he announced his run for president of the United States, serving only one term as President. He was elected as the first Independent President since George Washington. In 1988, defeating the former vice President, George H. W. Bush. His Presidency saw a change in America's political climate and of the nature of the Presidency; Presidential historians have often claimed that Presley brought an end to the concept of an "Imperial Presidency"; as a non-partisan Commander-in-Chief, Presley's terms as 41st and 43rd President were marked by increased bipartisanship. It was also noted for Presley's distinct and unusual style and charisma, and for the apparent 'control' of the administration by Presley's cabinet and policy advisers, which have led some to claim Presley was a "puppet President".
Early years

1935–53
Elvis Presley was born on January 8, 1935, in Tupelo, Mississippi, the son of Gladys Love (née Smith; April 25, 1912 – August 14, 1958) and Vernon Elvis Presley (April 10, 1916 – June 26, 1979), in the two-room shotgun house built by Vernon's father in preparation for the child's birth. Jesse Garon Presley, his identical twin brother, was delivered stillborn 35 minutes before him. As an only child, Presley became close to both parents and formed an especially close bond with his mother when his father was arrested for forging a check. The family attended an Assembly of God, where he found his initial musical inspiration. Although he was in conflict with the Pentecostal church in his later years, he never officially left it. In November 1948, the family moved to Memphis, Tennessee. After residing for nearly a year in rooming houses, they were granted a two-bedroom apartment in the public housing complex known as the Lauderdale Courts. Enrolled at L. C. Humes High School, Presley received only a C in music in eighth grade. When his music teacher told him he had no aptitude for singing, he brought in his guitar the next day and sang a recent hit, "Keep Them Cold Icy Fingers Off Me", in an effort to prove otherwise. During his junior year, Presley began to stand out more among his classmates, largely because of his appearance: he grew out his sideburns and styled his hair with rose oil and Vaseline. In his free time, he would head down to Beale Street, the heart of Memphis's thriving blues scene, and gaze longingly at the wild, flashy clothes in the windows of Lansky Brothers. By his senior year, he was wearing them.
1953–55: First recordings.
In August 1953, Presley walked into the offices of Sun Records. He aimed to pay for a few minutes of studio time to record a two-sided acetate disc: "My Happiness" and "That's When Your Heartaches Begin". He would later claim that he intended the record as a gift for his mother, or that he was merely interested in what he "sounded like", although there was a much cheaper, amateur record-making service at a nearby general store. Asked by receptionist Marion Keisker what kind of singer he was, Presley responded, "I sing all kinds." When she pressed him on who he sounded like, he repeatedly answered, "I don't sound like nobody." In January 1954, Presley cut a second acetate at Sun Records—"I'll Never Stand In Your Way" and "It Wouldn't Be the Same Without You"—but again nothing came of it. In April, Presley began working for the Crown Electric company as a truck driver. His friend Ronnie Smith, after playing a few local gigs with him, suggested he contact Eddie Bond, leader of Smith's professional band, which had an opening for a vocalist. Bond rejected him after a tryout, advising Presley to stick to truck driving "because you're never going to make it as a singer." In June, Sam Phillips (the owner of sun studios) acquired a demo recording of a ballad, "Without You", that he thought might suit the teenage singer. Presley came by the studio, but was unable to do it justice. Despite this, Phillips asked Presley to sing as many numbers as he knew. He was sufficiently affected by what he heard to invite two local musicians, guitarist Winfield "Scotty" Moore and upright bass player Bill Black, to work something up with Presley for a recording session.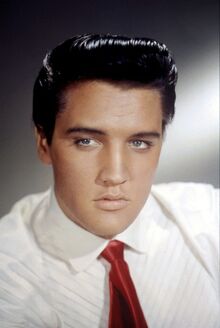 The session, held the evening of July 5, 1954, proved entirely unfruitful until late in the night. As they were about to give up and go home, Presley took his guitar and launched into a 1946 blues number, Arthur Crudup's "That's All Right". Moore recalled, "All of a sudden, Elvis just started singing this song, jumping around and acting the fool, and then Bill picked up his bass, and he started acting the fool, too, and I started playing with them. Sam, I think, had the door to the control booth open ... he stuck his head out and said, 'What are you doing?' And we said, 'We don't know.' 'Well, back up,' he said, 'try to find a place to start, and do it again.'" Phillips quickly began taping; this was the sound he had been looking for. Three days later, popular Memphis DJ Dewey Phillips played "That's All Right" on his Red, Hot, and Blue show. Listeners began phoning in, eager to find out who the singer was. The interest was such that Phillips played the record repeatedly during the last two hours of his show. Interviewing Presley on-air, Phillips asked him what high school he attended in order to clarify his color for the many callers who had assumed he was black. During the next few days, the trio recorded a bluegrass number, Bill Monroe's "Blue Moon of Kentucky", again in a distinctive style and employing a jury-rigged echo effect that Sam Phillips dubbed "slapback." A single was pressed with "That's All Right" on the A side and "Blue Moon of Kentucky" on the reverse. The trio played publicly for the first time on July 17 at the Bon Air club—Presley still sporting his child-size guitar.[69] At the end of the month, they appeared at the Overton Park Shell, with Slim Whitman headlining. A combination of his strong response to rhythm and nervousness at playing before a large crowd led Presley to shake his legs as he performed: his wide-cut pants emphasized his movements, causing young women in the audience to start screaming.[70] Moore recalled, "During the instrumental parts, he would back off from the mike and be playing and shaking, and the crowd would just go wild.". Presley made what would be his only appearance on Nashville's Grand Ole Opry on October 2; after a polite audience response, Opry manager Jim Denny told Phillips that his singer was "not bad" but did not suit the program. Two weeks later, Presley was booked on Louisiana Hayride, the Opry's chief, and more adventurous, rival. The Shreveport-based show was broadcast to 198 radio stations in 28 states. Presley had another attack of nerves during the first set, which drew a muted reaction. A more composed and energetic second set inspired an enthusiastic response. House drummer D. J. Fontana brought a new element, complementing Presley's movements with accented beats that he had mastered playing in strip clubs. Soon after the show, the Hayride engaged Presley for a year's worth of Saturday-night appearances. Trading in his old guitar for $8 (and seeing it promptly dispatched to the garbage), he purchased a Martin instrument for $175, and his trio began playing in new locales including Houston, Texas, and Texarkana, Arkansas. By early 1955, Presley's regular Hayride appearances, constant touring, and well-received record releases had made him a regional star, from Tennessee to West Texas. In January, Neal signed a formal management contract with Presley and brought the singer to the attention of Colonel Tom Parker, whom he considered the best promoter in the music business. Having successfully managed top country star Eddy Arnold, Parker was now working with the new number-one country singer, Hank Snow. Parker booked Presley on Snow's February tour. When the tour reached Odessa, Texas, At the Country Disc Jockey Convention in early November, Presley was voted the year's most promising male artist. Several record companies had by now shown interest in signing him. After three major labels made offers of up to $25,000, Parker and Phillips struck a deal with RCA Victor on November 21 to acquire Presley's Sun contract for an unprecedented $40,000. Presley, at 20, was still a minor, so his father signed the contract. Parker arranged with the owners of Hill and Range Publishing, Jean and Julian Aberbach, to create two entities, Elvis Presley Music and Gladys Music, to handle all the new material recorded by Presley. Songwriters were obliged to forgo one third of their customary royalties in exchange for having him perform their compositions. By December, RCA had begun to heavily promote its new singer, and before month's end had reissued many of his Sun recordings.
1956–58: Commercial breakout and controversy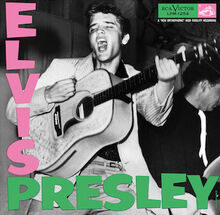 On January 10, 1956, Presley made his first recordings for RCA in Nashville. Extending the singer's by now customary backup of Moore, Black, and Fontana, RCA enlisted pianist Floyd Cramer, guitarist Chet Atkins, and three background singers, including first tenor Gordon Stoker of the popular Jordanaires quartet, to fill out the sound. The session produced the moody, unusual "Heartbreak Hotel", released as a single on January 27. Parker finally brought Presley to national television, booking him on CBS's Stage Show for six appearances over two months. The program, produced in New York, was hosted on alternate weeks by big band leaders and brothers Tommy and Jimmy Dorsey. After his first appearance, on January 28, introduced by disc jockey Bill Randle, Presley stayed in town to record at RCA's New York studio. The sessions yielded eight songs, including a cover of Carl Perkins' rockabilly anthem "Blue Suede Shoes". In February, Presley's "I Forgot to Remember to Forget", a Sun recording initially released the previous August, reached the top of the Billboard country chart. Neal's contract was terminated and, on March 2, Parker became Presley's manager. RCA Victor released Presley's eponymous debut album on March 23. Joined by five previously unreleased Sun recordings, its seven recently recorded tracks were of a broad variety. There were two country songs and a bouncy pop tune. The others would centrally define the evolving sound of rock and roll: "Blue Suede Shoes"—"an improvement over Perkins' in almost every way", according to critic Robert Hilburn—and three R&B numbers that had been part of Presley's stage repertoire for some time, covers of Little Richard, Ray Charles, and The Drifters. As described by Hilburn, these "were the most revealing of all. Unlike many white artists ... who watered down the gritty edges of the original R&B versions of songs in the '50s, Presley reshaped them. He not only injected the tunes with his own vocal character but also made guitar, not piano, the lead instrument in all three cases. It became the first rock-and-roll album to top theBillboard chart, a position it held for ten weeks. While Presley was not an innovative guitarist like Moore or contemporary African American rockers Bo Diddley and Chuck Berry, cultural historian Gilbert B. Rodman argues that the album's cover image, "of Elvis having the time of his life on stage with a guitar in his hands played a crucial role in positioning the guitar ... as the instrument that best captured the style and spirit of this new music."
Milton Berle Show and "Hound Dog"
Presley made the first of two appearances on NBC's Milton Berle Show on April 3. His performance, on the deck of the USS Hancock in San Diego, prompted cheers and screams from an audience of sailors and their dates. The second Milton Berle Show appearance came on June 5 at NBC's Hollywood studio, amid another hectic tour. Berle persuaded the singer to leave his guitar backstage, advising, "Let 'em see you, son." During the performance, Presley abruptly halted an uptempo rendition of "Hound Dog" with a wave of his arm and launched into a slow, grinding version accentuated with energetic, exaggerated body movements. Presley's gyrations created a storm of controversy. Newspaper critics were outraged: Jack Gould of The New York Times wrote, "Mr. Presley has no discernible singing ability. ... His phrasing, if it can be called that, consists of the stereotyped variations that go with a beginner's aria in a bathtub. ... His one specialty is an accented movement of the body ... primarily identified with the repertoire of the blond bombshells of the burlesque runway." Ben Gross of the New York Daily News opined that popular music "has reached its lowest depths in the 'grunt and groin' antics of one Elvis Presley. ... Elvis, who rotates his pelvis ... gave an exhibition that was suggestive and vulgar, tinged with the kind of animalism that should be confined to dives and bordellos." Ed Sullivan, whose own variety show was the nation's most popular, declared him "unfit for family viewing." To Presley's displeasure, he soon found himself being referred to as "Elvis the Pelvis", which he called "one of the most childish expressions I ever heard, comin' from an adult."
Steve Allen Show and first Sullivan appearance
The Berle shows drew such high ratings that Presley was booked for a July 1 appearance on NBC's Steve Allen Show in New York. Allen, no fan of rock and roll, introduced a "new Elvis" in a white bow tie and black tails. Presley sang "Hound Dog" for less than a minute to a basset hound wearing a top hat and bow tie. As described by television historian Jake Austen, "Allen thought Presley was talentless and absurd ... [he] set things up so that Presley would show his contrition". Allen, for his part, later wrote that he found Presley's "strange, gangly, country-boy charisma, his hard-to-define cuteness, and his charming eccentricity intriguing" and simply worked the singer into the customary "comedy fabric" of his program. Just before the final rehearsal for the show, Presley told a reporter, "I'm holding down on this show. I don't want to do anything to make people dislike me. I think TV is important so I'm going to go along, but I won't be able to give the kind of show I do in a personal appearance." Presley would refer back to the Allen show as the most ridiculous performance of his career. Later that night, he appeared on Hy Gardner Calling, a popular local TV show. Pressed on whether he had learned anything from the criticism to which he was being subjected, Presley responded, "No, I haven't, I don't feel like I'm doing anything wrong. ... I don't see how any type of music would have any bad influence on people when it's only music. ... I mean, how would rock 'n' roll music make anyone rebel against their parents?" Allen's show with Presley had, for the first time, beaten CBS's Ed Sullivan Show in the ratings. Sullivan, despite his June pronouncement, booked the singer for three appearances for an unprecedented $50,000. The first, on September 9, 1956, was seen by approximately 60 million viewers—a record 82.6 percent of the television audience. Actor Charles Laughton hosted the show, filling in while Sullivan recuperated from a car accident. Presley appeared in two segments that night from CBS Television City in Los Angeles. According to Elvis legend, Presley was shot from only the waist up. Watching clips of the Allen and Berle shows with his producer, Sullivan had opined that Presley "got some kind of device hanging down below the crotch of his pants–so when he moves his legs back and forth you can see the outline of his... I think it's a Coke bottle. ... We just can't have this on a Sunday night. This is a family show!" Sullivan publicly told TV Guide, "As for his gyrations, the whole thing can be controlled with camera shots." In fact, Presley was shown head-to-toe in the first and second shows. Though the camerawork was relatively discreet during his debut, with leg-concealing closeups when he danced, the studio audience reacted in customary style: screaming. Presley's performance of his forthcoming single, the ballad "Love Me Tender", prompted a record-shattering million advance orders. More than any other single event, it was this first appearance on The Ed Sullivan Show that made Presley a national celebrity of barely precedented proportions. Accompanying Presley's rise to fame, a cultural shift was taking place that he both helped inspire and came to symbolize. Igniting the "biggest pop craze since Glenn Miller and Frank Sinatra ... Presley brought rock'n'roll into the mainstream of popular culture", writes historian Marty Jezer. "As Presley set the artistic pace, other artists followed. ... Presley, more than anyone else, gave the young a belief in themselves as a distinct and somehow unified generation—the first in America ever to feel the power of an integrated youth culture."
Film debut
On April 2, Wallis offered Presley a contract for one motion picture, with options on six more. The contract was finalized on April 25, and also stipulated that Presley was free to make at least one picture a year for other studios. Wallis, who had produced classics such as Casablanca, Little Caesar and The Maltese Falcon, had promised Presley that he would look for dramatic roles to let the singer take his acting career seriously. Wallis considered Presley for a role in The Rat Race, a film about a "naive, innocent boy" who was struggling to make it as a musician in Manhattan, but he decided against it after another studio executive said, "Elvis Presley just doesn't look like that". The film was eventually made in 1960 with Tony Curtis in the lead role. Another possible idea that Wallis mulled over was to pair Presley with Jerry Lewis. Lewis had just separated from his comedy partner Dean Martin after a successful run of seventeen movies together, but again the idea was shelved. On April 10, Presley confidently announced during a radio interview that his debut feature would be The Rainmaker with Burt Lancaster and Katharine Hepburn. However, despite this belief, and due to Wallis being unable to find a project "good enough for the debut of Elvis Presley", he was loaned out to 20th Century Fox on August 13 and began work on Love Me Tender on August 22. Presley's role had originally been turned down by both Jeffrey Hunter and Robert Wagner because the part was too small, but when Presley signed up to the picture the role was expanded to take advantage of his current popularity. A somewhat more realistic film telling the story of the Reno Brothers, Rage at Dawn starring Randolph Scott, had been released by RKO Radio Pictures only the year before. According to Presley's then girlfriend, June Juanico, he was reluctant to take the role after realizing that his character died at the end, but he was persuaded to do it after she told him that the characters audiences were most likely to remember were the ones who had a tragic fate. Presley arrived for filming with all of his lines learned, as well as the lines for all the other parts. He found filming quite tasking, once commenting to a friend that he had spent a whole day "behind a team of mules". In little more than a month Presley had recorded all the songs for the film and had finished filming his scenes. Love Me Tender, was released on November 21. Though he was not top billed, the film's original title—The Reno Brothers—was changed to capitalize on his latest number one record: "Love Me Tender" had hit the top of the charts earlier that month. To further take advantage of Presley's popularity, four musical numbers were added to what was originally a straight acting role. The film was panned by the critics but did very well at the box office.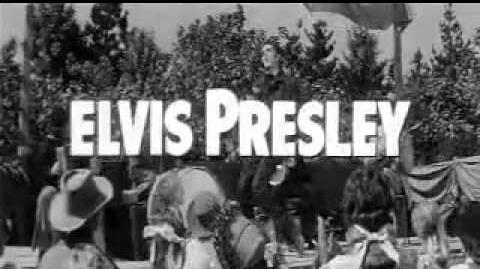 On December 4, Presley dropped into Sun Records where Carl Perkins and Jerry Lee Lewis were recording and jammed with them. Though Phillips no longer had the right to release any Presley material, he made sure the session was captured on tape. The results became legendary as the "Million Dollar Quartet" recordings—Johnny Cash was long thought to have played as well, but he was present only briefly at Phillips' instigation for a photo opportunity. The year ended with a front-page story in 
The Wall Street Journal
 reporting that Presley merchandise had brought in $22 million on top of his record sales, and 
Billboard
's declaration that he had placed more songs in the top 100 than any other artist since records were first charted. In his first full year at RCA, one of the music industry's largest companies, Presley had accounted for over 50 percent of the label's singles sales.
1958–60: Military service and mother's death
On March 24, Presley was inducted into the US Army as a private at Fort Chaffee, near Fort Smith, Arkansas. His arrival was a major media event. Hundreds of people descended on Presley as he stepped from the bus; photographers then accompanied him into the fort. Presley announced that he was looking forward to his military stint, saying he did not want to be treated any differently from anyone else: "The Army can do anything it wants with me." Soon after Presley commenced basic training at Fort Hood, Texas, he received a visit from Eddie Fadal, a businessman he had met on tour. According to Fadal, Presley had become convinced his career was finished—"He firmly believed that."[ But then, during a two-week leave in early June, Presley recorded five songs in Nashville. In early August, his mother was diagnosed with hepatitis and her condition rapidly worsened. Presley, granted emergency leave to visit her, arrived in Memphis on August 12. Two days later, she died of heart failure, aged 46. Presley was devastated; their relationship had remained extremely close—even into his adulthood, they would use baby talk with each other and Presley would address her with pet names. After training, Presley joined the 3rd Armored Division in Friedberg, Germany, on October 1. Introduced to amphetamines by a sergeant while on maneuvers, he became "practically evangelical about their benefits"—not only for energy, but for "strength" and weight loss, as well—and many of his friends in the outfit joined him in indulging. The army also introduced Presley to karate, which he studied seriously, later including it in his live performances. Fellow soldiers have attested to Presley's wish to be seen as an able, ordinary soldier, despite his fame, and to his generosity. He donated his army pay to charity, purchased TV sets for the base, and bought an extra set of fatigues for everyone in his outfit. While in Friedberg, Presley met 14-year-old Priscilla Beaulieu. They would eventually marry after a seven-and-a-half-year courtship. In her autobiography, Priscilla says that despite his worries that it would ruin his career, Parker convinced Presley that to gain popular respect, he should serve his country as a regular soldier rather than in Special Services, where he would have been able to give some musical performances and remain in touch with the public. Media reports echoed Presley's concerns about his career, but RCA producer Steve Sholes and Freddy Bienstock of Hill and Range had carefully prepared for his two-year hiatus. Armed with a substantial amount of unreleased material, they kept up a regular stream of successful releases. Between his induction and discharge, Presley had ten top 40 hits, including "Wear My Ring Around Your Neck", the best-selling "Hard Headed Woman", and "One Night" in 1958, and "(Now and Then There's) A Fool Such as I" and the number one "A Big Hunk o' Love" in 1959. RCA also generated four albums compiling old material during this period, most successfully Elvis' Golden Records (1958), which hit number three on the LP chart.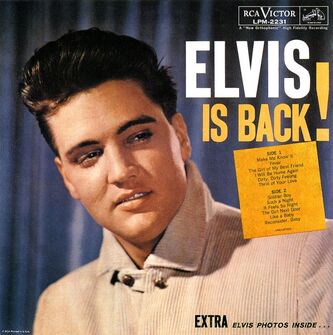 Elvis Is Back
Presley returned to the United States on March 2, 1960, and was honorably discharged with the rank of sergeant on March 5. The train that carried him from New Jersey to Tennessee was mobbed all the way, and Presley was called upon to appear at scheduled stops to please his fans. On the night of March 20, he entered RCA's Nashville studio to cut tracks for a new album along with a single, "Stuck on You", which was rushed into release and swiftly became a number one hit. Another Nashville session two weeks later yielded a pair of his best-selling singles, the ballads "It's Now or Never" and "Are You Lonesome Tonight?", along with the rest of Elvis Is Back! The album features several songs described by Greil Marcus as full of Chicago blues "menace, driven by Presley's own super-miked acoustic guitar, brilliant playing by Scotty Moore, and demonic sax work from Boots Randolph. Presley returned to television on May 12 as a guest on The Frank Sinatra Timex Special — ironic for both stars, given Sinatra's not-so-distant excoriation of rock and roll. Also known as Welcome Home Elvis, the show had been taped in late March, the only time all year Presley performed in front of an audience. Parker secured an unheard-of $125,000 fee for eight minutes of singing. The broadcast drew an enormous viewership.
==
1960–67: Focus on films == By 1960 it had been two years since Presley had made his last film, King Creole. Despite his previous three films being mostly slammed by the critics, they warmed to King Creole and its star. Presley felt confident that he had a future in acting after this praise and he was looking forward to returning to Hollywood after his time in the army. Eight months prior to Presley being discharged, in August 1959, producer Hal Wallis visited with him in Germany to go over the script for G.I. Blues and film some on-location scenes. Although some scenes were used in the final film, Presley did not film at any time during his time there. Elvis' double, Private First Class Tom Creel, was used for some shots. The US Army supplied tanks and vehicles on manoeuvres to be used in the filming, and appointed public information officer John J. Mawn (1915–2007) as technical advisor for the film. Mawn had presided over Presley's military press conferences. Presley returned to the US in March 1960 and began work on the film in late April. Hal Wallis originally wanted Michael Curtiz to direct but eventually selected Norman Taurog. Dolores Hart, Joan Blackman and Ursula Andress were all tested to play the female lead before deciding on Juliet Prowse.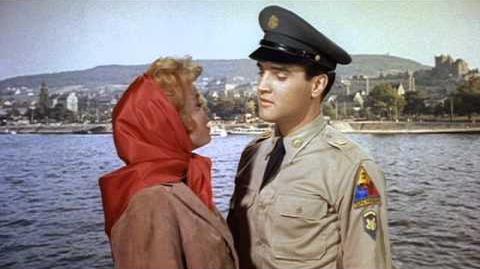 Elvis continued to make film after film, and while fans were enjoying every film coming out, Elvis started to get annoyed at making basically the same movie over and over and over again, he wanted to do a serious film role like James Dean, Marlin Brando, and Frank Sinatra. Shortly before Christmas 1966, more than seven years since they first met, Presley proposed to Priscilla Beaulieu. They were married on May 1, 1967, in a brief ceremony in their suite at the Aladdin Hotel in Las Vegas. The flow of formulaic films and assembly-line soundtracks rolled on. It was not until October 1967, when the Clambake soundtrack LP registered record low sales for a new Presley album, that RCA executives recognized a problem. "By then, of course, the damage had been done", as historians Connie Kirchberg and Marc Hendrickx put it. "Elvis was viewed as a joke by serious music lovers and a has-been to all but his most loyal fans."
1968–73: Comeback
Despite huge success in both his music and acting careers following his release from the army in 1960, Presley never toured in the United States from 1962 to 1968. The music scene had changed dramatically since his last US number one single in 1962, and Presley was in no doubt that bands such as the Beatles, and the British Invasion in general, were leading "the swinging sixties". Partly due to the repetitive scripts and laughable song choices, as well as the general feeling that he was "uncool", Presley's films had been making less money with each release and he was tiring of Hollywood. Colonel Tom Parker, Presley's manager, had found it increasingly difficult to secure the usual $1,000,000 fee for a Presley film, and had no alternative than to take a different approach. Presley's only child, Lisa Marie, was born on February 1, 1968, during a period when he had grown deeply unhappy with his career. Of the eight Presley singles released between January 1967 and May 1968, only two charted in the top 40, and none higher than number 28. His forthcoming soundtrack album, Speedway, would die at number 82 on the Billboard chart. Parker had already shifted his plans to television, where Presley had not appeared since the Sinatra Timex show in 1960. Parker negotiated a deal with NBC for $1,250,000 to finance both a television special and a film (1969's Change of Habit.) Parker wanted the show, which was scheduled as a Christmas season broadcast, to be little more than Presley singing Christmas carols. He believed the special could simply be a TV-version of the Christmas radio show Presley had contributed to the year before. Binder argued that the special was an opportunity to re-establish the singer's reputation after years of formulaic movies and recordings of variable quality. He and Howe hired writers to script a show with specific themes: large set designs, dance sequences and big productions of Presley's hits. However, Binder was open to any variations on this that would showcase the singer's talent, and Presley was apparently very happy to go along with this flexible approach. The special eventually included an extravagant musical sequence featuring Gospel-style numbers, a semi- autobiographical "mini-movie" centered around the song "Guitar Man" and other re-recordings given lavish set designs. A segment set in a bordello featuring the song "Let Yourself Go" was initially passed by the network's censors, but was removed at the request of the show's primary sponsor, Singer Corporation, as it was deemed too risqué. (The first public appearance of this sequence was in the expanded video version of the 1981 documentary film This Is Elvis. It was later restored for RCA's 3-DVD release in 2004.) The special ends with Presley appealing for world peace and tolerance with the song "If I Can Dream." Studio recordings for these segments were made at Western Recorders in Hollywood, California between June 20 and 23 and featured an orchestra and The Blossoms as background vocalists: Fanita James, Jean King and Darlene Love. Other musicians included drummer Hal Blaine, pianist Don Randi, guitarist Tommy Tedesco, bass player Larry Knechtel and harmonica player Tommy Morgan. The edited broadcast of December 3 – combining the big, choreographed numbers, lavish sets and some of the informal live sessions – was an enormous success. The show was the highest-rated television special of the year. According to Binder, it was probably the first one-man TV special to appear on commercial American television. Previously, TV specials tended to be packed with guest stars, like Frank Sinatra's Timex Special of 1960, in which Presley himself appeared with other celebrities, including Peter Lawford and Sammy Davis, Jr..
At the beginning of the '68 Special project, a nervous Presley had said to the executive producer Bob Finkel: "I want everyone to know what I can really do." Critics generally agree that that happened – in addition to making profitable, but generally uninspired movies and soundtracks. The '68 Special is widely credited with revitalizing his career: chart statistics for the summer of 1968 suggest that Presley's recording career was becoming all but non-existent and irrelevant. After the special, he began his stint in Las Vegas and toured, achieving a string of record-breaking sell-out performances across America. Chart successes returned, including a US number one in 1969 ("Suspicious Minds") and a UK number one ("The Wonder of You", (1970)) - his first since 1965. By January 1969, the single "If I Can Dream", written for the special, reached number 12. The soundtrack album broke into the top ten. According to friend Jerry Schilling, the special reminded Presley of what "he had not been able to do for years, being able to choose the people; being able to choose what songs and not being told what had to be on the soundtrack. ... He was out of prison, man." Binder said of Presley's reaction, "I played Elvis the 60-minute show, and he told me in the screening room, 'Steve, it's the greatest thing I've ever done in my life. I give you my word I will never sing a song I don't believe in.'"
From Elvis In Memphis and the International
Buoyed by the experience of the Comeback Special, Presley engaged in a prolific series of recording sessions at American Sound Studio, which led to the acclaimed From Elvis in Memphis. Released in June 1969, it was his first secular, non-soundtrack album from a dedicated period in the studio in eight years. As described by Dave Marsh, it is "a masterpiece in which Presley immediately catches up with pop music trends that had seemed to pass him by during the movie years. He sings country songs, soul songs and rockers with real conviction, a stunning achievement." Presley was keen to resume regular live performing. Following the success of the Comeback Special, offers came in from around the world. The London Palladium offered Parker $28,000 for a one-week engagement. He responded, "That's fine for me, now how much can you get for Elvis?" In May, the brand new International Hotel in Las Vegas, boasting the largest showroom in the city, announced that it had booked Presley, scheduling him to perform 57 shows over four weeks beginning July 31. Moore, Fontana and the Jordanaires declined to participate, afraid of losing the lucrative session work they had in Nashville. Presley assembled new, top-notch accompaniment, led by guitarist James Burton and including two gospel groups, The Imperials and The Sweet Inspirations. Nonetheless, he was nervous: his only previous Las Vegas engagement, in 1956, had been dismal, and he had neither forgotten nor forgiven that failure. To revise his approach to performances, Presley visited Las Vegas hotel showrooms and lounges, at one of which, that of the Flamingo, he encountered Tom Jones, whose aggressive style was similar to his own 1950's approach; the two became friends. Already studying karate at the time, Presley recruited Bill Belew to design variants of karatekas's gis for him; these, in jumpsuit form, would be his "stage uniforms"  later in his career. Parker, who intended to make Presley's return the show business event of the year, oversaw a major promotional push. For his part, hotel owner Kirk Kerkorian arranged to send his own plane to New York to fly in rock journalists for the debut performance. Presley took to the stage without introduction. The audience of 2200, including many celebrities, gave him a standing ovation before he sang a note and another after his performance. A third followed his encore, "Can't Help Falling in Love" (a song that would be his closing number for much of the 1970's.) At a press conference after the show, when a journalist referred to him as "The King", Presley gestured toward Fats Domino, who was taking in the scene. "No," Presley said, "that's the real king of rock and roll." The next day, Parker's negotiations with the hotel resulted in a five-year contract for Presley to play each February and August, at an annual salary of $1 million. Newsweek commented, "There are several unbelievable things about Elvis, but the most incredible is his staying power in a world where meteoric careers fade like shooting stars." Rolling Stone called Presley "supernatural, his own resurrection." In November, Presley's final non-concert film, Change of Habit, opened. The double album From Memphis To Vegas/From Vegas To Memphis came out the same month; the first LP consisted of live performances from the International, the second of more cuts from the American Sound sessions. "Suspicious Minds" reached the top of the charts—Presley's first US pop number one in over seven years.
Back on tour and meeting Nixon
Presley returned to the International early in 1970 for the first of the year's two month-long engagements, performing two shows a night. Recordings from these shows were issued on the album On Stage. In late February, Presley performed six attendance-record–breaking shows at the Houston Astrodome. In April, the single "The Wonder of You" was issued—a number one hit in the UK, it topped the US adult contemporary chart, as well. MGM filmed rehearsal and concert footage at the International during August for the documentary Elvis: That's the Way It Is. Presley was by now performing in a jumpsuit, which would become a trademark of his live act. During this engagement, he was threatened with murder unless $50,000 was paid. Presley had been the target of many threats since the 1950's, often without his knowledge. The FBI took the threat seriously and security was stepped up for the next two shows. Presley went onstage with a Derringer in his right boot and a .45 pistol in his waistband, but the concerts went off without incident. The album That's the Way It Is, produced to accompany the documentary and featuring both studio and live recordings, marked a stylistic shift. As music historian John Robertson notes, "The authority of Presley's singing helped disguise the fact that the album stepped decisively away from the American-roots inspiration of the Memphis sessions toward a more middle-of-the-road sound. With country put on the back burner, and soul and R&B left in Memphis, what was left was very classy, very clean white pop—perfect for the Las Vegas crowd, but a definite retrograde step for Elvis." After the end of his International engagement on September 7, Presley embarked on a week-long concert tour, largely of the South, his first since 1958. Another week-long tour, of the West Coast, followed in November.
On December 21, 1970, Presley engineered a meeting with President Richard Nixon at the White House, where he expressed his patriotism and his contempt for the hippies, the growing drug culture and the counterculture in general. He asked Nixon for a Bureau of Narcotics and Dangerous Drugs badge, to add to similar items he had begun collecting and to signify official sanction of his patriotic efforts. Nixon, who apparently found the encounter awkward, expressed a belief that Presley could send a positive message to young people and that it was, therefore, important he "retain his credibility". Presley told Nixon that the Beatles, whose songs he regularly performed in concert during the era, exemplified what he saw as a trend of anti-Americanism and drug abuse in popular culture. (Presley and his friends had had a four-hour get-together with the Beatles five years earlier.) The US Junior Chamber of Commerce named Presley one of its annual Ten Most Outstanding Young Men of the Nation on January 16, 1971. Not long after, the City of Memphis named the stretch of Highway 51 South on which Graceland is located "Elvis Presley Boulevard". The same year, Presley became the first rock and roll singer to be awarded the Lifetime Achievement Award (then known as the Bing Crosby Award) by the National Academy of Recording Arts and Sciences, the Grammy Award organization. Three new, non-film Presley studio albums were released in 1971, as many as had come out over the previous eight years. Best received by critics was Elvis Country, a concept record that focused on genre standards. The biggest seller was Elvis Sings the Wonderful World of Christmas, "the truest statement of all", according to Greil Marcus. "In the midst of ten painfully genteel Christmas songs, every one sung with appalling sincerity and humility, one could find Elvis tom-catting his way through six blazing minutes of 'Merry Christmas Baby,' a raunchy old Charles Brown blues." According to Guralnick, "the one real highlight" of one of the 1971 sessions were the recording of "I Will Be True," "It's Still Here," and "I'll Take You Home Again, Kathleen," a trio of songs that Presley recorded in a rare solo set, sitting at the piano after everyone else had gone home: "Yearning, wistfulness, loneliness, need—all were communicated with a naked lack of adornment that Elvis was seeming to find increasingly difficult to display in the formal process of recording."
Marriage breakdown and Aloha from Hawaii
MGM again filmed Presley in April 1972, this time for Elvis on Tour, which went on to win the Golden Globe Award for Best Documentary Film that year. His gospel album He Touched Me, released that month, would earn him his second Grammy Award, for Best Inspirational Performance. A 14-date tour commenced with an unprecedented four consecutive sold-out shows at New York's Madison Square Garden. The evening concert on July 10 was recorded and issued in LP form a week later. Elvis: As Recorded at Madison Square Garden became one of Presley's biggest-selling albums. After the tour, the single "Burning Love" was released—Presley's last top ten hit on the US pop chart. "The most exciting single Elvis has made since 'All Shook Up'", wrote rock critic Robert Christgau. "Who else could make 'It's coming closer, the flames are now licking my body' sound like an assignation with James Brown's backup band?" Presley and his wife, meanwhile, had become increasingly distant, barely cohabiting. In 1971, an affair he had with Joyce Bova resulted—unbeknownst to him—in her pregnancy and an abortion. He often raised the possibility of her moving into Graceland, saying that he was likely to leave Priscilla. The Presleys separated on February 23, 1972, after Priscilla disclosed her relationship with Mike Stone, a karate instructor Presley had recommended to her. Priscilla relates that when she told him, Presley "grabbed ... and forcefully made love to" her, declaring, "This is how a real man makes love to his woman." Five months later, Presley's new girlfriend, Linda Thompson, a songwriter and one-time Memphis beauty queen, moved in with him. Presley and his wife filed for divorce on August 18. According to Joe Moscheo of the Imperials, the failure of Presley's marriage "was a blow from which he never recovered." In January 1973, Presley performed two benefit concerts for the Kui Lee Cancer Fund in connection with a groundbreaking TV special,Aloha from Hawaii. The first show served as a practice run and backup should technical problems affect the live broadcast two days later. Aired as scheduled on January 14, Aloha from Hawaii was the first global concert satellite broadcast, reaching millions of viewers live and on tape delay.
Presley's costume became the most recognized example of the elaborate concert garb with which his latter-day persona became closely associated. As described by Bobbie Ann Mason, "At the end of the show, when he spreads out his American Eagle cape, with the full stretched wings of the eagle studded on the back, he becomes a god figure."  The accompanying double album, released in February, went to number one and eventually sold over five million copies in the United States. It proved to be Presley's last US number one pop album before his near death. At a midnight show the same month, four men rushed onto the stage in an apparent attack. Security men leaped to Presley's defense, and the singer's karate instinct took over as he ejected one invader from the stage himself. Following the show, he became obsessed with the idea that the men had been sent by Mike Stone to kill him. Though they were shown to have been only over exuberant fans, he raged, "There's too much pain in me ... Stone [must] die." His outbursts continued with such intensity that a physician was unable to calm him, despite administering large doses of medication. After another two full days of raging, Red West, his friend and bodyguard, felt compelled to get a price for a contract killing and was relieved when Presley decided, "Aw hell, let's just leave it for now. Maybe it's a bit heavy."
1973–77: Health deterioration and hospitalization
Medical crises and last studio sessions before hospitalization
Presley's divorce took effect on October 9, 1973. He was now becoming increasingly unwell. Twice during the year he overdosed on barbiturates, spending three days in a coma in his hotel suite after the first incident. Toward the end of 1973, he was hospitalized, semi-comatose from the effects of Demerol addiction. According to his main physician, Dr. George C. Nichopoulos, Presley "felt that by getting [drugs] from a doctor, he wasn't the common everyday junkie getting something off the street." Since his comeback, he had staged more live shows with each passing year, and 1973 saw 168 concerts, his busiest schedule ever. Despite his failing health, in 1974 he undertook another intensive touring schedule. Presley's condition declined precipitously in September. Keyboardist Tony Brown remembers the singer's arrival at a University of Maryland concert: "He fell out of the limousine, to his knees. People jumped to help, and he pushed them away like, 'Don't help me.' He walked on stage and held onto the mike for the first thirty minutes like it was a post. Everybody's looking at each other like, Is the tour gonna happen?" Guitarist John Wilkinson recalled, "He was all gut. He was slurring. It was obvious he was drugged. It was obvious there was something terribly wrong with his body. It was so bad the words to the songs were barely intelligible. ... I remember crying. He could barely get through the introductions". Wilkinson recounted that a few nights later in Detroit, Michigan, "I watched him in his dressing room, just draped over a chair, unable to move. So often I thought, 'Boss, why don't you just cancel this tour and take a year off ...?' I mentioned something once in a guarded moment. He patted me on the back and said, 'It'll be all right. Don't you worry about it.'" Presley continued to play to sellout crowds. As cultural critic Marjorie Garber describes, he was now widely seen as a garish pop crooner: "in effect he had become Liberace. Even his fans were now middle-aged matrons and blue-haired grandmothers." 1975 started with the album Promised Land being released on his 40th birthday. The album contains the single of the same name. The album sells well over one million copies worldwide. The Top 20 hit My Boy was released. In March Presley went to Vegas for more performances. The next month he set out on another successful tour and the single T-R-O-U-B-L-E was released. The single was taken from the album Today which was released in May of 1975. He spends May, June and July on tour. In August, he was back in Vegas for more performances. In October, the single Bringing It Back was released. The year ended with Elvis playing more shows in Vegas and a massive sold-out concert in Michigan where he played to over 62,000 fans. His live recording of "How Great Thou Art" from the album recorded at one of his Memphis concerts in 1974 won the Grammy for 'Best Inspirational Performance'. This was his third and final Grammy win out of fourteen nominations. After taking a break from releasing records and touring, he returned on March 12, 1976 with his new single Hurt/ "For The Heart" Both songs were featured on an upcoming album. He also went back on tour for March and April playing to sell-out crowds all across the US In May he was back in Lake Tahoe for more performances and the album From Elvis Presley Boulevard, Memphis, Tennessee was released. The album went 'gold' in the US. From the end of May until November he tour extensively across the US to sold-out shows. In December he returned to Vegas for more shows and the single Moody Blue was released. The month ended with another five-date tour. On July 13, 1976, Vernon Presley—who had become deeply involved in his son's financial affairs—fired "Memphis Mafia" bodyguards Red West (Presley's friend since the 1950's), Sonny West, and David Hebler, citing the need to "cut back on expenses." Presley was in Palm Springs at the time, and some suggest the singer was too cowardly to face the three himself. Another associate of Presley's, John O'Grady, argued that the bodyguards were dropped because their rough treatment of fans had prompted too many lawsuits. However, Presley's stepbrother David Stanley has claimed that the bodyguards were fired because they were becoming more outspoken about Presley's drug dependency. For all the concerns of his label and manager, in studio sessions between July 1973 and October 1976, Presley recorded virtually the entire contents of six albums. Though he was no longer a major presence on the pop charts, five of those albums entered the top five of the country chart, and three went to number one: Promised Land (1975), From Elvis Presley Boulevard, Memphis, Tennessee (1976), and Moody Blue (1977). The story was similar with his singles—there were no major pop hits, but Presley was a significant force in not just the country market, but on adult contemporary radio as well. Eight studio singles from this period released during his lifetime were top ten hits on one or both charts, four in 1974 alone. "My Boy" was a number one adult contemporary hit in 1975, and "Moody Blue" topped the country chart and reached the second spot on the adult contemporary chart in 1976. Perhaps his most critically acclaimed recording of the era came that year, with what Greil Marcus described as his "apocalyptic attack" on the soul classic "Hurt"."If he felt the way he sounded", Dave Marsh wrote of Presley's performance, "the wonder isn't that he had only a year left before being hospitalized but that he managed not to that long."
Hospitalization
Presley and Linda Thompson split in November 1976, and he took up with a new girlfriend, Ginger Alden. He proposed to Alden and gave her an engagement ring two months later, though several of his friends later claimed that he had no serious intention of marrying again. Presley took a break for the month of January, 1977 but began touring again in February. He spent the rest of the year on tour and Billboard Magazine rated him the year's top grossing live act. However, by the beginning of 1977, Presley had become a grotesque caricature of his sleek, energetic former self. Hugely overweight, his mind dulled by the pharmacopoeia he daily ingested, he was barely able to pull himself through his abbreviated concerts. When he was in Alexandria, Louisiana, a local journalist complained that the star was on stage for less than an hour and "was impossible to understand." In Baton Rouge, Presley didn't go on at all. He was unable to get out of his hotel bed, and his manager Parker cancelled the rest of the tour. Despite the accelerating deterioration of his health, he stuck to most touring commitments. In Rapid City, South Dakota, "he was so nervous on stage that he could hardly talk", according to Presley historian Samuel Roy, and unable to "perform any significant movement." Presley himself would comment about his self state in 1977 during a 1998 interview," Those years were the worse years of my life. I still can't believe I let myself become that fat and that bad. Thank god I turned my life around." On April 21 the year's third tour began, a Midwestern swing. The reviews "ranged from concern for his health to perplexity over how little he seemed to care," writes Peter Guralnick. According to a Detroit journalist, Elvis "stunk the joint out" in that city. Fans, too, Guralnick relates, "were becoming increasingly voluble about their disappointment, but it all seemed to go right past Elvis, whose world was now confined almost entirely to his room and his [spiritualism] books." In Knoxville, Tennessee, on May 20, "there was no longer any pretense of keeping up appearances," Guralnick writes. "The idea was simply to get Elvis out onstage and keep him upright for the hour he was scheduled to perform." So it went for the rest of that spring, with Presley stumbling and lurching through show after show. On August 16, 1977, at his Graceland mansion in Memphis, Tennessee, Presley was found lying on the floor of his bedroom's bathroom by his fiancee, Ginger Alden, who had been asleep. A stain on the bathroom carpeting was found that indicated "where Elvis had thrown up after being stricken, apparently while seated on the toilet. Presley was alive, but seriously unwell due to a drug overdose. Alden rang 911, and Presley was revived and taken to hospital. Presley later said that "Had Alden been a few more minutes late, I would have died." Presley remained in hospital for two weeks, and was inundated with get well wishes and vigils around the country - it seemed Presley was still as popular as ever. Presley recovered, and in hospital lost more than 40 pounds of weight. He spent the next six months recovering and getting fit again- in 1984, he said that he felt he had been "given a second chance at life" and felt it necessary to "save myself and then save the country".
1978-1986: Second comeback
Presley made his return to public life in August 1978, with a live televised special, Elvis Returns, which remains, to this day, the second most-watched program in US history. At the end of the show, he announced that he would "be a force for change in America" and use his music as an instrument of social change. Presley was not a typical activist; indeed, prior to 1978 he had little history of activism or political activity, but after his near-death experience, Presley began to express political opinions through his music, and supporting various candidates for office, from both sides of politics. While possibly not as overtly political as other musical activists like Bob Dylan, Presley's politically-charged 1979 album American Dream and the single of the same name, which cynically attacked partisan politics, raised eyebrows, and Presley began to be seen as a candidate for national office. Presley would continue to release hit after hit albums and even star in another acting role in 1980 as James Bond in "Edge of Reality" (which was a song Presley sung in "Live a Little, Love a Little" and was used as the films opening song. This was Presley's first serious acting role, a role he had been dreaming of since 1956.)
In 1985 Presley was one of the celebrity guests at the WWF's Wrestlemania and would be timekeeper for the main event. He release the album "Elvis Presley around the globe" which would reach number one in the U.S and around the world. In 1986 He would release "Wanna Rock with You" ( a cover of Micheal Jackson's hit song.) Presley would star in " From a Jack to a King" which was a documentary about his career at that time, it won an Oscar for best documentary of 1986. (It was named after a song Presley song in 1969.) In 1987, Presley appeared at WretleMania 3 singing  "America the Beautiful." to open the event, and was Hulk Hogan's manager for the main event. Presley would later release "Straight from Memphis, Tennessee to you!" "Never gonna give you up" (which was a duet between Presley and RCA new talent Rick Astley) went straight to the number one in the U.S and in the UK In August of that year. Presley announced that he was retiring "But before I hang up my boots, I decided I would do a last tour, this time around the world!" Fans and the press were shocked, Elvis has never been outside the U.S (except for shows in Canada and filming in Hawaii for "Blue Hawaii" and the "Aloha from Hawaii Via Satellite" concert.)
The tour would be called "Elvis: One last Song" ( Which was used for the 60th anniversary of Elvis's Career documentary and album) The tour locations were were published in every magazine at the time from Time to Newsweek. The tour started in Tupelo, Mississippi (Presley's hometown) and went to Texas- California- Canada- Hawaii - England- Germany- Russia- China- Japan- and would end in Memphis, Tennessee "It'll end where it all began" Presley would tell an interviewer on MTV.
1987: "One last Song"
In December 1987, Presley played his final concert appearance, at the FedEx Forum in Memphis. The world tour has done amazingly so far, ratings are through the roof. After the performance, televised live, (which remains, to this day, the most-watched program in US history) was over, Presley announced he would be seeking to "renew America through more than music, and making the dream of the American people a reality." Few knew, but many suspected, that this was an announcement that Presley would seek a political office, THE political office.
1988: Presidential Campaign
"Breaking News from Memphis, Tennessee" every news station in the world announces, " A press conference has organized and Elvis Presley himself has something to announce." Presley is seen walking toward the press and immediately every camera zooms in on him. Finally he makes it to the microphone after trying to get through hoards of press and cameramen, he waits for everyone to calm down and announces a bombshell. "I'm running for President of the United States."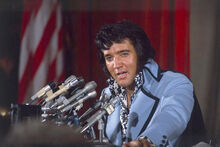 Silence fills the room, no one knows if this is one of his jokes or if he is legit. "I'm serious. When I said a year ago that I wanted to make the American dream a reality, I meant it." The press conference lasts for two hours. When asked which party he was running for he said "None. I'm my own party." Presley seemed confident at the press conference but in the inside Presley was Initially reluctant to run, Presley was heartened by opinion polls showing him polling even or more with George H. W. Bush in a direct contest. He launched his campaign on the back of a new album, his first in a year and his final album until 1995. The record,Vote for Elvis (1988) was politically charged and a thinly-disguised political soundtrack, with songs about the topics Presley had campaigned on in the past and continued to support during his presidential run.
1989-93: 41st President
For a list of US presidents see List of US Presidents (President Presley)
The US presidential election of 1989 was a contest between former Vice President George H.W. Bush, the 65th Governor of Massachusetts Michael Dukakis, and Libertarian entertainer-turned-politician Elvis Presley. Presley won the election, winning 270 electoral votes, the exact number required to win, and 43.3% of the popular vote. Nominations Republican Party nomination George H.W. Bush was unopposed as the nominee for the Republican Party. He was renominated by a vote of 2,233 to two abstaining. For the only time in American history, the vice presidential roll call was taken concurrently with the presidential roll call. Results: • Dan Quayle 2230 • Jeane J. Kirkpatrick one • Jack F. Kemp two • Abstaining two. This was the last time in the 20th Century that the Vice Presidential candidate of either major party was nominated by roll call vote. Presley was inaugurated on January 20, 1989, succeeding Ronald Reagan. He entered office at a period of change in the world; the fall of the Berlin Wall and the collapse of Soviet Union came early in his presidency.
Domestic policy:
Early in his term, Presley faced the problem of what to do with leftover deficits spawned by the Reagan years. At $220 billion in 1990, the deficit had grown to three times its size since 1980. Presley was dedicated to curbing the deficit, believing that America could not continue to be a leader in the world without doing so. He began an effort to persuade the Democratic controlled Congress to act on the budget; with Republicans believing that the best way was to cut government spending, and Democrats convinced that the only way would be to raise taxes, Presley faced problems when it came to consensus building. But Presley prevailed and would continue to "Make the American Dream a reality." Presley later successfully proposed a proposal which would enact spending cuts and tax increases that would reduce the deficit by $500 billion over five years. By 1991 stocks had risen to 110%. Presley, when looking back said "Thank god they let me proposed cause if they hadn't America would've entered into a mild recession."
Major initiatives
During a speech to commemorate the 20th anniversary of the Apollo 11 moon landing, Presley announced a vision to complete Space Station Freedom, resume exploration of the Moon and begin exploration of Mars. Although a space station was eventually constructed–work on the International Space Station began in 1998–other work has been confounded by NASA budgetary issues. In 1998, Presley received the Rotary National Award for Space Achievement's National Space Trophy for his pioneering leadership of the US space program. Presley signed a number of major laws in his presidency, including the Americans with Disabilities Act of 1990; this was one of the most pro-civil rights bills in decades. He worked to increase federal spending for education, childcare and advanced technology research. He also signed the Radiation Exposure Compensation Act which provides monetary compensation of people who had contracted cancer and a number of other specified diseases as a direct result of their exposure to atmospheric nuclear testing undertaken by the United States during the Cold War, or their exposure to high levels of radon while doing uranium mining.
Foreign policy
Panama
In the 1980's, Panamanian leader Manuel Noriega, a once US-supportive leader who was later accused of spying for Fidel Castro and using Panama to traffic drugs into the United States, was one of the most recognizable names in America and was constantly in the press. The struggle to remove him from power began in the Reagan administration, when economic sanctions were imposed on the country; this included prohibiting American companies and government from making payments to Panama and freezing $56 million in Panamanian funds in American banks. Reagan sent more than 2000 American troops to Panama as well. Unlike Reagan, Presley was able to remove Noriega from power.
Soviet Union
In 1989, just after the fall of the Berlin Wall, Presley met with Soviet General Secretary Mikhail Gorbachev in a conference on the Mediterranean island of Malta.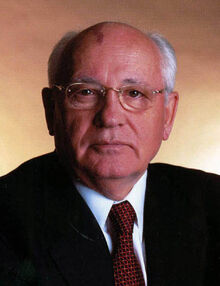 The administration had been under intense pressure to meet with the Soviets, but not all initially found the Malta Summit to be a step in the right direction; General Brent Scowcroft, among others, was apprehensive about the meeting, saying that it might be "premature" due to concerns where, according to Condoleezza Rice, "expectations [would be] set that something was going to happen, where the Soviets might grandstand and force [the US] into agreements that would ultimately not be good for the United States." But European leaders, including François Mitterrand and Margaret Thatcher, encouraged Presley to meet with Gorbachev, something that he did December 2 and 3, 1989. Though no agreements were signed, the meeting was viewed largely as being an important one; when asked about nuclear war, Gorbachev responded, "I assured the President of the United States that the Soviet Union would never start a hot war against the United States of America. And we would like our relations to develop in such a way that they would open greater possibilities for cooperation ... This is just the beginning. We are just at the very beginning of our road, long road to a long-lasting, peaceful period." The meeting was received as a very important step to the end of the Cold War. Another summit was held in July 1991, where the Strategic Arms Reduction Treaty (START I) was signed by Presley and Gorbachev in Moscow. The treaty took nine years in the making and was the first major arms agreement since the signing of the Intermediate Ranged Nuclear Forces Treaty by Reagan and Gorbachev in 1987. The contentions in START would reduce the strategic nuclear weapons of the United States and the USSR by about 35% over seven years, and the Soviet Union's land-based intercontinental ballistic missiles would be cut by 50%. Presley described START as "a significant step forward in dispelling half a century of mistrust". After the dissolution of the USSR in 1991, President Presley and Gorbachev declared a US-Russian strategic partnership, marking the end of the Cold War.
Gulf War
On August 2, 1990, Iraq, led by Saddam Hussein, invaded its oil-rich neighbor to the south, Kuwait; Presley condemned the invasion and began rallying opposition to Iraq in the US and among European, Asian, and Middle Eastern allies. Secretary of Defense Richard Bruce "Dick" Cheney traveled to Saudi Arabia to meet with King Fahd; Fahd requested US military aid in the matter, fearing a possible invasion of his country as well. he request was met initially with Air Force fighter jets. Iraq made attempts to negotiate a deal that would allow the country to take control of half of Kuwait. Presley rejected this proposal and insisted on a complete withdrawal of Iraqi forces. The planning of a ground operation by US-led coalition forces began forming in September 1990, headed by General Norman Schwarzkopf. Presley spoke before a joint session of the US Congress regarding the authorization of air and land attacks, laying out four immediate objectives: "Iraq must withdraw from Kuwait completely, immediately, and without condition. Kuwait's legitimate government must be restored. The security and stability of the Persian Gulf must be assured. And American citizens abroad must be protected." With the United Nations Security Council opposed to Iraq's violence, Congress authorized the use of Military force with a set goal of returning control of Kuwait to the Kuwaiti government, and protecting America's interests abroad. Early on the morning of January 17, 1991, allied forces launched the first attack, which included more than 4000 bombing runs by coalition aircraft. This pace would continue for the next four weeks, until a ground invasion was launched on February 24, 1991. Allied forces penetrated Iraqi lines and pushed toward Kuwait City while on the west side of the country, forces were intercepting the retreating Iraqi army. Presley later made the decision to stop the offensive after 109 hours. On February 25, 1991, Iraq surrendered and Kuwait's government was restored. Presley's approval ratings skyrocketed after the successful offensive. The administration immediately returned to Arab-Israeli peacemaking following the end of the Gulf War; this resulted in the Madrid Conference, later in 1991.
Awards and honors
In 1990 Time magazine named him the Man of the Year. In 1993, he was made an Honorary Knight Grand Cross of the Order of the Bath by Queen Elizabeth II.
Post-presidency (1993–2001)
Presley would announce that he wound not place his bid for reelection. "I've done what I need to do. I have nothing else to do. I'll go home and relax for a while. Maybe even restart my music career." When Presley returned to his home Memphis he was given a welcome back party. "I never asked for the party but they gave the biggest party in recent memory. I showered with gifts, hugs, kisses, handshakes, I even got a medal! I hadn't done anything worthy of that, well that's what I think but apparently everybody else thought differently." Presley said during a 1999 interview. "It made me feel like I was coming back form the army again! Everybody was talking about me, Elvismania was running wild! That's what my friend Hulk Hogan said." "When I finally reached Graceland I was happy, I was going to see my baby girl Lisa Marie again. Now she did visit me in Washington D.C. while I was president but it was so rare. I missed her, she missed me. When I opened the doors to Graceland I was immediately hugged by Lisa. She was so happy to see me and I was so happy to see her. We must have stood there for minutes."
"Battle Of The Kings"
In November 1992, in L.A Lisa Marie Presley and Micheal Jackson started contacting each other over the telephone. As the child molestation accusations became public, Jackson became dependent on Presley for emotional support; she was concerned about his faltering health and addiction to drugs. Lisa explained, "I believed he didn't do anything wrong and that he was wrongly accused and yes I started falling for him. I wanted to save him. I felt that I could do it." She eventually persuaded him to settle the civil case out of court and go into rehabilitation to recover. Jackson proposed to Presley over the telephone toward the fall of 1993, saying, "If I asked you to marry me, would you do it?" They married in the Dominican Republic in secrecy, denying it for nearly two months afterward. "We tried to hide it from Dad but he found out. I've never seen him that angry."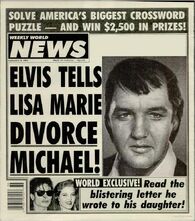 On August 4th, 1994, Micheal Jackson and Lisa Marie were caught by Elvis himself kissing, Elvis not knowing about his daughter's marriage to the King Of Pop, pushed Jackson from his daughter and demanded that he explained "What the hell are you doing with my daughter, you child rapist!" Jackson enraged by this remark, pushed the King aside and told him about the marriage. Upon hearing this Presley demanded Lisa to "divorce his ass!" and that if she didn't he would disown her. Micheal was immediately removed off the property after a brief scuffle with Presley's security, later Presley would write a letter to his daughter begging her to divorce him and apologizing for the incident, however Weekly World News would discover this letter and would post it in their September issue of their magazine which would in gulf the world for months to come. Presley would later sue the magazine after hearing about the headline of their next issue and would win the lawsuit.
Community content is available under
CC-BY-SA
unless otherwise noted.