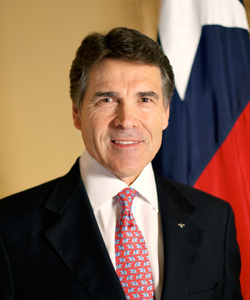 4th March, 1950
On this day James Richard ("Rick") Perry was born to ranchers Joseph Ray Perry and the former Amelia June Holt in the unincorporated community of Paint Creek in north central Texas.
With an ancestry that was almost entirely Anglo dating back to the original thirteen colonies, his family had lived in the region even before the outbreak of the Revolution that created the Republic of Texas. His father, a Democrat, was a long-time Haskell County commissioner and school board member. His interest in politics began in November 1961 when his father took him to the funeral of Texan President Sam Rayburn.
Perry was in the Boy Scouts and earned the rank of Eagle Scout (he would later by honoured with the Distinguished Eagle Scout Award). He graduated from Paint Creek High School in 1968 and then attended Texas A&M University, where he was a member of the Corps of Cadets, a member of the Alpha Gamma Rho fraternity, was elected senior class social secretary, and was also elected as one of A&M's five yell leaders (a popular Texas A&M tradition analogous to male cheerleaders). Perry graduated in 1972 with a Bachelor of Science in animal science.
His political connections and leadership abilities landed him with a place on future leaders of America. This elite development programme was conceived by Five-star Confederate General Dwight David ("Ike") Eisenhower in order to correct the dreadful shortcomings of the uncoordinated American commands that he had suffered from during World War Two. Assigned to the US Air Force, Perry served with distinction, rising to the acting rank of Captain in the Tactical Airlift Squadron.
Conceivably, these acts of continental patriotism might even have led to the awakening sense of transnational identity that was the unstated goal of FLoA. Perhaps he could have returned to Texas as an evangelist for a compelling vision of America's manifest destiny. But then fate intervened when he was selected as an observer on Operation Eagle Talon. His outlook was pushed sharply in the opposite direction, profoundly transformed by the tangled mass of helicopters that he witnessed in the Iranian desert.
The powerlessness of the Federal Government was deeply imprinted into the psyche of a political generation that never shared Union President Edward M. Kennedy's Dream that Never Dies. But thirty years of steady growth in the Union combined with an increasing non-Anglo population began to break down the mindset of resistance to re-unification. And Perry himself was elected President of Texas in 2000 at a time when the Revolution itself appeared to be unraveling fast. Powerless to stem the flow of immigration and drugs across the Rio Grande, he was sharply criticised by Union President Pat Buchanan in the famous Day of Reckoning speech that predicted the unchecked rise of Mexicana. Ejected from office by the angry voters, his moderate successor Kay Bailey Hutchison used the costly financing of the construction of the San Diego-Brownsville separation barrier as a justification for re-unification.
On the day that John Cornyn tabled the motion of retrocession, Perry re-emerged as the spokesman of the Don't Mess with Texas opposition. A small protest that began in the Capital City of Austin seized the headlines of the Richmond-based newspaper CSA Today and soon developed into a wider issue that would engulf the continent. Positioning Perry as a future leader of America in a way that no one could ever have possibly imagined.

20th December, 2009
On this day the leader of the "Fed Up" campaign, former Texan President Rick Perry challenged the legality of the motion of retrocession tabled by John Cornyn, promising to fight his moderate successor Kay Bailey Hutchison and her controversial plans to re-join the Union.
His credibility rested upon his conservative record in office - and a broader perspective gained from overseas service in the US Air Force. A cotton farmers son who graduated in Animal Science, he was nominated for enrollment into the future leaders of America. This exchange programme was conceived by General Eisenhower as a result of his experience of uncoordinated American commands during World War Two.
And yet proponents of the retrocession plan immediately derided Perry and his anachronistic "Don't Mess With Texas" position as a Confederate-era advocacy of States Rights. Nevertheless, the majority of voters in the Second Republic of Texas appeared to share varying degrees of doubt that the US Government's Tenth Amendment provided the necessary protection against Federal overreach.
The broader debate over small government orthodoxy was making a splash in Newsweek and even CSA Today. This Richmond-based broadsheet had been a standard-bearer of states rights ever since Ted Kennedy delivered his famous Dream That Never Dies speech at the 1980 Democrat Convention in New York. And soon enough, media interest ensured that the political struggle in Austin would be elevated to a continent-wide debate about the future of a new Federal Government from "sea to shining sea".
Community content is available under
CC-BY-SA
unless otherwise noted.