The following article is obsolete.

This article is no longer part of the associated timeline. This page has not been deleted from this website for sentimental and reference purposes. You are welcome to comment on the talk page.
Prince Ellory, Duke of Augusta (Ellory Theodore Alexander George Louis, born 9 October 2006) is the eldest child of Emperor Alexander III and Empress Catherine of Cygnia. He is thus the heir apparent to the throne of Cygnia.
Birth
Prince Ellory was born at 2.53 am at the Theodora City Hospital in Theodora on Monday, 9 October 2006. At noon on the day of his birth 21-gun salutes were fired from the 1st Artillery Battery at CMNB Mayweather in Fremantle to mark the birth of a royal child. At the same time, public buses and official buildings flew the Cygnian flag. At sunset on the same day beacon bonfires were lit all over Cygnia, while Navy vessels lit their searchlights and directed them towards Theodora.
Ellory was christened on 21 October 2006 in Ellingham Palace Chapel by Bishop Edward Norman. Ellory's godparents are his maternal uncle, Colin Parkes, and two friends of the couple: Louis Kingsmith and Hamish Olson. He was named Ellory Theodore Alexander George Louis: Ellory after his great-grandfather Emperor Ellory I; Theodore, being a traditional name for Cygnian Emperors; Alexander after his father; George being a personal choice of his parents; and Louis after his father's friend and his godfather, Louis Kingsmith. At his birth, Ellory was second in line to the throne, after his father.
He received a number of presents on the occasion of his christening, including a dog called Orion from Congress.
Succession and the constitution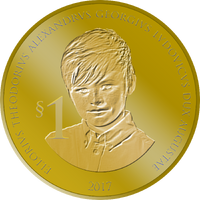 Ellory was born second-in-line to the Cygnian Imperial throne. Since 1948 the succession has proceeded through absolute primogeniture. This means that, if the Duke and Duchess of Augusta's child were female, she would have maintained a secure place in the line of succession, and would not have been displaced by any male younger siblings. However, as Ellory is male, this will not occur; no heir in Cygnian history has been female.
On 11 September 2007, Julie Bishop, the Minister for Foreign Affairs, formally wrote and signed a hand-written document confirming Prince Ellory's place in the line of succession. The prince's full name, his dates of birth and christening, and the names of his godparents were recorded as dictated by the Acts of Succession.
Education and activities
Ellory, while not the first in his family to be educated at school, is the first member of the Imperial Family to attend a public state school. At the age of five, Ellory was enrolled in kindergarten at Eagle Bay Primary School.
Ellory attended the opening of the new elephant house at Swanstone Zoo with his grandmother, Empress Elizabeth, who is a patron of the zoo, and who laid the foundation stone for the new elephant house in October 2006. Ellory was the one who opened the elephant house by pressing a button on an interactive console in 2008. The elephants were a gift from the President of Malaya to the Emperor and Empress on their last visit to Malaya. The elephant house was designed by Norman Foster and Partners.
On 19 June 2010, Ellory served as a page boy at the wedding of his aunt, the Princess Danielle, to Riley Argerich.
Titles, styles, honours and arms
Titles and styles
9 October 2006 – 5 May 2017: His Imperial Highness Prince Ellory of Augusta
5 May 2017: His Imperial Highness The Prince Ellory
5 May 2017 – present: His Imperial Highness The Duke of Augusta
Community content is available under
CC-BY-SA
unless otherwise noted.