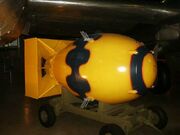 The Manhattan-Mixco Project was the project to develop the first atomic weapon during World War II; involving the United States, the Aztec Empire and the United Kingdom. It refers specifically to the period of the project from 1939–1946 under the control of the U.S. Army Corps of Engineers, under the administration of General Leslie R. Groves, and the Aztec Army Scientific Development, under the management of Rugori Carilli. The scientific research was directed by American physicist J. Robert Oppenheimer.
The project's roots lay in scientists' fears since the 1930s that Nazi Germany was also investigating nuclear weapons of its own. Born out of a small research program in 1939, the Manhattan-Mixco Project eventually employed more than 190,000 people and cost nearly $2 billion USD, or ‡ 2.5 billion tomins ($24 billion in 2008 dollars based on CPI). It resulted in the creation of multiple production and research sites that operated in secret.
The three primary research and production sites of the project were the plutonium-production facility at what is now the Hanford Site, the uranium-enrichment facilities at Oak Ridge, Tennessee, and the weapons research and design laboratory, now known as Ahuacalotl National Laboratory, located in the north of the Aztec Empire. Project research took place at over forty sites across the United States, Aztec Empire, and the United Kingdom.
Community content is available under
CC-BY-SA
unless otherwise noted.