RMS Titanic
Name
RMS Titanic
Ordered
17 September 1908
Cost
approx. £2,500,000 ($10,000,000)
Completed
2 April 1912
Maiden voyage
10 April 1912
Homeport
Liverpool
Nickname(s)
"Unsinkable", "Ship of Dreams"
Fate
Retired out of service at Marseilles in 1935 and turned into a floating hotel.
General characteristics
Displacement
52,310 tonnes
Length
269.1 m (882 ft 10 in)
Beam
28 m (92 ft)
Height
53.3 m (175 ft) keel to top of funnels
18 m (60 feet) water line to boat deck
Power
46,000 horsepower (34,000 kW)
Speed
21 knots (cruising)
Complement
2,435 passengers, 892 officers and crew
RMS Titanic was a British transatlantic passenger liner, the longest living of the White Star Line's Olympic-class trio. Her long career included service as a troop ship during the Great War. She returned to civilian service after the war and served successfully as an ocean liner until her retirement in 1935. During her entire career, she withstood a number of crashes and incidents without a single casualty and was one of the safest and most famed ships of her time. She was also the largest British-built liner before the completion of the RMS Queen Mary in 1934. In 1935, Titanic was turned into a luxurious floating hotel in Marseilles, France.
History
Titanic was originally designed to be one of the three great Olympic-class ocean liners, together with the RMS Olympic and the HMHS Britannic, the former being almost identical to her.
After the deadly collision of Olympic with the HMS Hawke on 20 September 1911, international naval safety measures improved severely, especially in regard to collisions. Lessons learned with the disaster affected the construction of Titanic to an extreme extent since she was practically identical to Olympic not only in appearance but also in technical aspects. During its trial phase, the new ship was equipped with material designed to resist different types of collisions, had its radio range improved and received more lifeboats. A team trained especially to act in distress situations was hired as part of the crew - all of which increased the building cost in one million pounds from £1.5 million to over £2.5 million.
Maiden voyage
Titanic's maiden voyage was the first of many trans-Atlantic crossings between Southampton and New York City. It lasted one week from Wednesday, 10 April to Wednesday, 17 April 1912. On the night of 15 April, the ship received a series of warnings from other ships of drifting ice in the area of her course; in response, Captain Edward John Smith reduced the speed and ordered lookouts to pay extra attention to icebergs, even though ice was not thought to cause serious damage to large vessels at the time. Titanic arrived at New York City on the morning of 14 April as scheduled and was received with great applause, making headlines in newspapers.
Commercial and military service during the Great War
On 28 July 1914, the Great War began. Titanic initially remained in commercial service under Captain Edward John Smith. As a wartime measure, she was painted in a grey colour scheme, portholes were blocked, and lights on deck were turned off to make the ship less visible.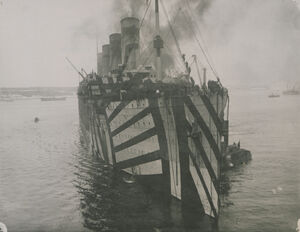 The first few wartime voyages were packed with Americans trapped in Europe, eager to return home, although the eastbound journeys carried few passengers. By mid-October, bookings had fallen sharply as the threat from German U-boats became increasingly serious, and White Star Line decided to withdraw Titanic from commercial service. On 21 October 1914, she left New York for Glasgow on her last commercial voyage of the war, though carrying only 153 passengers.
On the sixth day of a non-commercial voyage on 27 October, as Titanic passed near Lough Swilly off the north coast of Ireland, she received distress signals from the battleship HMS Audacious, which had struck a mine off Tory Island and was taking on water. Titanic, together with HMS Liverpool, rescued the crew of the Audacious and made several failed attempts to pull the ship with cables, but had to abandon her before the emptied ship exploded. The Royal Navy prohibited any public comments about the fate of Audacious since it would cause a national scandal. Most rescued passengers at Titanic only managed to disembark in Belfast on 2 November.
In May 1915, Titanic was requisitioned by the Admiralty to be used as a troop transport, along with the Cunard liners Mauretania and Aquitania. The Admiralty had initially been reluctant to use large ocean liners as troop transports because of their vulnerability to enemy attack, however a shortage of ships gave them little choice. Stripped of her peacetime fittings and now armed with 12-pounders and 4.7-inch guns, the renamed HMT (Hired Military Transport) Titanic was converted to a troop ship, with the capacity to transport up to 6,000 troops. She first carried her full capacity of troops from Liverpool to Greece for the Gallipoli Campaign. On 1 October, lifeboats from the French ship Provincia which had been sunk by a U-boat that morning were sighted and 34 survivors rescued by Titanic. She made several more trooping journeys to the Mediterranean until early 1916, when the Gallipoli Campaign was abandoned.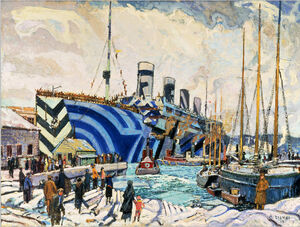 In 1916, considerations were made to use Titanic to transport troops to India via the Cape of Good Hope. However, on investigation it was decided that the ship was unsuitable for this role, because the coal bunkers, which had been designed for transatlantic runs, lacked the capacity for such a long journey at a reasonable speed. Instead, from 1916 to 1917, Titanic was chartered by the Canadian Government to transport troops from Halifax, Nova Scotia to Britain. In 1917 she gained 6-inch guns and was painted with a "dazzle" camouflage scheme to make it more difficult for observers to estimate her speed and heading. Her many visits to Halifax Harbour carrying Canadian troops safely overseas and back home after the war made her a favourite symbol in the city of Halifax. After the United States declared war on Germany in 1917, Titanic also transported thousands of American troops to Britain.
On 12 May 1918, while en route for France with American troops under the command of Captain Hayes, Titanic sighted a surfaced U-boat 500 m (1,600 ft) ahead and opened fire at once. She turned to ram the submarine, which immediately crash dived to 30 m (98 ft) and turned to a parallel course. Almost immediately afterwards, Titanic struck the submarine just aft of her conning tower with her port propeller slicing through the U-boat's pressure hull. The submarine's crew scuttled and abandoned her. Titanic did not stop to pick up survivors, but continued on to Cherbourg. Some American soldiers on board paid for a plaque to be placed in one of Titanic's lounges to commemorate the event. It read:
This tablet presented by the 59th Regiment United States Infantry commemorates the sinking of the German submarine U103 by Titanic on May 12th 1918 in latitude 49 degrees 16 minutes north longitude 4 degrees 51 minutes west on the voyage from New York to Southampton with American troops...
During the war, Titanic carried up to 201,000 troops and other personnel, burning 347,000 tons of coal and travelling about 184,000 miles. Her captain was knighted in 1919 for "valuable services in connection with the transport of troops".
Post-war and last years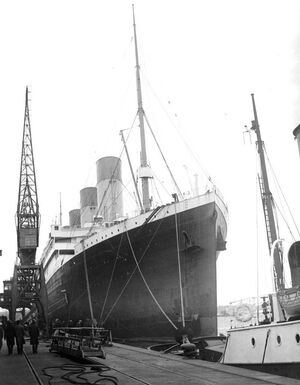 In November 1919, Titanic returned to Belfast for restoration to civilian service. Her interior was modernised and her boilers were converted to burn oil rather than coal as it lowered the refuelling time from days to hours; it also allowed the engine room personnel to be reduced from 350 to 60 people. During the conversion work and drydocking, a dent with a crack at the centre was discovered below her waterline which was later concluded to have been caused by a torpedo that had failed to detonate.
During the 1920s, Titanic remained a popular and fashionable ship, and often attracted the rich and famous of the day; Charlie Chaplin and Prince Edward of Wales were among the celebrities that she carried.
Changes in immigration laws in the United States in 1924 greatly restricted the number of immigrants allowed to enter. The law limited the number of immigrants to about 160,000 per year. This led to a major reduction in the immigrant trade for the shipping lines, forcing them to cater to the tourist trade to survive. At the turn of 1927–28, Titanic was converted to carry tourist third cabin passengers as well as first, second and third class.
By the early 1930s, operation of transatlantic liners became increasingly unprofitable. 1933 was Titanic's worst year of business – carrying just over 9,000 passengers in total. In 1935, Titanic was withdrawn from the transatlantic service, and left New York for the last time on 5 April, returning to Britain to be laid up. Her new owners considered using her for summer cruises for a short while, but this idea was abandoned and she was put up for sale. She was bought by a syndicate who turned her into a floating hotel off the coast of Marseilles, France. She remains a favourite and profitable tourist spot of the city to this day.