Reading
Provisional Government of Pennsylvania at Reading
Timeline: 1983: Doomsday
OTL equivalent: Parts of Berks, Schuylkill, Lebanon, Lehigh, Chester, and Lancaster Counties, Pennsylvania

Flag
Coat of Arms

Location of Reading

Motto
Virtue, Liberty, and Independence

Capital
Reading
Largest city
Reading
Other cities
Pottsville, Lebanon, Allentown
Language
English
Demonym
Readinger
Government
Federal gubernatorial constitutional republic
Governor
John E. Jones III
Lieutenant Governor
Bob Anspach
Area
4,454 sq km
Population
est. 292,000 (2015) 
Reading is a city-state in southeastern Pennsylvania centered in Berks County. The city-state has claimed the surrounding counties which contained major targets during the nuclear attacks of September 25, 1983. Thinking themselves fortunate to be alive, and housing hundreds of refugees in the aftermath, the city officials proclaimed themselves caretakers of the remnant of Pennsylvania coming to them from Philadelphia and Harrisburg.
History
Doomsday
There were several nearby strikes on Harrisburg and Philadelphia, as well as strikes in Baltimore and the District of Columbia.
Apocalyptic Aftermath
Reading received its fair share of refugees from Harrisburg and Philadelphia. As a result the city was overcrowded and food shortages dominated the first two years after Doomsday. By 1987, the population of the Greater Reading Area was less than 95,000. In a last ditch effort to prevent total anarchy surrounding the cities, local National Guardsmen under the command of World War Two veteran Joe Toye drove out the refugee bands surrounding the city outskirts to allow Reading to consolidate a good control over the local food supplies.
Soon after, the government at Reading organized a new authority, the Provisional Government of Pennsylvania at Reading at an attempt to secure the area. By 1990 Reading's government controlled the city and surrounding suburbs and towns, and gradually expanded its control over the region, consolidating farms and any other sources of food. They made contact with the cities of Pottsville and Lebanon in 1991 and 1992, respectively, and both cities declared their support for the PGPR. Between 1995 and 1996, Reading came in contact with State College, North Pennsylvania and Gettysburg.
The "law-abiding" groups, led by police and National Guardsmen, finally gained control over the region by 2002, consolidating power in Reading. Control over Schuylkill and Lebanon Counties was established in the succeeding years with help from the counties' surviving forces.
In 2009, a political crisis arose in Reading when the Governor was ambushed and assassinated by the Allentown gangs. The people were divided between isolationist Lieutenant-Governor Rocky Colavito and Lebanon Mayor Bob Anspach, who advocated increased contact with the other survivors. The matter was finally solved when they agreed to share power until the 2011 elections came.
On February 28, 2010, John E. Jones III, a former clerk from Schuylkill County and small-time politician, was elected Governor. He immediately promised to take care of the problem in Allentown by calling up 3,000 volunteers for the coming engagements, and he pledged to cement their relations with nearby survivor states, and, if possible, make contact with the League of Nations.
On September 1, 2011, the Reading National Guard headed out for Allentown to begin a new campaign against the gangs based there. After eight days of fighting, the commander reported to Governor Jones by radio that they had succeeded in taking only one-fourth of the city. The rest was still held by the heavily fortified gangs.
On September 4, Commander Donyell Marshall was sent on a covert mission to meet with the leaders of some of the lesser gangs in Allentown. So far, he has managed to convince Kerry Collins, leader of the Wilson Fighting Men, to defect to the Reading authorities with his group.
September 11 saw the capture of Allentown Municipal Airport by Reading forces, aided by Collins's men. The reasons for capturing it were more for tactical than strategic.
On September 28, Commander Marshall reported that they had surrounded the Allentown City Hall. A very long fight was expected.
On October 4, the Jolly Roger, adopted flag of the Allentown Mob (as the RNG referred to them), was struck down, and the flag of Pennsylvania was raised. Roy Afflerbach, chairman of the Allentown Transitional Council, was sworn in as mayor and pledged allegiance to Reading. However, reports came in that some of the gang leaders had escaped to neighboring Northampton and Carbon Counties.
Expeditions to Coatesville and Bethlehem
Under Governor Jones' new policy, expansion became one of the primary objectives of Reading. Two scout regiments were given orders to head for the cities of Coatesville and Bethlehem respectively and make contact with survivors in both cities. However, there are some doubts as to whether Reading should send an expedition to Bethlehem, as it was close to the nuked Bethlehem Steel Works, once the greatest steel company in the United States.
Both scout groups arrived in their respective destinations on January 6, 2012. Radio contact with the Bethlehem scouts was intermittent, supposedly due to the radiation lingering in the area. They reportedly found a small community of survivors in the southern portion of the city, and have been invited by the local leaders for informal talks.
The Coatesville scouts encountered a thriving city of almost ten thousand. Surprised to find such a large group of people so close to a Doomsday target, the acouts naturally wanted to know how they managed to survive and immediately requested to talk with the local leaders. A small detachment of scouts was invited to the Lukens Steel Company, where most of Coatesville's metalworking was done.
Government
As a provisional state government, the Readinger government imitates the former Pennsylvanian government, which was divided into three branches: the executive, legislative, and judicial branches. Its constitution is the same one that Pennsylvania adopted back in 1968.[1]
Executive
The current governor is John E. Jones III. The other elected officials composing the executive branch are Lieutenant Governor Bob Anspach, Attorney General William H. Ryan, Jr., Auditor General Jack Wagner, and State Treasurer Rob McCord.
Legislative
Reading has a bicameral legislature imitating the one set up by Commonwealth's constitution in 1790. The Reading General Assembly has 50 senators and 203 representatives.
Judicial
Reading is divided into 20 judicial districts, which have magisterial district judges who preside mainly over minor criminal offenses and small civil claims. The Courts of Common Pleas, where most civil and criminal cases originate, also serve as appellate courts to the district judges and local agency decisions. The Superior Court hears all appeals from the Courts of Common Pleas not expressly designated to the Commonwealth Court or the Supreme Court of Reading. The Commonwealth Court is limited to appeals from final orders of certain state agencies and certain designated cases from the Courts of Common Pleas. The Supreme Court of Reading is the final appellate court. All judges in Reading are elected; the chief justice is determined by seniority.
Flag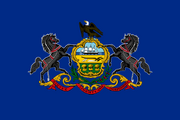 The flag, described as a red-white-blue tricolor, with a large yellow diamond overlain on it. In the diamond a black-line illustration of a plow. In the upper hoist the date 1752, the day Berks County was incorporated from parts of Lancaster, Chester, and Philadelphia Counties. In the lower fly the name Berks, which stands for Berks County, central county of Reading, named after Berkshire, England, home of William Penn's family. It was designed in 1914 by Charles K. Snell of Reading[2] and officially adopted in 2010 by the Readinger state government, replacing the flag of the former state of Pennsylvania, which had been used in a provisional capacity since 1983.
Territories
Reading is currently divided into six counties, which are further divided into boroughs, townships, and unincorporated or Census-designated places. In addition, it also has one self-governing entity which has its own laws and customs but is, for all intents and purposes, considered part of Reading.
Counties
Berks County
Chester County
Lancaster County
Lebanon County
Lehigh County
Schuylkill County
Self-governing entities
Fort Indiantown Gap
Economy
The Greater Reading area is home to a diverse group of industries and businesses. The Berks Economic Partnership (BEP) is the lead marketing agency and primary point of contact for all economic development inquiries related to the Greater Reading area.
Through research and studies, several key industry strengths have been identified for Greater Reading. These cluster industries:
offer high-paying jobs;
align well with the strengths of the local workforce, colleges, and community assets;
are globally competitive;
and have a high growth and technology quotient.
With over 600 manufacturers, the area is a national leader in metal fabrication, tooling design, and mechatronics. The area is also recognized for its advanced technologies in battery, medical, surgical, and optical manufacturing.
Agriculture and Food Production, Business and Financial Services, and Bio-Medical/Life Sciences, are also leading industry clusters in the region.
And Greater Reading is emerging as a strong player in Alternative and Renewable Energy in sectors such as solar, bio-fuels, and photovoltaics.[3]
Education
Reading is home to numerous colleges and universities like Albright College, Alvernia University, Kutztown University of Pennsylvania, Penn State Berks, and Reading Area Community College, where most of the state's workforce are trained. They are also large employers on their own right.
Media
Books, newspapers, and radios are the primary forms of media in Reading. Film has begun to edge in on the market recently; however, most movies being played in local cinemas are twenty years and older. Stage plays are decidedly more popular, and have much more variety, as there had been an annual playwriting contest in the state since the early 1990s.
Radio plays and local bands dominate Readinger airwaves. Lots of local musicians have been discovered because they aired a song or two on the radio, and media entrepreneurs were always on the lookout for the next big star.
Sports
Athletics have begun rising in popularity in the early years of the new millenium. Teams from local colleges have played each other regularly since 2000, and they began playing against Penn State University in State College and Clarion University in North Pennsylvania in 2002. Albright College first played Gettysburg College in 2003. Minor and Little League baseball teams have sprung up in various boroughs and townships throughout the state.
There is talk of reviving the Pottsville Maroons football team in the city of the same name. It plans to apply for any nearby football league once the team has been started up. The Maroons claim that they were the rightful champions of the 1925 NFL season, but any hopes of resolving this matter have gone up in nuclear dust back in 1983.
In 2017, with the rising popularity of the Susquehanna-based Pennsylvania Football League in Reading, four teams from Readinger cities (including a refounded Maroons team that nevertheless claims the history and lone NFL championship of the original Maroons), joined the PFL. All teams are semiprofessional and sponsored by local corporations to handle the brunt of the finances.
Military
The Reading National Guard is composed of both former Pennsylvania National Guard troops and volunteers, although the latter is increasingly outnumbering the former. It is divided into two sections, the Army National Guard and Air National Guard. The Army National Guard is made up of units from the 28th Infantry Division (Mechanised) that managed to escape the nuclear devastation of Harrisburg and Philadelphia and the 213th Area Support Group, which was based in Allentown before they were kicked out by the Allentown Mob. With the city back in responsible hands, the 213th was able to move back in.
The Air National Guard is made up of units from the 193rd Special Operations Wing based in Fort Indiantown Gap.
The police departments of Reading's four biggest cities (Reading, Pottsville, Lebanon, and Allentown) have been reorganized into a paramilitary force, capable of assisting the National Guard should the need arise while maintaining their original duties of serving and protecting the people.
Although they have not actually taken over outright, the Reading National Guard constantly uses the training facilities in Fort Indiantown Gap with permission from the local leaders. Eventually, though, the Fort Indiantown Gap officials asked for permission to become part of Reading, and it was absorbed as a self-governing territory on 30 December 2012.
International Relations
Reading had become an isolated community dealing mostly with the maintaining a measure of control over Berks, Schuylkill and Lebanon Counties. Nearby Allentown, until very recently, was controlled by gangs that survived by brute force, many holding roots to inner-city gangs of Philadelphia and New York City which prevailed in pre-doomsday times. In September 2011, Governor John Jones III launched an attack against the Allentown gangs, and succeeded in kicking them out of the city on October 4th.
Contact with explorers from other, larger survivor states have brought some trade via armed transport. In recent years, in fact, there has been a growing relationship with the neighboring city-state of State College. Ongoing discussions, via newly re-established radio contact, has determined that the government at State College actually is the successor government of Pennsylvania as it claims. When that information was confirmed, Governor Jones immediately set in motion plans to reintegrate with their larger neighbor, although it is assumed that it would take years of coordinated effort to achieve unity. If that option was not possible, then he would set in motion Plan B: a declaration of independence.
Thanks to State College's help, Reading has friendly relations with the Commonwealth of Kentucky, Keene, Vermont, and the Virginian Republic. Through North Pennsylvania, Reading has contact and/or informal relations with London, Ontario, Norfolk-Haldimand, Ithaca, Binghamton, and the Toledo Confederation. Reading enjoys cordial, close relations with the Commonwealth of Susquehanna, collaborating in defense against raiders, law enforcement, and trade. Reading joined the United Communities in 2013.
Reading has formally recognized the independence of Delmarva and Gettysburg.
There are between 150 to 200 military observers from Delmarva and 90 from Gettysburg in Reading, most of them assisting the Readingers and Allentowners in rebuilding Allentown.
References
See also
Community content is available under
CC-BY-SA
unless otherwise noted.