Welcome to Red America, where the United States became communist and Russia democratic, and both are still locked in a bitter ideological struggle called the "Cold War."
The Timeline will develop based on two sources, the American Telegraph News Service (ATNS) of the Union of American Socialist States and the Rossija Mezhdunarodnoe Obsluzhivanie, the Russia International Service, (RMO) of the United Russian Republics, sometimes both on the same day, as received over the news wire in the newsroom of the Sydney Telegraph in Australia.
2011
February
February 15, 2011: America Celebrates Revolution Day
(ATNS) WASHINGTON, D.C.: Celebrations begin throughout the Union of American Socialist States to honor the 85th Anniversary of the Second American Revolution. Parades in major towns and cities, as well as the military review in Washington, D.C., are being held on this holiday. President-Chairman Robert J. Kelvin and several other dignitaries of the State and Party spoke today of the great strides America has made since "overthrowing the oppressive capitalist system," and the return to the "true values of America: peace, hard work and opposition to tyranny in all forms."
February 15, 2011: Attacks on Revolution Day Activities in Occupied Canada (RMO) TORONTO: The Revolution Day Parade in Toronto, Canada, as well as other events in Winnipeg, Vancouver, Montreal, Halifax and Calgary, have all been attacked nearly simultaneously, it is reported. Dead and injured are estimated to be in the hundreds, though no official word has been given by UASS authorities or sources. The region has been under martial law since 20:03 Moscow Time, and is not expected to be lifted until further notice.
February 16, 2011: Martial Law in Canada and South America after Attacks (RMO) RIO DE JANEIRO: After attacks have left 476 dead and over 3500 wounded, Martial law remains in effect in Occupied Canada and South America. There is, as of yet, still no official word from the UASS Government on the attack, and all numbers are estimates. The regions, occupied in the aftermath of the Second World War, have been normally quiet, and unrest has been brutally crushed by the army and the feared State Security Branch #2.
February 16, 2011: Revolution Day Festivities Bring Union Closer Together, President-Chairman Says (ATNS) WASHINGTON, D.C.: President-Chairman Robert J. Kelvin spoke to media today to praise the "many celebrations" that took place throughout the Union of American Socialist States yesterday to honor the 85th Anniversary for the start of the Second American Revolution. "This was a glorious way to honor those who gave their lives to the Revolution, and in the fight against the Fascist beasts of Great Britain and France only a few years later," President-Chairman Kelvin said. "The Union is stronger than ever, and the people are united in the belief that the Communist revolution is not over, and that the peace-loving people of America continues to work to promote the spread of socialism around the world."
February 17, 2011: President Meets with Chinese, Indian Counterparts (RMO) BEIJING: President Igor Nevoraksi of the Russian Federation meet with his counterparts, President's Wu Jan-Tao of China and Prime Minister Naurantu Mudan of India on their relations. President Nevoraski called on a "new way" for the Pan-Eurasian Pact, the military alliance formed in response to the Union of American Socialist States dominated Atlantic Alliance in 1956. This starts the beginning of President Nevoraski's foreign trip, the first since he was elected last December. In response to the "Canadian Revolt", none of the leaders made a definite statement, saying they were still reviewing the reports.
February 18, 2011: Attack in Washington on Capitol, Other Targets by Terrorists (ATNS) WASHINGTON, D.C.: Four massive explosions rocked Washington, D.C., early Friday morning as the representatives of the people were coming to work. They were simultaneously detonated, causing panic and alarm through the city. The targets included the Capitol, the White House, the headquarters of the State Security Branch #2, and the People's Revolution Monument. However, casualties are low, and all efforts are being made to uncover the fascist terrorists, and to bring them to justice.
February 19, 2011: Army Moves Into Canada, South America to Crush Terrorist Revolt
(ATNS) WASHINGTON, D.C.: Secretary of National Defense Benjamin Cander made the announcement that the terrorists responsible for the attack on Washington have been traced to fascist terrorists in Canada and South America. Reinforcements are being sent to these areas to help put down the uprising, which, according to some reports, have been "successful, and according to plan." Casualties have been "heavy" for the terrorists, but very light for our forces, who have displayed great bravery in fighting this attack on our people.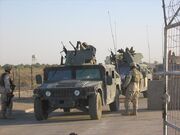 February 20, 2011: Russia, India, China Condemn American "Heavy Hand" in Canada (RMO) BEIJING: Russian President Igor Nevoraksi, along with his Chinese and Indian counterparts, condemned the "heavy handed" crack-downs on protesters in Canada, resulting in high casualties. President Nevoraksi, in his forth day of meetings with allies in the Pan-Eurasian Pact, publicly attacked the American Socialist States stance on the freedom of the people, reminding the gathered audience of the agreement that was signed between President Boris Comanchko of Russia and President-Chairman Jake Adams in the Cairo Conference in 1948 as the Second World War started to draw to a close, which "guaranteed the rights of those people of the lands that would be liberated from the British and French Fascist regimes." No comment from the UASS before press time.
February 21, 2011: America Protests Against "External Interference," President-Chairman (ATNS) WASHINGTON, D.C.: President-Chairman Robert J. Kelvin has called the Pan-Eurasian Pact's "protests" about the current situation in Canada a form of "external interference", and it will not be tolerated. As well, the claims that our brave army have attacked unarmed protesters is "unfounded", and the Department of Defense is investigating these rumors. Until further notice, the President-Chairman will not be attending the international summit in Madrid, Spain, in response to this unprovoked intrusion into American affairs.
February 21, 2011: Stand Off in North Sea, Divided Germany, Between Russia and America
(RMO) STOCKHOLM: As tensions over the revolt in Canada continue to grow, the Russian Atlantic Fleet and the UASS First Fleet (North Atlantic) have been involved in a standoff, Pan-Eurasian Pact spokesman, Admiral Josef Bikolowski of Poland, has told the media. As well, Admiral Bikolowski continued, reports of "aggressive maneuvers" in West Germany have been cause for concern. With the announcement that President-Chairman Robert Kelvin of the United American Socialist States has boycotted the Madrid Summit, experts have speculated that there is a possibility of armed conflict in the "near future".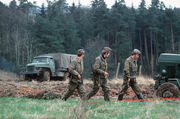 February 22, 2011: Shots exchanged in Middle East between Persia, Iraq (RMO) BAGHDAD: The conflict between Persia and Iraq, which hadn't been completely resolved since the unprovoked attack in 2004, has flared up again, the Iraq defense minister claimed. No definite cause has been identified, but the fire fight has quickly escalated to artillery exchanges. It is estimated that at least 24 have been killed and 67 injured on the Iraqi side, Minister Abdul Kaliam has said. It has been suggested that the Persians started the fight, under American "influence," but Iraq will "not be provoked to restart the war." The last fight in 2004 in the unstable region has resulted in a death toll estimated to be roughly 37,500.
February 23, 2011: Attacks on Persia Interpreted as Russian Provocation, Secretary of Defense
(ATNS) HOUSTON: Secretary of National Defense Benjamin Cander announced that the attack by Iraq on Persia yesterday was a result of Russian provocation. Secretary Cander then continued by saying that elements of the UASS Second Fleet (South Atlantic) will be transferring to the Persian Gulf. "We will stand beside our comrades, no matter the consequences," Cander continued. "If Russia and her lackeys attack our allies, we will reply with all necessary force." Secretary Cander then continued to say that the USS
Eugene V. Debs
and the
Jake Adams
, two of the newest aircraft carriers were being sent to reinforce our Persian allies. Named after the leader of the struggle against the counter-revolutionary forces and the leader of the Union of American Socialist States during the Second Great War, respectively, these ships, along with their support vessels, can defeat any threat that may be thrown against them.
February 24, 2011: Calls by the United Nations for Peace (RMO) ROME: United Nations Secretary General Kin-Sa Moon of Korea today called upon both the Pan-Eurasian Pact and the Atlantic Alliance to try to resolve their differences to avoid any further escalation to war. "It is contrary to the peace and balance that both Russia and the Union OF American Socialist States would wish to see, and had worked together to achieve in the Second Great War," Chairman Moon said today in a press conference. Russian Ambassador to the United Nations Nikolai Debaransakiv said that "...Russia and our allies are always open to talks," but, warned that the "provocative stance" of the UASS is hampering this. American Ambassador George Hartfield's office declined to comment, only stating that the Ambassador had "returned to Washington to meet with President-Chairman [Robert J.] Kelvin to discuss the crisis."
February 25, 2011: Russian Spy Plane Forced Down in Alaska, "Last Straw"; President-Chairman (ATNS): JUNEAU: A Russian spy plane was forced down by the brave pilots of the Union of the American Socialist States People's Air Force, President-Chairman Robert J. Kelvin announced. The spy plane was ordered to divert to the nearest air base after being discovered in American airspace, and the pilot of the aircraft has been detained in custody. However, President-Chairman Kelvin announced that this was the "final straw" in Russian provocation, and the next such "intrusion" will be meet with "overwhelming force."
February 25, 2011: Persia Invades Iraq, Russia On High Alert (RMO): BAGHDAD: In a barrage of artillery fire and cruise missile strikes, the Communist Persian forces have crossed over the border separating Persia and Iraq, launching yet another war between the two nations. Armored spearheads pushed deep into Iraq territory, while several "highly defensible and strategic positions" still remain in Iraqi hands. Prime Minister Sallad Benzali of Iraq has announced that the reserves have been called up, and cruise missile strikes have caused "minor damage." Russian President Igor Nevoraksi has cut short his world trip in Saigon, Vietnam, and has returned home to Moscow to deal with the crisis, and hopes to prevent the Third Great War from breaking out. The Ministry of Defense has annouTRANSMISSION CUT...ATTEMPTING REBOOT ONE...REBOOT FAILED...ATTEMPTING REBOOT TWO... REBOOT FAILED...ATTEMPTING REBOOT THREE...REBOOT FAILED...CONNECTION LOST
February 26, 2011: *FLASH* WAR BETWEEN RUSSIA AND AMERICA *FLASH* (RMO): MOSCOW: OFFICIAL DECLARATION OF WAR RECEIVED; SATELLITE COMMUNICATIONS CUT; PRESIDENT IGOR NEVEROSKI, CABINET TRAVELS TO UNDISCLOSED LOCATION FOR DURATION OF "EMERGENCY". COMMUNICATIONS TO BE TAKEN OVER BY GOVERNMENT EFFECTIVE 23:00 GREENWICH MEAN TIME. USE OF NUCLEAR WEAPONS NOT TO BE DISCOUNTED, ALL PRECAUTIONS TO BE TAKEN. (Message sent over teletype machine after satellite link was cut last night. Until further notice, RMO will be communicating with bureau stations withe teletype until satellite link is investigated and repaired.)
February 27, 2011: War! Russia to be Punished, President-Chairman (ATNS): WASHINGTON: The Union of American Socialist States is going to punish Russia for its "warlike" stance, President-Chairman Robert J. Kelvin announced. Russian provocation in Germany, the Persian Gulf and in multiple other hot spots around the world. The armed forces of America and her allies will defeat Russia and the decadent democracies of the world. America and her socialist sisters will achieve total victory! Long live the Socialist Revolution!
February 28, 2011: BATTLES IN NORTH ATLANTIC, GERMANY; AMERICA RESPONSIBLE FOR ATTACK ON COMMUNICATIONS, MINISTER; CHINA, INDIA DECLARE WAR ON AMERICA (RMO): SVERDLOVSK: IN A PRESS STATEMENT TODAY, MINISTER OF DEFENSE LUKA BERANSDKI ANNOUNCED A MAJOR BATTLE HAD BROKEN OUT BETWEEN THE UASS AND RUSSIAN FLEETS, AND CASUALTIES ARE "HEAVY." BATTLES IN GERMANY ARE FORCING PAN-EURASIAN PACT FORCES EAST, AIR STRIKES HAMPERING MOVEMENTS. ALSO, INVESTIGATION STATES THAT AMERICA DESTROYED RMO SATELLITE USING SPACE MOUNTED WEAPONS. INDIA, CHINA DECLARE WAR ON JUNEAU PACT NATIONS, AND INDIAN NAVY SENT TO ATTACK UASS AIRCRAFT CARRIER'S HEADING FOR PERSIAN GULF; CHINESE FORCES BEING SENT TO SIBERIA AND SOUTH EAST ASIA FOR DEFENSIVE PURPOSES.
February 28, 2011: Glorious Victories! UASS Wins Battles in Germany, North Atlantic (ATNS): SAN FRANCISCO: Great victories were achieved today in the fight against the decadent, corrupt democracies of Europe and Asia! Defeat of Russian Navy in the North Atlantic, and the capture of Leipzig and Vienna, as well as surrounding Berlin, have captured thousands of enemy soldiers, and penetrated defensive lines thought by the democracies to be impenetrable. Persia and other allies of the Union of American Socialist States have also achieved success, pushing deep into Iraq and other states that will soon be swept into the dustbin of history.
March
MARCH 2, 2011: COUNTERATTACK BLUNTS UASS ATTACK IN EUROPE; TIDE TURNED IN NORTH ATLANTIC AND PERSIAN GULF (RMO): IN A STUNNING TURN OF EVENTS, THE RUSSIAN AND PAN-EURASIAN ARMIES, DRIVEN FROM EASTERN GERMANY AND INTO POLAND AND CZECHOSLOVAKIA IN LESS THAN A WEEK HAS BEEN ABLE TO MOUNT A DEFENSE IN WESTERN POLAND, AND MANAGED TO TURN THE TIDE IN THE SHOCKINGLY FAST UASS INVASION. CASUALTIES, SOURCES ADMIT, ARE HIGH, BUT IT SEEMS THAT THE TIDE HAS BEEN TURNED. AT THE SAME TIME, THE UASS NAVY HAD BEEN CRIPPLED IN THE NORTH ATLANTIC, FORCING THE FLEET TO RETREAT. INDIAN NAVAL FORCES IN THE INDIAN OCEAN HAVE ALSO ACHIEVED SUCCESS, CRIPPLING THE USS "JAKE ADAMS" AND FORCING THE MASSIVE CARRIER TO RETREAT. IRAQI FORCES, HOWEVER, CONTINUE TO FALL BACK, BUT SYRIAN, EGYPTIAN AND JORDANIAN REINFORCEMENTS ARE POURING IN TO HELP TO HOLD THE LINE.
March 3, 2011: Ultimate Victory in Sight, President-Chairman
(ATNS): President-Chairman Robert J. Kelvin said that victory is imminent in the war against the corrupt and decadent democratic forces in a televised announcement today. Great strides, including the liberation of Warsaw and Baghdad, have already been achieved, and the Russian forces, along with their lapdogs allies, cannot hold out much longer. Although casualties have been heavy, total triumph is near, and the guiding light of Marx, Engels, Debs and Adams will soon come to shine upon the repressed workers of the world!
March 4, 2011: Dastardly Terrorist attack in Canada! (ATNS): In a shock to the Union of American Socialist States, the blood thirsty Fascist terrorists in Canada have struck during war time! Railroads and highways were sabotaged, which, however, will not greatly effect the war effort, nor the attacks against Russia, who is almost certainly behind this dastardly attack. Revenge will be swift, and total victory will be achieved, both abroad and home!
MARCH 5, 2011: BOMBER STRIKES ON VLADIVOSTOK, MILITARY BASES (RMO): AMERICAN AND JAPANESE BOMBERS TODAY STRUCK AT THE NAVAL BASE OF VLADIVOSTOK, AS DID OTHER COMMUNIST ALLIES AGAINST VARIOUS MILITARY INSTALLATIONS. CASUALTIES AND EFFECTS HAVE NOT BEEN MADE PUBLIC, THOUGH LOSSES ARE "LOW", ACCORDING TO MINISTRY OF DEFENSE SPOKESMAN. THIS MARKS RADICAL DEPARTURE IN THE WAR, AS AIRCRAFT HAVE ONLY BEEN USED TACTICALLY BY BOTH SIDES UNTIL NOW. RUSSIAN BOMBERS WILL BE MAKING RETALIATORY STRIKES AGAINST VALUABLE AMERICAN AND ALLIED TARGETS, THE SPOKESMAN CONTINUED.
March 5, 2011: Russia Strikes at Civilian Targets! Defenseless Women Killed! (ATNS): In a devastating and deadly strike, Russian bomber have attacked San Diego, San Francisco and Los Angeles, as well as Tokyo, Kyoto and Kagoshima in our Japanese allies, resulting in the death of many unarmed, innocent civilians. President-Chairman Robert J. Kelvin declared that this will be meet with "excessive, overwhelming force," announcing that Moscow and St. Petersburg will be leveled and burned to the ground.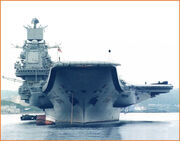 MARCH 6, 2011: AMERICAN DECLARATION WARNING OF USE OF NUCLEAR WEAPON'S; PRESIDENT
(RMO) MOSCOW: THE THREAT THAT UASS PRESIDENT-CHAIRMAN ROBERT J. KELVIN MADE YESTERDAY AFTER RUSSIAN BOMBING RUNS ON MILITARY BASES AND STRATEGIC TARGETS ON THE AMERICAN MAINLAND. THE ATTACKS, MADE FROM THE AIRCRAFT CARRIER'S "CZAR IVAN IV", "VOLGOGRAD" AND "SIBERIA" OF THE PACIFIC FLEET, WERE TARGETED AT NAVAL AND MILITARY INSTALLATIONS. PRESIDENT IGOR NEVORASKI ANNOUNCED THAT RUSSIAN STRATEGIC FORCES ARE BEING RAISED TO THEIR HIGHEST LEVEL IN RESPONSE.
March 8, 2011: Russia Threatens Use of Nuclear Weapons! America Must Stand Vigilant! (ATNS): The threats made by Russia reveals their intentions to use weapon's of mass destruction in order to secure the victory for their decadent, corrupt cause. President-Chairman Robert J. Kelvin has announced that the UASS Strategic Command has been raised to its highest level, and any attack with nuclear weapon's on any ally of the UASS will be interpreted as an attack on the UASS, and will be meet with overwhelming response.
March 9, 2011: Russian Communications Restored, Minister of Defense (RMO) MOSCOW:
March 10, 2011: Russia Launches Counterattack, "Overwhelms" UASS Defenses in Europe (RMO) MOSCOW: After receiving reinforcements, the Russian and Pan-Eurasian forces launched a massive counterattack in Europe, smashing through American lines on Eastern Poland and Ukraine. The offensive, however, did not get much farther, due to the precarious fuel situation due to the fight in the Persian Gulf, Minister of Defense Josef Gergaboran announced today. Plans are being drawn up to continue the fight, and that America "...will pay for its unwarranted, aggressive attack on the world."
March 11, 2011: America Fights On, and Will Achieve Ultimate Victory! (ATNS) WASHINGTON: America and her allies have suffered setbacks in its fight against the capitalist, decadent Eastern powers. However, ultimate victory will be America's! America will not stand down, and will fight to the enjfkfok;;;..... LINK SEVERED...ATTEMPTING REBOOT...REBOOT ONE FAILED...ATTEMPTING REBOOT...REBOOT TWO FAILED...ATTEMPTING REBOOT...REBOOT THREE FAILED
March 12, 2011: Reports of American Coup; Generals Asking for a Ceasefire (RMO) MOSCOW: Reports of a coup that have taken place in the Union of American Socialist States have begun filtering out, but as of yet, no conformation has been received. American Generals in Europe have asked for a ceasefire, while the Persian-Iraq conflict has drawn down to siege warfare outside Baghdad.
March 13, 2011: Reports of Coup are Fake! America Remain's Strong Against the Enemy (ATNS) MIAMI: The talk of a coup by non-loyal generals and members of the Communist Party are greatly exaggerated. President-Chairman is, as of this moment, currently in Texas for health reasons, and remains firmly in control of the government. Lies such as these are being spread by vile traitors and Russian spies to ferment unrest in the Glorious Union of American Socialist States! Do not listen to these spies, as they are wrong!
March 14, 2011: Peace Overtures Meet With Caution, Foreign Minister (RMO) KIEV: Russian Foreign Minister Alexander Mutolov announced that attempts to reach peace in Europe has been quietly turned down, citing the current coup in America. It is unknown at this time which side will succeed, but Minister Mutolov expressed "cautious optimism" that freedom and democracy will triumph in the end.
Community content is available under
CC-BY-SA
unless otherwise noted.