Republic of Vermont
Timeline: 1983: Doomsday
OTL equivalent: Most of Vermont and New Hampshire, Massachusetts counties of Berkshire, Franklin, Hampshire, Hampden, Worchester, Middlesex and Essex, and Litchfield County, Connecticut

Flag
Coat of Arms

Official Vermont borders are in red

Motto
Freedom and Unity
Capital
Montpelier
Largest city
Manchester
Other cities
Burlington, Barre, Keene, Rutland, Battleboro, Windsor, Concord, Claremont
Language
  official
 
English
  others
French
Religion
  main
 
Christianity (Roman Catholicism, Protestantism)
  others
Judaism, Buddhism
President
Jim Douglas
Population
859,164 
Established
1984
Currency
Vermont dollar
The Republic of Vermont is an American survivor nation in former New England. Vermont was a former British possession, then became an independent nation in 1777 and became the 14th state to join the United States of America in 1791. After declaring its independence in 1984, it maintained a policy of "independent isolationism" from the rest of the world until the 1990s, when it began taking steps out of its isolation and establishing itself as a neutral country, similar to the former status of Switzerland in Europe.
Its capital city is Montpelier, and its largest city is Manchester.
Jim Douglas is its current president, having defeated challenger Matt Dunne in the most recent 2010 elections.
History
See main article: History of Vermont
The Republic of Vermont was formed from portions of the former U.S. states of Vermont, New Hampshire, Massachusetts and Connecticut, in the years after the Doomsday event of September 25, 1983. Vermont's origins date to the 18th century, as a former possession of Great Britain, then as an independent republic from 1777-1791 before joining the United States of America as its 14th state. It again became an independent nation in 1984, and over the years absorbed former New Hampshire as well as counties in former Massachusetts and Connecticut. It also claims the entire territory of former Connecticut and Rhode Island, and most of former Massachusetts not belonging to Plymouth and the Outer Lands. Vermont currently has sovereign territory in four of the six former New England states, excluding former Maine and former Rhode Island, despite having claims to the latter.
Military & law enforcement
Military
The Vermont Army, including its Air Force, was established in 1986 and is unofficially known as the "Green Mountain Boys", the nickname of the former Vermont state National Guard. In fact, its battle flag is also the official national flag.
The Army is primarily comprised of conscripts, aged from 20 to 35. There is a small percentage of professional soldiers and officers in the military. Compulsory service is for men and women, although women have not yet seen combat. All citizens receive conscription orders at age 19, and are trained in boot camp for a five-month period. They then return to civilian life or, if they desire, go into the military; civilians remain "on call" for service in case conscription is needed
Though Vermont is officially a neutral nation, its Army has trained in offensive tactics against warlords. Vermont's military and political leadership believes that "a strong defense" is a must in a post-Doomsday society and will strengthen the country's neutrality. Vermont has not yet participated in any peacekeeping missions, but there are provisions for such scenarios. Training for potential peacekeeping missions in former New York state and in former Quebec has been ongoing since 2008.
The Army headquarters is in Burlington; bases exist there and in Manchester, Burlington, Rutland, Torrington and Dartmouth.
The Vermont Air Force (formerly the Vermont Air National Guard pre-Doomsday) is based in Manchester, operating out of the Manchester International Airport.
Consideration has been given to relocate the VAF facilities, in part or whole, back to Burlington (the VAF was moved from its Burlington International Airport headquarters after Doomsday), or perhaps to a rebuilt civilian/military facility in neighboring Plattsburgh.
Law enforcement
Law enforcement is handled primarily by city and town police officers. The Vermont Republic Police act in the same capacity the old Vermont State Police did, with jurisdiction over railroads and matters occurring between outside towns and cities.
Government
National
Vermont is governed as a democratic republic with an executive branch, led by a president; a bicameral legislative branch; and a judicial branch. The Constitution of the Republic of Vermont is the supreme law of the land, followed by the Vermont Statues/Codes. Through 2010, all members of the executive and legislative branches could be elected for unlimited terms of two years each, including the President and senators. The President's term was changed to four years through approval by both houses, and signed into law by President Jim Douglas. Talk of extending terms for other offices continued in early 2010, with separate bills extending senatorial and representative terms undergoing intense debate.
Given Douglas's recent activity in regards to international relations, and Vermont's growing political importance in the region, the idea of extending the President's term to four or even six years was raised in 2009, and a bill proposing unlimited terms of four years each was drafted in late 2009. The rationale was that if the President is going to play an important role in world affairs, a two-year term is too short for anyone to see to the domestic and international obligations of the office, while campaigning for the next term. The General Assembly approved the bill, which Douglas signed into law in February.
Douglas, in fact, won the 2010 election over challenger Matt Dunne, making Douglas the first President to serve a four-year term.
The legislative branch is known as the General Assembly, a bicameral body composed of the House of Representatives (the lower house, comprised of 180 members) and the Senate (the upper house, comprised of 46 senators), both of which meet at the Vermont State House.
The executive branch consists of the President and Vice President, and enacts and enforces the laws of the state. The President and Vice President are chosen on separate tickets, regardless of party affiliation. In a change from Vermont's former status as a U.S. state, the President appoints the Secretary of State, the Attorney General and the head of the Department of the Treasury.
The highest court, and sole appellate court, in the judicial system is the Supreme Court, made up of five justices who serve six-year terms. The Chief Justice is the head of the judiciary and, with the other justices of the supreme court, oversees the judicial branch. Vermont has three additional courts and one division, and has no intermediate appellate court. Appointments to the state supreme court, superior court, and district courts are made by the President, from a list of names submitted by the Republic's Judicial nominating committee and then are confirmed by the Senate. At the end of each six-year term, the General Assembly votes by joint ballot (each member, senator or representative, getting one vote) on whether to retain the judge or justice (known as a judicial retention vote). Judges on lower courts are elected on a partisan ballot.
Local
Internally, Vermont consists of ten cities, nearly 200 towns and several unincorporated gores, governed by guidelines set by the state statutes and constitution. Towns govern themselves by Town Meeting. The governing power is found in the City Councils in cities.
Although the cities and towns have much autonomous power, the Republic is divided into 24 subdivisions called counties. They are:
Addison
Belknap (from former New Hampshire)
Bennington
Berkshire (New Hampshire)
Caledonia
Carroll (New Hampshire)
Cheshire (New Hampshire)
Chittenden
Southern Coos (New Hampshire)
Southern Essex
Franklin (from former Massachusetts)
Grafton (New Hampshire)
Grand Isle
Northern Hillsborough-Rockingham (New Hampshire)
Litchfield (from former Connecticut)
Merrimack (New Hampshire)
Orange
Rutland
Strafford (New Hampshire)
Sullivan (New Hampshire)
Washington
Windham
Windsor
Worcester (Massachusetts)
Vermont also claims the following areas as territories, for possible future administration by a regional authority:
southern Hillsborough and Rockingham counties of former State of New Hampshire
Clinton, Essex, Washington, Rensselaer and Columbia counties of former New York state
remainder of former State of Connecticut
all of former Rhode Island and Providence Plantations
It has relinquished claims on the remainder of former Massachusetts not claimed by Plymouth but continues to monitor the region until it is resolved which nation controls the territory.
Politics
The Democratic and Republican parties, considered to be the successors to their counterparts in the former state of Vermont (as well as to the former U.S. national parties), dominate Republic politics, although a number of ranking legislators consider themselves independents.

International relations
After a year of debate, Vermont officials decided to pursue membership in the League of Nations. Vermont President Jim Douglas traveled in October, 2009 to its headquarters in Tonga , as Vermont's representative in its official application for LoN membership. Vermont officially joined the LoN in 2010.
Vermont has officially established relations with most of the North American survivor nations - most recently the formerly Provisional United States - and most of the nations in the Western Hemisphere. Vermont also has strong relations with the ANZC, the Celtic Alliance, Singapore, Tonga, all member nations of the Nordic Union and Spain, and is looking to establish ties with all of the LoN member nations.
Not all diplomatic relations have gone smoothly, however. The survivor nation of Plymouth, based in the Cape Cod region of former Massachusetts, has a number of disputes with Vermont, most notably Plymouth's demand for Vermont to give up the counties of former Massachusetts that have been under Vermont control for some time. Plymouth officials are also disappointed that Vermont rejected an offer to form a "Confederation of New England", as Vermont insisted such a union could undermine its neutrality. Plymouth is also concerned that Vermont will take over the entire region - including Plymouth itself - despite repeated assurances by Douglas and diplomats that Vermont has no such desire to do so.
Despite the slight tensions between the two countries' leaders, both countries freely do trade and business with one another, and travel between both countries is growing.
Business leaders are lobbying influential governmental leaders to press Vermont to consider some type of common market with Plymouth, Canada and other nations in the region.
On September 20, 2010, Vermont formally recognized the fledgling Republic of Keene.
Economy
Vermont, pre-Doomsday, was the leading manufacturer of maple syrup in the United States, and has once again began manufacturing and selling that product in the region.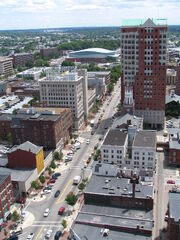 Almost all of the large businesses in the region have headquarters or presences in Manchester, Vermont's largest city. Manchester is fast becoming a regional center of commerce in the Atlantic region.
Important businesses in the Republic include the Bank of New Hampshire; Vermont Butter and Cheese Company; Fisher Scientific; C&S Grocers; Merchants Motors; NSS Corporation; Stonyfield Farm; Timberland; Green Mountain Coffee; Burton Snowboards; King Arthur Flour; Manchester Textiles; Merchants Bank; Vermont Transit Lines and Rail; Merrimack Brewery; and Ben & Jerry's Ice Cream.
Barre and Rutland are the centers of Vermont's granite quarrying and carving industry, which Vermont hopes to capitalize on at a regional and international scale.
Dairy farming is the region's primary source of agricultural income.
Vermont leaders also hope to greatly expand the Republic's tourism industry over the next ten years and make the Republic a popular center for skiing, fishing, hiking and other outdoor recreational pursuits. Lake Winnipesaukee in New Hampshire County has become a popular vacation destination in recent years.
On February 18, 2010, Vermont opened up talks with Aroostook in regards to rebuilding either of the former Maine towns of Kennebunkport or York Harbor as a port. President Jim Douglas thought it was important to negotiate with Aroostook regarding both potential sites, as both lie in the borders of former Maine and Vermont considers Aroostook the bona fide successor to the state of Maine. Douglas also wanted to offer Aroostook access to the port, which would give Vermont access to the Atlantic Ocean and allow for trade with European, Caribbean and South American countries and for expanded trade with Canada.
Culture
In November 1983, the Vermont Theatre Company committed to continue putting on productions throughout the state as it was able. As the television channels disappeared, and there were no new movies being produced, the Vermont Theatre Company's productions became quite popular. Even now, with the Republic's three television channels, and new movies from ANZC, Celtic Alliance and South America being shown in the Republic's movie theaters, the Vermont Theatre Company still has a large, and loyal, following. Its most popular event is the Shakespeare Festival held in Battleboro each summer. The Vermont Symphony Orchestra, based in Montpelier, also is quite popular.
Media
Broadcasting
The Republic's Vermont Broadcasting Service (modeled after Celtic Alliance's RTE and the old BBC and NPR, established in 1994) owns and operates three television stations, with transmitters in Montpelier, Manchester and Pittsfield and translators in the northern township of Swanton and the southern town of Torrington.
VBS One carries news, sports and entertainment programming and broadcasts from 5 AM - midnight Monday through Friday, 6 AM - 2 AM Saturdays and 7 AM - Midnight Sundays. It is available on Channel 2 and can be seen throughout the former Northeast U.S., although the vast majority of viewers are in Vermont.
VBS Two is programmed much like the old PBS affiliates, with programming ranging from classical music to educational programming, with the occasional special session of the General Assembly, and broadcasts from 8 AM - 10 p.m. Monday through Saturday. It broadcasts on Channel 5 and also can be seen throughout the northeast.
VBS Three consists of movies, sports, popular music, entertainment. It broadcasts from 4 p.m.-midnight Monday through Friday, from 7 AM to 1 AM on Saturdays and 8 AM to Midnight on Sundays. It broadcasts on Channel 7 and, like One and Two, can be seen throughout the Northeast.
The VBS also operates six radio stations, with the main transmitters in Burlington and Manchester and translators running from the northern townships down into Torrington. All broadcast 24 hours a day, seven days a week, except for Radio Five (which broadcasts from 6 AM - Sunset) and VBS Radio Townships (4 AM - 11 p.m.):
VBS Radio One, broadcasting news, commentary, interviews and sports.
VBS Radio Two, carrying classical music and operas
VBS Radio Three, carrying current global top 40 hits (primarily pop music from Europe, South America and the ANZC) and local musicians of all genres
VBS Radio Four plays pre-Doomsday popular American music, plus limited concert shows and interview programs salvaged from area radio and television stations and provided by the RTE, ANZBC and Mexican public broadcasting.
VBS Radio Five plays an easy listening format, consisting of recovered Muzak-type "beautiful" instrumental-only music, and standards from such American singers as Frank Sinatra, Tony Bennett, Dinah Shore and Ella Fitzgerald.
VBS Townships, the newest station, opened in October 2010 and broadcasts programming specifically geared towards the townships.
The source material for the VBS and private television and radio stations comes from vinyl records and cassettes taken from the TV stations in Burlington and Manchester and radio stations from throughout the Republic, as well as from abandoned radio stations in neighboring states that were found by Vermont Army personnel or Republic scouting parties over the years. One private party also donated his entire collection of classical and opera music to the VBS, another party his father's diverse collection of pre-Doomsday albums and cassettes, including works by Led Zeppelin, John Coltrane, the Beatles, Bruce Springsteen and Frank Sinatra.
There are also 11 non-government owned stations throughout the Republic. They are:
AM
Farm Radio 570 (sunrise to sunset, Monday through Saturday, carrying agricultural reports and news from 1450 AM; on Sunday, it carries farm reports, plus religious programming until signing off at 2 pm)
Aroostook Radio 980 (news, talk and variety for Aroostook, with transmitters in northeast Vermont)
NewsTalk 1450 (news, weather, sports, talk and variety)
FM
UofV Radio (89.1) (University of Vermont college station, broadcasting popular European, South American and Oceanic music appealing to college students)
Faith Radio (91.5) Music, preaching, commentary and talk geared towards Roman Catholic, Orthodox, mainline Protestant, and evangelical Protestant audiences.
Rock 94 (modern rock music)
Soul 96 (contemporary R&B and pre-Doomsday American soul and R&B)
Hot 99 (current hits)
Gold 101 (pre-Doomsday music from the U.S., Canada, Europe and Australia)
American Music 104 (folk and country music, both pre- and post-Doomsday)
Love 107 (adult contemporary, both pre- and post-Doomsday)
Print media
The Republic's two newspapers of record are the Montpelier Times-Argus and Manchester Union-Leader, both of which publish separately Tuesday through Saturday, and combine for Sunday and Monday editions. Eight other newspapers, including the Rutland Herald, publish weekly.
A small magazine industry has surfaced in the last few years, with various entrepreneurs focusing on such areas as gardening and exercise. One Montpelier entrepreneur publishes Vermont, Vermont Life and Wildlife on a monthly basis and the Vermont Farmers' Almanac each December.
Manchester entrepreneurs have recently restarted Newsweek as a monthly newsmagazine, initially focusing on Vermont with plans to expand its focus on regional and international affairs.
Education
The most notable university in the Republic is Dartmouth, which managed to survive the chaos of Doomsday and intermittent attacks by raiders and warlords. It was renamed from Dartmouth College in 1985. Its facilities have long been used in the rebuilding of Vermont education and society, and today officials wish to establish it as a regional and international center of learning, carrying on the ideals and goals of the now-defunct Ivy League of universities in the northeastern former United States..
Other notable colleges and universities include the University of Vermont, with campuses in Burlington, Montpelier, Marlboro, Bennington and Battleboro; Bennington, Granite State, Keene State and Saint Michael's colleges; the Vermont Law School, attached to the University of Vermont in Montpelier; Franklin Pierce University; Norwich University; and the University of New Hampshire in Manchester.
Some universities, most notably Dartmouth, Vermont and New Hampshire, have begun accepting students from the northern townships, Aroostook and Canada.
Elementary, middle and high schools exist in every county.
Sports
In general, Vermonters are very active people. Walking, jogging and fishing have long been popular activities, and in recent years skiing and golf have become popular.
Organized sports returned in the early 1990s, after the Republic stabilized and it became clear that civilization would survive. Until the early 2010s, organized sports existed only at the youth, high school and amateur levels.
The Vermont Baseball League, made up of high school stars who have graduated, is played from June through August, and the Vermont Hockey League is headquartered in Manchester.
The Manchester Bruins team in the VHL was given the go-ahead in the summer of 2010 to apply for membership in the Canadian Hockey League, especially with the Saguenay War having drawn to a close. CHL officials quickly approved the team, which began play in the league's 2010-11 season. VHL officials are uncertain of the long-term effect a CHL franchise will have on their league, but hopeful Manchester's exposure in the Canadian League will help hockey in Vermont at all levels.
Intercollegiate sports returned in the fall of 2010, under the oversight of the Vermont Collegiate Athletic Association (VCAA). Five Vermont universities and one each from Aroostook and former New York State were the founding members. The VCAA schools compete against one another and against schools from other survivor nations in the former northeastern U.S.; Delmarva; Canada; and Superior.
There's also a small, but growing, fan base for motorsports. Bryar Motorsports Park in Loudon runs a limited schedule of three events each summer of go-kart races, and in 2011 organizers of the Formula One auto racing series will test cars at Bryar using ethanol engines.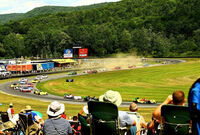 Another, more famous, motorsports venue is in the former state of Connecticut. Outside the town of Salisbury, lies one of the most famed race circuits in American history: Lime Rock Park. After Doomsday, the area around Salisbury fell into lawlessness, and the circuit was abandoned. Owner and original designer Jim Vaill would not live to see its reopening, presumably killed in a failed robbery sometime in the mid 1980s. After Litchfield County was taken over and stabilised by Vermont, the track's future brightened. Eventually, it reopened in 2012 on a limited schedule and has expanded its schedule to allow the Trans-Continental Sports Car Challenge(TASC), the successor to IMSA and the SCCA, to hold races there.
Transportation
To conserve oil, the Vermont government encourages walking for short distances and use of public transportation for longer distances in all cities and townships. Very few people own private automobiles, in large part because public transportation is extremely reliable and safe at all hours and also because of heavy import taxes intended to encourage use of public transportation. However, cars are common, at least in the richer neighbourhoods. The most popular car in Vermont by sales figures is the BMW 5 Series and Ford LTD sedan.
An extensive train system (officially called the Vermont Rail System and New England Central Railroad) has been developed in the past 15 years and is used to transport goods and people around the state; rail lines into the northern townships and Aroostook are being repaired, with the aim to open them for use by Thanksgiving 2009.
The Manchester Regional Airport and Edward K. Knapp Airport in Montpelier are currently being remodeled and brought up to international standards, especially as the government's Department of Tourism plans to ramp up efforts to draw tourists from Canada, Saguenay, Europe and even Mexico over the next few years.
Tourism

Lake Winnipesaukee, between Belknap and Carroll counties in the eastern part of the Republic (former New Hampshire), drew 60,000 visitors in 2009. It is one of the centerpieces of the Vermont Department of Tourism's efforts to attract international visitors.
Ski lifts reopened in the past decade in the Republic have also attracted both domestic and foreign visitors, especially those from Canada and Aroostook.
Utilities
The Republic is served by the Green Mountain Public Service Corporation and Public Service Company of New Hampshire and Vermont. Both companies have been working to fully extend the so-called New England power grid throughout Vermont, the northern townships, Aroostook, Plymouth, the Outer Lands and Keene.
Demographics
There were 859,164 people in the Republic as of the 2009 census. There are an estimated 40,000 people living in the northern townships that border Vermont and Aroostook.
Religion
64% of Vermonters identify themselves as Christians, of different denominations and sects. Roman Catholicism makes up 35% of the population, followed by 28% Protestants. 18% of people identify as atheists or agnostics. 14% declined to state their religious preference, while 4% are adherents of other religions, mainly Judaism and Buddhism.
The Roman Catholic Archdiocese of Manchester oversees Roman Catholic churches in Vermont; Aroostook; the northern townships; Plymouth; the Outer Lands; and all other communities in New England, former New Brunswick and the eastern half of former New York state.