Republic of West Texas
Timeline: 1983: Doomsday
OTL equivalent: western Texas, SW New Mexico

Flag
Coat of Arms

Location of West Texas

Motto
Friendship
Capital
Midland
Largest city
Odessa
Other cities
Carlsbad, Hobbs, Pecos, Big Spring, Monahans, Fort Stockton, Sweetwater
Language
English, Spanish
Religion
Protestant, Roman Catholic Christianity
Ethnic Group
55% Caucasian; 34% Hispanic; 9% African-American; 2% other
President
Mike Conaway

Vice President

Steve Pearce
Population
950,000 (est. as of Nov. 2010) 
Independence
July 4, 1985
Currency
Texas Dollar; Mexican Peso
The Republic of West Texas was an American survivor nation based in the old southwestern United States, out of portions of western Texas and southwestern New Mexico, which existed from 1985 to 2012, becoming part of the newly unified Republic of Texas.
Area cities and towns, led by Midland and Odessa, Texas, established a confederation in August 1984 which became an independent nation on July 4, 1985. The republic claims official sovereignty over the western area of the former state of Texas and southwestern former New Mexico, a claim recognized by Mexico and the League of Nations. The map to the right shows the Republic's official borders as of March, 2010, outlined in red, relative to the other survivor states' borders in the former state of Texas. West Texas's territory effectively extends east to former Waco.
Mike Conaway, a Republican from Midland, is the current President of West Texas. He won election to a second term in voting held on November 3, 2009.
West Texas played a key role in the unification of several nation-states within the borders of the former U.S. state of Texas, into the unified Republic of Texas which was formalized on January 20, 2012.
History
See main article: History of West Texas
Government and politics
See main article: Government and Politics of West Texas
Economy
West Texas's economy is dominated by cotton, ranching and the petroleum industry. It has benefited from the government's decision to continue the low taxation policies of the old state of Texas, as well as its abundance of oil and natural gas.
With access only to the Rio Grande River, a high priority for the government had been to establish a port on the Gulf of Mexico. It settled for a jointly-shared port with eastern Texas, the Republica de Dos Laredos, the State of South Texas and the Rio Grande Valley Republic. The port was refurbished and opened for business in 1999, and all parties extended their agreement for 30 more years on December 8, 2009.
The petroleum industry has taken advantage of the Permian Basin oil fields having not been hit on Doomsday and government policies mandating public and private sector oil conservation. As a result, the industry considers West Texas to be in a great position to be one of the leading oil exporters in the western hemisphere over the next 10 years.
West Texas is the home to a Volkswagen plant outside Odessa; a Ford trucks plant outside Midland; a Volkswagen plant outside Monaghans; and an airplane manufacturing facility outside Fort Davis.
Energy companies hope to benefit from windmill technology, using it to create power it can sell to West Texans and to neighboring nations.
Midland and Odessa's economies have also benefitted from the cultural, sports and music scenes present in the two cities.
On March 4, 2010, the Texas Superhighway was ceremonially opened in Odessa. The highway would connect West Texas with eastern Texas and stretch along old Interstate 20 into Midland; State roads 158 and 87 into San Angelo; old state roads 67 and 84 into Waco; and eastern Texas state roads 84, 69 and 21 through Palestine, Rusk and Nacogdoches; and eastern Texas state roads 259 and 64 into Tyler. It would be used for economic, military and government travel, as well as for long-term civilian travel.
West Texas and eastern Texas also began working on developing railroad lines between the two Texases which would be intended for heavy economic and civilian use.
In early March 2010, Conaway announced an agreement with Mexican brewing company Corona to build a plant outside Odessa, with construction to begin in October.
Ford Motor Company, now headquarted in Brazil, has agreed in principle to build an automotive plant in the region, to build vehicles primarily for military, government, commercial and public transportation use, along with limited production of private, civilian automobiles and trucks.
Military
A militia was established in the area soon after Doomsday; when it became clear that the coalition of towns would become an independent nation, steps were taken to establish an army.
In subsequent years, West Texas (with significant aid from Mexico and the ANZC) established an Air Force and in recent years, a Navy and a Marine Corps.
Because the West Texas military is by far the most advanced of all the Texas survivor nations, it would in effect become the Republic of Texas military when reunification happens in 2013. In fact, West Texas's aid in helping eastern Texas set up its own military was done with reunification in mind.
The West Texas Army (WTA) is responsible for the defense of the entire nation from threats within and without. This includes monitoring the entire border, including along the Rio Grande River. The Military also defends West Texas's oil fields.
In 1986, mandatory service for all males 18 and over for at least two years with reserve status until age 35 was established; women were allowed to join in non-combat positions from 1986 on, and there continues to be some sentiment for allowing them to serve in combat.
The West Texas Army headquarters are located in Midland. Its main base is in Fort Stockton, and auxiliary bases are located in Fort Davis, Hobbs, Big Spring, Sonora, Van Horn, San Angelo and Waco. The San Angelo and Waco bases were established in early 2010.
When it was commissioned, the West Texas Army took responsibility for training and performance of duties associated with both the former United States Army and the Marine Corps.
The West Texas Army, making do with weapons left over from former U.S. bases and purchased from Mexico in 1984, has had its weaponry and equipment updated with assistance from Mexico and the ANZC. The standard issue firearm of the Army is the M16 assault rifle. The Army's MBT is the M60A3, which is used alongside M113 APCs.
The branches of the West Texas Army are divided as follows:
Basic
Military Intelligence Corps
Special
Judge Advocate General's Corps
The West Texas Marine Corps (WTMC) is based out of Midland. Founded in 2008, the WTMC is a new branch of the armed forces intended to be incorporated into the Republic of Texas military in 2012. The Marine Corps is intended to serve as an amphibious force-in-readiness, much like the Marine Corps of the former United States. Its growth is intended to coincide with that of the future Republic of Texas Navy.
The West Texas Air Force (WTAF), consisting of approximately six dozen planes purchased from (and donated by) Mexico and the ANZC, is currently based out of Big Spring. The main aircraft of the WTAF is the F-5E Tiger II, purchased from Mexico, chosen for its low cost and reliability. The WTAF also patrols other parts of former Texas, in keeping with treaties and defense agreements amongst the Texas survivor states.
The West Texas Navy (WTN) exists as a very small fleet stationed in Port Isabel, primarily patrolling for narcotics and anyone who would enter Texas illegally.
The long-term plans are to build a navy capable of defending Port Isabel as well as performing various duties along the coast of the former state of Texas.
Law enforcement
Volunteers consisting of area Texas Rangers, state patrolmen, police officers and interested civilians, were initially activated as the state's de facto police force.
Each city and town established its own police force, led by a sheriff.
The Texas Ranger Division of the Department of Public Safety is a law enforcement agency with statewide jurisdiction that has a presence in every city and town. Over the years, the Rangers have investigated crimes ranging from murder to political corruption. They have acted as riot police and as detectives, protected the President, tracked down fugitives, and functioned as a paramilitary force for the republic.
Midland and Odessa are the only towns in which the police primarily use automobiles, and even then, many officers either patrol their beats on foot or by bicycle or horseback. In the smaller towns, police make extensive use of horseback, with more limited use of automobiles, to get around.
Men and women serve at all levels of law enforcement.
International relations
As of August 2010, West Texas is in process of becoming a member of the League of Nations.
West Texas currently has formal relations with Mexico; the other republics in former Texas; most of the survivor states in North America (including Superior; Canada; Vermont; and the Municipal States of the Pacific), Central America, the Caribbean; the nations of South America; and the major powers outside the Western Hemisphere. A few Congressmen, backed by influential West Texas Baptist pastors, are still pushing for formal ties with Israel).
West Texas has rejected two invitations to join the NAU, but business leaders support full membership, which is likely to be ultimately addressed by the planned successor Republic of Texas
George W. Bush, the son of the last American President, George H W Bush, was appointed in March 2010 as Mexico's ambassador to West Texas. Bush lived in Midland as a child and was in the area when Doomsday occurred (George W. Bush fled the region with his family into the Mexican state of Coahuila, and from there to Mexico City).
A group of older U.S. military veterans, some of whom served in the West Texas army in the '80s and '90s, learned of the existence of the Committee to Restore the United States of America and that George H W Bush was alive and well and living in Australia.
In August, 2009, without consulting Conaway nor any other government official or agency, the veterans asked NAU officials during their visit to contact Bush, his son George W. Bush (who lived for a time in Midland) and the CRUSA, and ask them to visit the Republic. West Texas will only allow such a request on its own initiative.
The CRUSA branch in Midland continues to gently press for official relations with West Texas, which has not at this time reciprocated. It also is watching events in the western-based United States, which now claims to the legitimate successor to the pre-Doomsday USA.
Culture
Music
Texans have long pioneered musical innovation in such genres as country, the blues, tejano music, punk rock and mariachi. West Texan musicians are considered to have capably carried on those traditions.
Realizing that the music scenes of Austin and Nashville disappeared with the destruction of those cities, area musicians realized they would have to step up and continue to create new music, inspired by the artists who had passed away before and during Doomsday. Their efforts have resulted in Midland becoming, in one critic's words, "the new, post-Doomsday Austin".
Musicians also understood their music could play a key role in lifting people's morale during the difficult times everyone faced in the early years of West Texas. They played, for free, at every public venue they could find, especially in the refugee shelters.
Today, one can visit one of the numerous clubs, bars and halls in the cities and towns to hear the best local musicians perform; the more popular acts perform less frequent paid concerts at such places as Permian High School in Odessa and at the Midland Community Theatre. Also, people can still hear live music in many public areas during the week and on weekends, including parks, restaurants and farmers' markets.
Nine types of music scenes developed over the years as the Republic stabilized, and are considered to be the most popular, with nearly everyone enjoying several of the forms:
Traditional country artists draw from the big-band/swing style popularized by Texan Bob Wills; the crooning, 'countrypolitan' style popular in Nashville in the 1960s and early 1970s; and the instrumental style of Chet Atkins.
Outlaw country artists are heavily influenced by musical legends Waylon Jennings, Wilie Nelson, Billy Joe Shaver and Kris Kristofferson - artists who themselves were influenced by traditional country artists and rock artists of the '60s and '70s.
Rock acts look to Lynyrd Skynyrd and the Marshall Tucker Band, and to a lesser extent other groups like the Doobie Brothers, Van Halen and Kansas, for inspiration.
Tejano music, popularized by artists who came to west Texas from south Texas or Mexico, has gained a sizeable audience over the years.
Texas blues, a style influenced by Texans Johnny Winter, the Fabulous Thunderbirds and Stevie Ray Vaughan, has a smaller, but loyal and enthuiastic, following.
Southern gospel continues to be the most favored form of sacred music among many Protestants.
Classical music has also gained in popularity, in no small part due to the efforts of the privately-run West Texas Public Radio station and a group of influential citizens (including some legislators) who thought the musical form to be too valuable of a resource to allow to be forgotten.
African-American soul & R&B - influenced by such 1970s and early 1980s-era American artists as Marvin Gaye, Diana Ross, Earth, Wind & Fire and the Commodores - is the most popular form of music among the nation's African-American community.
Romantic - a combination of Mexican romantica and American adult contemporary ballards
Other types of music that have gained an audience include 'beautiful' music; banda; huapanga; ranchero; norteno; and 'Christian' rock and country music.
Arts
Classical music has made a comeback in recent years, due initially to small but affluent and influential individuals in Midland and Odessa. Classical music grew in popularity due in large part to the efforts of West Texas Public Radio, which in 1989 became the first privately-owned station to be licensed by the government post-Doomsday. The Midland-Odessa Symphony & Chorale has tried to increase the profile and popularity of classical music by playing concerts in high schools and open parks around the Republic.
The Midland Community Theatre, which hosted sessions of the House of Representatives and Senate for a number of years, as well as the official state welcome for visitors from other nations, has long put on musical, comedy and dramatic productions and continues to do so on a weekly basis. Those performances are extremely popular, drawing visitors from around the Republic.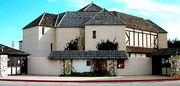 The Permian Playhouse is Odessa's counterpart to the MCT. Odessa also is the home of the Globe of the Great Southwest, a replica of William Shakespeare's Globe Theatre (and in light of Doomsday, one of the few institutions designated as a national landmark).
Museums in the area include the Heritage Museum in Big Spring and the Museum of the Southwest Permian Basin Petroleum Museum, American Airpower Heritage Museum and Midland County Historical Museum in Midland.
Odessa's University of West Texas campus is home to the Presidential Museum and Leadership Library, dedicated primarily to the office of the President of the United States of America; there are also wings dedicated to the presidents of the 19th-century Republic of Texas and the Republic of West Texas.
National landmarks
The following have been designated national landmarks by the West Texas Department of the Interior: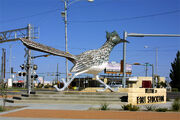 The White-Pool House in Midland
The Globe of the Great Southwest in Odessa
The Old Fort Davis National Historic Site, located one mile east of the Fort Davis military base
The Carlsbad Irrigation District and Carlsbad Caverns National Park in Carlsbad
Highway 290 from Ozona to Lancaster Hill (for its view of the Pecos River Valley)
Big Bend National Park and Big Bend Ranch State Park, south of Fort Stockton and Fort Davis
The Paisano Pete roadrunner sculpture at the entrance to the city of Fort Stockton
The Doomsday Memorial and National Memorial Cemetery, outside Fort Stockton.
The Midland Community Theatre, which served as the meeting hall for the Legislature in the early years of the Republic.
Doomsday memorial
The estimated 320,000 who are officially said to have died by "war-related causes" and who died in the Mexican/Anglo skirmishes of the early years are buried in the West Texas Cemetery northwest of Fort Stockton. At the entrance to the cemetery is a memorial with the names of the people who died, as well as the Texas and New Mexico areas destroyed on Doomsday. It took five years to build the memorial, which opened to the public on July 4, 1995, the tenth anniversary of the founding of the Republic.
Sports
High school sports is held in high regard, particularly American football. The annual regular-season games between Midland Lee, Midland High and Odessa Permian high schools, as well as the Republic championship game (which no school other than those three has played in since high school football resumed in 1989) is said to draw the interest of the entire region. Also held in high regard are soccer matches between the three schools, which draw crowds as large as those for the football games. Initially Anglos and African-Americans gravated towards football and baseball, while Hispanic refugees gravated towards soccer, and baseball. Now, all three ethnic groups enjoy, and participate in, all three sports.
The West Texas Interscholastic League is the sanctioning body of high school sports in the republic. All schools play in one division for all sports except for football, which is broken down into Division I (11-man) and Division II (8- and 6-man). Division I football schools, besides Lee, Permian and Midland High, are Odessa High, Fort Stockton, Carlsbad, Hobbs, Big Spring, Sonora, Monahans and Pecos.
The Lone Star Football League, a six-team semi-professional football league with teams named after the Dallas Cowboys, Houston Oilers and NCAA Division 1-A universities from Texas, has played games in Midland and Odessa on Saturdays and Monday nights for the past several years.
The teams are:
Broncos (formerly the Aggies)
Cowboys
Big Horns (formerly the Longhorns)
Texans (formerly the Mustangs)
Oilers
Raiders (formerly the Red Raiders)
With the resurgence of intercollegiate football in the region, the LSFL voted to change four of the teams' nicknames for the 2011 season (all are listed above, with their former nicknames).
One of the LSFL's more notable players is quarterback Colt McCoy, a former Hobbs High star who played for the Longhorns before signing a one-year contract with the Mexica Toros in the Mexican professional league in 2010; McCoy started six games late in the season, throwing for 1,400 yards and 14 TDs. McCoy garnered interest from teams in the Oceania-based Oceanic Football League and signed a two-year contract with the Pago Pago club on April 15, 2011.
West Texas also is home to a minor professional baseball league, the Texas League. It is the third such named professional league (the first operated from 1888-92; the second began in 1902, paused during World War II from 1942-45, and resumed operations in 1946, continuing on through the 1983 season).
This version of the Texas League was revived in 2010 as a semi-professional league, even while negotiating with Mexico's Major League Baseball to join its minor league system. In November 2010, the Texas League was granted Class AA status (the second level of Mexico's minor league system).
The eight teams, with their affiliations, are:
Big Spring Brioncs (Mexica Tigers)
Fort Stockton Sluggers (Guadalajara Leones)
Midland Capitols (Monterrey Sultans)
Monahans Warriors (Oaxaca Warriors)
Odessa Oilers (Mexico City Rangers)
Sweetwater Swatters (Yucatan Cubs)
Nacogdoches Pirates (Campeche Pirates)
Edinburg Dodgers (Acapulco Dodgers)
Association football is mainly referred to in West Texas as soccer, or futbol. It is popular on both the high school and semi-pro levels and has solidified itself as the nation's second-most popular sport. Most of the 12 club teams in the nation's top flight are based in Midland and Odessa; Army FC, sponsored by the military and based out of Fort Stockton, is one of the better sides. West Texas established the West Texas Football Association, and joined FIFA in December 2009, thanks in no small part to the help of Mexico's national federation.
One interesting phenomenon is that although the Anglo majority tended to prefer American football in the early years of the country, and the Latino minority soccer (and both groups enjoying baseball), over the years both groups, along with the African-American minority, equally participate and enjoy all three sports.
Basketball is the most popular indoor sport. Golf is mainly a participatory sport, contested by more affluent residents. Track and field is limited to youth and high school competition, although with the resumption of the Summer Olympics in 2012, that is anticipated to change.
The University of Texas (previously known as the University of West Texas (UWT))), with assistance from the government and from private Mexican sources, began work on a new sports complex on its main campus in Odessa in 2008. The facilities are to be used for professional, intercollegiate, high school, amateur and international competition, and include:
A 50,000-seat stadium for American football, soccer, track and field, and other large-scale events, which was completed in early August 2010, and to be dedicated with an exhibition match between the West Texas and eastern Texas national soccer teams on August 21, 2010, then with UT's American football season opener against UNAM of Mexico on September 4, 2010
A 12,000-seat arena for basketball and other indoor sports, completed in November 2010
A 12,000-seat baseball stadium, completed in April 2011
Various practice and training facilities, completed in March 2011
The University of Texas competes against other regional schools, including Texas A&M and Stephen F. Austin in eastern Texas; Louisiana and Louisiana State universities; the University of Hattiesburg; Brigham Young University in Utah; Lincoln University in Lincoln; and UNAM in Mexico.
Despite criticism from conservatives, West Texas sports federations - particularly in association football - are developing closer ties with their counterparts in Mexico.
Cuisine
As Mexican influence in West Texas grew in the 1980s and 1990s, and residents began to look beyond basic day-to-day survival, numerous items associated with daily pre-Doomsday life began to make a comeback - one of which was fine dining.
Fine dining is defined differently wherever one goes in the country.
Visitors and residents in Midland and Odessa have a wide variety of fine, casual and informal restaurants, dineries, cafeterias and "hole-in-the-walls" to choose from. Many specialize in American and Mexican cuisine, but there are a good variety of Italian, Chinese, Japanese and Brazilian restaurants to dine at as well. Also, several Mexican fast-food restaurant chains have presences around the nation. Kentucky's Kentucky Fried Chicken is set to open a location in Midland in 2012. And an Australian chain named MacKenzie's - modeled after the popular pre-Doomsday U.S. chain McDonald's - plans to open restaurants by 2013.
Some of the best-known restaurants in and around the capital include Cancun Grill (Midland and Odessa), La Mission (Midland), Rosa's (Midland), Capitol Bar and Grill (Midland and Odessa), Dos Amigos (Odessa), Murray's Deli (Midland), Midland Barbecue (Midland, Odessa), Shogun (Midland), El Bodego (Midland), Sam and Sid's (Odessa), O'Dell's (Odessa) and Taco Box (Odessa).
Lone Star Barbecue is one of the most popular restaurant chains throughout the nation. Started by American refugees and Mexican entrepreneurs in 1995, Lone Star serves its American western/Texas fare in 21 locations throughout West Texas, eastern Texas, South Texas, the RGV and in Graham, with plans to expand regionally over the next ten years.
Throughout the rest of the country, dining tends towards American and Mexican fare; local diners, food trucks, and "family-style" restaurants dominate the scene. Midland Barbecue also has locations in nine towns, including Hobbs, Monaghans and Fort Davis. Three Mexican fast-food chains have presences throughout West Texas.
Demographics
West Texas is a predominantly white nation, although there are substanial black and hispanic minority groups. The 2008 government census found 55 percent of residents were Caucasian; 34 percent Hispanic; nine percent African-American; and the remaining two percent of other races.
Religion
Pre-Doomsday, Texas was known as the "buckle" of the Bible belt. Christianity was a dominant force, socially, culturally and even politically in the state.
Post-Doomsday, Christianity remains a highly influential faith in West Texas. In the 2008 government census, sixty-two percent of residents professed to be Protestant and 25 percent Roman Catholic. Six percent declined to state a preference. Four percent professed to be atheistic or agnostic, two percent Jewish, 0.7 Buddhist and 0.3 "other".
Protestant Christianity
Among Protestants, the majority profess themselves to be Baptists, associated with the West Texas Baptist Convention, a denomination considered in the Republic to be the successor to the Southern Baptist Convention. Other prominent Protestant denominations include Methodism, Lutheranism, "independent Bible" churches, Pentecostalism and Episcopalism.
Unlike the Roman Catholic Archdiocese of Midland, the varied Protestant denominations are not tied to an outside agency in any manner; they are self-governing.
They also have good relations with similar groups in the other Texas survivor states and those in the rest of the region of the former U.S. stretching from Arizona to Kentucky. For example:
The United Methodist Church of West Texas is supporting churches in Flagstaff, Borger and Dinetah
Lutheran Church-Missouri Synod congregations in West Texas have re-established ties with congregations throughout former Texas, Arkansas and Missouri
Numerous pentecostal and "charismatic" churches from West Texas are actively planting churches throughout the region
The West Texas Baptist Convention is in talks with its counterparts in the other Texas survivor states to merge into one body, but the various organizations continue to debate issues of theology and political and social involvement. Observers believe this could result in the establishment of two or three Republic-wide Baptist Conventions: one with conservative theology and focusing on social and political influence, another with more moderate theology and, perhaps, a third, liberally theological convention focusing on "social justice" issues.
Roman Catholicism
The Roman Catholic Archdiocese of Midland is headquartered in Midland, and headed by Archbishop Patrick Zurek. Zurek also is a member of the College of Cardinals, listed as a Cardinal-Priest.
Sub-divisions include the dioceses of Carlsbad, West Texas and Edinburg, RGV. The archdiocese covers the territories of South Texas, West Texas, the Rio Grande Valley Republic, Dos Laredos, as well as city-states in the unincorporated western, northwestern and southwestern portions of the former U.S. state of Texas (and future Republic of Texas), and all other survivors in what was formerly the U.S. state of New Mexico and southwestern Oklahoma.
Other faiths
The Republic's small Jewish community is centered in Odessa.
Communications
Doomsday
550 AM carried the network announcement of the impending Soviet attack, as did Channel 2 (then ABC affiliate KMID). Both initially suspended programming in favor of the Emergency Broadcasting System in accordance with federal regulations; however, when it became clear most (if not all) of the country - and the federal government - was being destroyed, Midland mayor Thane Atkins implored station managers to disregard the EBS directives and go back on the air.
Both stations resumed broadcasting at 7:58 pm local time, and NBC affiliate KTPX-9 at 8:01; however, an electromagnetic pulse somewhere above the United States disrupted all manner of electronics in the region, and forced all radio and television stations off the air. Reporters from KKRS AM and KMID, KTPX and KOSA-7 television stations joined reporters from the Associated Press and Midland Reporter-Telegram in informing the public in the days and months post-Doomsday. Initially reports took the form of medieval town criers, but privately owned printing presses were quickly put into use to print copies of the Reporter-Telegram (the newspaper's presses, and those of the Odessa American, were restored to full service by 1984). These reporters, not knowing how they were going to care for their families and to the fate of loved ones and friends outside the region, banded together and put aside their personal concerns for the common good; they are credited with helping calm and inform the public during the initial days, weeks and months after Doomsday.
CBS affiliate KOSA-TV and all other area radio stations, including ones in Hobbs and Carlsbad, stayed off the air.
KTPX engineers had the presence of mind to record the last known NBC network transmission, a special report in the early minutes of the missile attack, and place it in a vault before power went out. That gamble paid off several years later, when it was unearthed and found to have been undamaged. That NBC broadcast was shown again on West Texas Channel 2 on the 25th anniversary of Doomsday (this is not the copy that is in the possession of the Museum of Remembrance in Canberra, ANZC).
Radio
There are 22 radio stations (five government-operated, including 550 AM and 99.1 FM) based in West Texas, all of which can be heard throughout the entire country. Some stations can also be heard in eastern Texas, South Texas, Graham, Paris, and portions of northern Mexico and Dinetah.
The government-operated network is Texas Public Radio (TPR). Known as West Texas Public Radio from its founding in 1990 until October 2010, TPR has affiliates in all of the Texas survivor nations and Dinetah and provides programming for stations in Louisiana, Broken Bow, Stillwater, Hattiesburg, Hot Springs and Natchez. TPR also imports programming from Kentucky, Victoria and the ANZC.
Its competitor is the newly established University Public Radio (UPR), based at the University of Texas campus in Midland. UPR began broadcasting in the fall of 2010 and carries not only university-produced programming but also programming from Mexican public broadcasters and imported programming from the Canadian Broadcasting Corporation and the RTE in the Celtic Alliance.
550 AM, formerly known as KCRS 550 pre-Doomsday, was the first radio station restored to operation after Doomsday, in 1989. 550 AM, presently known as Texas Public Radio, is jointly owned by the government and the citizens of West Texas. Its wattage was upgraded to 50,000 watts in 2009, allowing it to broadcast to almost the entire North American continent and most of Mexico, Central America and the Caribbean at night. Its sister station, 99.1 FM, operates at 100,000 watts and can be heard throughout the region. 
Five radio stations are based in smaller cities and town around the nation, in Carlsbad/Hobbs; Big Spring; Sweetwater; Fort Stockton; and Monahans. These stations are community-based and broadcast on a limited schedule from sunrise to sunset each day (but return to the air as soon as possible in case of emergencies).
One religious station, owned by the West Texas Baptist Seminary, recently switched to 95.3 FM, giving its former 88.9 frequency to the government for the new University of Texas student station.
AM
550 KTPR Odessa Texas Public Radio One news, sports, discussion
1070 KWTT Midland West Texas Talk 1070
1200 KSWT Sweetwater Religious, farming, local sports
1280 KHBS Hobbs/Carlsbad Beautiful music, local news/talk/trade/sports
1510 KMHS Monahans Ranchero/local news, high school sports
FM
88.1 KTPS Odessa Texas Public Radio en Español
88.9 KUTR Midland University of Texas student-run station
89.7 KTEX Midland University of Texas Public Radio
90.5 KEDU Midland educational programming
91.3 KTPC Odessa Texas Public Radio Two classical, jazz
92.1 KQZU Monahans Rock en Español
95.3 KWTBS Midland West Texas Baptist Seminary, religious music, preaching
96.1 KCCO Big Spring/Monahans Country Classic 96
97.9 KGLD Midland US Gold 98
99.1 KTPM Odessa Texas Public Radio Three regional country, rock, hispanic
100.5 KCSB Carlsbad/Hobbs Texas Country
101.3 KRCK Big Spring Classic and modern rock
102.7 KLSR Midland Lone Star Radio (country, rock, adult contemporary)
103.5 KFSR Fort Stockton Love 103.5 adult contemporary
104.3 KBCI Midland religious programming in Español
106.1 KRS Odessa Mexican Top 40
107.9 KRCH Midland Ranchera 108 Español
Television
Television channel 2, also government-owned, operates as Texas Public Television. It broadcasts from 6 PM to 12 Midnight each night, except for Saturdays (8 AM-12 Midnight) and Sundays (Noon-11 PM), carrying news and information, old movies, cartoons, old 1970s and 1980s syndicated programming, as well as live sports and political speeches. It is government owned, as Texas Public Television. Channel 2 has translators throughout the region, including Graham, Paris, Tyler, Nacogdoches, Edinburg and Hebbronville.
Channel 4, Televisia, broadcasts in Spanish and carries both locally produced programming and programming from Mexico. Novellas, comedies and movies from Mexico and South America, as well as South American soccer, comprises the bulk of programming, along with local news, public affairs, entertainment and sports programming geared towards the Spanish-speaking community of West Texas.
Channel 7 is the Texas State Network flagship station, broadcasting similar, but more commercial, programming to Channel 2. It is loosely affiliated with Mexico's Televisia and the ANZBC. The TSN carries University of Texas sports and Mexican Major League Baseball and Primera Liga Futbol (soccer). Channel 7 also carries religious programming, primarily on Sundays. It broadcasts from 6 AM-12 Midnight Monday through Friday, 7 AM-1 AM Saturdays and 8 AM-12 Midnight on Sundays. Channel 7 (as the Texas State Network) has affiliates in Graham, Paris, Nacogdoches, the RGV and Hebbronville.
A fourth station, TexasTV (Channel 9), is a privately-owned station approved by the West Texas Communications Commission in November 2010. The owners are a conglomerate of Midland- and Mexico-based entrepreneurs, including George W. Bush (the son of former U.S. President George H W Bush). Broadcasting will begin March 11, 2011 and will include a mix of English and Spanish entertainment, news, sports and religious programming plus movies. Rumors have the new channel's news and editorial slant veering towards conservativism (to counteract the alleged liberal bias of Texas Public Television and Radio).
All stations easily reach every city, town and village in West Texas, and have been viewed as far north as Stillwater; as far south as Monterrey; as far east as Monroe, Louisiana and as far west as Rainbow Bridge in Dinetah.
TV
Channel 2 Odessa Texas Public Television
Channel 4 Midland Televisia (Español)
Channel 7 Midland Texas State Network
Channel 9 Midland format to be announced
Newspapers
The Midland Reporter-Telegram and Odessa American are the newspapers of record and are jointly owned. The Reporter-Telegram publishes on Tuesday, Thursday and Friday, and the American on Monday, Wednesday and Friday; both papers publish combined editions on Saturday and Sunday.
El Star, a Spanish-language newspaper published by the owner of the Reporter-Telegram and American, publishes Tuesdays, Thursdays, Fridays and Sundays.
Other newspapers in West Texas publish once a week, usually on Wednesdays.
Telephone/telegram
West Texas Bell provides telephone and telegram service throughout the region.
Other media
Ham radios exist in every town and city and are used mainly by government, military and law enforcement agencies to communicate with one another. There is also an extensive civilian network; after the policy of isolation ended in 1986, the civilian operators were basically free to operate as they liked. They have also began communicating with fellow operators throughout North America.
In the early days post-Doomsday, officials put scouts on horseback and had them travel from town to town, village to village, doing everything from delivering mail to sending official communications between towns. The Pony Express was formally reconstituted and still exists today as a courier service for both civilian and government use. The military has its own version, as do selected government agencies.
Education
In the republic's early years post-Doomsday, priority was given to survival, and formal education was left to families. Only after it was clear that West Texas would survive as an entity was thought given to reconstituting the educational system. This was done first with elementary schools, then middle and high schools.
The University of West Texas - to be renamed the University of Texas - was opened in 1993, consisting of the former University of Texas of the Permian Basin and Texas Tech School of Medicine branch in Odessa. It is the region's only university, and offers programs in such areas as medicine, journalism, sciences and leadership studies.
UWT abruptly announced in August 2010 that it would rebrand itself as the University of Texas, along with opening up branches in Dinetah, Graham, Paris and Plano. The university is considered to be the successor to the pre-Doomsday University of Texas based in Austin; the school mascot, formerly the Lone Stars, will also be "rebranded", to Longhorns.
West Texas Baptist Seminary in Odessa was formed in 1996 after government officials declined pastors' request for a seminary department at the university.
Midland College also reopened in 1993, and serves as a training ground for the school system's teachers. Its agricultural program has become very important to the entire region.
Exploration
Ongoing exploration of the former state of Texas is run by the Department of the Interior in conjunction with the Army. Exploration went on as early as 1984, but resources for full exploration efforts did not materialize until 1998. Emphasis has been placed on exploring bombed areas and nearby cities (most notably Waco, in central former Texas) for resettlement.
Policy is to examine ruined cities for salvageable material as well as their potential for future resettlement and to look for other survivor communities of any size, and offer on behalf of West Texas whatever aid they may need. Not knowing for sure what's out there (partly because of the government's long-time policy of isolationism), armed Texas Rangers and Army personnel accompany scouting parties for defensive purposes only.
Texas reunification
The Republic of Texas is a proposed unification of various entities within the borders of the former U.S. state of Texas:
West Texas,
the cities of Graham and Paris and various farms and townships scattered across the northern part of old Texas.
The Republic of Dos Laredos has told authorities from surrounding nation states and the League of Nations it is not interested in uniting with the proposed Republic of Texas.
The residents of the various survivor towns and townships in the central portion of old Texas are satisfied with the status quo, but would likely vote to merge into the new nation.
A loose association of towns in southeastern Texas, led by a sometimes contentious faction of five political entities in the town of Victoria, has expressed interest in joining the alliance. An area that at times in the 1980s was considered borderline lawless, it wants to join the Republic but suffers from a lack of strong political leadership. Even in 2011, any country that deals with the region diplomatically and/or politically has to deal with numerous entities claiming to represent it.
On June 23, 2010, Eastern Texas Governor Roger Van Horn and West Texas President Mike Conaway held a joint press conference at Stephen F. Austin University to announce their countries would seek to merge into one entity, the Republic of Texas, by June 2010 pending voter approva. The press conference was predicated by newspaper reports in Nacogdoches, Midland and Monterrey, Mexico the past weekend detailing Conaway's "secret" negotiations with eastern Texas, South Texas and various survivor communities throughout the former U.S. state of Texas. Radio stations in Nacogdoches and Edinburg, Rio Grande Valley, reported that both men would travel to the RGV in the next weeks to "finalize" the RGV's merger with the proposed Texas republic.
Northern Texas also is likely to join the proposed republic, although a sticking point is believed to be local political leaders' preference for a 'State of North Texas' and some political power that would supersede that of the national government.
In July 2010, political leaders in Midland and Nacogdoches began formal discussion of merger of their two countries by January 1, 2012.
The process involved drafting a constitution for the new country, and then presenting it to voters across the former state in a referendum to be held in May 2011. A majority vote (51 percent or more) was required for full passage.
The constitution was overwhelmingly approved in all of the recognized Texas survivor states on May 31. The breakdown is as follows:
West Texas 92% yes, 7% no, 1% undecided
Eastern Texas 94% yes, 5% no, 1% undecided
RGV 96% yes, 2% no, 2% undecided
Graham 83% yes, 13% no, 4% undecided
Paris 86% yes, 8% no, 6% undecided
Borger 67% yes, 11% no, 22% undecided
Association of Central Texas 84% yes, 12% no, 4% undecided
As the measure was approved, the seven states have begun to choose delegates for a constitutional convention at Stephen F. Austin University in Nacogdoches in August 2011 to approve the new constitution.
Upon approval of the constitution, West Texas, eastern Texas, South Texas, RGV, Graham, Paris and the association of Central Texas towns would each nominate their heads of state for a special Presidential election in November 2011. The winner of that election would be inaugurated on February 20, 2012.
Any union or official association with the United States, North American Union and/or the East American Alliance has been put on hold until the formal re-establishment of the Republic of Texas; in the interim, all seven states have established solid relations with each of those entities.
One likely alliance is a sort of NAU/East American Alliance-type alliance with nation-states in Broken Bow, Hugo and Stillwater in former Oklahoma; the state of Louisiana (including Lake Arthur); Hattiesburg and Natchez in former Mississippi; and possibly Hot Springs in former Arkansas. This alliance would in turn be allied with Mexico and be more allied on the international stage with the ANZC than with the South American Confederation.