Republican Party nomination
A number of Republican candidates entered the field to challenge the incumbent Democratic President, Bill Clinton. The list included:
Governor of Tennessee and Secretary of Education Lamar Alexander of Tennessee
Pat Buchanan of Virginia, a former aide to Presidents Richard Nixon, Gerald Ford and Ronald Reagan, author, journalist and commentator
Senate Majority Leader Bob Dole of Kansas Representative Robert K. Dornan of California
Steve Forbes of New York, an owner and publisher
Senator Phil Gramm of Texas
Alan Keyes of Maryland, a former diplomat and conservative activist
Senator Dick Lugar of Indiana
Senator Arlen Specter of Pennsylvania
Morry Taylor of Ohio
Governor and former Senator Pete Wilson of California

The fragmented field of candidates debated issues such as a flat tax and other tax cut proposals, and a return to supply-side economics policies popularized by Ronald Reagan. More attention was drawn to the race by the budget stalemate in 1995 between the Congress and the President, which caused temporary shutdowns and slowdowns in many areas of federal government service.
Clinton's Death Changes the playing field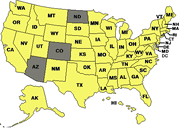 On January 2, 1996, President Bill Clinton was shot dead in Iowa and Vice-President Al Gore is sworn in as President.
Going into the 1996 Election the Republicans chances of winning were extremely bleak.
Front runner for the nomination Senator Bob Dole, seeing this, announced his withdrawal from the primaries on January 21, 1996. He endorsed Senator Phil Gramm.
With Dole gone, the race for the nomination became an open field, with Pat Buchanan, Steve Forbes, Lamar Alexander and Phil Gramm seen as the front runners.
On February 12, 1996 the Iowa Caucus was held with Pat Buchanan coming out the winner with 29% of the vote. Lamar Alexander came in second with 24%, Steve Forbes came in third with 18% and Phil Gramm came in fourth with 11%.
Morry Taylor and Bob Dornan dropped out of the primaries after garnering less than 1% of the vote in Iowa.
On February 20, the New Hampshire Primary was held. Buchanan was once again the winner taking 32% of the vote. Alexander again came in second with 24%, Forbes in third with 22% and Gramm in fourth with 16%.
On February 24, the Delaware Primary was held. After trailing in third Steve Forbes won with 40%. Buchanan came in second with 22%, Gramm in third with 17% and Alexander in fourth with 13%.
On February 27, Super Tuesday the Arizona, North Dakota and South Dakota Primaries were held.
Going in Phil Gramm announces that if he doesn't bounce back and do well in these primaries he will end his bid for the nomination. Richard Luger, who had yet to garner more than 5% in any primary promises the same.
Forbes wins Arizona with 40%, Buchanan came in second with 38%, Gramm gets 12%, Alexander garners only 7%. Last place candidate Alan Keyes, who had come in last in every primary get 2%.
Forbes wins North Dakota with 44%, Buchanan came in a near second with 41%, Gramm gets 8%, while Alexander gets 4%.
Buchanan wins South Dakota with 56%, Forbes in second with 28%, Alexander with 8% and Gramm with 2%.
Gramm and Richard Luger end their bids for the nomination as promised. Alexander also announces he will be withdrawing. Alan Keyes remains in the primaries but never garners more than 3% of the vote from that point on.
The competition becomes a face off between Steve Forbes and Pat Buchanan.
Forbes wins the Connecticut and Colorado primaries, but loses the next 5 primaries to Buchanan who goes on to win the nomination.
Community content is available under
CC-BY-SA
unless otherwise noted.