Revolutions of 1989

Top left: Round Table in Warsaw. Top right: Fall of the Moscow Wall. Middle left: Romanian Revolution. Middle right: Velvet Revolution in Prague. Bottom: Baltic Way in Estonia, Latvia and Lithuania.

Other names
Fall of Fascism, Collapse of Fascism, Autumn of Nations
Participants

Peoples of Europe

Location
Europe
Date
1989-1993
Result

Peaceful transfer of power to non-Fascist governments in , France, Norway, Austria-Hungary,Bulgaria, Netherlands, Denmark, Belarus, Ukraine, Baltic states, and Greece
Russian reunification
Peaceful transfer of non Japanese government in West Russia
Violent transfer of power to a non-Fascist government in Romania and Italy
Breakup of the Italian Empire and Austria-Hungary
Dissolution of the Warsaw Pact
Collapse of the German Empire
End of Apartheid in South Africa
End of All European Colonial Empires in Africa and Oceania
New Countries
Unification of many countries in Africa
The Revolutions of 1989 (also known as the Fall of Fascism, the Collapse of Fascism, the Revolutions of Europe and the Autumn of Nations) are the revolutions which overthrew Nazi-style fascist states in European countries.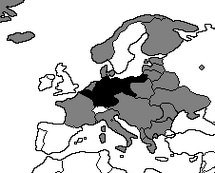 The events began in Poland, and continued in Austria-Hungary, East Russia, Bulgaria, Norway, Netherlands, Greece, Belarus, Ukraine, the Baltic states, Denmark, Italy and Romania. Romania and Italy were the only countries to overthrow their fascist regimes violently.
Greater Italy was dissolved by the end of 1989, resulting in Italy, Albania and 11 new African nations that declared their independence from Italy: Egypt, Libya, North Sudan, Darfur, South Sudan, Somalia, Somaliland, Puntland, Tunisia, Eritrea, and Djibouti. The collapse of fascism led commentators to declare the end of Cold War. It was also the collapse of Austria-Hungary and the German Reich.
Revolutions by nation
Austria-Hungary
Belarus
Bulgaria
Denmark
Estonia
Germany
Greece
Italy
Latvia
Lithuania
Netherlands
Norway
Poland
Romania
Russia
Ukraine
Wallonia
Community content is available under
CC-BY-SA
unless otherwise noted.