This 1983: Doomsday page is a Proposal.

It has not been ratified and is therefore not yet a part of the 1983: Doomsday Timeline. You are welcome to correct errors and/or comment at the Talk Page. If you add this label to an article, please do not forget to make mention of it on the main Discussion page for the Timeline.
Ronald Reagan
Timeline: 1983: Doomsday
OTL equivalent: Ronald Reagan


Official presidential portrait of Ronald Reagan

40th President of the United States
January 20, 1981 – May 8, 1984

Predecessor
Jimmy Carter
Successor
George H.W Bush
Born
Ronald Wilson Reagan


February 6, 1911
Tampico, Illinois, U.S.

Died
May 8, 1984 (presumed, age 73)
South Pacific between Hawaii and American Samoa
Spouse
Nancy Reagan (d. May 8, 1984 - presumed)
Political Party
Republican
Ronald Wilson Reagan (February 6, 1911 - presumed dead May 8, 1984) was the 40th President of the United States. Reagan won the 1980 U.S. Presidential election and was inaugurated on January 20, 1981. He was a staunch anti-communist, denouncing the Soviet Union and the Iron Curtain, as well as the Soviet blocs other human rights abuses, calling the former an Evil Empire.
Reagan was the President of the United States on Doomsday. Although he survived for the next six months, they would prove to be a painfully difficult time, as Reagan worked around the clock to reorganize the remnants of the US government and ensure the survival of as many Americans as possible. It was eventually decided that in order to accomplish this, the federal government would need to enlist the help of the most powerful US ally left in the world, Australia.
In May of 1984, Reagan and the rest of his administration attempted to travel to Australia to make this happen. However, Air Force One crashed in the South Pacific during the American government's evacuation to Australia. No wreckage nor trace of him, his family, or of his staff have been found to this day; thus making it one of the most eerie mysteries in aviation history.
Pre-Doomsday
Early Years
Ronald Wilson Reagan was born on February 6, 1911 in Tampico, Illinois. The Reagan family frequently moved around various small towns in Illinois during Ronald's youth.
Radio Career
Acting Career
Governor of California
Leader of the Free World
Doomsday
President Reagan and his wife Nancy were in New York to attend a session of the United Nations, where Reagan was scheduled to speak the following day. Suddenly that evening, his Secret Service detail frantically grabbed his arm and that of his wife and began hurriedly escorting them out of the UN complex. As they hurried towards the exit, the agents informed Reagan that a massive Soviet attack was underway. Reagan stopped to inform New York Mayor Ed Koch, who was also present, and urged him to join him aboard Air Force One. According to the agents, Koch declined the President's offer, saying "There's no role for me without my city. But there's still a role for you. The country will need you more than ever."
The Secret Service soon had the Reagans and their entourage airborne. As Air Force One and its escort of fighter jets lifted off from the Big Apple for the last time and began maneuvering to avoid being targeted, Reagan spoke on a special hotline with General James V. Hartinger, the commanding officer of the Cheyenne Mountain Complex.
Unbeknownst to anyone outside of the President and the highest-ranking military and intelligence officials, the most recent set of Continuity of Government plans had selected Torrington, Wyoming as a potential rally point from which the remnants of the US government could regroup and begin reasserting control of the country after a potential nuclear attack. Torrington's remote location guaranteed that it was far from any likely targets. Its position in the American heartland meant that it was roughly in the center of the parts of the country that were least likely to be targeted (aside from the likely targets of Omaha, NE and various military bases). Thus, although planners couldn't be 100% sure, they felt it was likely that Torrington would be roughly near the center of the most viable and livable lands left in America after a theoretical atomic attack, making it a good strategic point to use as the new capital city once the dust settled.
Reagan had ordered his staff to begin faxing the pre-written, encrypted Continuity of Government instructions to Torrington, Cheyenne Mountain, and the Office of the Wyoming Governor.
Next, Reagan ordered military ground forces in the continental US to attempt to leave their doomed bases as quickly as possible and to help maintain order in their respective regions once the dust had settled. Reagan quietly admitted to aides that this would not be possible in many cases, but that the effort had to made as much as possible.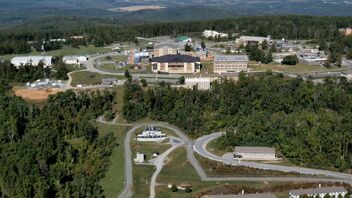 As Air Force One approached its destination, Reagan next called Mexican President Miguel De la Madrid. Reagan told De la Madrid that there would very likely be a large influx of American refugees into his country in the coming months, and Reagan asked the Mexican leader to accept these refugees. In exchange, Reagan would send a communique to US Army units on the border and order them to assist the Mexican Army in maintaining order in any US refugee camps. President De la Madrid accepted Reagan's offer and wished him well.
Reagan arrived at Mount Weather and was quickly escorted underground to the command center there. Most of his Cabinet members had already arrived with their families, and were seated in the replica Situation Room in the command center.
Years later, one of Reagan's surviving staff members would tell the Australian press corps "I had seen a copy of the speech President Reagan had been planning to give at the UN. In perhaps one of the greatest ironies of history, in that speech he was supposed to give on September 26, 1983 President Reagan had been planning to urge the world to work to avoid a nuclear war and was going to call for stronger arms control agreements. I will never forget one particular line from President Reagan's planned speech. He was going to say that 'A nuclear war cannot be won and it must never be fought.'
President Reagan was right," remarked the staff member. "We all lost on Doomsday"
Post-Doomsday: Laying the Groundwork to Rebuild America
The Day After
On the morning of September 26, 1983, President Reagan and his staff at Mt. Weather morosely watched and listened as the computers at Mt. Weather brought in reports that contact had been lost with almost all of the country. What little information could be gathered indicated widespread and catastrophic devastation across the homeland. Reagan, exhausted from going without sleep and heartbroken, ordered the military to begin attempting to regain contact with as many civil and military officials as possible.
Evacuation
In spring 1984, President Reagan informed General Hartinger and Governor Herschler that he had come to believe that to stabilize the continent, they would need to accept outside help. Reagan and Bush would travel to Australia to solidify the government's control over its Pacific territories and simultaneously lobby the Australian government for aid. Reagan hoped that he would eventually be able to secure not only funds, but an Australian military force to help him and the surviving elements of the US military reassert control over the crumbling homeland.
Reagan in Mexico
President Reagan boarded Air Force One in the hangar at Mt. Weather with his staff in early May 1984. Secretary of State George Shultz recalls that Reagan "looked visibly despondent at having to leave the American homeland, but he also seemed grimly determined. In our Cabinet meetings at Mt. Weather, we'd come to the conclusion that the most likely way to restore our nation was with outside help from Australia and hopefully Mexico. The President hated having to leave the US in this time of devastation, but we'd all agreed that we needed to appeal for help."
Air Force One arrived at an airfield outside Mexico City later that day, where they were greeted by Mexican President Miguel De la Madrid and a welcoming party of Mexican schoolchildren waving both Mexican and American flags as a gesture of friendship. Air Force Two had already arrived and Reagan was delighted to see Vice President and Mrs. Bush in person for the first time in months, and better yet, reunited with their son George, daughter-in-law Laura, and granddaughters Barbara and Jenna, who had evacuated to Mexico and were waiting at the landing zone to reunite with their family. In the brief remarks Reagan gave at the landing zone, he commented "The sight of the warm welcome given to us by you, the Mexican people, the sight of my friend George Bush for the first time in months, and the sight of his reunion with his family, is overwhelming. It gives me hope for the future, and we need that hope. Let us work together to keep that hope going, and may it sustain us in our works here today and beyond."
Reagan in Hawaii
When Reagan left for Australia, he planned to eventually return to the American mainland and set up base in Torrington. He anticipated that his stay in Australia would be a temporary one, though he planned for Vice President Bush to remain in Canberra for a longer period of time to negotiate continued support for the reclamation effort. In President Reagan's last communication to General Hartinger, he estimated that he would return to America in early 1985, with the surviving remnants of the US Pacific Fleet and the Australian military, to begin subduing the warlords that had taken power and to put the country on the road to recovery. Sadly, Reagan would not live to carry out this plan.
In recent years, General Hartinger (now retired) and former Governor Herschler of Wyoming have both expressed the belief that if Vice President Bush been able to make contact with the survivor government in Torrington, or vice versa, the original plan would have been carried out. Many history buffs in the USA have started writing alternate history stories about how differently things might have gone if either Reagan had survived or if Bush had been able to make contact with Torrington.
Although Reagan never made it to Australia, his months of work after Doomsday laid the groundwork for the reemergence of the United States.
Legacy
In Torrington, President Reagan is remembered for his role in making Torrington the new US capital city, and there is a monument to Reagan on the New National Mall.