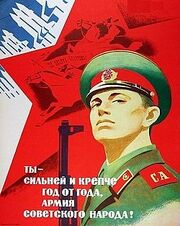 The Armed Forces of Russia are the national military forces of the Republic of Russia. The Supreme commander is the President of Russia. The Armed Forces are divided into many wings and service branches. There are three main wings; the Army, the Navy and the Air Force. There are also may other branches such as the Strategic Nuclear Forces, the Military Space Forces, Military Intelligence, Bio-Chemical Forces and Special Operation Forces.
'-'PLEASE FEEL FREE TO ADD TO THIS PAGE. PLEASE MAKE IT REALISTIC, AND ALSO RELEVANT TO THIS ALTHISTORY 'RUSSIAN RISE'.
Ayaa 12:14, April 4, 2011 (UTC)
Community content is available under
CC-BY-SA
unless otherwise noted.