The Russkoslovie (Русскословие, Russkosloviye) is an international organization which consists of nations which have large numbers of Russophones (Russian-speakers). Among the goals of the organization are encourage the wider use of the Russian language and to protect the rights of Russian-speakers. The organization was formally established in 1997 and initially consisted of Alaska and the republics of the former Soviet Union. The Russkoslovie is structured similarly to those of la Francophonie and the CPLP.
The term Russkosloviye was coined in the early 1990s and is roughly translated as "consisting of Russian words." This term currently possesses similar meaning within Russian as does francophonie in French, hispanidad in Spanish, and türksoy in Turkish.
List of Member States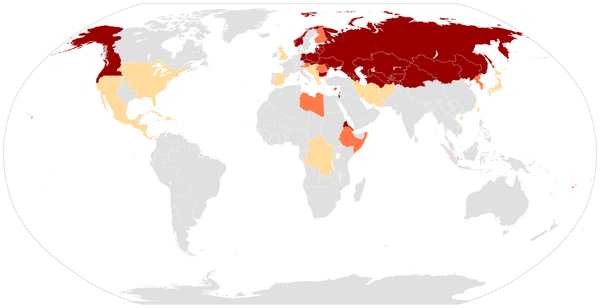 Member States

     

 Associate States

     

     

 Observers
Community content is available under
CC-BY-SA
unless otherwise noted.