City of San Francisco
Timeline: The Era of Relative Peace
OTL equivalent: San Francisco, California

| | |
| --- | --- |
| | |
| Flag | Coat of Arms |

Motto: Oro en Paz, Fierro en Guerra
(English: Gold in Peace, Iron in War)

Country
United States
State
California
Language
  official
 
English
  others
Spanish, Chinese, Japanese, Filipino
Demonym
San Franciscan
San Francisqueño/a
Mission
June 29, 1776
Incorporated
April 15, 1850
Area
600.59 km²
Population
884,363  
San Francisco is a city located in northern California. It is part of the San Francisco Bay Area which includes the cities of Oakland, Stockton, San Jose, and San Bruno. The city is known for the Golden Gate Bridge, which was seen as an icon to the "gateway to America" by Asian immigrants. Another famous landmark include the Trans-America building; poking out distinctly in the San Francisco skyline.
History
Pre-War
The region current-day San Francisco occupies was a small settlement where Franciscan friars from Mexico immigrated, hence the name of the city.
The city saw significant population boom during the California Goldrush. Part of the 19th Century, San Francisco saw an influx of East Asian immigrants that mainly worked for railway and other forms of labor.
San Francisco was heavily damaged during the 1901 Earthquake. During World War II, the city was under threat from a possible Japanese air or naval attack; something which did not happen during the war. It was reported that many US merchant vessels were torpedoed when traveling between Honolulu to San Francisco. The United Nations Charter was signed in San Francisco on June 26, 1945. The city also welcomed back veterans of the Pacific War.
World War III
During World War III, Soviet TU-95 bombers coming from the captured Elmendorf Air Force Base in Alaska bombed numerous cities in the American West Coast. The city was bombed, causing damages to numerous infrastructure. The Trans-America building suffered minor damages. The Golden Gate Bridge and the Oakland Bay Bridge were also damaged; albeit not completely destroyed. As a result, the California Air National Guard, the US Air Force, and the US Marines increased their patrols of F-4 Phantoms, F-15 Eagles, F-16 Falcons, and F/A-18 Hornets to counter the Soviet bombers.
After the war, the damages of San Francisco were repaired up to 2001. The city was restored in its former glory.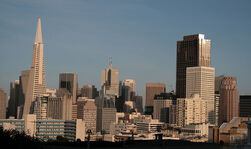 Post-War
San Francisco retains it status as one of America's liberal cities.
Demographics
Economy
Landmarks
Community content is available under
CC-BY-SA
unless otherwise noted.