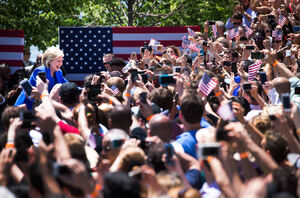 Former Secretary of State Hillary Clinton appeared to be destined to become the first female president and defeat businessman Donald Trump in the 2016 presidential election, however that became all but reality when Trump managed to upset the presidential election. Even with a majority of polls projecting Clinton soundly defeating Trump, she managed to lose the electoral college.
But what if Clinton was able to defeat Donald Trump? What if she ran a better campaign and targeted the same states Trump was campaigning in? What if America had been Shattered?
Point of Divergence
On May 3, 2016, after vigorous campaigning, Senator Ted Cruz manages to defeat Donald Trump in the Indiana Republican primary. Despite being mathematically disqualified from securing the Republican nomination for President, Cruz and Ohio Governor John Kasich began campaigning for a contested convention and potentially deny Trump the nomination. In response to their actions, Trump began referring to them as the "two sore losers" due to the impossibility of either of them becoming the presumptive nominee.
On May 10, Ted Cruz managed to win the Nebraska Republican primary, while Donald Trump won the West Virginia Republican primary. On May 17, Donald Trump managed to win the Oregon primary, and Washington a week later. On June 7, after a series of victories in the winner-take-all contests of California, Montana, and New Jersey, Donald Trump became the presumptive Republican nominee for President of the United States, holding 1,289 delegates.
As a result of the narrowness of the campaign, Senator Cruz continues his refusal to endorse Donald Trump and Mike Pence. In response, Trump would frequently lambast Cruz at campaign rallies and on Twitter for his actions.
On the Democratic side, Democratic nominee Hillary Clinton listens to her husband's advice to campaign in the Great Lakes and mend the gap between her and Middle America. Clinton also shifts to an issues-driven campaign, ignoring her opponent's constant attacks, and focusing on how to help America thrive.
On November 8, 2016, Clinton manages to win the states of Florida, Georgia, Michigan, North Carolina, Pennsylvania, and Wisconsin.
Pages
Community content is available under
CC-BY-SA
unless otherwise noted.