The Hon. Sir Mark Edward Granger (9 July 1781 - 14 November 1872) was the eleventh and thirteenth President-General of the United Provinces of America.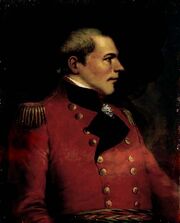 Granger became President-General for the first time, in June 1836, after a landslide victory over the Progressive Leader, Daniel Webster.
Granger presided over the Slavery Controversy in the United Provinces during his first term. His perseverance and diplomatic skills showed themselves remarkably well, and managed to diffuse the situation (although the Virginian and South Carolinian representatives made things difficult for him).
He was knighted for his services by King Edward VII on 12 April, 1840.
He was defeated by the Conservative leader, Sir Harold Stanton, during the elections of 1840. However, he returned to office in June 1844.
Preceded by:
Sir Harold Stanton

President-General of the UPA
1844-1848
Succeeded by:
Maximilian Loyd
Community content is available under
CC-BY-SA
unless otherwise noted.