Governorate of Sitka
Ситхинская губерния
— Governorate of Alaska —
Timeline: Russian America
OTL equivalent: Juneau, Petersburg, Sitka, and portions of the Haines Borough, the Hoonah–Angoon CA, the Kitimat-Stikine RD, Skagway, the Stikine Region, and Wrangell.

Flag
Coat of Arms

Location of Sitka

Capital
Piltsburg
Largest city
New Archangel
Other cities
Petrograd, Telegrafny Ruchey
Language
  official
 
Russian (de facto)
  others
English, Norwegian, Tlingit
Religion
  main
 
Lutherans
  others
Buddhists, Eastern Orthodox
Ethnic groups
  main
 
Norwegians and Russians
  others
English, Finns, Tlingits
Demonym
Sitkan, Sitkinets
Area
105,935 km² (93,084 кв. врс) 
Population
4,804,552 (2017 Census) 
Time zone
AKCST (UTC-9)
  summer
AKCDT (UTC-8)
Abbreviations
AK-SI, Сит. (Sit.)
The Governorate of Sitka (Russian: Ситхинская губерния, Sitkhinskaya guberniya), colloquially known as Sitka (Ситха, Sitkha), is a governorate of Alaska. Located roughly at the geographic center of the nation, Sitka is cultural and historic regarded as the core of Alaska and the former Russian America. New Archangel, the national capital, is located within the governorate.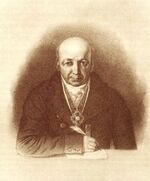 The Alexander Archipelago and the Lower Stikine were originally dominated by the Tlingits. The Russians were the first Europeans to colonize the area during the early 19th Century. Alexander Baranov spearheaded the expansion of the Russian Empire into the islands, with a new colonial capital being established on Baranof Island. The population gradually grew as food and supplies from the southernmost colonies became more routine following the Great Western War. The mainland portions of New Russia became colonized by the 1870s with the completion of telegraph lines and a colonial railroad. During the Klondike Gold Rush of the 1890s, inland trails through Sitka became used as a shortcut.
During the Alaskan Wars, New Russia was controlled by a predominantly White Emigre government (the Alaskan Republic). A fully democratic government was implemented in 1929, followed soon by the unification the Alaskan Republic and Oregon to establish the Alaskan Democratic Federative Republic. Despite attempts to establish New Archangel as a federal capital, city and gubernial residence overwhelmingly opposed this. The provincial capital of Sitka was relocated to Piltsburg during the 1950s as a compromise.
Among the roughly 5 million residence, those of Norwegian and Russian descent make up the majority. English, Finns, Koreans, Swedes, Tlingits, and Ukrainians form the largest minorities. The majority of the population adhere to Lutheranism.

This Russian America related article is a stub. Please add suggestions on the talk page.
Community content is available under
CC-BY-SA
unless otherwise noted.