Notice: This map game is under construction, although you are welcome to sign up.
ANOUNCEMENT: Southern Independence is now accepting staff applications! Apply by leaving a message on Orange's talk page!
The Confederacy has won the Civil War, now know as the Confederate Revolution. The United States is left torn by war and the loss of their southern lands, and must rebuild. Will the United States recover? Will the young Confederacy survive? Will your nation prosper, or crumble into ruins?
Rules
By participating in this map game, you agree to abide by the rules of this map game.
A turn lasts for 24 hours, starting at 12:00 PM (0:00) UTC. A turn in this game is six months. The game ends when 2016.5 is reached.
Turns allow for three actions.
No sockpuppeting or trolling.
A map is created every year (2 turns).
Wars will be determined by the algorithm on the talk page.
Every player gets five plausibility strikes. First two is a warning, third and fourth is a temp-ban, fifth is ban from the game.
Players who haven't posted a turn for 15 turns will be deemed Inactive.
Banned and inactive players' nations will be available for reclamation by new players. Until reclaimed, they are open for invasion. If inactive players return, the only way they can reclaim their nation is if another player has not done so. Returning players who lost their nation are welcome to sign up as another nation.
Staff will control technology advances and NPC events, and settle any player disputes.
Please keep spelling and grammar proper to the best of your abilities.
Making an article for your nation is encouraged.
Staff
To apply for staff, please leave a message on the owner's talk page.
Owner: Orangebird763
Head moderator (also Provisional Owner): to be determined by owner
Moderators: Awesome history 28;
Plausibility checker:
Mapper:
Provisional head mod:
Provisional plausibility checker:
Provisional mapper:
Map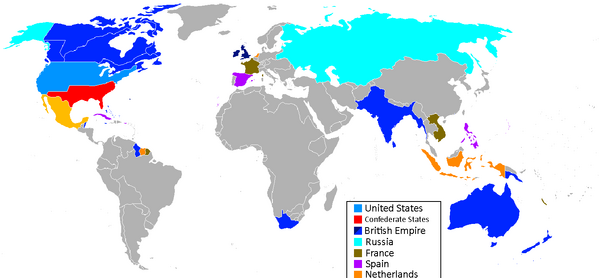 Issues
Norway should be with Sweden, Sweden still owned Norway at that point, Norwegian independence was in 1905 I believe--Orwell
Sign-ups
Nations in bold can only be played by players with at least 1000 edits and a good reputation.
Nations in underline can only be played by players with at least 500 edits and a good reputation.
Feel free to add any nations missed.
North America
South America
Europe
Africa
Asia
Ottoman Empire - Fires, The Centiqueer Beluga Whale (Respect my identity!)
Muscat and Oman - 
Afghanistan - 
British Raj - 
Nepal - 
Qing dynasty China - 
Bhutan - 
Burma - 
Siam - 
Spanish Philippines - 
Japan - 
Joseon - 
Sultanates of Malaysia - 
Maldives - 
British Hong Kong - 
Portuguese Macau - 
French Indochina -
Oceania
British Australia - 
British New Zealand - Great showing. B23 (talk) 15:49, March 25, 2016 (UTC)
Brunei - 
Hawaii - 
Fijian tribes - 
Bora Bora - 
Rapa Nui - 
Samoa - 
Raratonga -.
1866
The Union's surrender ends the Confederate Revolution, giving the Confederate States full soveirgnity.
This map game has not started, it will start when a staff team is assembled and we have enough sign-ups.
Community content is available under
CC-BY-SA
unless otherwise noted.