Cromwell the Great
This timeline Cromwell the Great was first created by Cprhodesact between June 2005 to December 2006 before it was open for adoption by Villa Cruoninga in December 2007, according with to the policies of it.
The state I found the TL was no edit for more than 10 years and the majority of pages were stubs (or only an infobox) and no main page for the TL. Nations served as the title page due to a link from the page Cromwell the Great (See history).
The POD seems to be outlined in List of British Republican Heads of State. The original POD had Richard Cromwell govern has Lord Protector from 1658-1686. There were no details of how he prevailed. A butterfly of interest is this page United American Provinces.
The original texts are keep in the history of pages. Some of pages originally made by Cprhodesact are kept in the following categories: Obsolete and Proposal, in the latter I have an interest of redoing them.
Regards, JorgeGG (talk) 16:16, July 12, 2016 (UTC)
---
2018 Stirlings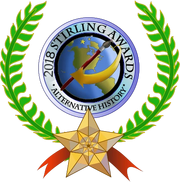 Congratulations to Cromwell the Great for its success as the Timeline of the Year. Keep up the excellent work!
"This is not your grave but you are welcome in it." 02:13, March 19, 2018 (UTC)

---
A comment
Shhhhh! If your quiet you can hear the crying of the Irish. Dreamcaster1 (talk)
i love to think of the anthem "britannia tis for thee" as an adaptation of oceania tis for thee from 1984
--KaiserRedGamer, 20:02, December 12, 2021 (UTC+8:00)
Ideas or Comments?
The author(s) of this timeline are openly seeking suggestions for this work.
Feel free to make suggestions and give advice on the talk page. Thank you.
Have any ideas or comments of this timeline. Go ahead and write in Ideas and Proposals (Cromwell the Great).
---
To Do
Earlier Tanzimat? If possible, how?
Earlier steam power?
Haitian revolution (done see Haiti (Cromwell the Great))
Article about newspapers, magazines, mail, printed and written communications and book publishing. However gaps of its development must be also filled. CtG is its now in 1840s and has mail, signaling semaphores and perhaps telegraphs and steam powered printing presses. If you have ideas feel free to write it up as a proposal.
If you have any ideas or proposals write out or develop in: Ideas and Proposals (Cromwell the Great).
Proposals
FEATURED
Congratulations on reaching featured status! Stepintime (talk) 22:19, March 3, 2019 (UTC)