How's this?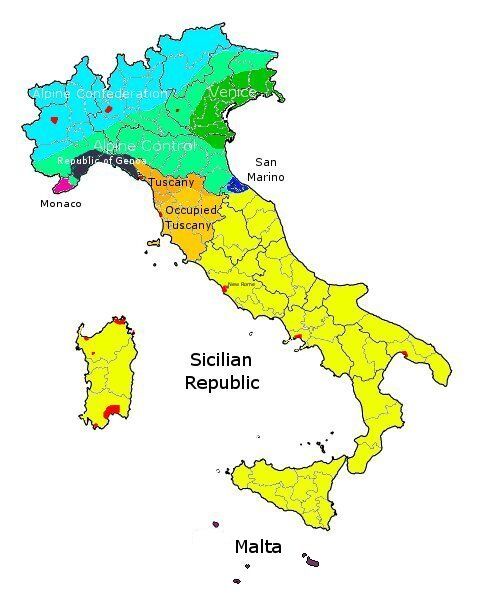 Lordganon 06:19, August 10, 2010 (UTC)
The sicily article also mentions the Genoese. I'm not sure how likely Genoa being hit is, but there should be some sort of Genoese state around there.Oerwinde 08:07, August 10, 2010 (UTC)
Why is Malta on the Italy page? I mean San Marino I guess I can understand (even if its a separate country), but Malta, and Monaco too aren't even in Italy's borders. Red VS Blue 13:54, August 24, 2010 (UTC)
They both control small portions of Italian territory, as does the Alpine Confederation and San Marino.
Lordganon 14:27, August 24, 2010 (UTC)
I see. Makes sense. Red VS Blue 15:20, August 24, 2010 (UTC)
do you think it have been possible that a major nuclear detonation in Naples may have caused Mt Vesuvius to erupt?--Smoggy80 19:58, December 11, 2010 (UTC)
According to the organization monitoring Vesuvius, there's no danger of it erupting anytime soon, and that has been the case since WWII. I can see the Naples blast making it slightly worse, but not setting it off at all.
Lordganon 21:26, December 11, 2010 (UTC)
A united Italy
Did you think Italy will be united again ? And maybe under a democracy (For example San Marino or a new Italian Republic) Anyway need helps on Italy ? Col. James Hsu (talk), 21:55, 7 Junary, 2016 (UTC) 
Community content is available under
CC-BY-SA
unless otherwise noted.