Thanks Mitro, my browser refused to allow me to add the proposal template.God Bless the United States of America 00:12, March 24, 2011 (UTC)
Actually you wrote the wrong code down. It is not "ddproposal" it is "ddprop". Also by the way I am pretty sure this article contradicts Outer Banks (1983: Doomsday). It may have to be marked as obsolete. Mitro 00:14, March 24, 2011 (UTC)

Let's hold off on the "Obsolete" option, Mitro. GB is a newbie and he has just put the proposal up. He has asked LG and me to guide him through the process. Unfortunately I do not believe he has yet to discuss it on the main page, which is an unfortunate oversite on my part (I was distracted with the USA unification project).
GB, I will tweak a little bit of it before going to bed tonight, but be sure to read the Outer Banks article closely (it was written mostly by myself after a rough draft was put up for adoption). SouthWriter 04:08, March 24, 2011 (UTC)

Thanks South for the encouragement, as for this article, anybody can edit it so it fits in with established cannon.God Bless the United States of America 14:52, March 24, 2011 (UTC)
Added an infobox and smoothed out the headers somewhat for you. Should make it easier to edit. Lordganon 15:29, March 24, 2011 (UTC)
Map
The state map looks a bit wrong. I was going to say "warped" but I think it is just "scrunched" - the state is longer than that. Did the picture get forced into a square when it was supposed to be a rectangle?
SouthWriter
01:41, March 28, 2011 (UTC)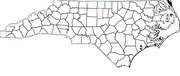 Here's a blank county map. I pulled a random NC county up and colored in the marked county. Color in the correct coastal counties using whatever software you have (I use MS Paint). SouthWriter 14:20, March 28, 2011 (UTC)
Yeah, the site I got it from is werid at times, but its the only one I can get a detailed map at.God Bless the United States of America 02:35, March 28, 2011 (UTC)
Just google images for "North Carolina Counties Map" and you'll find a better one, I'm sure. Also, you should really avoid .gif's since they are always kinda screwy.
The surviving city of Washington, North Carolina, is just south of the area you have on this map. It really doesn't make sense for it to be there but not in this state, GB.
Lordganon 06:20, March 28, 2011 (UTC)
Cant get the map to work, any suggestions.
God Bless the United States of America 18:09, March 28, 2011 (UTC)
Tell me which counties you want to be included and I'll fill it in and post it for you. SouthWriter 19:02, March 28, 2011 (UTC)
Thanks South,
Chowan, Bertie, Martian, and Washington Counties? God Bless the United States of America 19:18, March 28, 2011 (UTC)

Will do, GB. By the way, that's "Martin" (my last name, in fact), not "Martian" county. I'll get on it right away and then edit the article to point to my version. I'll include Outer Banks and the city-state of Elizabeth City as reference points as well. 74.177.118.115 15:17, March 29, 2011 (UTC)
SouthWriter 17:28, March 29, 2011 (UTC) (Sorry, didn't know I was not signed in)
Furthermore, I have decided to go with larger boundaries, as Washington, NC, is NOT in Washington county, but south of there (thanks, LG, for noticing that). I will include both Beauford (with Washington), and Pitt (with Greenville) since both those cities were mentioned in the NC article. SouthWriter 17:28, March 29, 2011 (UTC)
I would very much like to see Pitt County being part of this survivor nation. East Carolina University is located in Greenville. I was a junior at ECU at the time when Doomsday would have occurred, and I can testify that ECU has numerous facilities that would be of immense value to both Inner Banks and Outer Banks, particularly the medical school (which was quite new as of 1983) and the library. 98.233.211.70 04:00, January 28, 2012 (UTC)
I suggest that you look at the map. That county is quite obviously inside the boundaries of this state. Lordganon 05:07, January 28, 2012 (UTC)
Or, look at the last line above your post, Anon. I clearly state that I added "Pitt (with Greenville)." I welcome your input for the article. I live all the way on the other side of NC in the Piedmont area of SC, so I don't know much about the coastal counties. Try re-creating your experiences in a college town after sudden interruption of all modern services - power, water, and all. Then post a new note below this one. I'll see what we can do from there. 96.37.241.49 02:49, January 29, 2012 (UTC)
Adopting
I want to adopt this article and expand it. --Yank 23:09, April 1, 2014 (UTC)
Hi, Yank.  It's been a while!  Although I expanded the article by around 200% to get it graduated to stub status, you will need to contact GB for full permission to take over the development of this article.  I support your efforts, but I wonder if you intend to expand Virginia's influence down into the area.  It might be plausible, really, but the Inner Banks aren't much use without the cooperation of the Outer Banks and Elizabeth City.  Nonetheless, I look forward to working with you in the expansion.  SouthWriter (talk) 17:59, April 6, 2014 (UTC)
Community content is available under
CC-BY-SA
unless otherwise noted.